Summary: CleanMyMac 3 is the professional Mac Cleaner help you clean, optimize, and maintain your Mac. It removes gigabytes of junk in just two clicks. CleanMyMac 3 will safely and intelligently scan and clean your entire Mac system, delete large files, unused files, reduce the size of your Photos library, uninstall unused apps or fix the ones that started to work improperly, manage all your extensions from one place and do much more to clear junk files and clean your Mac. Save the computer space a lot!
What CleanMyMac 3 Can Do for You?
Clean junk files and remove unwanted apps.
Safely scans your Mac system, iTunes, Mail, Photos library, Trash bins, and even old folders that have been secretly avoiding you.
CleanMyMac 3 works as a smart Mac Cleaner cleans your Mac, including junk files, unused files, duplicates, mail attachments, useless cache files and heavy RAWs that take up space.
Maintain and optimize your Mac by uninstall unneeded apps, disable, reset, or even remove your extensions, widgets, and plugins.
Improve your Mac computer performance: reindex Spotlight, repair disk permissions to help your system run more smoothly, speed up the search function in Mail, and more.
CleanMyMac 3 also is your Mac Health doctor, it alerts you to heavy memory use, low SSD life, high disk temperature, and more.
CleanMyMac 3 monitors your Mac and notifies you about the important changes on Mac, including assists you to fix no launch necessary apps, keeps you up-to-date on processor and memory usage.
What Users Like And Dislike on CleanMyMac 3
Likes: 
Lots of options to find unnecessary files.
The scanning works quickly.
The Smart Cleanup feature works great to quickly free up a decent amount of hard drive space.
Dislikes:
Unexpected default behavior with application interrupts.
500MB limitation to cleaning in trial
Preferences of CleanMyMac 3
CleanMyMac 3 lets you personalize how it works on your Mac, check out the following list to learn how to personalize your Mac Cleaner.
Open it and click on CleanMyMac 3 in the top left hand corner of your Mac's screen in the Toolbar. In the pop-down menu, select Preferences.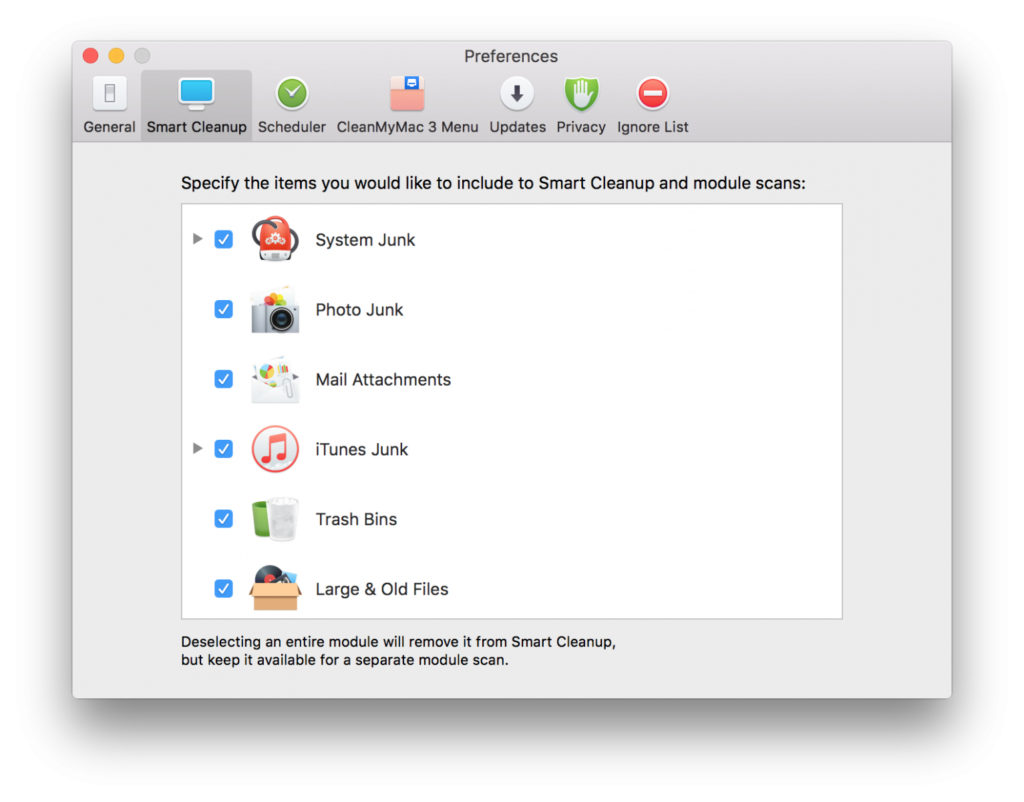 General:
Play sounds for Mac Cleaner main actions or not.
Control animations and warning dialogs.
Language control: you can decide what languages you would like to remove or keep for your system or applications.
Smart Cleanup: You are able to specify the items you would like to include to Smart Cleanup and module scans.
Scheduler: It lets you to set how often you would like Mac cleaner remind you about cleaning up your Mac.
CleanMyMac 3 Menu:  That is, you are allowed to activate and deactivate the CleanMyMac 3 helper in the top right corner of your Mac as Menu. 
You can set the alert to warn you when your system is running low on space or your trash bins are getting full.
Monitor your apps activity: Offer to uninstalling apps properly or force quit the apps that stop responding.
Updates: Set whether updates automatically or not, and enable download and background updates.
Ignore List: Select applications or files which you would like Mac Cleaner to ignore scan or clean up.
Privacy: Your data are safe to set as disable anonymous sharing, also could disable extended logging of removed items.
Is It Safe to Use Mac Cleaning Software CleanMyMac 3?
As I have mentioned in How to Clean Junk Files on Mac, CleanMyMac 3 smart cleanup is based on the Safety Database, which has accumulated MacPaw's expertise in cleaning Macs and resolving various application compatibility issues. That is, Smart Cleanup works by following a list of instructions on how to clean up junk files produced by a variety of system and custom apps. What it selects and cleans including System Junk (Log files, Cache files, Language files, Universal binaries, Leftovers, Broken app data, Document versions, Old update, Development junk, Xcode junk), Photo Junk (covers heavy RAW originals of images, local copies of photos stored in iCloud, Faces and Photos cache. CleanMyMac analyses both Photos and iPhoto library to reveal data that can be removed without harm to your images.), Mail Attachments, iTunes Junk, Trash Bins, Large & Old Files.
And Macpaw guarantees accuracy and reliability of all cleanup operations with CleanMyMac 3, that's you can click the "Clean" button without even reviewing smart-select items. (Cite from MacPaw).
Steps for Cleaning Up Mac Using CleanMyMac 3
Download and install Mac Cleaning app CleanMyMac 3 from here.
Start your fist scan with this Mac Cleaner. You can scan your Mac computer with the Smart Cleanup module.

2-1. Click Smart Cleanup in the upper left side of the CleanMyMac 3 window.
2-2. Click the Scan button at the bottom of the window.

Get a results preview when all of your Mac data are analyzed.
Click the Clean Button at the bottom of the window to clean up your Mac by removing files selected.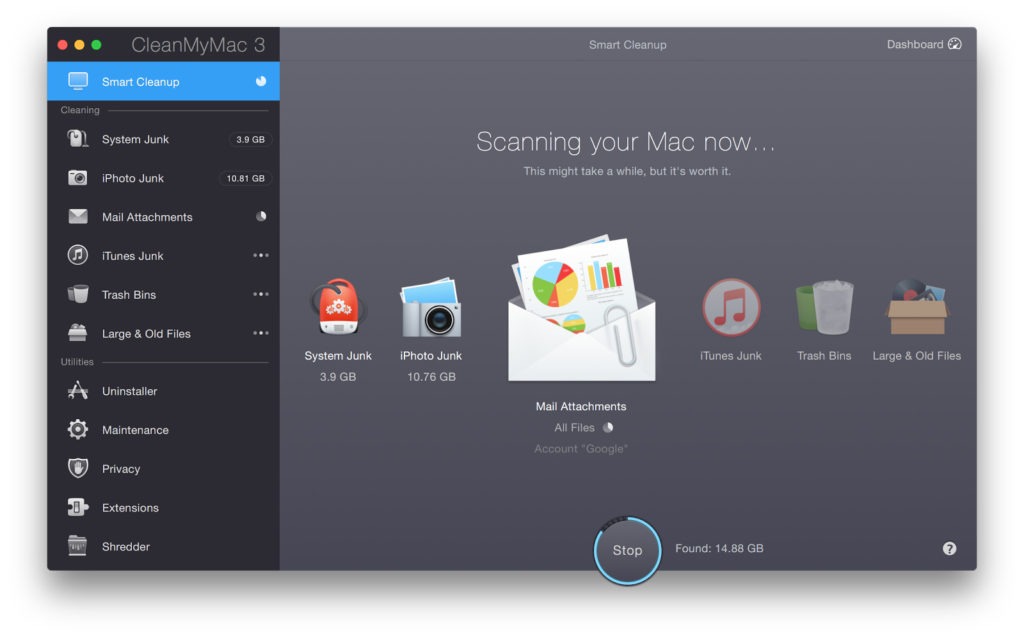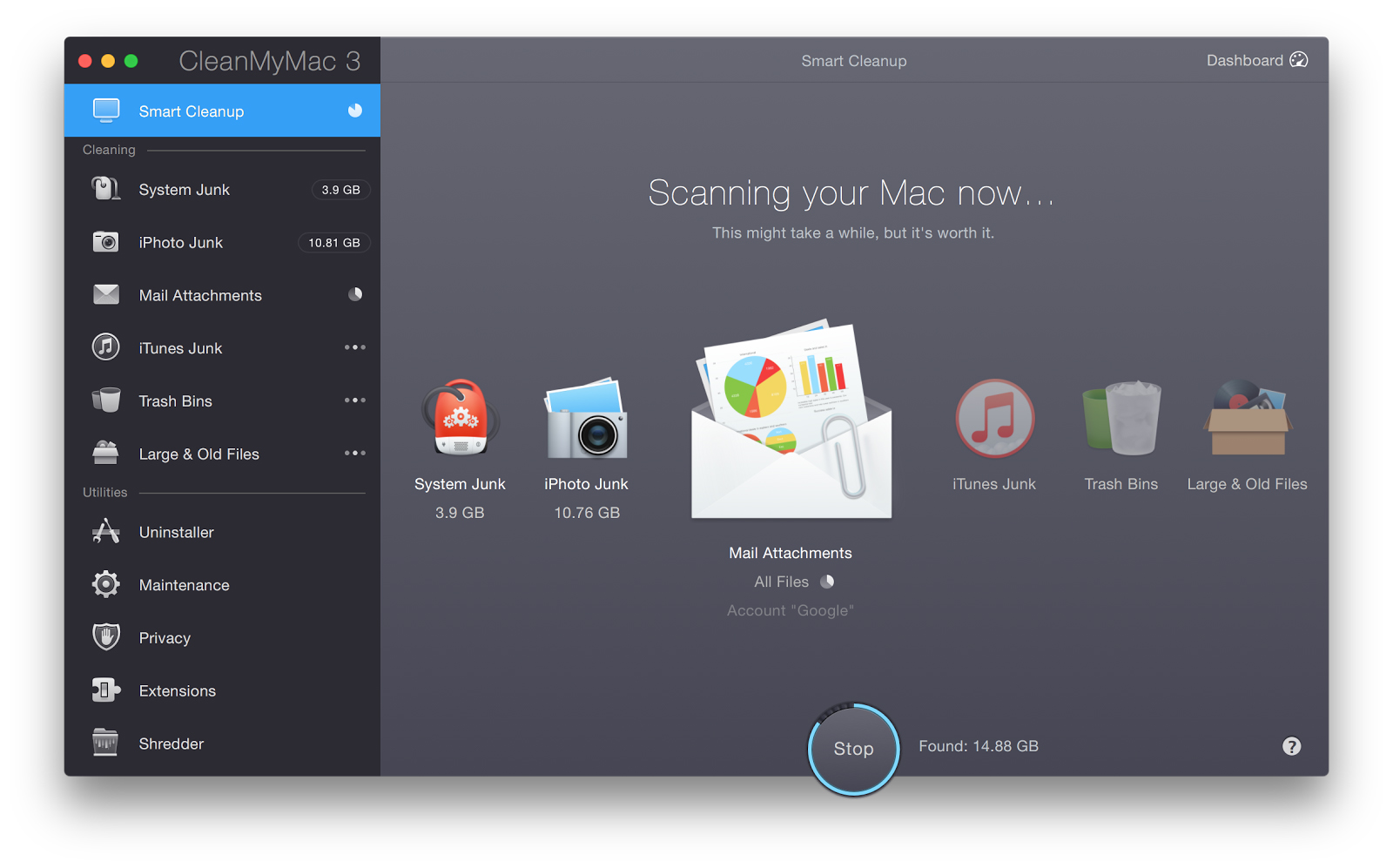 Get Support for CleanMyMac 3
CleanMyMac 3 is the best Mac cleaner and monitor for your Mac computer in my reviews, it helps you clean, optimize, and maintain your Mac via scanning every inch of your system, removing gigabytes of junk files in just two clicks. Take full control of your Mac system with this Mac Cleaner.
Any relevant support of Mac Cleaner – CleanMyMac 3 could be found in: