Summary: If you are looking for the best mechanical keyboard for your office or good for typing, this essay will share a list of best mechanical keyboards for you, and all details reviewed, read on.
Regarding your computer peripherals, mechanical keyboards can be the single most beneficial purchase you can make. These keyboards come in different sizes and shapes. There's a huge collection of mechanical keyboards out there for you to choose from.
So, are you still using a normal keyboard at your home or the office?
Then you are missing out. You should definitely get a mechanical keyboard as soon as possible. Chances are you are in doubt whether to go for it or not. It's normal. It happens to the best of us, doesn't it?
As a result, we are here to rescue you from this trap named doubt. We have jotted down a list of the 6 best mechanical keyboards for office and typing. And we will share a lot of details about them here. We hope that by the time you read this post, you will get all the answers you need to know about mechanical keyboards.
So, let's go through this article and figure out which one is the best mechanical keyboard for your office and typing purpose.
Why Use a Mechanical Keyboard?
When it comes to a mechanical keyboard, one thing is certain. That these keyboards are pricey. So, you might think about why you should buy a mechanical keyboard instead of a normal one. We have been in your shoes, too. But luckily, now we have got the answers. Here are a few of the main reasons why you should use a mechanical keyboard.
Difference between a Mechanical and a normal keyboard:
Before we can tell you why you need to use a mechanical keyboard. We need to let you know the difference between a normal one and a mechanical one. Normally, we use keyboards which are called 'Membrane' keyboard.
These keyboards have a rubber-made membrane underneath the keycaps. If you remove the keycaps on your keyboard you'd see the membrane. So, when you press a key on the keyboard that membrane transfers the keystroke to the circuit board underneath that.
Typically, that membrane is a one-piece material. That means the keys of these keyboards are not separate. Thus we call it the membrane keyboard. Now, it is true that membrane keyboards are ok. But there's a great caveat here.
While typing on a membrane keyboard, you have to press a key until it bottoms out to register the keystroke. That makes it hard and tiring to type on a constant basis. Your fingers will tire out very soon. Because you need to put a lot of force on the keys.
So, what's the solution to this?
In this case, mechanical keyboards are your savior. In mechanical keyboards, you won't find the infamous membrane. Rather, each of the keys has its own switch underneath it. Yes, you heard it right, the switches are separate from one another.
When you press a key on your mechanical keyboard the switch underneath the key transfers the keystroke to your PC. In this way, you will get a faster response and it will be very easy to type on. Now, there are a lot of different mechanical keyboard switches out there. Each one has a different feeling. We will cover that later.
Now that you know the definition of both the mechanical and membrane keyboard. Let's learn why you need a mechanical keyboard.
Most of the mechanical keyboards come with a great build quality out of the box. The average service expectancy of a mechanical keyboard is about 50 million keystrokes. Unbelievable, isn't it? And, you can't say the same for the normal keyboards.
Incomparable Typing Experience:
Truth be told if you are an avid membrane keyboard user who hasn't used mechanical keyboard yet. You will need just 1 try to fall in love with mechanical keyboards. The typing experience is incomparable with any membrane keyboards.
Remember those resistive touch screens? You had to touch (read press) a lot harder on the screen of your smart device to register the touch. If you compare that to using a capacitive touch screen, then the difference is day and night.
This is fairly similar to membrane vs. Mechanical keyboard. You will feel a whole lot different typing with a mechanical keyboard. Once you get a mechanical keyboard, you wouldn't want to go back ever. We should warn you that it is very 'Addictive.'
There are a lot of mechanical keyboards with a custom layout. Those are ergonomically designed. For example, most of us don't need the Caps Lock button where it is normally. On a lot of mechanical keyboards, we see that the CTRL key is their instead of the Caps Lock key. This can be very productive. It is just a single example. You can get keyboards with various layouts such as only 60 keys, 84 keys, full 104 keys, more than 104 keys etc.  There's a layout for everyone.
This is one of the main reasons you should go for a mechanical keyboard. Most of the mechanical keyboards are highly customizable. You can change almost anything of a mechanical keyboard. You can change the keycaps, switches, the frame, the cable etc.
That is just the tip of the iceberg. There's a whole lot more you can do with a mechanical keyboard.
For instance, you can selectively change the switches or keycaps and replace them with other variations. You can use just blank keycaps, you can even customize the keycaps as well. Although there are a huge collection of already customized keycaps available out there. You can either buy them or order your own design.
There are various styles of switches for you as well. Popular companies like the Cherry, Topre, Roccat, Logitech, PFU etc. Have released a lot of different types of switches. You may be wondering why there are so many variations.
It's because we all have our own preference. You might like to type with a little bit of force. Or you might need a keyboard which is quiet. Or you might like to feel tactile feedback while you type. There's no problem at all. Because there's a switch for everyone.
Each type of mechanical switches has its own tactile feedback, key height, actuation point, noise level etc. If you try them one by one you will instantly know the difference. We can guarantee you that you will find your match.
Frankly, we can give you more reasons why you should use a mechanical keyboard. But, we have a lot to talk about. So, without wasting our time, let's see the comparison between the 6 best mechanical keyboards for office and typing in the following table.
Comparison between the best 6 Mechanical Keyboards for Office and Typing
Keyboards/Features
Switches
Keys
Programmable?
Backlighting
Anti-Ghosting
Compatible OS
Weight
Das Keyboard 5Q
Gamma Zulu (Omron) soft Tactile switches
104/Full Size
Fully
Yes/RGB/Q Notifications
Full N-key rollover
Windows, macOS, Linux
3.41 pounds
Vortexgear Race 3
Cherry Mx Red/Blue/Silver/Silent Red/Brown/Clear

83 keys
Arbitrary programming
(3 layers) (Dvorak / Colemak layers)
No
Anti-Ghosting
Windows, macOS, Linux
1.76 pounds
HAVIT Mechanical Keyboard

Kailh Low Profile Blue Switches
104 keys
No
Yes/RGB/Customizable
All 104 keys of N-key Rollover
Windows, macOS, Linux
1.26 pounds
Redragon K552 Mechanical Gaming Keyboard

Cherry Mx red equivalent Linear switches
87 keys
No
Yes/RGB/Customizable
Full N-Key Rollover
Windows, macOS
1.93 pounds
ROCCAT Vulcan 100 Aimo
ROCCAT Titan Blue switches
104 keys
6 programmable macro keys
Yes/RGB/Customizable
Full N-key rollover
Windows, macOS, Linux
2.17 lbs
Logitech G613 Wireless Mechanical Keyboard
Romer G mechanical switches
117 keys
Yes, 6 programmable G keys
No
Anti-Ghosting
Windows, macOS, and Chrome os
3.1 pounds
Detailed Review of the 6 Best Mechanical Keyboards for Office and Typing
With the comparison table, now, you know at least a little bit about these mechanical keyboards. Right now, we will take it up a notch. At this moment, we will share a more detailed review of each one of these mechanical keyboards. So, let's get it going.
Das is universally recognized as one of the best mechanical keyboard manufacturers. So, without a Das keyboard on our list, it'd be incomplete. Das has a lot of keyboards. Among them, we think the Das Keyboard 5Q Smart mechanical keyboard is a noteworthy one.
This is a special keyboard for a lot of reasons. Let's know one by one. It is intended towards developers. And, that makes it perfect for using in the office. This is a programmable keyboard. That means you can program all of the keys to your liking. If you want to work uninterruptedly at your office, this would be the best choice for you.
This keyboard has the ability to track a lot of notifications and information. Then it will transfer the notification to you in a simple color-coded system. Thus, you won't be disturbed by any type of ringtones or alerts. Rather, if any specific notification comes your way, your keyboard will change its color to a particular one.
It also has a number of Q Applets (Pre-Built). With the help of this, you will be able to assign shortcuts to any particular keys on your keyboard. By default, you will get dedicated keys for GitHub, Stack Overflow, Trello, Twitch, Weather Forecast, RAM and CPU usage, Gmail, Workout and Stand Up reminder and so on. You can also change them with the Q software which you will be able to download from the website of Das.
Next, it comes with the 'Gamma Zulu' soft tactile switches. These switches are designed for more accurate and faster typing. They come with RGB backlighting. So, it will be helpful if you don't know to touch type. The build quality of this keyboard is also great. The Keycaps are Double shot, the top panel of the keyboard is made of Aluminum. So, it is very light and at the same time very durable. The cable of the keyboard is braided and very longer than usual. Overall, this could be a great choice for using in the office.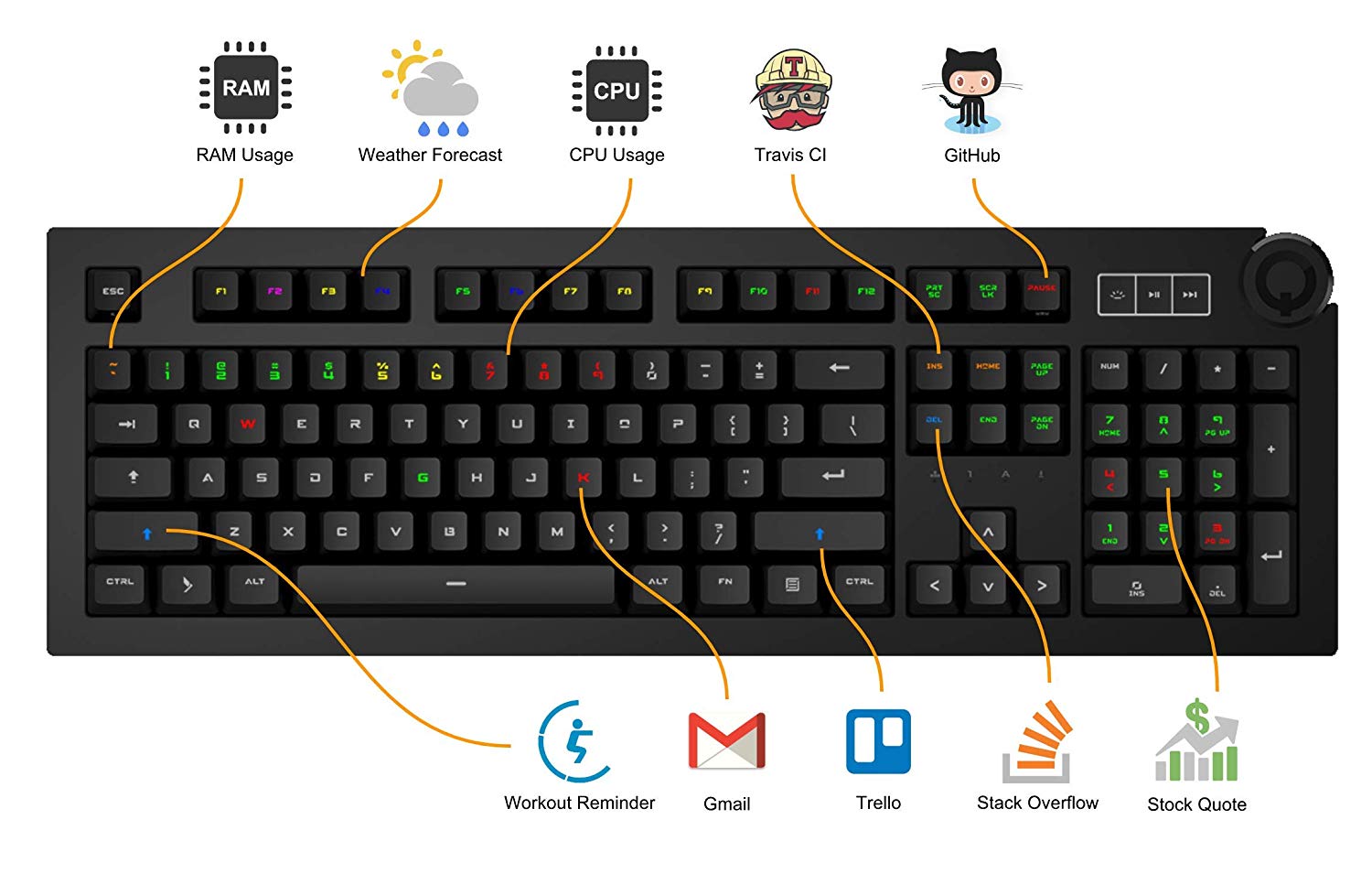 Key Specs:
Full N-key rollover and anti-ghosting (even if you press all of the keys at the same time, it will be registered on your computer)
100 million key presses
Customizable RGB lighting
Only 0.4 ms delay on keypress detection
Dedicated Media and Function buttons
Comes with a silicone wrist rest
2 USB 2.0 ports
Pros:
The Keys are laser etched. So, the letters won't wear off ever
Fully Program am
Spare parts are available so you can use them if you need to
Keep you away from interruption, perfect for office
Supports Windows, macOS, and Linux OS
Cons:
Your settings will be stored in the cloud, not on the board
Join now and get a great discount on Amazon Prime through this link
For a minimalist, the Vortexgear Race 3 can be an awesome addition to their collection. Because it is a compact ten-keyless keyboard. That means this keyboard comes with only 83 keys whereas a typical full-size keyboard comes with 103-104 keys. Usually, these types of keyboards are perfect to use in an office. It gets better if you have a smaller desk. Cause, it will fit easily and won't take a lot of space.
The keyboard comes with Cherry MX keys. It has 6 models to choose from depending on the type of the keys which are Mx Blue, Mx Silent Red, Mx Brown, Mx Clear, Mx Silver, and Mx Red. But for using in an office, we would suggest you have either of the Silent Red, Brown or the Red. Also, the Cherry Mx Blue has a loud noise compared to the other ones. So, it would be better to avoid it for office use.
Although the keyboard comes with only 83 keys, you are getting all the function keys as well as the media keys. This is also a programmable keyboard. You can customize the keys your way.  You can also change layouts between QWERTY, Dvorak, and Colemak directly from the keyboard. No extra software needed. This is a plug-and-play keyboard. So, you won't have to carry around a driver/software with you, if you want to use it with any other PC. So, if you like compact keyboard and love Cherry MX switches then this is a great option.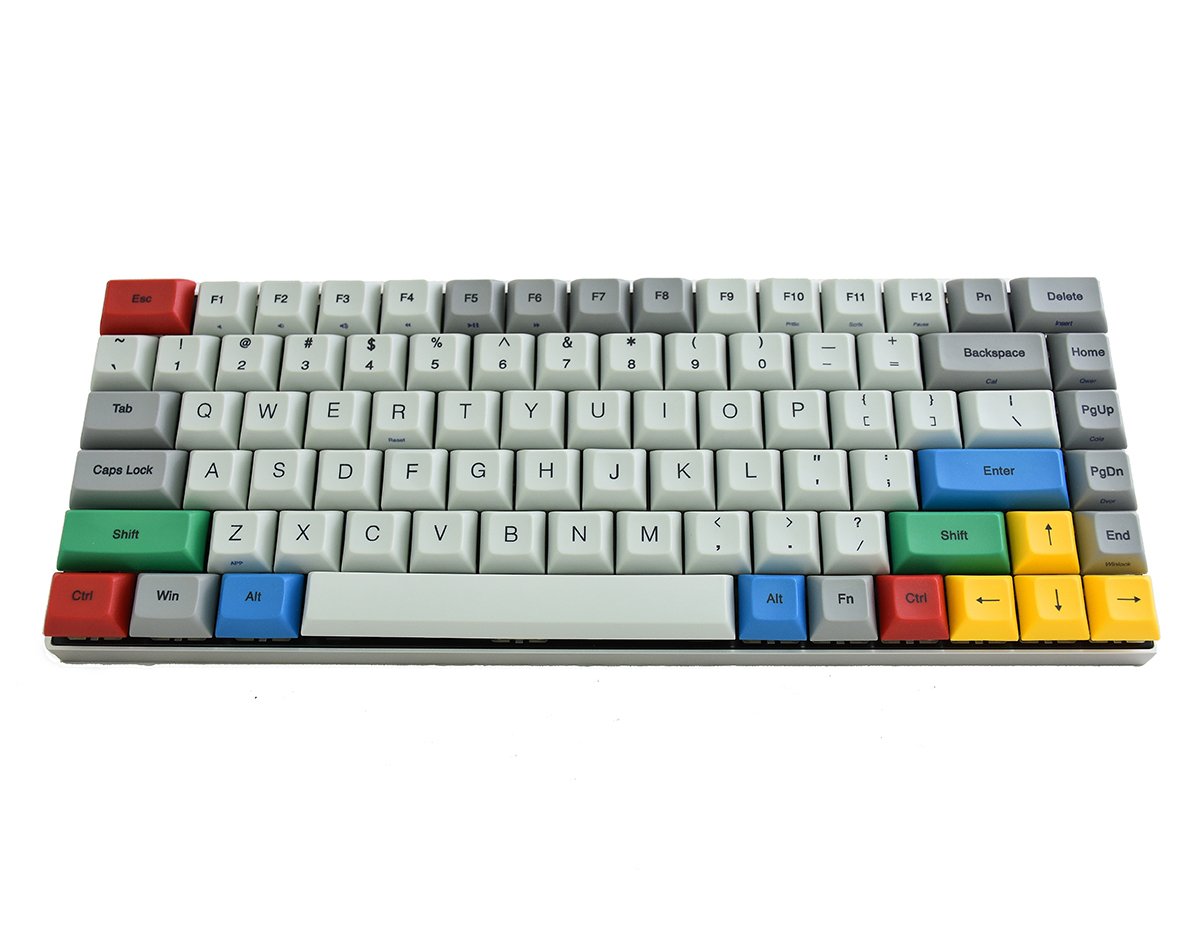 Key Specs:
The case of the keyboard is made of  Anodized CNC Aluminum
Comes with detachable  micro USB cable
Supports Windows, Mac, and Linux Operating System
PBT Dye SUB DSA Profile Keycaps
Comes with variable Cherry Mx switches
Pros:
Perfectly Portable, 75% Size keyboard
Can change the keycaps anytime
Great build quality
Comes with 19 extra keycaps
Includes Mac keycaps
Cons:
Does not come with dedicated Number row. So, if you are accustomed to using the number row for using software like Microsoft Excel, you might have to go through a learning curve
No bumps in the F and J keys which would help for touch typing
No RGB backlit feature
As you already know, mechanical keyboards tend to be a little pricey. But this is not the case for the Havit Low Profile wired keyboard. This has a very affordable price compared to any other mechanical keyboards. The first thing that is noteworthy about this keyboard is that it is a Low-Profile keyboard.
That means this is very similar to a laptop's keyboard. So, if you like to type on a keyboard which is not very thick, you will like this one. The keyboard comes with the latest Low Profile Blue Switches from Kailh. The height of the keys is only 11.5 mm which is about 7 mm less than a traditional mechanical keyboard.
The key travel distance is just 3 mm. And, the operating force is around 45 gf. It means it will feel pleasantly smooth on your fingers. And we bet that your fingers will thank you for using Havit low profile mechanical keyboard.
This comes with RGB backlighting feature. And, you can customize the lighting in a number of patterns. This is a full-size keyboard with 104 keys. But, the design and the low profile keys made it very compact. Thus, it has become one of the best full-size yet compact mechanical keyboard out there.  It will be a perfect buy for using in the office.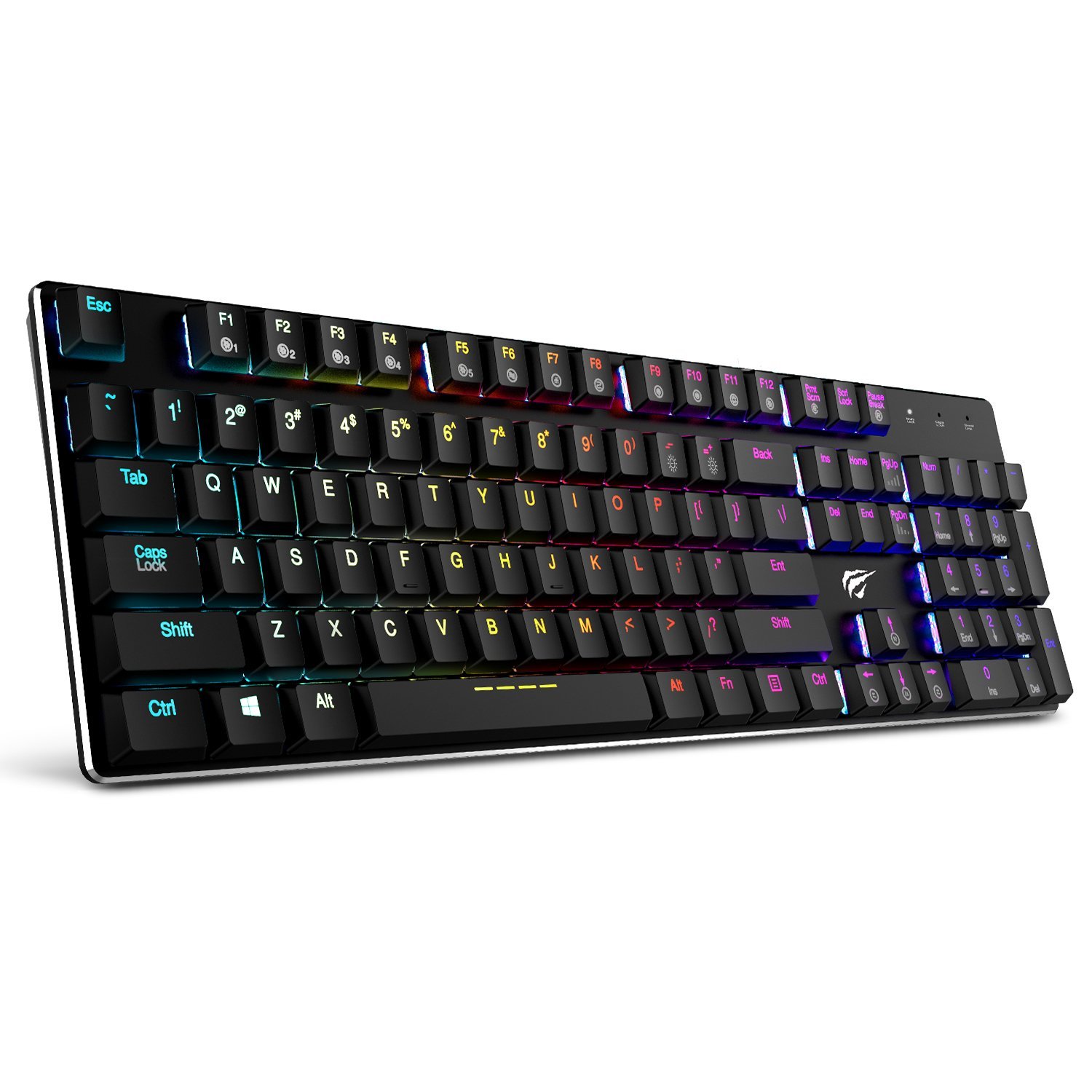 Key Specs:
50 million key operations (Service Life)
Compatible with Windows, Mac, and Linux
Fully Plug and play
All N-key rollover (perfect for gamers)
Windows Key lock feature
Multiple RGB Custom Backlit Mode
Pros:
Comes with detachable USB to micro USB cable
Highly Portable, Plug-and-play, no drivers needed to set up
It stores all settings on board. So, you can use it anywhere with your customized settings
Very much affordable compared to other mechanical keyboards
Sleek design
Cons:
No Macro/programmable keys
No dedicated Media keys
Alternative keycaps might be hard to find
If you want a mechanical keyboard, but you don't want to pay a high price for a mechanical keyboard, then this will be your best mechanical keyboard choice. This Redragon K552 mechanical keyboard is the best-selling mechanical keyboard on Amazon, based on 21,500 reviews and an average rating of 4.4 out of 5. And it retails for just $34.99, full value for the price.
The Redragon K552 Mechanical keyboard is a compact, 87-key keyboard with an ergonomically designed steel series of high-quality, durable metal abs construction. The mechanical keys are solid and work exactly as you would expect.
The keyboard features rainbow LED RGB backlighting with 19 different lighting effects, 2 user-defined modes, 6 colors, and multiple brightness levels to provide you with crystal clear and even backlighting, as well as spill-resistant features. Equipped with a gold-plated high-speed anti-corrosion USB port, it can provide you with a reliable connection.
If you are looking for a cost-effective mechanical keyboard, if you need a mechanical keyboard for typing with ease, then this may be the right product for you. The Redragon K552 is a compact ergonomic mechanical keyboard with no separate numeric keypad. It is the perfect mechanical keyboard for office or home use.
Key Specs:
Metal construction, plate mounted with 87 keys
Comes with dust proof mechanical switches, Cherry Mx red equivalent Linear switches
Precision engineered keycaps designed for durability & crystal clear uniform backlighting
Ultra-durable keys tested to 50 million keystrokes
Pro:
Premium feel while typing with raised keys.
Ergonomically designed mechanical keyboard, perfect for the office.
It's backlit, and just right, easy to see.
Dedicated 12 multimedia keyboard keys and non-slip ergonomic design.
Compatible with Windows, and macOS
Cons:
Many people feedback that the D key does not work properly after a period of use.
Roccat Vulcan Aimo 100 comes with a unique design. The design of the keyboard is aesthetically pleasing. Most of us would be attracted by the sleek and cool design. The frame/body of the keyboard is made with Aluminum. So, it is also a sturdy keyboard.
This one comes with the Titan Brown switches. The feeling of this particular switches can be compared to the Cherry Mx switches. They are also less noisy like the Cherry Mx switches. So, it is a great fit for using in the office.
On top of all these, you are getting RGB backlighting on the keyboard. This feature is powered by the AIMO illumination technology. You will need the 'Swarm' software to customize the pattern of the LEDs.
The keycaps are shortened which makes it easy to clean but hard to build dust in it. These switches have a 1.8mm actuation point, which is very low. That means a slight amount of force will be enough to type, and it will be silent if you don't bottom it out. All in all, the keyboard is one hell of a contender to be the best choice in our list of the best mechanical keyboard for office.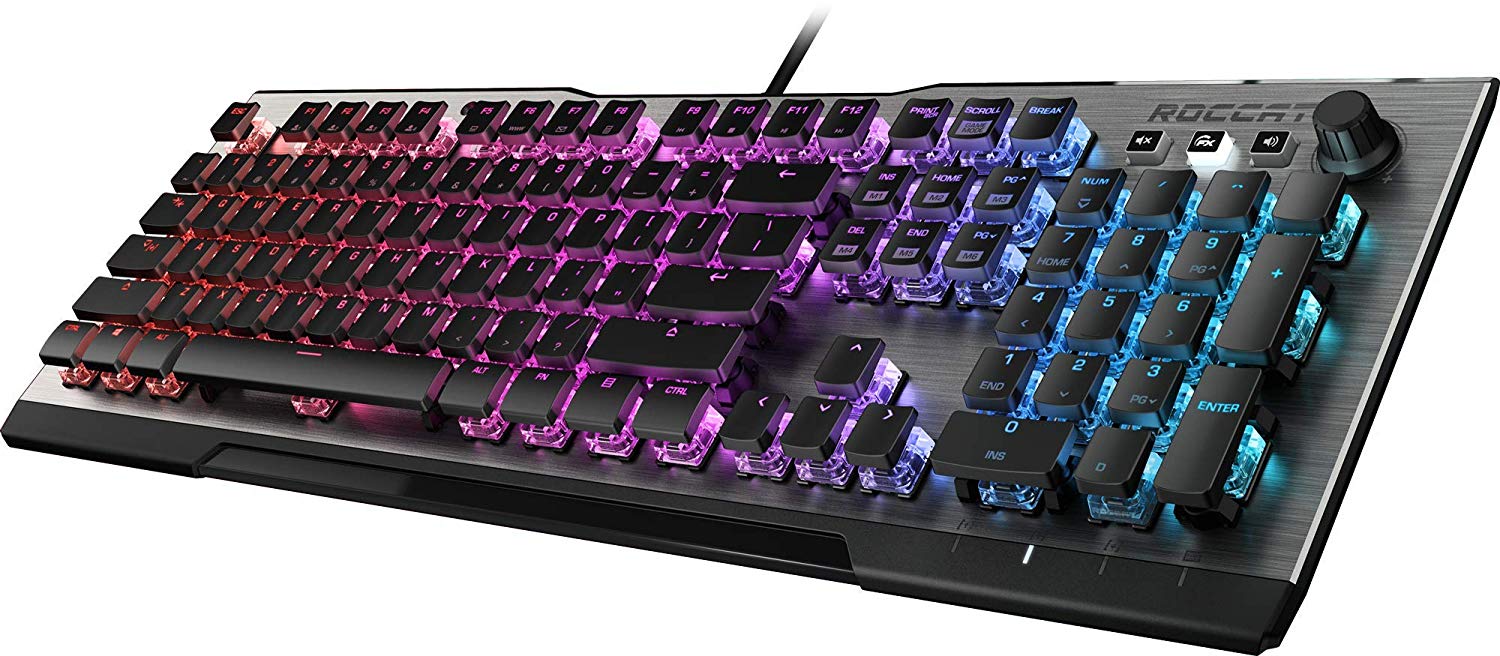 Key Specs:
Comes with Roccat Titan Switch
AIMO illumination engine which runs the RGB backlighting feature flawlessly
Comes with 6 macro keys (programmable)
1.8m braided cable
Comes with media keys and dedicated volume wheel
De-bounced Switch technology, the switches won't wobble while you type
Pro:
Full NKRO/advanced anti-ghosting (every keystroke registers separately)
Every key are remap-able as your preference
All settings are stored on board
Pretty solid build quality
Easy to clean
Cons:
If you enable the AIMO illumination technology, you can't control the brightness of the RGB backlighting
The 'Swarm' software is not compatible with some other popular software like Skype. If you have Skype installed, the 'Swarm' software won't work correctly 
If you are looking for a wireless keyboard for work with responsive performance, then the Logitech G613 would be the best choice for its price.
This mechanical keyboard features Romer G mechanical switches, that will provide quiet, precise mechanical performance and 70 million clicks of life for incredible feel and durability.
Also this keyboard has 6 additional programmable keys that allow you to easily create custom macro sequences and in app commands, and with the multi-platform compatibility, I think this is one of the best mechanical keyboards for office use.
All in all, if you want a neater workspace and a mechanical keyboard that is perfect for office or typing, then this fast and stable Logitech G613 keyboard is one of the best choices.
Key Specs:
Comes with Romer G mechanical switches
Comes with Media Keys and G macro Keys
Wireless and Bluetooth compatible
Can be used with macOS, Windows, and Chrome os
Comes with 117 keys
Pros:
Comes with media and G keys
Wireless and Bluetooth compatible, yet mechanical
Comes with Off/On switch
Very premium feel while typing
Battery area are easily to accessible and nice spot to put receiver
Cons:
Replacement keys is hard to find.
How to determine the best Mechanical Keyboards for you?
As you know that there are so many mechanical keyboards out there. So we can't just say that 'Hey, get this 'X' keyboard from 'Y' company.' It is not that simple. We wish that it was, though. However, we can recommend particular keyboards from our list for your convenience.
If you don't have any issues with your budget, then you should get the Das Keyboard 5Q. It has everything you need to have in a mechanical keyboard and more. If you are on a low budget but want one anyway, we would definitely recommend the HAVIT RGB Backlight wired keyboard. This is very reasonably priced but comes with a lot of features.
If you want to try something different, then your best bet would be the Vortexgear Race 3 . This keyboards come with different customized layouts. But they come with some of the best switches which are perfect for typing and using in the office.
Again, you should be thinking about the types of switches you need. Don't go wrong with the selection of switches. For instance, if you want a silent switch then don't go for the Blue switches. Usually, these tend to be louder than others. However, you can put O-rings to minimize the noise.
Again, if you love tactile feedback but don't want to bottom out your keystrokes, then you will love keyboards which comes with switches with low travel distances/actuation point. On the contrary, you might like to type with a little bit more force then you will love other variable switches. It is better if you buy a mechanical switch tester before you go for a mechanical keyboard. That way, you will exactly know which one you want.
Wrapping it up:
You need to consider a lot of things when it comes to buying a mechanical keyboard. And, it is not easy for everyone. Thus, we have written this article. And, with this post, we have tried to make it hassle less for you to choose the best mechanical keyboards for office. As well as, we included all the best mechanical keyboards for typing, too.
If you are still with us, now, we believe that you know a lot of information about mechanical keyboards. This topic is so broad that we have tried our best to cram all the information we can. Yet, we have a lot to tell. But we hope we have shared enough for our readers. One thing for sure we can say about mechanical keyboards is that it is like experience. You won't get it unless you try first.
You have our list. So, go and get one of your likings without any hesitation. We can guarantee you that you will love your new mechanical keyboard.
Happy Click-Clacking!