Want to be an explainer video pro?
We'll show you how with this Doodly review.
Let's get started with this interesting video app review!
What is Doodly? 
Doodly is a drag and drop video animation software that lets you create white board videos without the need to have any technical knowledge. The final product is a smooth video that feels like it has been created by a professional. In this Doodly software review, we'll show you how you can use Doodly to create high-quality videos within just a matter of minutes.
Videos that are created with a hand creating text or drawing characters over a white or black board are known as explainer or whiteboard videos.
They are a very popular form of videos that bloggers, small business owners and entrepreneurs often use to simplify complex explanations. It is often used in educational or informative videos where you need the audience to read text, but you don't want to bore them, so you use this form of animation to keep their attention while delivering the important message.
In fact, explainer videos gained popularity when Neil Patel, the online marketing guru made explainer videos popular when he wrote a blog post about how it helped him generate $42K in monthly revenue.
Since then, all businesses, B2C or B2B began using explainer videos to create content for their product and services. Animators were usually hired to do this job and there would be considerable effort in creating a full-fledged explainer video.
Fast forward to 2019 and a platform like Doodly now let anyone create whiteboard videos easily within just a few minutes. No tech or design skills needed to create professional quality explainer or whiteboard videos.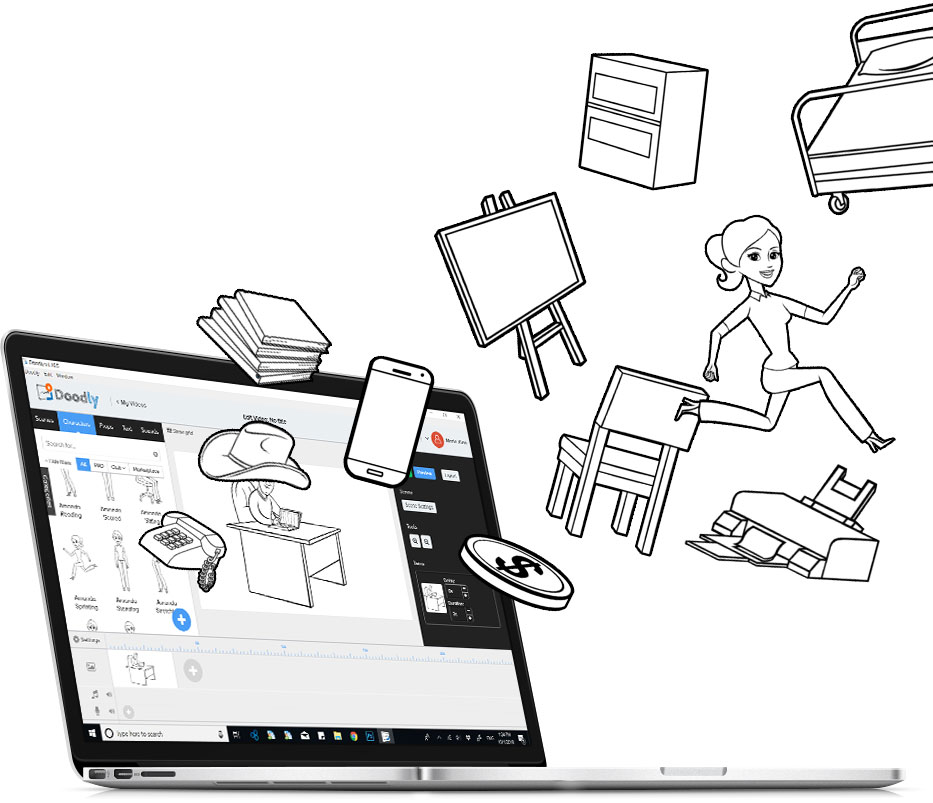 In our Doodly video app review, we discovered Doodly's main features that makes it a great video app for anyone who wants to create explainer videos.
The ability to create videos with no prior experience or technical knowledge.
Characters, stock images and sounds are available on the platform.
You can modify your video style and scenes through a range of options.
High quality video files with different export options.
Support for multiple languages.
Creating blackboard videos along with whiteboard videos.
Is Doodly Safe to Download & Use? 
In this Doodly review, we found that Doodly is safe to download and use. It does require you to sign in with your email to activate. You'll get a DMG file (for Mac) after you purchase the software. Once you have the set up installed, you just need to login with your credentials to have it activated.
Is Doodly Free?
Nope. Doodly is not free. It does not even have a trial version. There are two packages – Standard and Enterprise which you can avail as a monthly or annual package.
Monthly for Standard is $39
Monthly for Enterprise is $69
Annual for Standard is $20/month billed per month
Annual for Enterprise is $40/month billed per month
In our opinion, the lack of a trial version makes it difficult for anyone to flesh out $39 for a month. If you're thinking to buy a whiteboard video app, we suggest you investigate further and go through different Doodly video reviews on YouTube to understand whether the software works for you.
What Can Doodly Do for You? 
Doodly is a full-fledged professional video with the main purpose of letting newbies and professionals create quick explainer videos. The video app has extensive features and options which allows you to customize media, sound and images as needed. The app also lets you export your videos with multiple resolution options from 360 to 1080p with frames per second of 24 – 60. The quality could range from low to maximum depending on your preferences.
When you launch the video app, you can create a new video based on three options:
Whiteboard: Where you have black text over a white background like in most explainer videos.
Chalkboard: Where you have white text over a blackboard (like in a classroom, hence the name chalkboard).
Glassboard: Where it's like a hand is writing or drawing on the other side of a glass wall.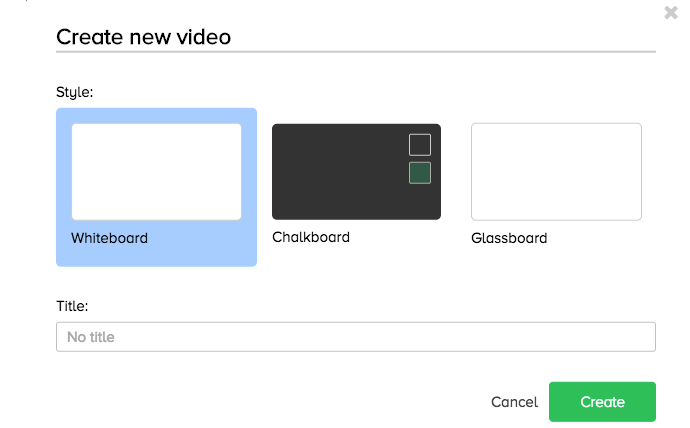 Once you choose your background, you'll see a three-column interface and a timeline like in popular video editing programs.
Your main canvas appears in the center while your text appears in the left panel. The right panel includes different scenes and other media items.
Doodly helps you create professional explainer videos by giving you a range of character and prop options. In this Doodly review, we cover some of the most important things that Doodly can do for you.
Build Your Video with Scenes, Characters, Props and Text 
To create an explainer video, you need relevant scenes, varied characters, professional props and different text style options. Doodly will also let you upload your own font and languages right into the platform. So if you're not satisfied with the font style, you can use your own by uploading a TIFF or OTF file.
Doodly gives you a plethora of scenes to choose from. These are pre-built images of different backgrounds such as a room in a house, a dinner table, a bus etc. You can also add different scene objects into the main scene using the props options, however, you cannot add your own scene. This is a limiting feature, but the fact that Doodly does have plenty of scenes, you might not need to add your own scene.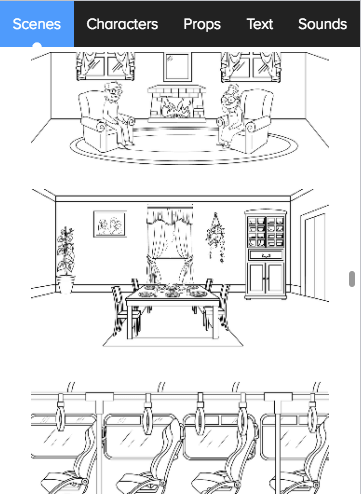 An explainer video is only fun if it has interesting characters doing various things. Doodly gives you plenty of people and characters to choose from its extensive library. The Basic Plan has 10 characters in 20 different poses, whereas the Enterprise plan has 30 characters with 25 poses.  Characters are either sitting, writing, thinking, standing or expressing some sort of emotion.
Finally, with the props, you can find a variety of options, from animals and plants to churches and cars, the options are plenty. You can also import other prop content, but the software does not give a smooth drawing effect to imported images as it does to its own images.


The right soundtrack can make a video successful or it can render it useless. Doodly lets you create background music as well as integrate a voiceover, so you can have both. You can choose background music from Doodly's stock music options. The one limitation here is, you cannot use Doodly to record your voiceover. You'll have to do that separately using another software and import it to Doodly.
Professionally Edit Your Videos
One of the toughest phases of making a video is the editing process. You have to make sure the scenes, the voiceover, the sound etc, are all well-synced. Doodly's video editing timeline lets you reorder scenes via easy drag and drop. It also lets you preview scenes as well as duplicate or delete them easily right in the timeline. You can also use the timeline to change your video style and edit the graphic style of the hand. While changing the hand, you can also change scene transitions and easily choose when you want the animation to end.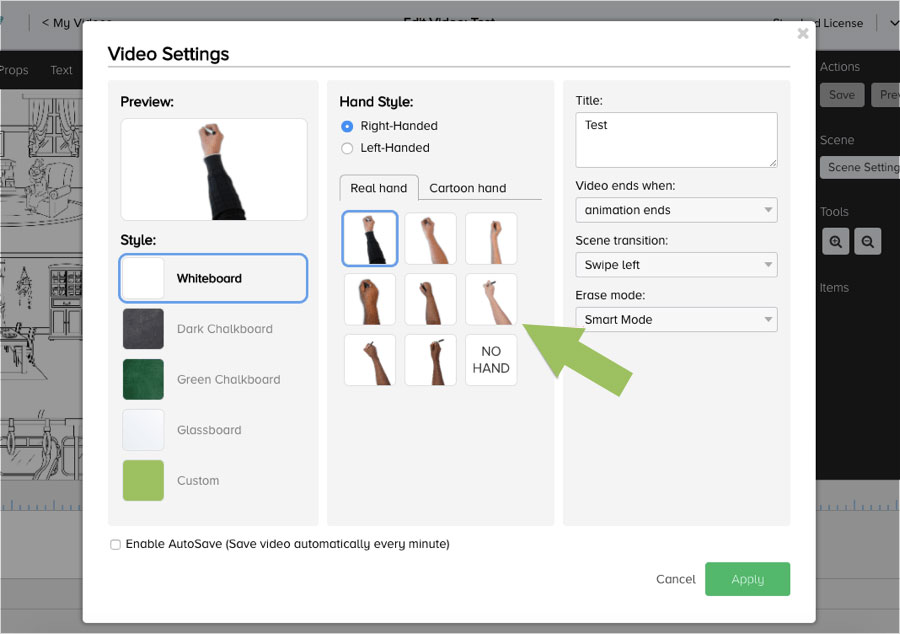 You can also reorder as well as set the delay and animation duration of each individual item. To do this, all you need to do is use the media list on the right-hand side of the window. Doodly has a simple drag and drop interface so if you need to do any changes, you can do that easily without having to rely on any prior technical knowledge of video editing.
Exporting Your Movie as MP4 Files 
Doodly lets you export your animation videos in the form of MP4 files. You can choose to export the video as Full HD at 1080p or as a normal low-quality video. The only setback though is the video takes really slow to export and render. A two-minute clip took more than 40 minutes to export and render.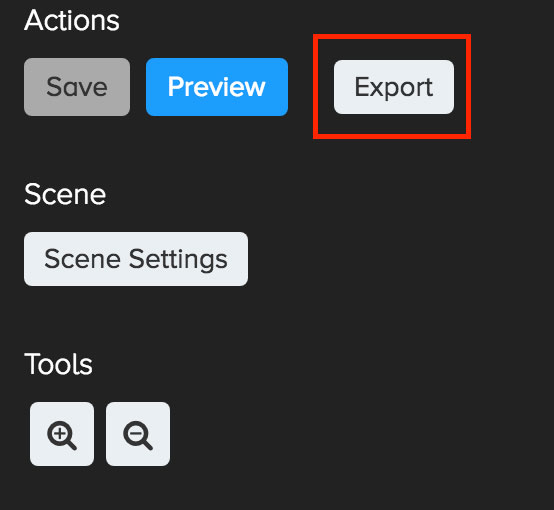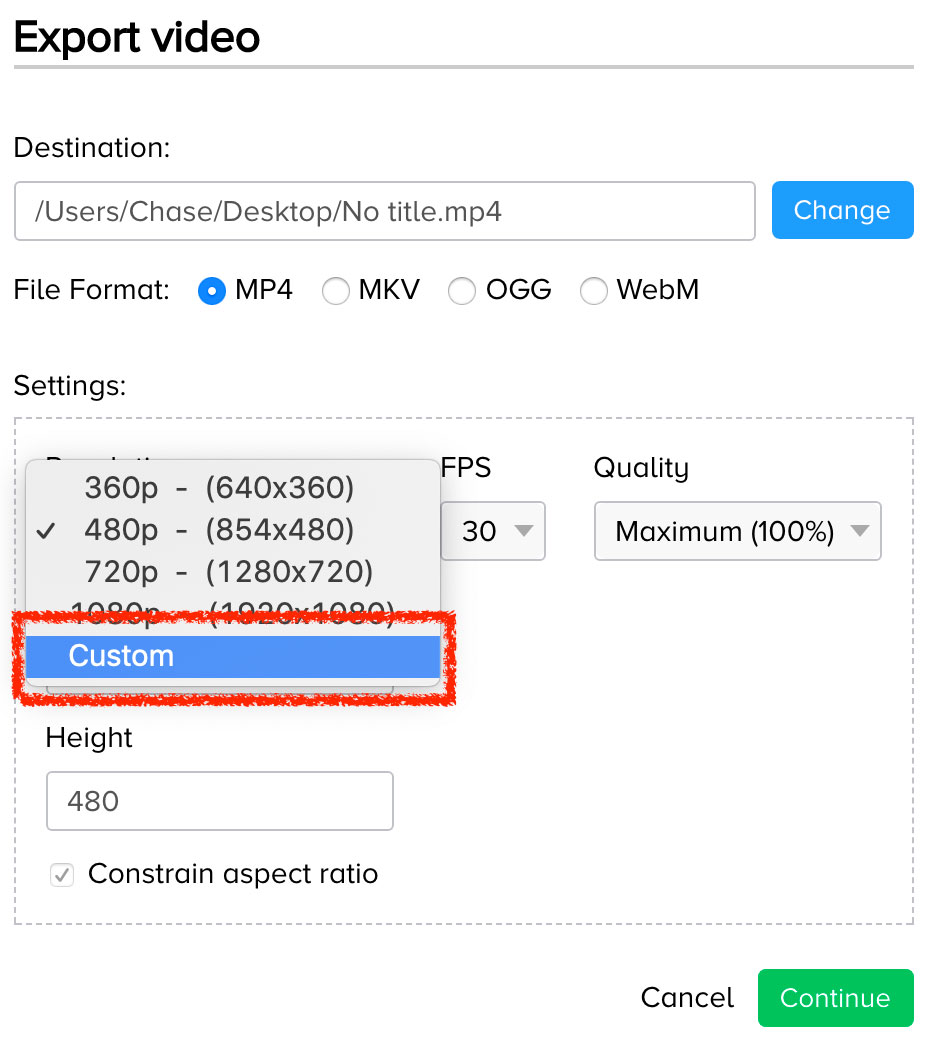 Get Step-by-Step Instructions 
Even if you're relatively new to video editing, you don't have to worry. Doodly has plenty of videos aimed at helping beginners understand how to use videos that will help you know everything you need to know about video editing and exporting. You can visit Doodly's range of video lessons here.
Upload Your Own Images and Sound Options
You can use Doodly to upload your own images and sound options if you need additional items to personalize your videos. Moreover, you can also create videos in multiple languages so if you need to create training content in more than one language, Doodly does the job well.
Overall, Doodly does a good job of helping new users and even professionals churn out high-quality explainer videos with a simple drag and drop process. You don't have to do much. All you need is a good, solid script and you can create your videos within a short time span.
Doodly Review: The Pros and Cons 
Like all programs, there are pros and cons that we need to be aware of. While writing this Doodly software review, we created a list of pros and cons that may play a critical role in influencing your purchase decisions. Here's what we found.
Pros:
Simple, easy-to-use interface.
Dozens of scene transitions, characters and props available.
Easy to customize and edit videos.
Professional quality videos.
Ability to add multiple audio files, fonts and other PNG, JPEG files.
Cons:
No options to record voiceovers. You have to do it individually.
Slow rendering of videos.
You cannot edit individual items such as characters or props. 
A bit expensive compared to other options.
Who is Doodly Suitable for? 
The price of Doodly start at $39/month for standard version, so unless you have plans to create dozens of Doodly videos, it may not be the best choice for you. It is perfect for small agencies, bloggers or trainers and educators who want to create frequent demonstrative videos for the audience.
Final Thoughts
Doodly is a great whiteboard animation software and does an excellent job creating explainer videos. It's easy to use and it has plenty of options to fulfill your most basic explainer video content. That being said, it is a bit expensive if you're not a regular user. For enterprises, schools and trainers who frequently work on explainer videos, this is a great buy.
>>Get Doodly to make animation videos now.<<
Pros
Simple, easy-to-use interface.
Dozens of scene transitions, characters and props available.
Easy to customize and edit videos.
Professional quality output videos.
Support add multiple audio files, fonts and other PNG, JPEG files.
Cons
No options to record voiceovers.
Slow rendering of videos.
A bit expensive compared to other options.