Summary: TechSmith Camtasia is a powerful screen recorder and video editing software, available for macOS and Windows. This publication has conducted a comprehensive review of Camtasia screen recorder and video editor, let's see if it is sufficient for professional video editing works.
Update note: This Camtasia review has been updated to ensure accuracy. TechSmith finally changed Camtasia's naming system to maintain consistency. In the past, the windows version was called Camtasia Studio. Now, its PC and Mac versions are directly called Camtasia, and the versions are updated according to time. For example, the latest version is Camtasia 2021, and Camtasia also added new features, including new transitions, effects, and more.
Are you into making demos, training or tutorial videos?
Then chances are, you are looking for a video editor which can do it all. Frankly, it is very hard to find a video editing software which is perfect in every aspect. However, today, we are going to talk about a particular software which is a great contender for being the best video editing and recording software out there.
Yes, we are talking about the renowned Camtasia software from TechSmith, which has been deeply involved in application development in the field of video recording and editing for more than 20 years, and has more than 65 million users worldwide! If you're in need of professional video editing software and wondering if TechSmith Camtasia is the best professional video editing tool for you, we're here to help you out. We are confident that by the time you finish reading this article, you will have found the answer you are looking for.
So, let's get things underway…
What is Camtasia?
Camtasia is an all-in-one screen recorder and video editor tool. It is compatible with Windows and macOS. Now, the latest version available is the 'TechSmith Camtasia Version 2021'.
This is a very powerful tool which can be used to capture the actions on your computer screen. And then you can edit and customize the video according to your preferences. Now, how do you get Camtasia video editor? Do you have to buy it or not? You will find the answer below.
Is Camtasia Free?
The straight answer is "No". Camtasia is not completely free, but TechSmith offers a free trial version, which means you can try Camtasia 2021 for free for 30 days, you can enjoy Camtasia for free, without any feature limitations or recording restrictions, and see if it is good for creating professional-looking videos.
However, if you edit and export videos using the trial version, there will be a watermark on your video. To remove the watermark you will need to buy the software. You can buy Camtasia 2021 at $249 from the official website of TechSmith Corporation, which includes 2 installations per user, and compatible with Windows and MacOS. And Guaranteed next version – Camtasia 2022. If you are already a Camtasia user, you can upgrade to the latest version Camtasia 2021 for $139.95 from old version that you have. There are also available business, education, or government license to choose from. Whichever one you choose, you will be protected with a 30-day money back guarantee. So, if you don't like the software after purchasing you can get your money back.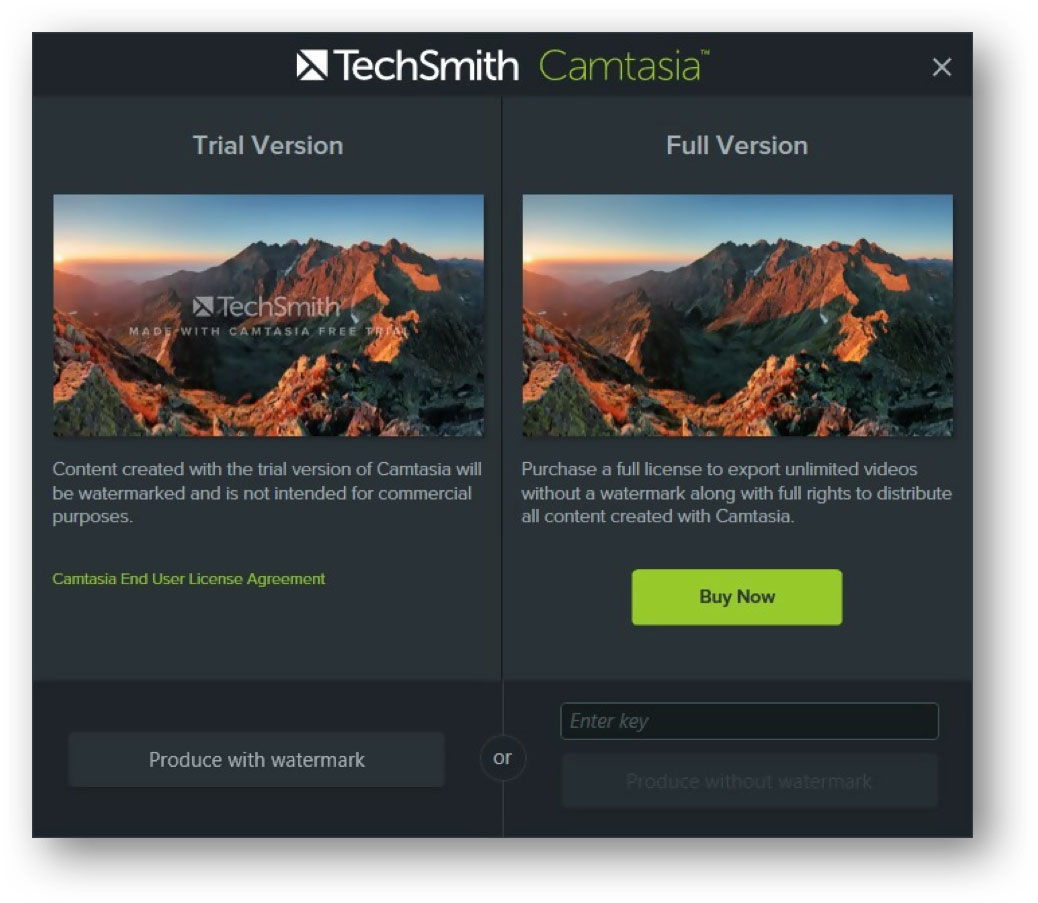 Camtasia 2021 Features and Specs
The latest version of the Camtasia software comes with numerous useful features. In this section we will explore all of the major features one by one. Let's get to it…
Screen/Webcam record and Editing
The primary function of Camtasia is to capture the screen of your computer as a video file. That means it can record whatever is on the screen of your computer at that moment. There are several options to choose from when it comes to capturing the screen of your computer. For instance, it can capture a particular part of your screen, full screen, a particular window, and even particular apps.

You need to click on the 'Record' button to start the recording. Along with that, you can also use (pre-configured by TechSmith) keyboard shortcuts to start, pause/resume, and stop recording. That way, you won't disturb what's happening on the screen. Camtasia will run in the background.
At the same time, you can also capture your face from the webcam of your computer. Camtasia not only records video but also capture audio as well. So, you can use it to capture video calls using software like Skype and so on. Another main function of this tool is to edit videos. You can edit any videos whether you have captured them using the Camtasia screen recorder or not.
Add effects and filters
 After you have captured the video of your computer screen, you can customize it with different effects. Most of the 'Effects' can be added to your video by just dragging and dropping. So, you won't have to be techy to use Camtasia. with this feature, you can literally change the look of your videos in the post-processing period.
There are hundreds of visual effects to choose from. Some of the main ones are 'Drop Shadow, Colorize, Remove a Color, Border, Interactive Hotspot' etc. You can also add animations to your video. There are tons of pre-made animations and filters available on the online library of TechSmith. And most of those effects are free. But some of them are premium which means you will need a paid subscription to get them.
Add Music and Audio Customization
 There are times when we need to add background music to our videos to give it a peculiar touch. If you are in need of that then you are in luck. Camtasia has over hundreds of royalty-free audio, sound effects, and music in the TechSmith library. And with the paid subscription, you can get them to use in your videos.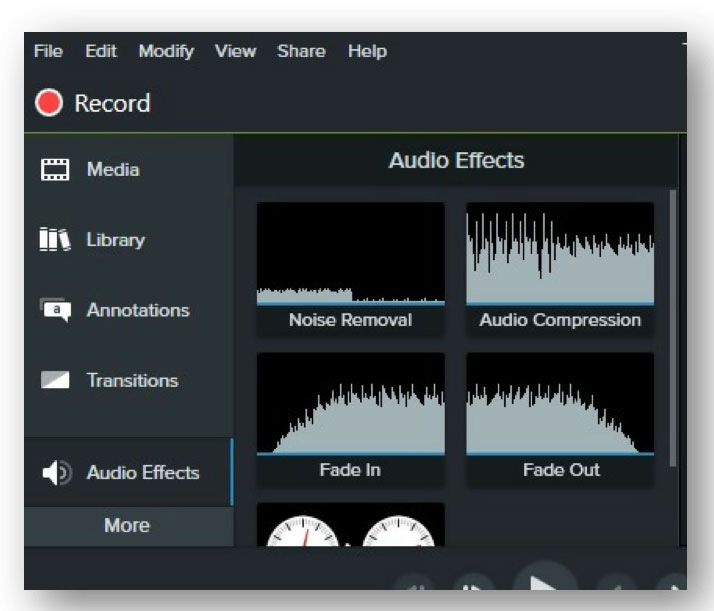 There's more! If you have recorded audio during capturing the screen of your computer, you can even customize the audio settings as well. You can add various audio effects like Fade In/Out, Noise Removal etc. on your video. You can also cut, trim, add multiple audio track on top of the primary audio track.
Add Animation, Behaviors, and Cursor effect
 Adding animations to a video is very easy with Camtasia. They have a great collection of different animations on their repertoire. You can add animation effects like No/Full Opacity, Tilt Left/Right, Scale Up/Down, Smart Focus etc. On top of all these, you can also use the 'Zoom-n-Pan' feature to move the play-head over a callout, video, image or any particular area on the video.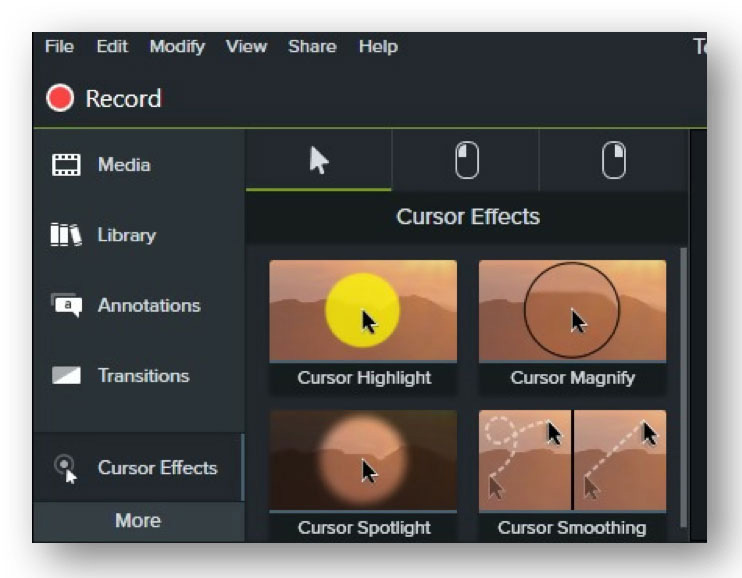 Next in line is the 'Behaviors' feature. With the help of this feature, you can animate the annotations of your video. There are some interesting 'Behaviors' animations like Pulsating, Reveal, Pop UP, Jump and Fall and many more.
Furthermore, you can add effects to your cursor movement. There are 3 types of effects related to the cursor, left click and right click. So you can add separate effects to each of the activity regarding left click, right click, and cursor movement. For example, you can add magnify/highlight/spotlight effects to the cursor movement. Aside from that, you can also add ripple, rings, scope, warp etc. effects to the left/right click activity.
Add Titles, Callouts, and Annotations
You can add awesome annotations and callouts on the video to catch your audiences' eyes. Later, you can also customize and add effects to the callouts and annotations. With this feature, you can also add titles to your video in the same way.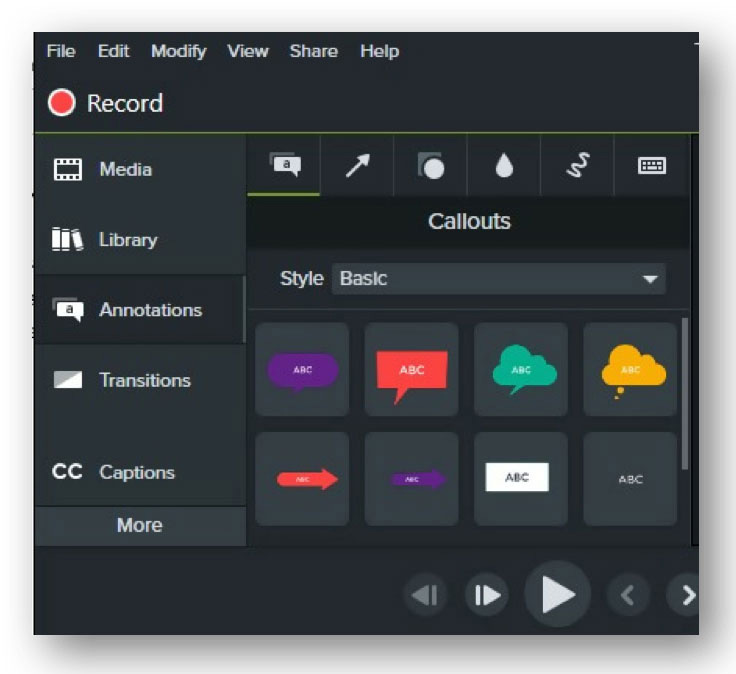 In the case of 'Callouts', there are 4 types of callout styles such as 'Abstract, Basic, Urban, and Bold'. All of these styles also come with multiple styles. Other than that, you can choose from Arrows and Lines, Shapes, Blur and Highlight, Sketch Motion, and Keystroke callouts styles. All of these styles are very useful.
For instance, the 'Blur and Highlight' style can be used to blur any sensitive part of the video. Also, the sketch motion features will help you to represent an idea effortlessly. Again, if you are making any tutorial videos where you need to add keyboard shortcuts or something like that, you can use the 'Keystroke Callouts' style.
Transition effects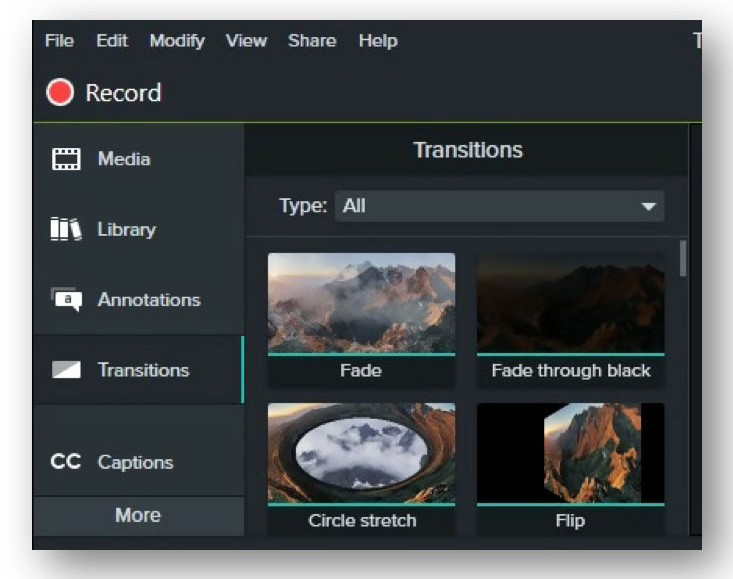 This feature comes in handy if you need to create presentations. Adding 'Transitions' effects to a presentation video makes it lively. It will definitely improve the flow of your video. Typically, there are 5 types of 'Transition' effects to choose from. They are known as Fades, Objects, Movement, Stylized, and Wipes. Moreover, you will find a lot of effects under each of these 5 types of transitions. In total, there are over 20 different transition effects available by default on Camtasia video editor.
'Interactivity' feature
 If you are into making tutorial videos with the Camtasia video editor software, then you will love this feature. This is a unique feature. And we haven't seen this type of feature on any other video editing software.
With the help of the 'Interactivity' feature, you can add quizzes on your video. Also, you can add an unscored survey to make sure that your audiences participate with you. That way, your audiences would be encouraged to interact with your video.
MS PowerPoint Integration
Without any doubt, we can say that the PowerPoint software from Microsoft is arguably the most used software for creating presentations and slides. And, TechSmith knows that very well. Thus, Camtasia comes with the option of integrating it with MS PowerPoint using the PowerPoint Add-in.
Using this feature, you can directly record your presentation and slides from PowerPoint. And it will turn into a video. Later, you can edit and customize it using the Camtasia editor.
Voice Narration and Caption
 Ideally, you can't create a perfect tutorial without captions or voice narration. Luckily, TechSmith Camtasia has all the things you need. You can easily add captions to your video. There are two ways to do that.
First of all, you can import any pre-made captions from your computer. However, if you don't have any captions then you can add one in the Camtasia studio software manually. To add the caption manually, you can type the caption directly or use the 'Speech-To-Text' option as well. After adding captions, you can also sync it to your video perfectly.
You can also record your voice to add it to the video. During recording your voice, the video will play. That way, you can make a helpful video with clear instructions. After adding your voice, you can customize the audio with different audio effects as well.
Video and Audio Adjustments
 The Camtasia video editor comes with all the basic adjustments tools. So, you won't have to worry about the features like Cut, Copy, Paste, Crop, Trim, Split, Join, zoom in/out, resize, rotate, move, and pan etc. All of these features are there by default.
Beginner-Friendly
 Nowadays, most of the video editing and recording software comes with a complex user interface. However, this is not suitable for beginner users. As a result, TechSmith has made Camtasia video editor very easy to use. If you know how to use the mouse and keyboard, you are good to go. Of course, you should also know that there are some advanced features. If you are a complete beginner then you might need a bit of time to get familiar with those features.
Other than that, the whole software is pretty straightforward. On top of this, the software comes with a 'Welcome' video. It will be automatically played whenever you run the software for the first time. It is a streamlined tutorial on how to use the Camtasia 2020 software. After watching the video, you will get familiar with all the settings, menus and options of Camtasia 2020. It's that easy!
Additional Tutorials and Online Library
 The 'Welcome' tutorial video might not clear your every confusion about the software. If that's the case, don't fret. TechSmith has a dedicated part of their official website which contains tutorials, videos, guides etc. related to Camtasia. All of the tutorials are free for everybody. So, anytime you are facing a difficulty using the software, you can turn to their official website for help.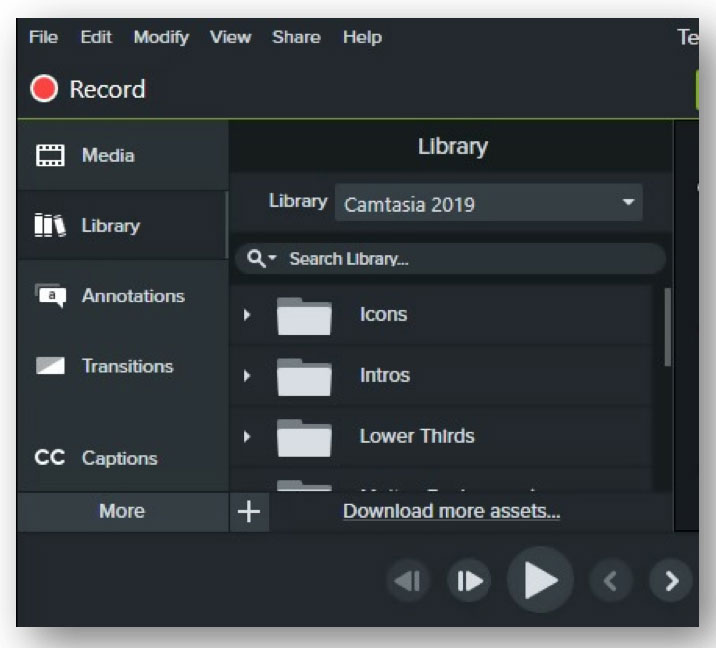 TechSmith also has a dedicated online library which contains music, images, videos, intros, and outros and so on. TechSmith has coined the term 'TechSmith Assets' which represents its online library of useful materials. Most of these 'Assets' are free. Yet, there are some which you need a subscription to get. But the best part about these 'Assets' is that they are royalty-free. That means, once you get them, you can use them forever free.
Share and Save
So, you have recorded and edited your video. Now what? It's time to save or export the video. You can save your videos in different popular formats like MP4, AVI, WAV, MOV, GIF and WMV (depends on your OS) etc. However, along with saving your video, you can also share the video with your audiences using the 'Share' feature of Camtasia.
With that feature, you can share the video to your Google Drive, YouTube, Screencast.com, and Vimeo account with just a few clicks. You can also export the audio, captions, frames separately to your computer. That's a nice touch, isn't it?
The Pros and Cons of Camtasia
Here are the good aspects of Camtasia.
Intuitive User interface: Very simple and easy to get used to the functions of the software. Suitable for anyone from beginner to professional
Myriads of features: Comes with hundreds of amazing features. Every feature from basic to advanced are included
Capture Anything: You can literally record everything that's happening on your computer screen. Whether it's a video game, any other apps, or any window; it can capture all the actions with or without audio
Royalty-Free Assets: You will get access to thousands of royalty-free intros, audios, videos, animations, effects etc. To be noted, 'Royalty-free' is a kind of license that lets unlimited use of copyrighted material or intellectual property without paying the license fees. If you subscribe to 'TechSmith Assets', then you will get to use those 'Assets' without any additional costs
Help is there: You will have the TechSmith customer support team on your back. You can chat with them as well as can submit tickets to sort out the issues. And the tutorials are always available
Mobile Companion App: TechSmith offers a free screen recording app named 'TechSmith Capture' for iOS. With that app, you can record your mobile screen and share the video to your computer directly for further editing. There's a media sharing app for Android and iOS as well named 'TechSmith Fuse'. You can share media from your smartphone to your PC with this app
 Like every other great product, Camtasia has some drawbacks too.
Lacks the auto-record feature: It would be great if you could schedule your records by default. However, it is not a deal breaker in any way
A bit pricey: We think the price could be a little less
What is Camtasia Software Used for and Who Should Use it?
If you are still with us then you already know the answer. Simply put, the Camtasia Software is used to record the screen of a computer and edit videos. So, anybody can use this tool for making high-quality professional-grade videos.
For instance, if you are a gamer, you can use this to record a video game session. Or else, if you're not into video games, you can use it to make presentations. If you're a YouTuber then you can use this to edit your video and directly upload it to YouTube. We have summarized this great screen recorder and video editor can be used for as follows:
All employees that create presentations can use – Recorded presentations are an effective way to reach global remote teams, Camtasia provides advanced video editing and visual effects to ensure engaging and influential presentations.
Corporate Trainers, IT, HR, and Subject Matter Experts – Deliver scalable, learning-optimized video training. With Camtasia 2020, Make quick learning curve, templates, and certification course, it's easy to show what you know; Quizzing, Table of Contents, and Captions facilitate learning.
Support, User Assistance, and Customer Success – Update and reuse content and provide customers with the best experience, even when things change. Camtasia's multi-track Timeline, Video Annotation & Redaction, Callouts, Zoom and Pan, Voice Narration, Animations, Accessible Video features may save your much time.
Marketing and Sales – Engage stakeholders and potential customers; stand apart from the competition. Camtasia can let you make things done quickly: import image, screen and camera video, Music & Audio Enhancements, Cursor Effects & Editing, Asset Library, Intro/Outros, Lower Thirds, Transitions.
Wrapping it up
Now, it should be clear to you that the Camtasia Software is one of the best if not the best screen recorder and video editing software. Honestly, we might go the extra mile and tell you that it is the best of its kind. For creating and editing professional-grade video, this is a top pick.
There are a lot of alternatives to Camtasia 2021 available. But none of them come closer to it in terms of features and ease of use. From our point of view, it easily blows all the competitions out of the water. Although it might be a bit expensive it is certainly worth it. So, it's time to try it for yourself and see if it works for you.
Assets and library
9.0/10
Pros
1. Professional and capable editing features gfeatureset
2. Easy to use
3. Support 4K video
4. Excellent tutorial support
5. Mobile companion app
Cons
1. Lacks the auto-record feature
2. A bit pricey