All your movies in Netflix.
All your music in Spotify.
How about all your apps in one shop?
That's the idea of SetApp – a subscription-based service that has a collection (growing) of over 240 apps for your Mac systems and iOS device.
Let's dig deeper with this SetApp review and see what the app has to offer.
What is SetApp?
If you're a Mac user, chances are you're paying a hefty amount for multiple apps and are also having a hard time managing monthly/yearly subscriptions. Would you want a one-stop service where you can just pay once and use all your favorite apps without having to pull out your credit card everytime?
Well, SetApp is just what you need.
SetApp is an app subscription service for Mac. Now, you're probably wondering why you need a app subscription like app store when you already have the official store? That's because the official store does not offer you a subscription-based service. You have to pay for each app individually.
SetApp, on the other hand, provides a one-stop-shop service where all you have to do is pay $9.99/month to gain access to 240+ apps for Mac. An app on the official app store may cost anywhere from $1 to $300. With SetApp though, you can get most of these premium apps at an affordable monthly cost.
SetApp is a product by MacPaw, an independent, Ukrainian development company known for developing apps for Mac with leading products like CleanMyMac X, Gemini 2, Wallpaper Wizard to its credential. When the service started in 2017, it had just 60 apps, but today, it has more than 240 apps which means double of its initial collection.
Like most subscription services, MacPaw can add these apps to their shop by agreeing on a licensing deal with the app developers who are then paid royalties for user downloads. In a blog post, SetApp boasts of 300,000 users as of 2018, a year after their launch.
So far, the service seems to be a hit with consumers as SetApp also wins the SaaS Award of 2019 among other recognitions such as being honored as one of the Top 10 Most Innovative companies in Europe by Fast Company.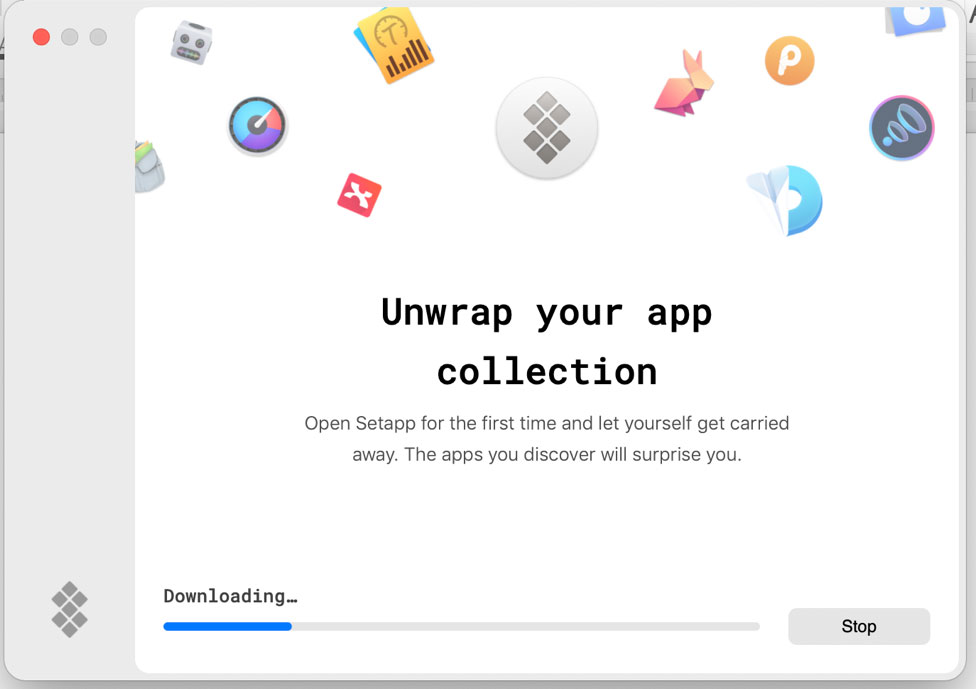 Is SetApp Safe?
SetApp has a strict review process for developers who submit their app to the store. According to SetApp's FAQ, every app is checked for quality, functionality and safety before it is introduced into the app store. In fact, the company specifically works only with established developers which means there are no random, unchecked apps in the store. SetApp is pretty much like the mini Apple store and follows the same guidelines as the official store.
The program itself was easy to download and use. There was no malware or malicious code found during the installation of the program. As always, we recommend you download the app from the SetApp website itself to avoid any safety issues.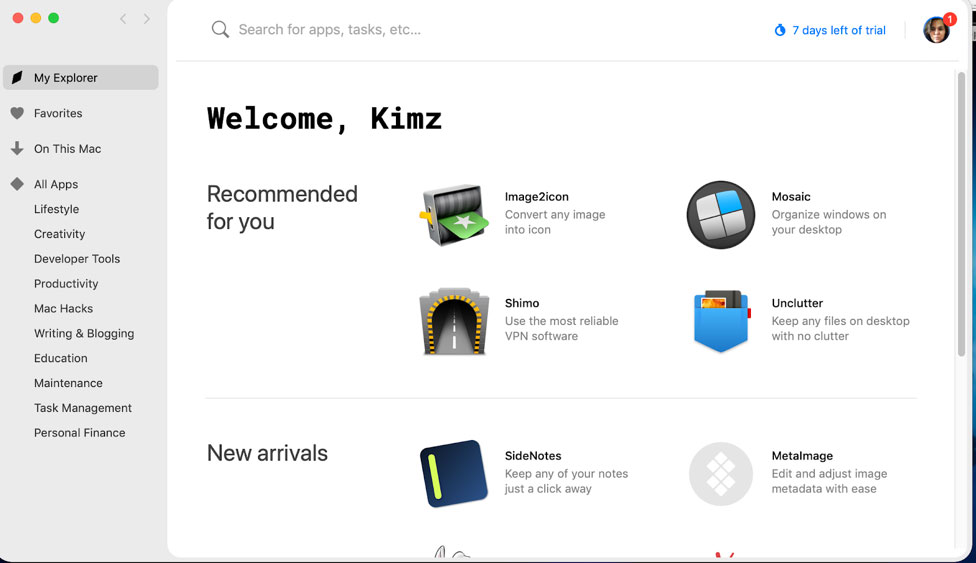 How Much Does SetApp Cost?
For $9.99/month, you gain access to all the apps in the SetApp store. There is a 7-days free trial period that lets you download the app and test it out before making the purchase.
You don't have to pay any additional amount for using the apps on the store. With one account, you can use SetApp on two Macs simultaneously. You can choose to cancel your subscription any time without affecting installed apps until the next billing period.
The app has also finally included a family-based subscription which was not available earlier. This means you can use one account on multiple Macs for $14.99/month.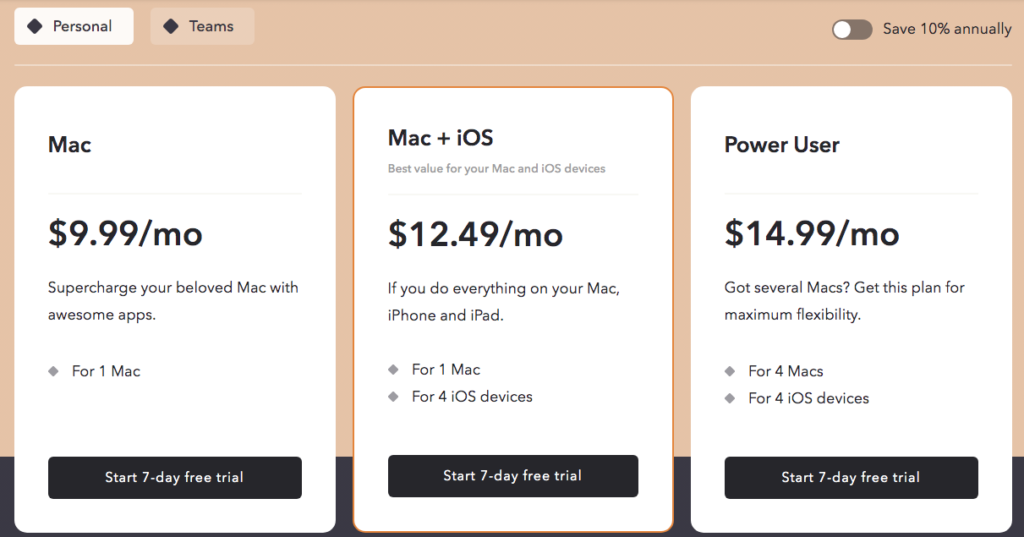 What Kind of Apps Will You Find on SetApp?
SetApp is pretty much like Apple's Store. It has apps categorized into ten categories which are:
Lifestyle
Creativity
Developer Tools
Productivity
Mach Hacks
Writing & Blogging
Education
Maintenance
Task Management
Personal Finance
Each of these categories have between 10 to 20 apps that you can also find on the official store, but at a heftier price tag. So for example, the Boom 3D app (an audio enhancer app) costs $19.99 on the App store, while if you use SetApp, you can buy Boom and many other apps for just $9.99.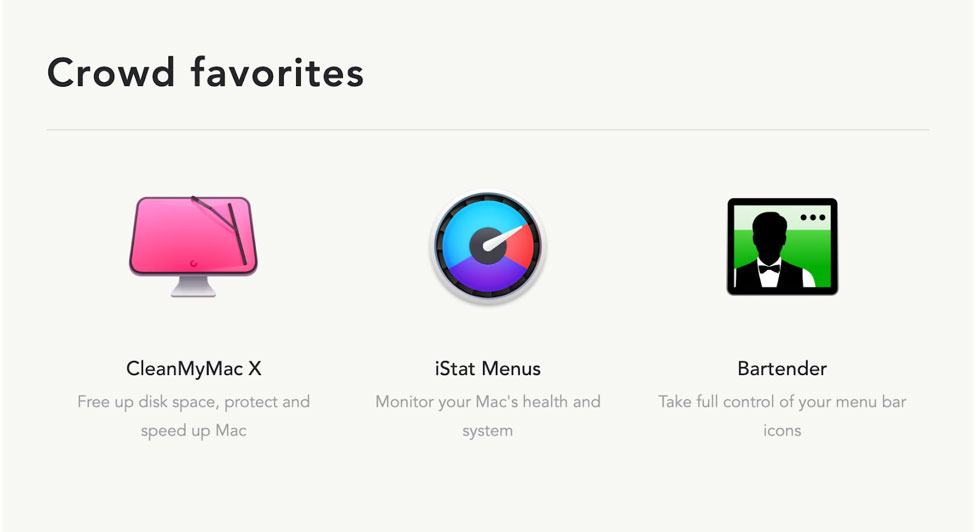 Some of the most popular apps on SetApp are:
CleanMyMac X: This is a product of MacPaw itself which is quite popular with Mac users who want to free up valuable disk space, protect and speed up their system.
Ulysses: One of the most popular apps for marketers and writers. With Ulyssess, you can sync across multiple devices within your Apple ecosystem and publish content directly to WordPress or Medium. Ulysses would cost you $4.99/month or $39.99 a year if you use it without SetApp. 
Flume: Popular with Instagram users, Flume lets you have Instagram on your desktop. Do everything you usually do with your Instagram account right from your desktop. Upload pictures, comment, like stuff and manage multiple accounts with the Pro version. 
Downie: Media enthusiasts find this app quite useful. You can easily download videos from the internet by simply dragging and dropping the link of the video into the app – or install the extension to let it download the video into your mac. YouTube videos, Instagram or Vimeo videos can all be downloaded using Downie. 
Gemini 2: Another of MacPaw's super popular app, Gemini 2 is a great tool for finding and deleting duplicate files on your Mac. The actual cost of Gemini 2 is $19.99/year. 
iStat Menus: This app helps monitor your Mac's health and system. It's one of the most popular apps on SetApp that provides technical information in a visually appealing way. 
Wallpaper Wizard: A cool app that lets you change your Mac wallpaper without a hassle. Unlike other wallpaper systems, this one is safe to use and is non-invasive. 
xMind: This is a new addition to SetApp apps and is already rising on the popularity graph. If you're someone who likes creating mind maps of your plans and goals, this is a great visual tool to use. 
PDF Squeezer: Heavy PDF files are a trouble? This simple app helps you make large PDF files lighter with just a few clicks. Easy to use, available for Free on SetApp. 
Folx: Frequently download files and looking for a download speed booster? Folx is one of SetApp's most popular app that lets you download files and torrent by splitting downloads into multiple streams speeding up the process. 
If you're a gamer though, you'll be disappointed. Unlike the Apple Store app, SetApp does not have a category for games yet!
Benefits of SetApp
All this boils down to one question, is SetApp worth it? Apart from being cost-effective, what other benefits does the app have to offer?
The answer is, plenty of benefits if you're someone who is in frequently in need of multiple paid apps.
Some of the key benefits we discovered were:
Multiple Apps from Different Categories at One Price: In a subscription-based service, this is one of the key benefits. You don't have to pay for apps individually which often collectively results in four-figure costs. If you just do the basic math, you're paying at least $20 (some are per month and some per year) for most of the apps you're using. If you're using say 40 apps, that's an easy $800, not to mention some of the premium apps are costlier. So with $9.99/month, you're saving in hundreds of dollars for using basic apps.
A Hand-Picked Variety of Apps: There are multiple types of apps catering to needs you might not even recognize if you hadn't scrolled through the list. For example, we realized an app like IM+ is a real deal-breaker and something we hadn't realized we needed until we saw it! The app allows you to connect all of your chat and messaging accounts (Slack, Messenger, LI, Twitter and a long list of other services) into one central account. So if you're communicating on Slack, Messenger and other channels using just one single app for which you're practically paying nothing with SetApp's subscription rate. That's quite a cool feature!
It Has the Same Interface as The Official Store: SetApp made a wise decision styling its store similar to the official store. Everything's the same so you really don't have a problem browsing through the apps. We also dare say that it's a tad bit easier than the actual store with everything listed categorically on the left panel. Unlike the official store where you have to constantly move back and forth to sort through apps and categories. 
Software is expensive but we need them to get the most out of our time and effort. With a service like SetApp, we can use multiple apps without worrying about excessive costs.
The Pros and the Cons of SetApp
SetApp is a relatively new service, being just 2 years old, and while it has achieved significant progress, there is still room for improvement (as is the case with all software).
There were no hard and fast problems or issues with the app, except for a few negligible observations that we'll share it here to help you make an informed decision.
Some of the issues we encountered were:
App Library May Feel Limited: Although there are dozens of apps, you may feel limited with choices, especially since each category consists of only 10 or more choices. That being said, the founders of the store do plan to increase the count to 300 in the near future.
Review Feature Not Available: There are no user reviews for the app so you can't find out what users' experiences are. You'll have to go outside the store to find out user reviews which quite honestly is an unpleasant experience.
Top Apps Not Available: If you're looking for getting a subscription service for top apps like those in the Adobe Suite or Microsoft Suite, you won't find them here. So you'll still have to pay for them if they are your main requirements.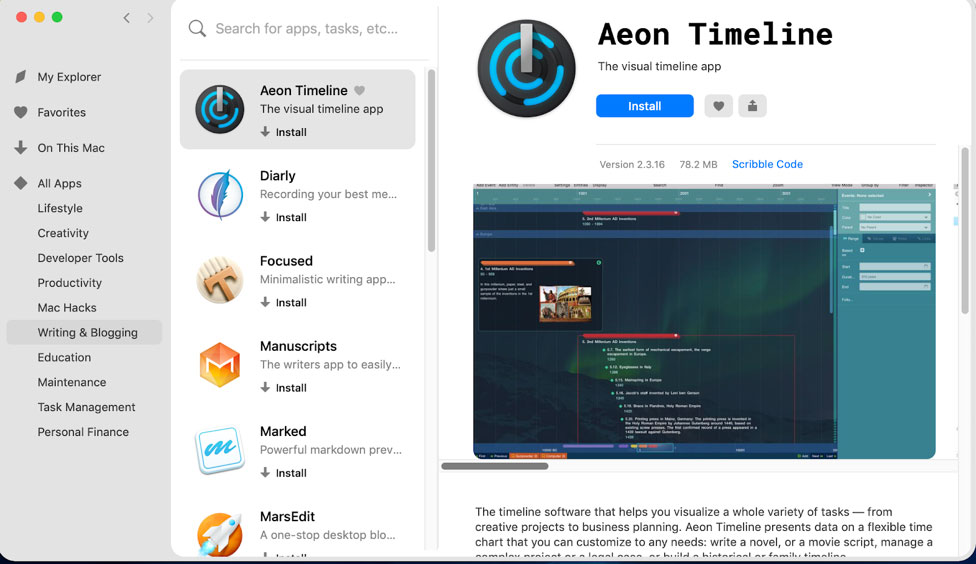 Other than these minor setbacks, SetApp works perfectly fine if you have multiple creative, maintenance or productivity needs that you want to fulfill via different apps.
Who is SetApp Suitable for?
SetApp is suitable for anyone who wants to make the most out of their Mac with different apps fulfilling different tasks. The good thing is you don't have to guess whether you need SetApp. You just need to download the trial version and explore it for 7-days to decide whether it's really for you.
Newbie or expert alike, $9.99 is a good deal for 240+ apps that could literally help you do everything efficiently – from managing social media to chatting, from editing images and videos to screen and audio editing, you can do it all at a cost-effective price.
Conclusion
SetApp is a successful subscription-based business model, but what really makes it a success is the team's focus on quality and variety. Apps listed on SetApp are hand-picked and come from the best developers who have an already established reputation. The limited intake of apps actually makes SetApp much more capable than the App Store to control quality and ensure that users get the best without worrying about malicious code or safety issues.
After our practical testing and reviewing, we highly recommend SetApp because it's efficient, makes your Mac fun and helps you get the best out of your system without costing you a fortune. Go ahead and download the app. You'll thank us later!
Pros
Multiple Apps from different categories at one price
Apps are well-categorized and easy to find
It's easy to install or remove apps
Interface is friendly
Cost-effective
Cons
App library may feel limited
Review feature not available