If you've noticed a decline in your Mac's performance and wish to restore its smoothness, it might be time to optimize and clean up your system. Fortunately, there are tools available to automate optimize the entire hard drive, not just the visible part. Is MacBooster an efficient application to optimize and manage your Mac system, let's find out.
What is MacBooster
MacBooster is a Mac system optimization tool developed by iObit, Inc. It is designed to help Mac users clean up system junk files, optimize performance, protect privacy, and enhance overall system speed. The software offers various features aimed at improving Mac performance and maintaining the health of the system.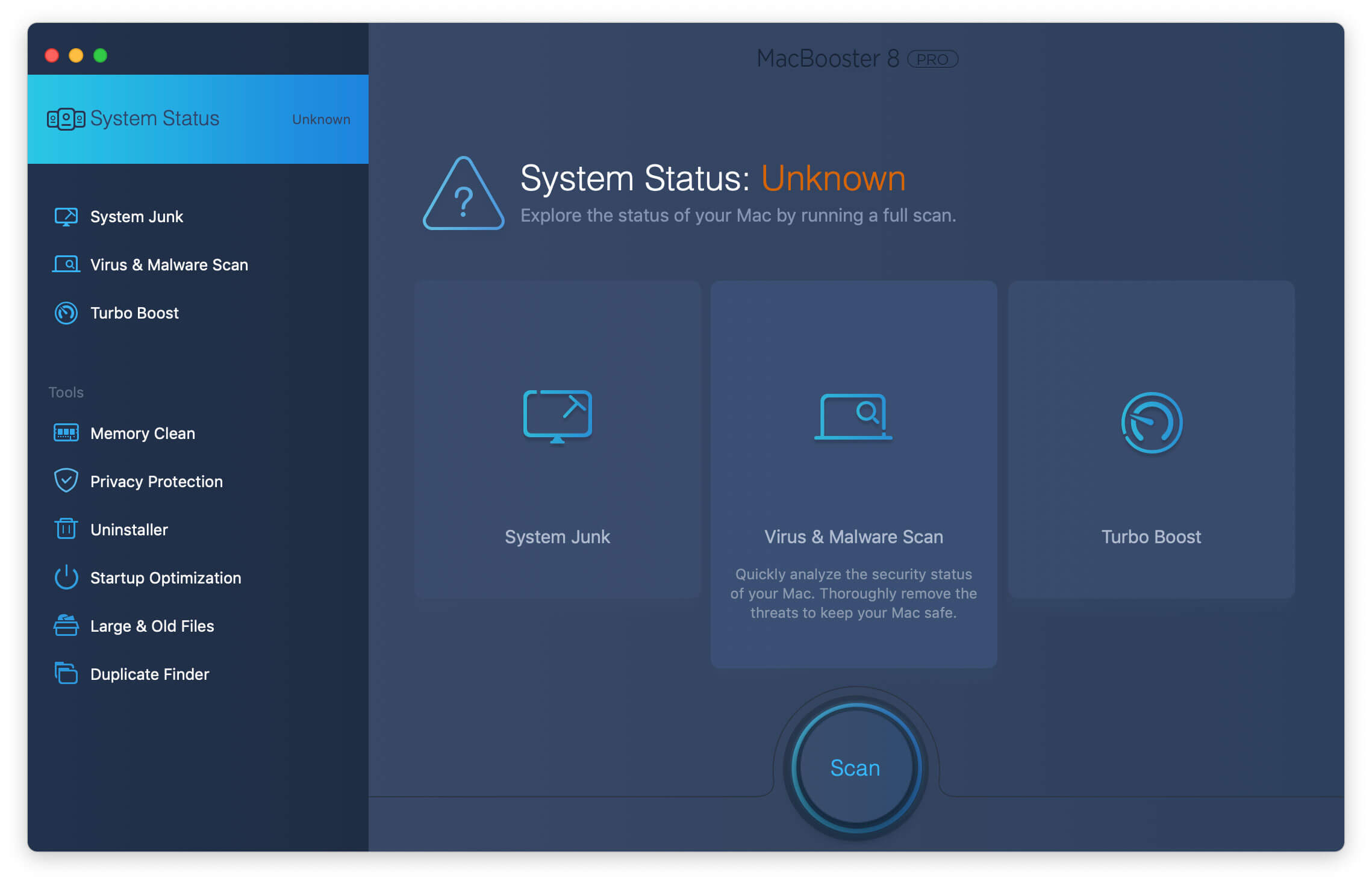 Price of Macbooster
IObit offers a flexible pricing policy for MacBooster, providing both a free edition and three paid subscriptions to choose from. The free edition allows you to perform scans and receive detailed reports, but it lacks advanced features and performance optimization, which are available in the paid versions.
The available paid plans are as follows:
Standard: $29.95 per year – This 12-month plan protects one Mac and includes full system optimization, startup time boost, memory cleanup, virus and malware removal, privacy protection, and 24/7 customer support.
Premium: $49.95 per year – This plan covers up to three Macs simultaneously and offers priority support along with all the features of the Standard plan.
Lite: $89.95 per year – The Lite plan is a lifetime option that protects Five devices as long as you have it running. However, it doesn't include 24/7 customer support.
Additionally, MacBooster comes with a 60-day Money-Back Guarantee, allowing you to request a full refund within 60 days if you are not satisfied with the product. While there's no free trial, the Money-Back Guarantee offers a risk-free opportunity to try out the software.
Key Features of MacBooster Cleaner
This Mac Cleaning software offers various features, including:
System Cleanup:
MacBooster scans your Mac for various types of junk files, such as system caches, application logs, temporary files, unused language files, and more.
It helps free up disk space by removing unnecessary files that might be cluttering your system and slowing it down.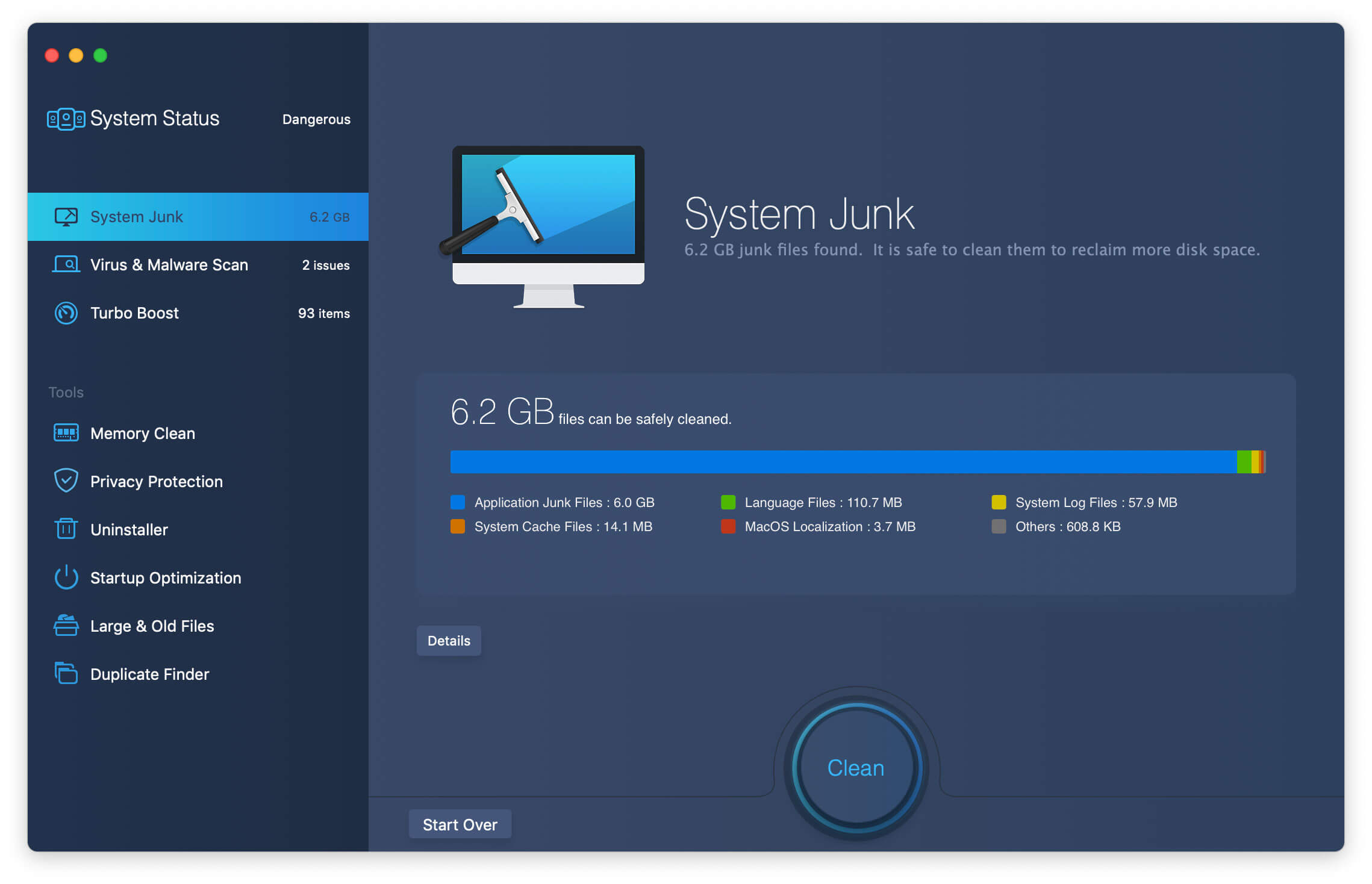 Performance Boost:
This feature aims to optimize your Mac's performance by closing background processes and applications that may be consuming system resources unnecessarily.
By freeing up system resources, MacBooster intends to make your Mac run smoother and faster.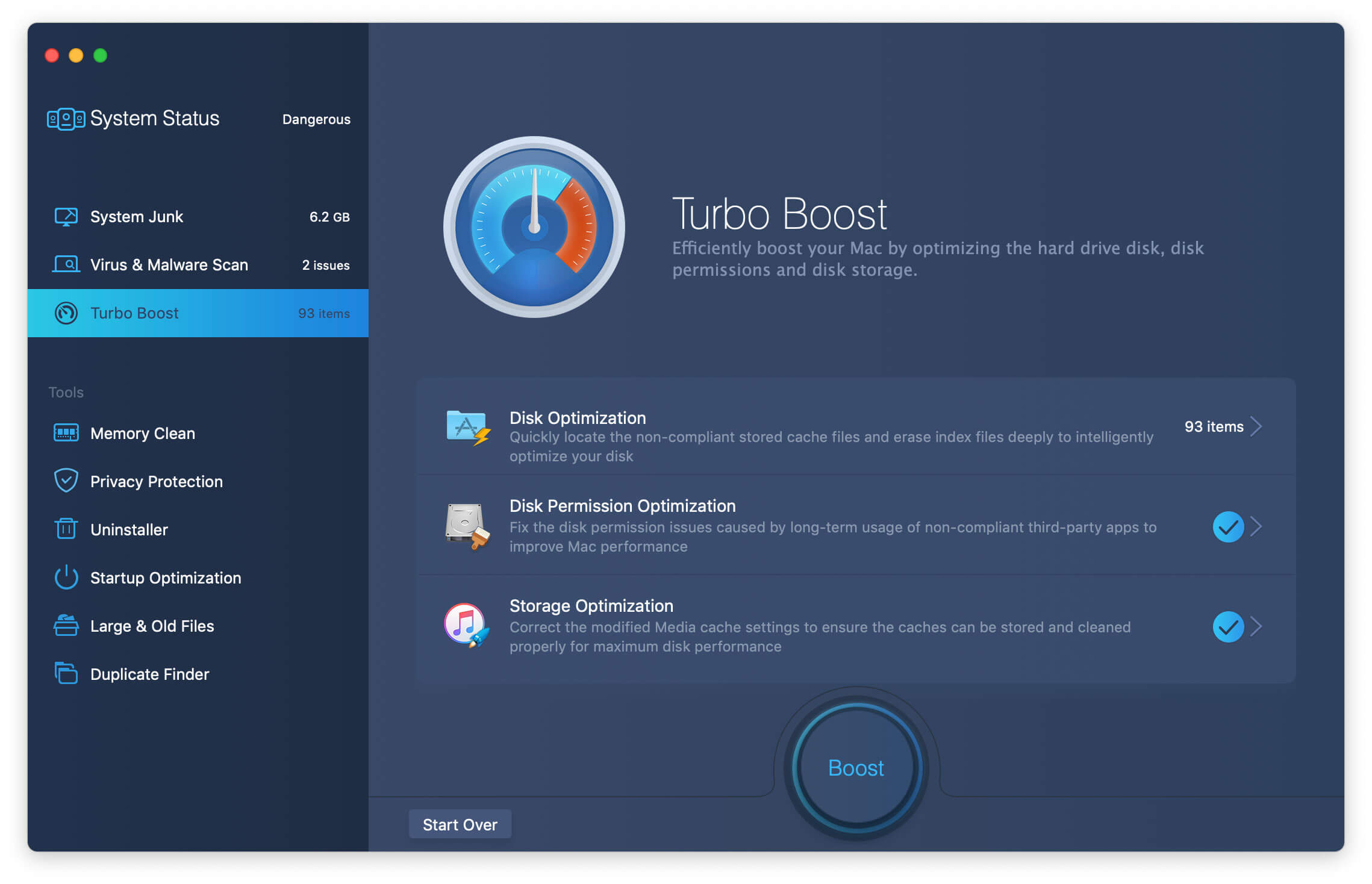 Malware Removal:
MacBooster includes a built-in malware scanner to detect and remove potential threats from your Mac.
It can identify and remove various types of malware, adware, spyware, and other malicious programs that could harm your system or compromise your privacy.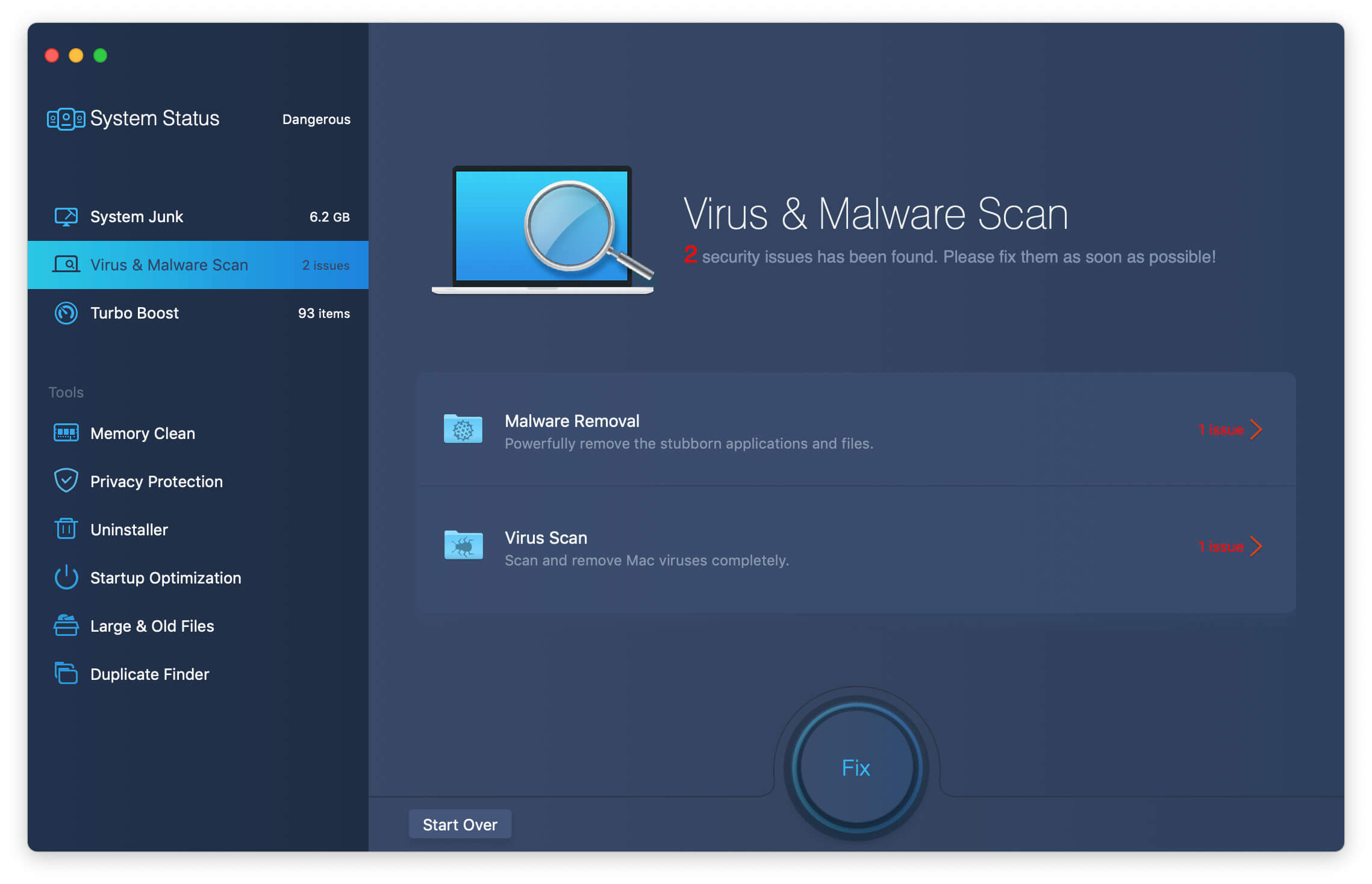 Uninstaller:
The Uninstaller feature helps you thoroughly remove applications and their associated files from your Mac.
This ensures a clean uninstallation process, which can be particularly useful when some applications leave behind residual files even after being deleted.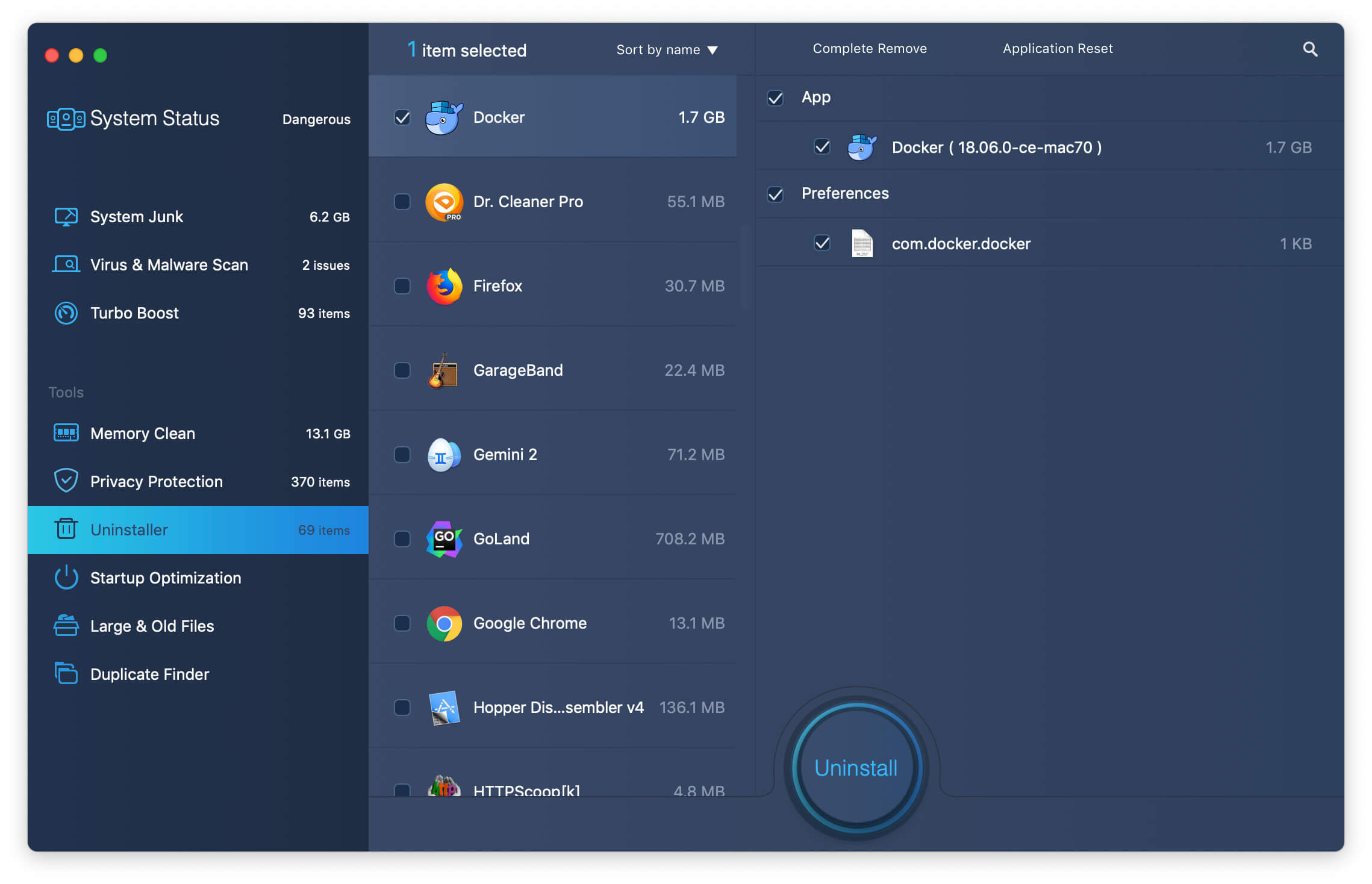 Privacy Protection:
MacBooster aims to protect your privacy by erasing online traces, such as browsing history, cookies, and download history.
It can also help remove sensitive data from your system, preventing unauthorized access to personal information.
Startup Optimization:
This feature allows you to manage the applications and processes that launch at startup.
By controlling startup items, you can potentially reduce the time it takes for your Mac to boot up and improve overall system performance.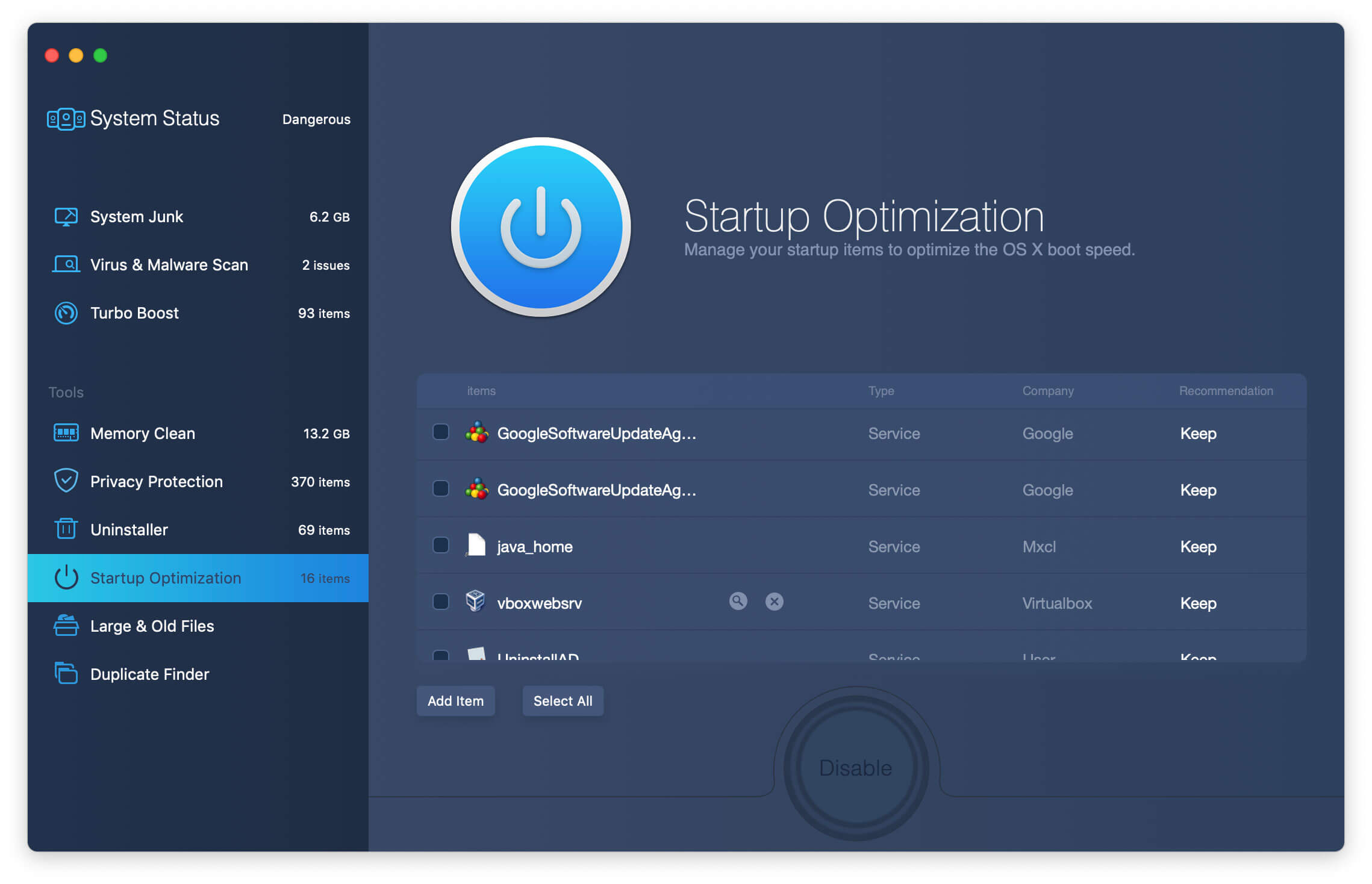 Large Files Cleaner:
MacBooster can help you find and remove large files on your Mac that might be taking up significant disk space.
This feature helps you identify and delete large files that you may not need, freeing up storage space.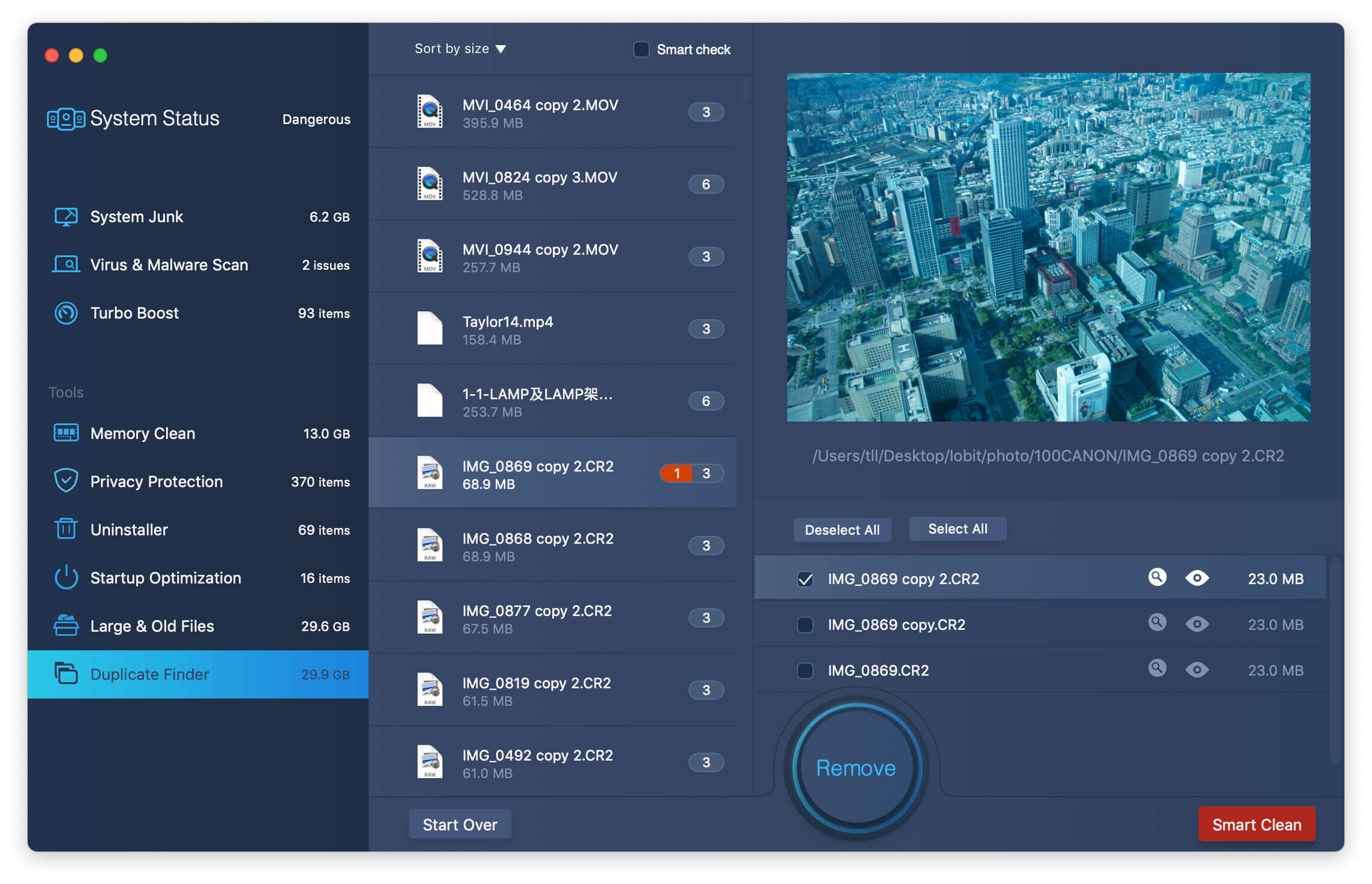 Duplicate Finder:
The Duplicate Finder feature helps you find duplicate files on your Mac and remove them with clicks.
Removing duplicates can free up storage space and prevent clutter.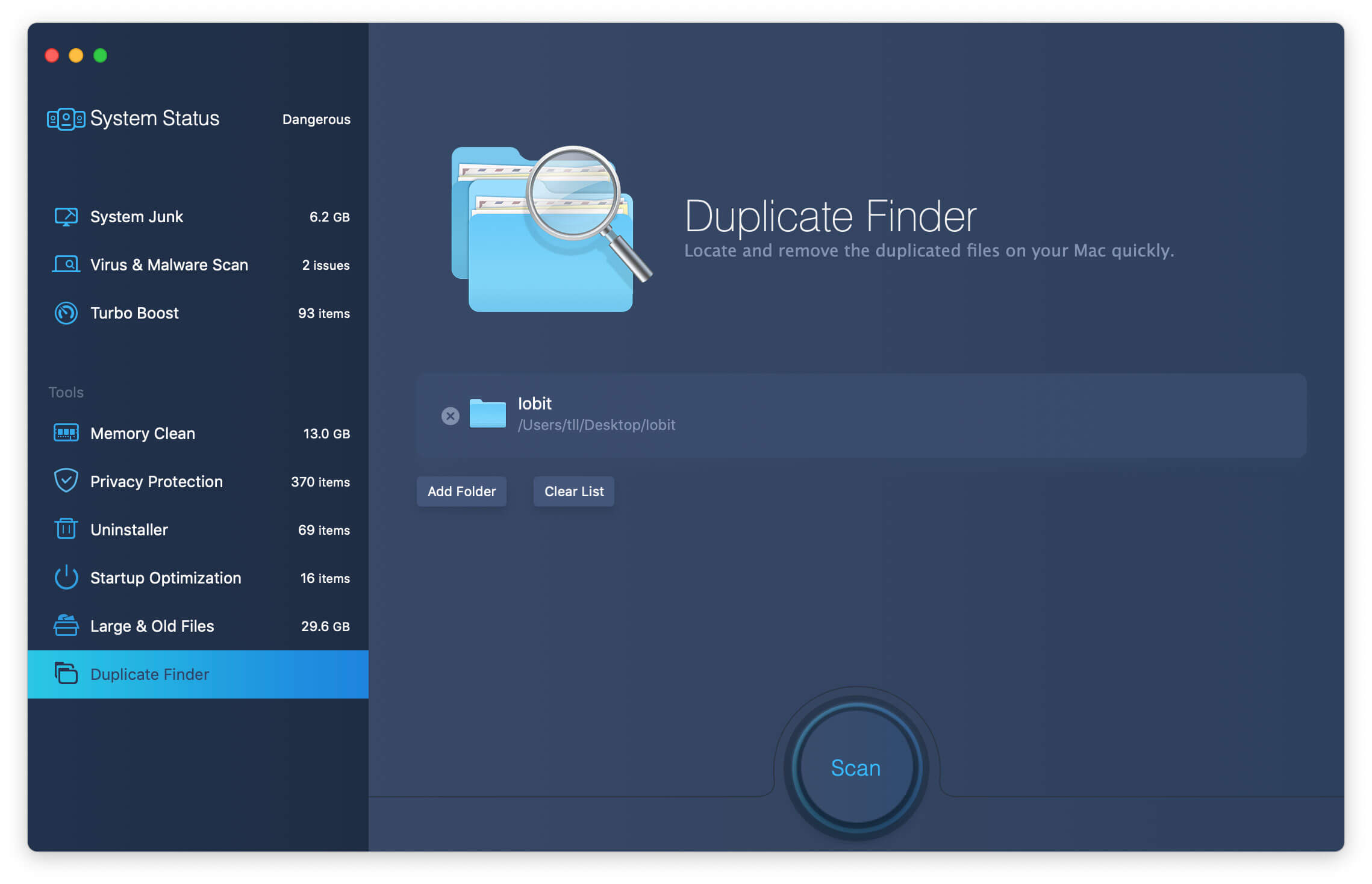 Customer Support:
iObit generally provides online support, including Frequently Asked Questions (FAQs), user forums, and contact forms. Users can seek technical support and problem resolution through these channels.
How it works:
The main dashboard of MacBooster always looks the same, featuring the System Status on the right side. Below it, there are three main features: System Junk, Virus/Malware Scan, and Turbo Boost. At the bottom, users will find a prominent "Scan" button. After performing a scan, MacBooster generates a report listing all the issues that can be addressed.
The System Status can be categorized as Good, Poor, or Dangerous, depending on the scan results. It scans the entire system to find junk files, malware, large files, and duplicate files. Users can then choose to clean or optimize these items. The uninstaller allows users to select applications for deletion, ensuring all associated files are removed. The privacy protection feature helps remove sensitive data and traces related to user activities. Optimization is straightforward – just click the "Fix" button, and the program will handle the rest. MacBooster is user-friendly, and there's no need to change settings for better results.
Initial scans may take some time, especially on systems that haven't been checked for a while. However, subsequent scans will be faster once the software has examined the system and identified all flaws/issues. During scans, no user interference is required, allowing users to continue with their tasks.
Compared to MacBooster 7, the 8th edition is more automated and requires fewer RAM and CPU resources to operate effectively.
Pros and Cons of Macbooster Cleaner
Pros:
Provides system cleanup function to help free up disk space.
Optimizessystem performance by shutting down background processes and useless applications to improve responsiveness.
Built-in malware scanner helps detect and remove potential threats.
Provides an uninstall feature that ensures applications and their associated files are cleanly removed.
Protects privacy by removing online traces and sensitive data.
Cons
Some security software may classifyit as a potentially unwanted application (PUA).
Some features may be available through macOS built-in tools or other free software.
What Makes MacBooster Stand out
MacBooster excels in thoroughness, design, and user control, setting it apart from other disk managers. The following points explains why it stands out:
 Depth: MacBooster provides clear and understandable information at every step. It allows specific choices for file management, enabling users to decide which files to keep and which to delete, even down to the smallest subfolder.
Speed: MacBooster operates swiftly, scanning an entire hard disk in just a few seconds. This quickness allows users to remove unwanted files promptly and get back to more important tasks.
Appearance: MacBooster boasts an attractive and intuitive visual design, making it easy on the eyes and user-friendly. The use of color cues ensures users take the correct actions, offering a vastly improved experience compared to the standard Finder interface.
Is it safe?
Yes, MacBooster is a safe and trustworthy application, and I have been using it for an extended period without any issues. Contrary to some misconceptions labeling it as a scam or crapware, MacBooster does not contain any malicious features that could harm your Mac. It's natural for some people to be skeptical about third-party programs that promise optimization, as they believe macOS can handle everything on its own.
As an Apple supporter, I used to have the same belief that Macs were inherently secure. However, times have changed, and recent security problems have shown that Macs are no longer as invulnerable as they once were. A quick Google search for recent Mac security issues will reveal this.
To ensure you get the authentic version of MacBooster, make sure to download it only from its official website. Doing so will ensure that your Mac is using genuine security software. Or you can download Macbooster Alternative – CleanMyMac X from the Mac App Store.
Is it worth the price?
The value of iObit MacBooster depends on your specific needs and preferences. Some users may find its features very useful and appreciate the convenience of an all-in-one optimization tool, while others may prefer using native macOS utilities and free alternatives for similar functionalities.
If you are not tech-savvy, I personally believe that iObit MacBooster can significantly improve your efficiency in system optimization, duplicate file cleaning, and other areas.
Conclusion
If you're seeking a user-friendly and effective solution to significantly enhance your Mac's security and performance, MacBooster might be the perfect choice for you. With its capabilities in freeing up HDD/RAM space, boosting overall performance, and optimizing the OS, this software stands out as an excellent pick. Each cleanup and optimization tool has a positive impact on your computer.
While some of these features are available for free on MacOS and others from third-party sources, most of us prefer the convenience of automation and ease of use. MacBooster excels in these aspects, making it a top-selling point for the program. Additionally, it offers some valuable extras, including a decent antivirus security comparable to its competitors. In comparison to similar products, IObit remains competitive and provides excellent value.