Having a Mac laptop, I'm pretty much conscious about unnecessary files eating up my space. I tend to avoid downloading applications or files and even if I have to, I instantly remove them when I no longer need them. What I remove though is only the front end. For backend files, I use CleanMyMac X by MacPaw.
In this review, I'll take you through the software and touch on its features and what it can do for you. I'll also walk you through the pros and cons of using the software.
Ready? Let's dive in.
What is CleanMyMac X?
If you want your Mac to perform as smoothly as it did the first time you bought it, the CleanMyMac X is probably what you need to clean off the piles of junk files storing deep in the abyss of your machine and slowing it down.
So what exactly is CleanMyMac X?
CleanMyMax X is an application designed to clean system junk, photo junk, iTunes junk and trash bin junk on Mac. It is also a malware removal tool, as well as a Mac OS optimization and maintenance tool. In a nutshell, it helps you clean your Mac and optimize your Mac OS system for maximum performance.
The CleanMyMac X application does this by locating and deleting hidden files and folders that you normally can't see or access. It also manages your applications and turns off those that consume the most CPU power.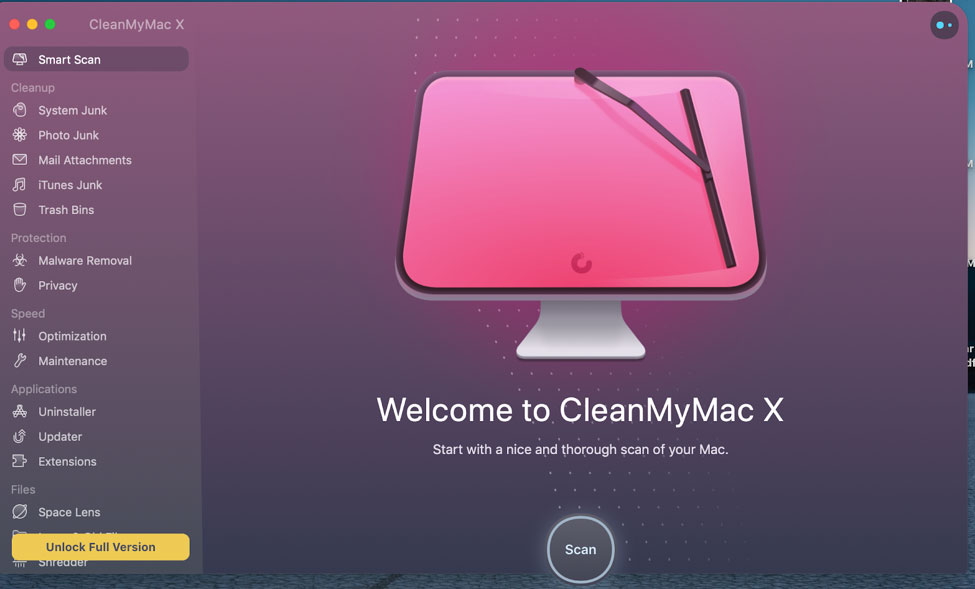 Is CleanMyMac X Notarized by Apple?
Yes, CleanMyMac X has been notarized by Apple on macOS Catalina.
The application has also been reviewed by Apple and is listed on the Mac App Store.
Is CleanMyMac X Safe?
Short Answer is CleanMyMac X is safe.
One can be quite skeptical with programs as these. I for one do not install any application that claims it can optimize the performance of my machine. Usually these apps consist of malware that is difficult to remove.
CleanMyMac X however, is a product of MacPaw, a renowned software company that has a reputation for creating some of the best apps for Mac. The Gemini 2 photo app, the SetApp platform are some of the famous products of MacPaw. So naturally, there is a sense of trust that you have from using a product of this company.
The app is safe to download. I downloaded it on the MacBook Pro 2017 model running the Mojave OS. No malicious code or bug was found when running through the Kaspersky anti-virus.
Now when it comes to using a cleaner app, you have to be careful. Because you are actually deleting files from your hard drive, make sure you do this patiently. Don't just randomly go deleting files to create space. I accidentally deleted some of my articles thinking them to be duplicate files, but they weren't!
If you've got GBs of data, you might want to take your time going through the files and deleting them only after you have a secure backup. Never delete files without having a backup.
Is CleanMyMac X Free?
Oh, don't we wish it was! But no, it's not. It's actually quite expensive with the starting price license for 1 Mac available for $34.95. For 2 Macs, it's $54.95. This is the yearly subscription deal. If you're not a data hoarder and won't be using the app frequently throughout the year, you might want to invest in the one-year purchase price.


For a life-time price, you can get a license for 1 Mac for $89.95. For 2 Macs, it's $134.95. Although it's super expensive, if you like the app enough to want to keep using it, you can buy the one-time license for long-term use.
The good thing is they have a free trial option so you can actually test out functionalities before spending nearly a $100 in buying the app. As usual with all paid software, you also get a 30-day money-back guarantee.
Reviews about CleanMyMac X from Mac Industry Experts
CleanMyMac X is actually a 10-year anniversary update to the previous CleanMyMac. The updated version boasts of millions of happy users and some pretty positive reviews. I ran a quick check to see what industry experts have to say about the app and here are some reviews from industry experts I'd like to share:
iMore, the industry's leading Mac software reviewer recommends the CleanMyMac X for it's beautiful interface (in fact, all reviewers say they love the interface!), and for recommending files for removal. The price, however, is seen as a tad-bit expensive for some, which is an opinion shared by most reviewers and users.
MacStories, another popular software reviewer recommends the app if you are struggling with a nearly full Mac, CleanMyMac has been an excellent way to recover space with minimal effort for many years, it's ease of use and effective.
Macworld, one of the most reliable Mac software reviewers recommends the app for its reliability and efficiency. The only setback is the Malware module, which Macworld's reviewer doesn't feel is brought to a recommendable level yet (which I completely agree with!).
What Can CleanMyMac X Do for You?
Now we come to the most important part of this review. what can CleanMyMac X do? First of all, it is an excellent Mac cleaning tool. It can quickly locate and delete large hidden files, help uninstall unwanted programs, clean up browsing history, optimize CPU memory consumption, etc. Let's review them one by one.
The user-friendly, super cool user interface 
If there's one thing that MacPaw apps are really excellent at, it's the user-interface. They are mesmerizing and way different from the traditional user-interfaces that we see of common utility apps.
So, the first thing you'll love is the bright and aesthetically appealing color tone, the ease of accessing different functions without having to worry about getting anything wrong. This software can be used even by a non-techy person.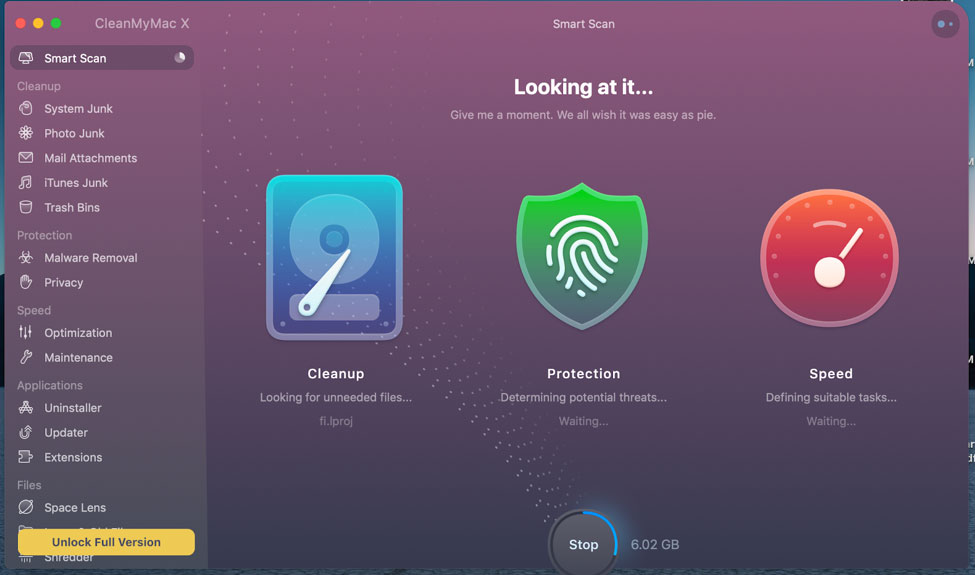 The Smart Scan 
When you first run the app, you can choose the Smart Scan option for the app to automatically detect hidden junk files. I highly recommend you use this option to see what the app comes up with.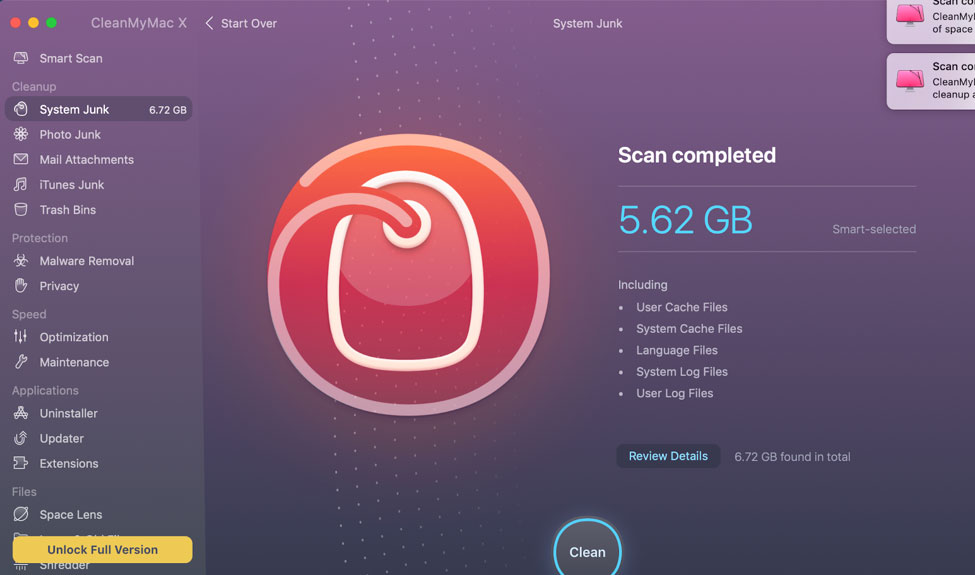 When you choose the option, the app will scan for Cleanup that removes unneeded junk, it will detect any potential threats and it will try to improve system performance by quitting tasks that are CPU intensive or are running in the background.
Now, at this step, you'll be really annoyed with the free trial because it will only allow you to clean 500MB unless you activate the full version. It won't even show you what files it has cleaned, so you'll have to live with the pain of not knowing!
Multiple Clean Up Options
A quick scan of my system junk revealed 6.72GB of junk files. The system junk detects user cache files, system cache files, language files, system log files and user log files.  It also cleans up old updates that can take up to 400MB of disk space.
Additionally, you can also clean DMG files that are disk image files left over after a software installation. Cleaning that up can give you much more additional space.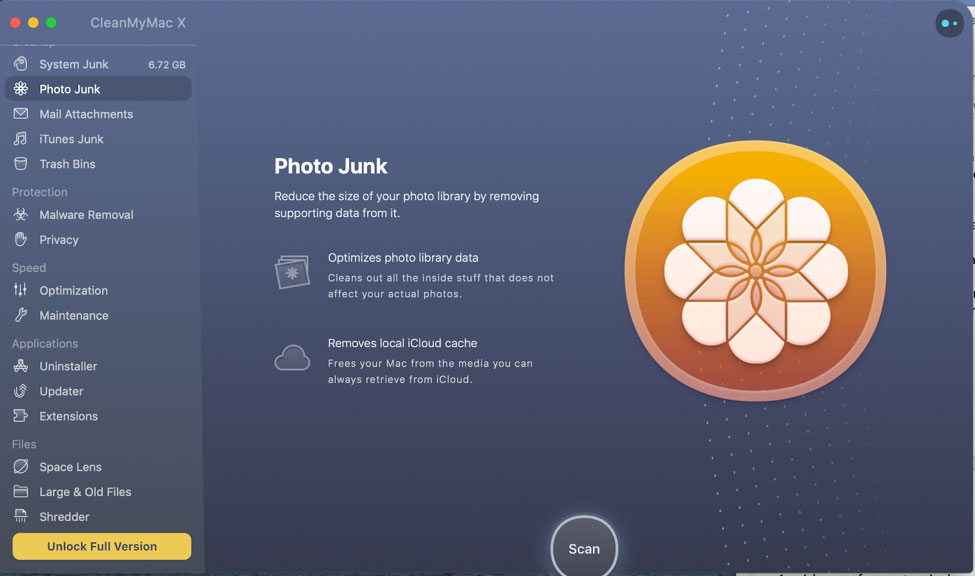 Similarly, you have options for Photo Junk cleanup where temp files of your photos or local iCloud cache takes up additional space.
The app also cleans up those annoying company logos and signature attachments that often come along as email attachments and take up space in your inbox. You can also choose to remove any other email attachments that you no longer need.
You can also have the app clean outdated iOS data such as software updates, device backups and multiple copies of the iOS app.
And finally! The trash bin. It's not exactly useful since the system trash bin does a good job already.
Malware Removal 
It's difficult to test the effectiveness of this on a Mac, especially since security on a Mac is much better. That being said, if you already have a good anti-virus such as Bitdefender or Kaspersky, you won't really need the malware removal option of the CleanMyMac X.
If you have no malware, a quick scan will reveal a clean system and you don't need to do anything else with it. The good part of this app is not the malware removal, but the Privacy option that lets you remove browsing history along with any data that is stored online. You can clean up your chat history from applications like Skype and Messages too.
Do note though that cleaning up your cookies may cause you to lose all your automatic sign-ins and saved passwords, so opt for this with care!
Optimization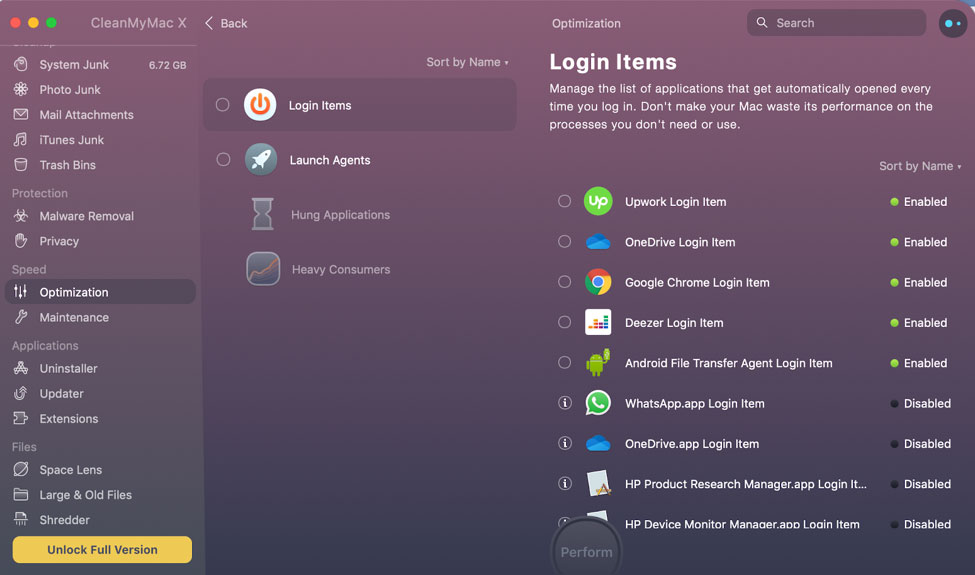 Sometimes, we have applications hanging in the background that affects the performance of your machine. Most of the time, there are also apps that automatically open every time you login. These apps take the most of your CPU power, so you can choose to close those that are heavy on your resources.
Maintenance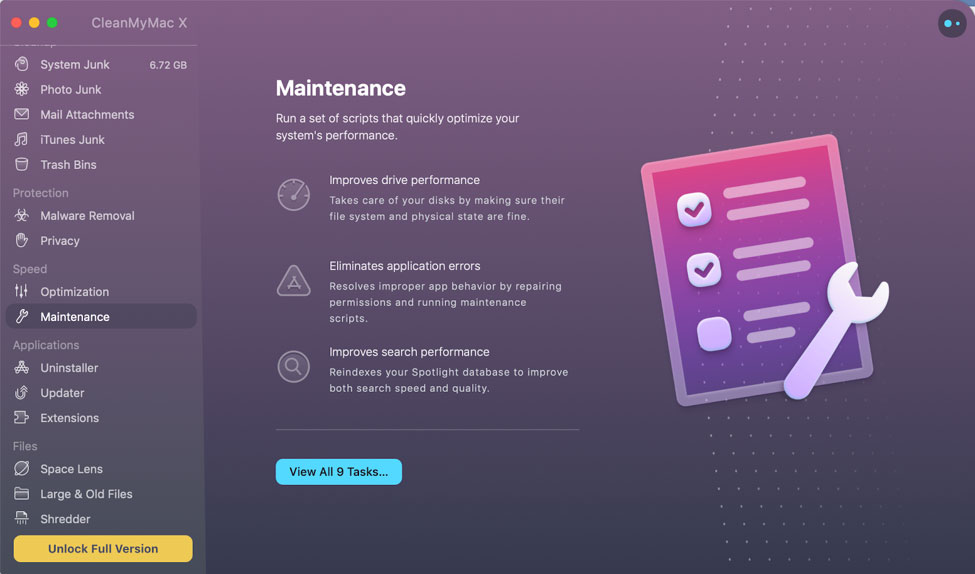 You can use this option to free up RAM and make room for stuff you really need. Lots of technical stuff here, but rest assured, you don't have to worry about it much. All this does is optimize your device. The app automatically scans for tasks that can optimize your device performance, fixes them and helps your device run faster.  Do note if your computer is not slow, you won't feel much difference though.
Clean Up Applications
Every time you download or use an application, chances are there are files or folders that lie dormant in the OS. This usually happens when you uninstall apps only to see a collection of files that are left behind wasting storage space. CleanMyMac X keeps track of those files and removes them completely.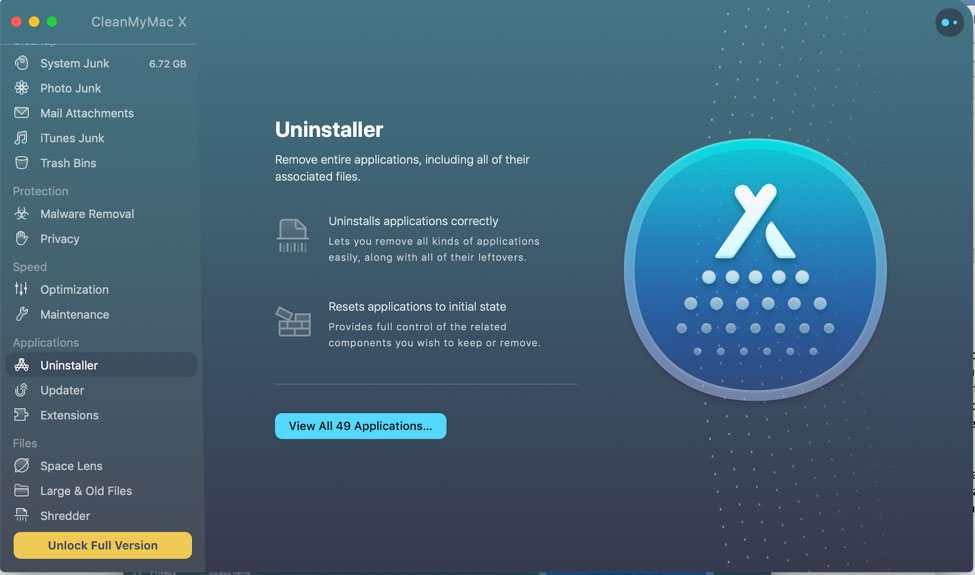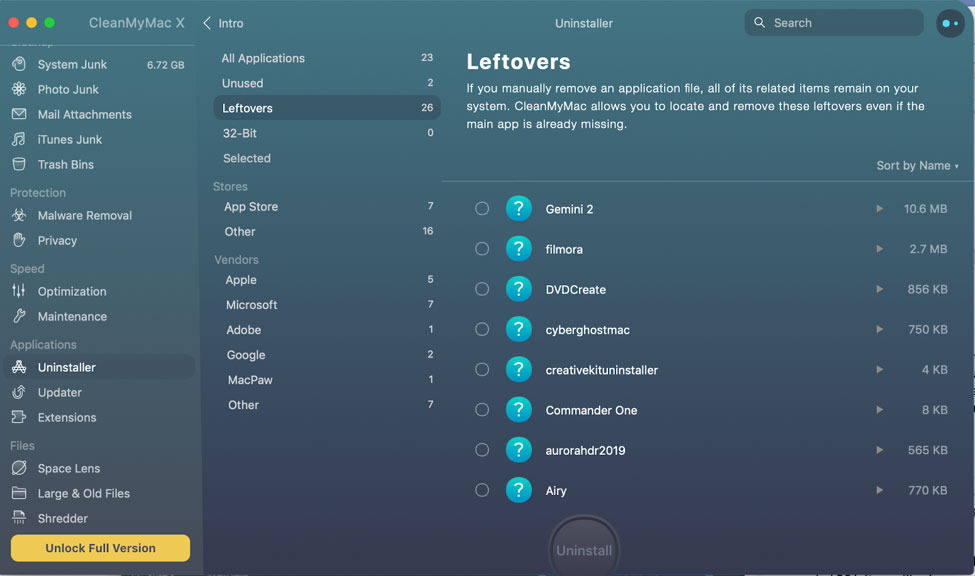 This is an interesting functionality that lets you remove unused or leftover apps or files that you no longer need. A quick scan revealed 26 leftover files from previously downloaded apps. I select all of them manually (there is no select all option here) and have them removed.
It takes about 2 minutes to clean up all these leftover files, freeing up 1.09 GB space!
Updates
Loosing track of your updates? With the CleanMyMac app, you can keep track of your updates and automatically install the update from the app itself. It will also check and update the OS automatically for you. This however is not really a useful tool since the Mac OS already does a good job with updates.
Extensions
If your system is loaded with extensions you long installed but forgot to use, such as the weather widget, the calculator or time widget along with any other plugins, you can use this option to clean them up. It does not cater to Chrome for now, but it does cater to Safari extensions so if you're a Safari user, this is a good tool to have.
Cleaning Up Files


This is perhaps the most important function. It allows you to check your storage for files that take up the most space. When you run the scan option, the app will go through your system storage and review all your files and give you results in descending order starting from apps that take the most space to those that take zero space. In this scan, the iMOVIE app took 2.82GB of space – and I don't even use the app! So why keep it and waste space.
Within this section, you can also make use of the Shredder which lets you erase files and folders without leaving any trace – meaning this is a good option if you have sensitive data in your system.
Pros & Cons of CleanMyMac X
Let's quickly go through some pros and cons of the app:
Pros: 
Easy to use
Effective & efficient
Scans were fast and accurate
App ran smoothly and was not CPU intensive
Multiple functionality compiled into one app 
Cons:
Expensive pricing for some
Very limited options in the free trial
Some tools were not necessary
Conclusion 
So is the CleanMyMac X worth it? At $35, you get a one-time subscription to an app that cleans up all the mess through an easy, simple scan. If you've got a huge amount of data to free up, you can consider buying the app and giving your system some free space and memory. It's recommended by most industry experts and it works well. Get the app and clean up your system.
Pros
Easy to use.
Effective & efficient.
Scans were fast and accurate.
App ran smoothly and was not CPU intensive.
Multiple functionality compiled into one app.
Cons
Expensive pricing for some.
Very limited options in the free trial.