You own a modern Mac computer and are enjoying its awesome performance and great self-maintenance features. While you will be annoyed if you are a Mac user with a 128GB SSD MacBook pro or MacBook Air, because you will notice that your Mac computer is running slower and slower, or you're getting the "your disk is almost full" error message after a few months of use. You want to know how to make it faster, and clean up the overloaded junk files to get more storage space. What you need is a Mac cleaner software to help you clean up all those junk files and make the most use of every gigabyte. Here, we have picked 10 of the best Mac cleaner software for you to clean up your Mac and speed it up in a matter of minutes.
Why You Need a Mac Cleaner Software
When comes to mac cleaner software, you may get lots of answers that told you we don't really need a Mac cleaner, just let Mac take care of it without the help of any additional application. But, is this the truth? Actually, as user "CPSky" said on Apple discussion forum, and many Mac users even experts may experience and know that:
1. Apple Safari hold on to cookies and they magically reappear when you delete them and keeps local HTML5 storage for websites.
2. Apps that get uninstalled by being dragged to the trash will still have traces of it in several system folders.
3. Duplicate files can be nice to get rid of.
Except the reasons above, there are some other reasons that why you need a Mac cleaner software:
Apart from Safari, other System Apps that runs from the instant you boot up to macOS Desktop also will cache many system Log files.
Photos App(iPhoto) stores cache files, temporary information, backup information, photos, videos and thumbnails that takes many gigabytes in couple of months usage.
iTunes App stores lots of media data and temporary files, settings on your hard disk drive, those too small SSD is always nearly topping off.
Under your Mail App, your Mail attachments from year-old messages you wished to delete are stored locally.
If you run out of disk room completely (or come close to it), your Mac can slow down and display all kinds of misconduct.
If you're preparing to sell your Mac, you're going to want to give it a little clean before showing it off to a prospective client.
When you get a Mac cleanup software, it helps you to clean up the GB of cache, log files, all the stored temporary data clicks without having to manually go through and delete them one by one. With a Mac cleaning tool, you will gain a lot of space for your Mac and will save you a lot of time.
Is the Mac Cleaner Safe?
To keep the Mac cleaner safe for your Mac, the first thing you should follow is, download the Mac cleaner from its official website, rather than a fake one. After downloading the Mac cleaner app, it is best to check through antivirus software to ensure that the application is free of malware, viruses and junkware. Besides, to check whether Mac cleaner can work safely, you should find out how Mac cleaner works, whether it can review all the tasks before processing, whether it supports undo or has enough alerts before performing cleaning. Finally, you can read user and media reviews of Mac Cleaner, as well as user ratings and feedback.
The Best Mac Cleaner Tools: Our Unbiased Top 10 Picks
The best value and easy-to-use Mac Cleaner: CleanMyMac X
Price: $39.95, FREE download available
Official Page: https://macpaw.com/cleanmymac
CleanMyMac X is the best valuable Mac cleaner tool developed by MacPaw can help you scan Mac hard drive, clean all the junk files and logs, uninstall unwanted apps that occupy memory space on your Mac, more than just cleaning, it can protect your Mac far away from viruses, adware, and spyware, optimize and maintain your Mac health & performance, speedup your Mac with ease. It helps you cleaning and maintaining your Mac system, fine-tune your whole Mac in clicks. If you are constantly annoyed with insufficient memory and want to get more storage space by cleaning your Mac, CleanMyMac X could be the best Mac Cleaner choice. And if you also want to clean duplicate files on your Mac, CleanMyMac + Gemini would be your best choice.
CleanMyMac is loved and reviewed by many Mac Industry Experts, you can read the reviews on Macworld, VentureBeat, iMore, MacStories, TechCrunch, etc. Lots of Mac users who have used Mac over 10 years also commented that CleanMyMac is the best cleaning app on the market to all Mac users alike from Professionals to Beginners.
Watch this Video to learn how CleanMyMac X works on cleaning, speeding up, and fine-tuning your whole Mac.
Where It Excels
1. Quick to scan your Mac and find all junk files including: system junk, Photo junk, iTunes junk, browser caches, mail attachments, and more.
2. Remove large and old files from your Mac.
3. Smart clean up tons of junks and free up hard drive spaces in mins.
4. Speed up your Mac with Maintenance module, repair disk permissions.
5. Uninstaller helps removing app leftovers and other caches.
6. Give an estimate of how much space it will free before you approve the cleaning.
7. Detect and remove viruses, adware, and spyware.
7. Works with 12 languages: English, Deutsch, Français, Italiano, Nederlands, Español, Português do Brasil, 繁体中文, 日本語, Polski, Русский, Українська.
8. Phone calls and email customer supports, refund if not satisfied.
Where It Falls Short
1. It opens automatically when you turn on the Mac, as it adds itself to startup items.
2. Some alerts such as warnings of potential issues are a bit annoying.
3. Trial version only allows you to clean up to 500 MB of junk files.
You can read the full review of CleanMyMac X to learn detailed information about CleanMyMac X.
It's that simple to clean your Mac by using CleanMyMac X
Step 1: Download the trial version of CleanMyMac X and install it on your Mac.
Step 2: You can use Smart Scan to quickly start cleanup, detect potential threats and speed up advice, then it will find all the junk files, including: System junk, photo junk, mail attachments, iTunes junks, Trash bins, etc. And give you the alert about malware and speedup tasks.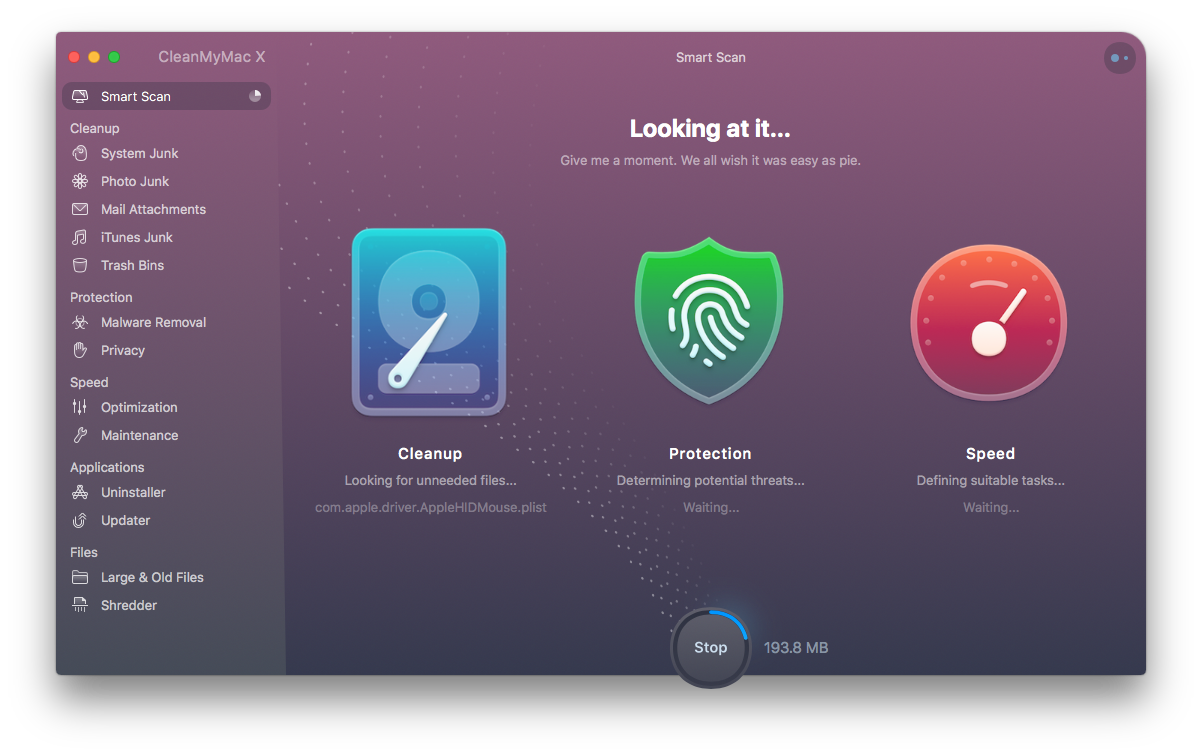 FYI: Usually only system junk files will be automatically removed; the other files won't be removed unless you reviewed them. And you also could use Deep Cleaning to check and remove specific types of unneeded files.
Step 3: Click "Run" and it will smartly clean the selected junk files, remove detected malware, and speed up your whole Mac. (Based on your choice or pre-setting).
P.S. If you are using a Windows PC and would like a similar cleaner for it, you can get the CleanMyPC from MacPaw to help you clean your Windows computer.
>>Get CleanMyMac X to clean your Mac now<<
Top 2 Best light weight Mac Cleaner: DaisyDisk
Price: $9.99, Available on Mac App Store
Official Page: https://daisydiskapp.com/index.html
DaisyDisk is a light weight Mac cleaner can help you analyzing disk usage, easily find and remove unneeded files you may have forgotten about on the Mac. It works quite well on finding large, space-hogging files on your Mac, and with mouse clicks to clean up large files and unneeded files from your Mac. It doesn't have other features like clean junk files, maintain Mac performance, and monitor your Mac health. So if you are just looking for a simple yet light weight Mac cleaning app, DaisyDisk would be the best disk space visualization tool and remover app.
Learn how to clean up storage on Mac with DaisyDisk from this video
Where It Excels
1. Works great as disk space analyzer and Mac cleaning app on large and unwanted files.
2. It scans quickly and the results are clear and very well presented.
3. Remove all unneeded files with a simple drag-n-drop to recover disk space.
4. Support all connected disks: macOS drives, Thunderbolt disk, flash, network storage, etc.
5. Can preview all the files with Integrated QuickLook to check detailed content.
6. Beautiful UI and easy to use for all levels Mac users.
Where It Falls Short
1. Mono-functional, you can only have an overview of data and file sizes on all connected disks, and should manually delete the items.
2. The important file attributes, such as data created or last modified won't be displayed directly in the app; you must rely on the Finder to see this information.
3. Scanned disk space results won't be retained, you have to rescan when you launch it.
Top 3 CCleaner Pro
Price: $24.95
Official Page: http://www.ccleaner.com/ccleaner-mac
CCleaner is a popular cleaning tool known by many Windows users, and Piriform created the Mac cleaner version in 2011, comes with functions of finding and removing junk files & unwanted files, clean your Mac of old clutter, clear up macOS recycle bin, temporary files and folders, broken permissions and more on your Mac hard drive. CCleaner is an outstanding Cleaner for Mac on finding and cleaning temporary files, corrupted cache, permission error logs that may cause issues in Mac.
Editor Note: As the free version of CCleaner for Mac only offers limited features, so we are talking about the Pro version here.
Where It Excels
1. Works quite well on finding web browser cache files, history, cookies, etc and removing them.
2. Can help Mac users to uninstall third-party apps, disable or remove startup items under "Tools" section.
3. Provide the ability to whitelist some cookies and clean the rest.
4. Simple, easy to use interface.
Where It Falls Short
1. You'll have to select what kind of junk to remove and which apps to scan manually.
2. You can't deselect files from the scan results before cleaning once it done the scanning.
3. Haven't been updated for a long time, the cleaning on High Sierra runs a bit slow.
Top 4 MacBooster
Price: $39.95 for 1 Mac, 14-day trial Available ($10 OFF Coupon: IOBITMLIBS )
Official Page: https://www.macbooster.net/
MacBooster is a powerful cleaning tool for Mac users to clean out, speed up and optimize macOS system, it can clean your system's junk files, remove virus & malware, help you boost up your Mac with ease. It's featured in four section: disk cleaning, System cleaning up and optimization, plus internet security. That is to say, it will clean gigabytes of junk files, large & old files, duplicate files with clicks, and keep your system boost and security by defending against virus, malware & spyware, and adware on Mac.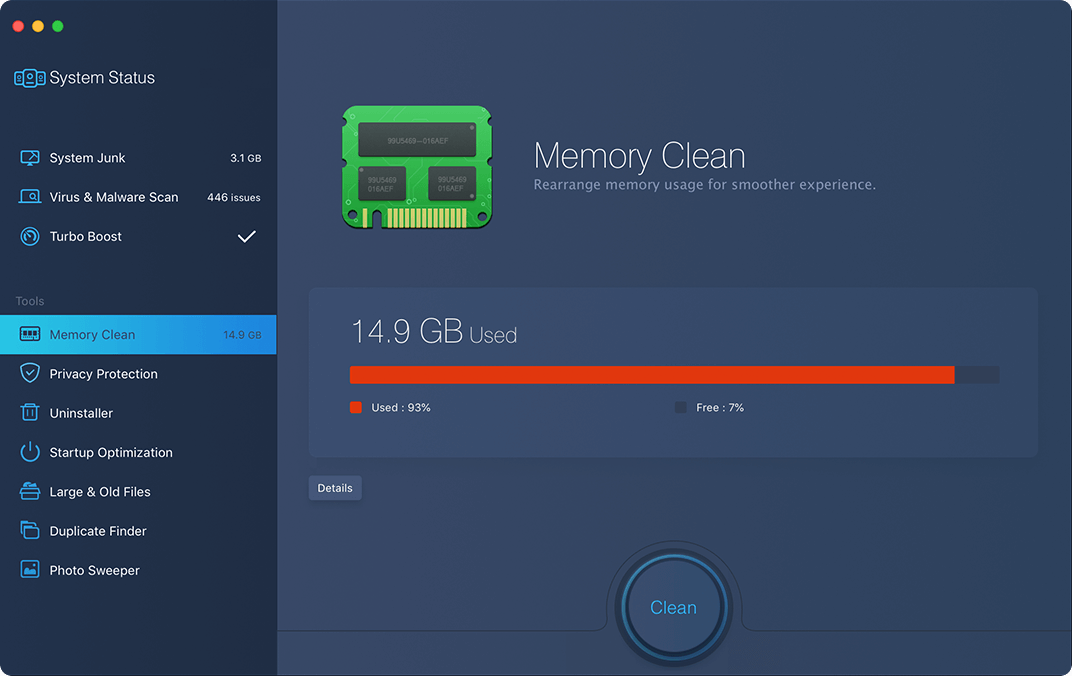 Where It Excels
1. Cleans out your junk and duplicate files to gain more disk space.
2. Optimize macOS system and boost its performance.
3. The UI design is intriguing and user-friendly, very easy to use.
Where It Falls Short
1. NO backup offered.
2. NO alert before executing removal, you should carefully review all the findings first.
Top 5 MacClean 3
Price: Personal license $29.99, Family license $39.99.
Official Page: https://www.imobie.com/macclean/
MacClean 3 is a great Mac cleaning app developed by iMobie, it can works as an all-in-one cleaning suite for Mac including clean malicious cookies, kinds of junk files, and find & delete duplicate files, keep your Mac away from potential security risks via scanning your Mac Downloads folder and apps. It is should be considered as a great value Mac cleaning software as it competitive price – $29.99 for personal license and $39.99 for a family license (which allows you to install the software on up to five Macs and earns you priority support).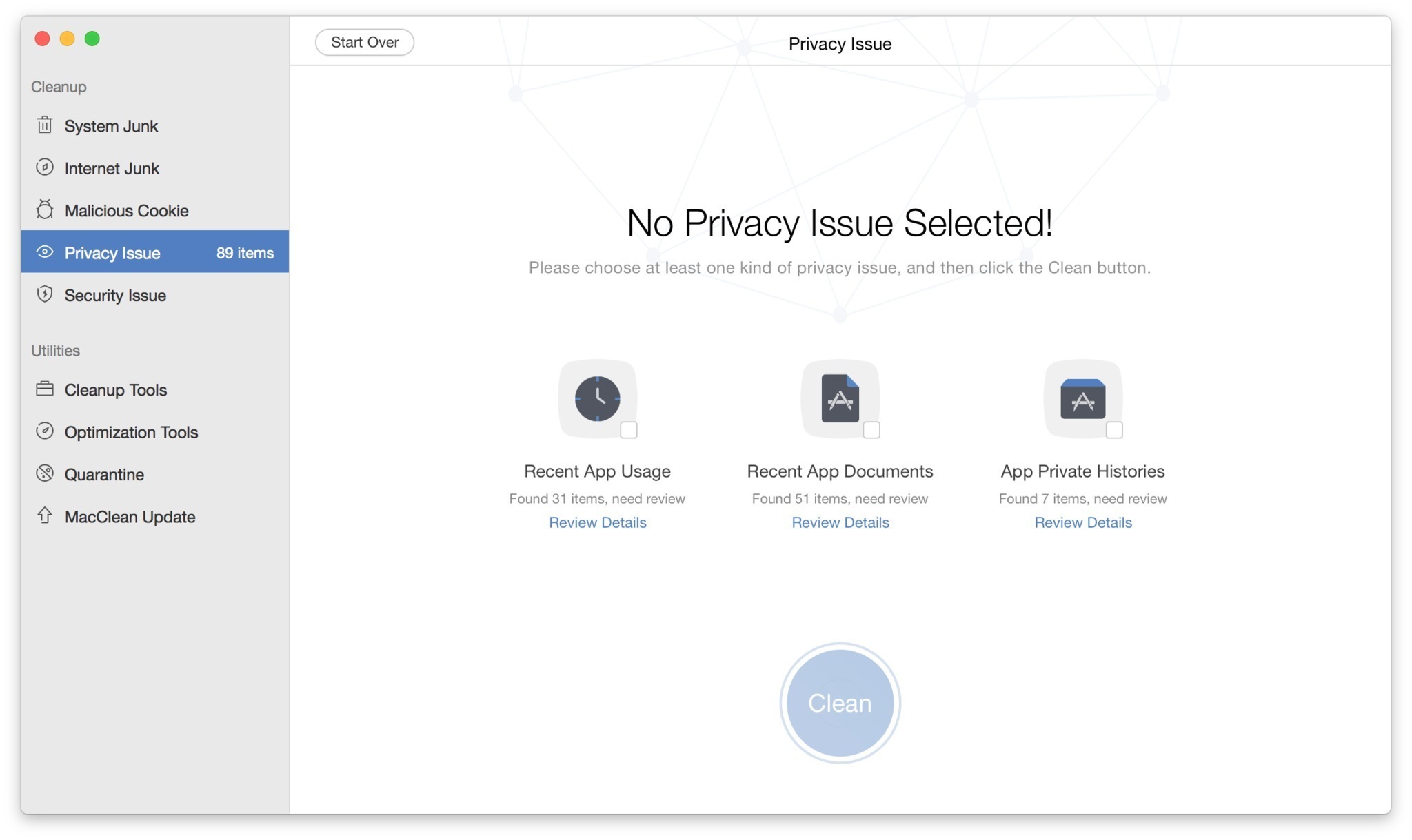 Where It Excels
1. Can detect and delete Internet Junk, User Junk, System Junk, Development Junk, and Application Junk files from Mac hard drive to free up space quickly.
2. Support malicious cookies, virus and malware scanning.
3. Most scanning can complete in seconds.
Where It Falls Short
1. Scan not all-inclusive, it may fail to find some large, old files on your Mac.
2. Additional scanning tools like virus scanning could be improved.
3. Performance has improvement space, crash may occur when scanning and cleaning.
Top 6  Drive Genius 6
Price: $79
Official Page: https://www.prosofteng.com/drive-genius-mac-protection-software/
Made by Prosoft Engineering, Drive Genius also is a great Mac cleaner; it can clean your Mac hard drive and combines many other features such as malware scan, find duplicates, Defragment, DrivePulse. It's a fine application which not only works as a Mac cleaner to clean and optimize Mac, but also can protect your Mac from potential malware, virus attack, disk errors, crashes, and help you make disk clone and recovery, and more.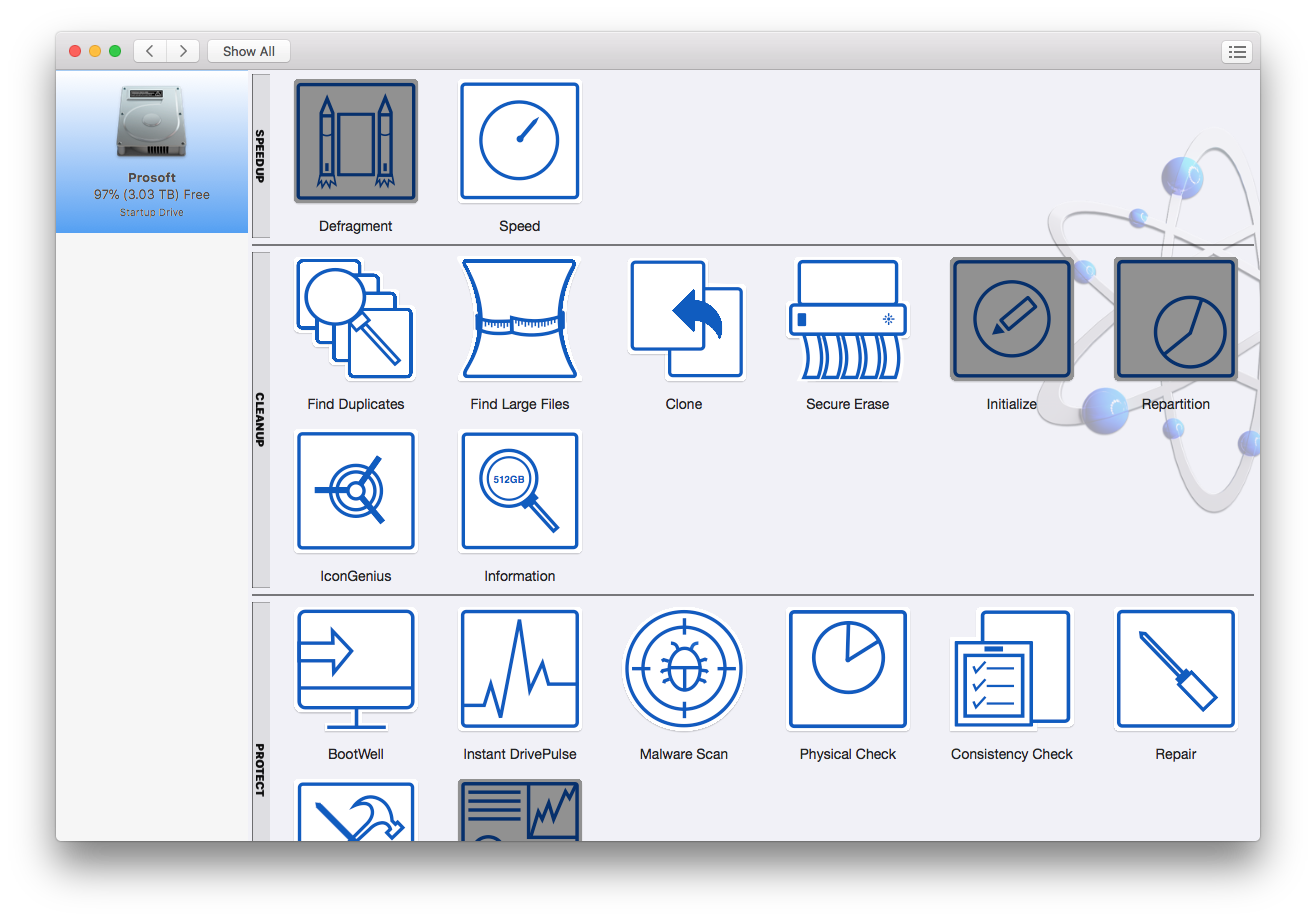 Where It Excels
1. A full service mechanic for your Mac, combines a collection of Mac cleaning tool, Malware Scans, defrag tool, physical checks, data repair & recovery, etc.
2. Help you keep up-to-date on potential hard drive issues and get alerts in advance.
3. DrivePulse feature will scan your Mac system automatically & identify malware/ viruses when in idle mode.
4. Find duplicate & large files, delete ones you don't need in clicks.
5. Check for possible file & folder corruption to prevent data loss.
Where It Falls Short
1. A little complicated to use, requires serial number authenticated to install and proceed every time.
2. Malware scanning is slow, takes time.
3. APFS support is minimal on High Sierra.
4. Poor communication on customer feedback and support.
Editor note: Drive Genius was used and recommended by the tech geeks at Apple Genius Bar about 5 years, but since from 2017, Drive Genius is no longer being used by Apple Genius Bar.
Top 7 Intego Mac Washing Machine X9
Price: $40
Official Page: https://www.intego.com/mac-cleaner
Intego Mac Washing Machine X9 is Mac cleaning software mainly focus on finding and deleting duplicate files and old programs you never use on your Mac. It can help you reclaim storage space on Mac hard drive and let your Mac computer running more smoothly.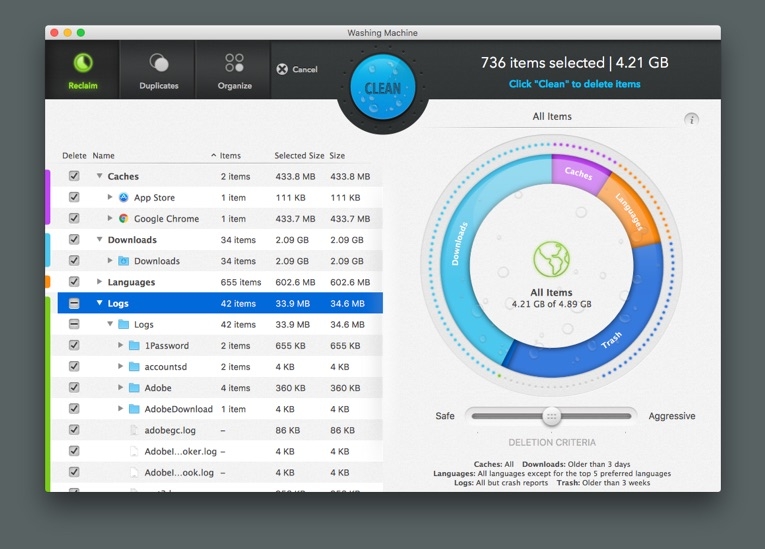 Where It Excels
1. Cleans Mac hard drive by deleting duplicates and unnecessary app and files.
2. Automatically organize desktop files into the right folders.
3. Easy-to-use interface and nice pre-defined scanning options.
Where It Falls Short
1. Since it finds duplicates, but there is no quick-look files preview.
2. The trail version has very limited functions, can't get any real functionality before purchase.
Top 8 AppZapper
Price: Single Lisense $19.95
Official Page: https://www.appzapper.com/
AppZapper is a Mac app cleaner software that does one thing well: uninstall apps and delete additional files such as preference files and package receipts that app related. More functions along with AppZapper are it can protect Mac system files and user designated applications from being deleted and a log of uninstalled applications. If you just want to gain more storage on your Mac by removing unwanted apps completely, AppZapper could be a good Mac app cleaning tool for you.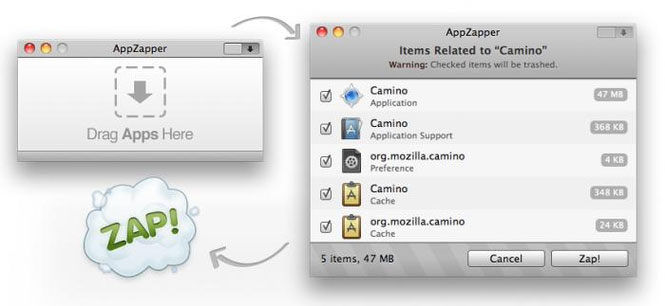 Where It Excels
1. Uninstall apps and get rid of all the related files entirely so you can get more memory back for Mac hard drive in one fell swoop.
2. Easy-to-use by drag-n-drop the unwanted apps into it.
Where It Falls Short
1. Unstable and the search engine can't find all the files.
2. The trial version only supports uninstall 5 applications.
3. With the offered functions it's a little expensive.
Top 9 Onyx
Price: Freeware
Official Page: https://www.titanium-software.fr/en/onyx.html
Onyx is a popular free Mac cleaning and maintenance tool able to run miscellaneous maintenance and cleaning tasks on your Mac. It also can clean caches, find and remove certain problematic folders and files, and then rebuild various databases and indexes for your Mac.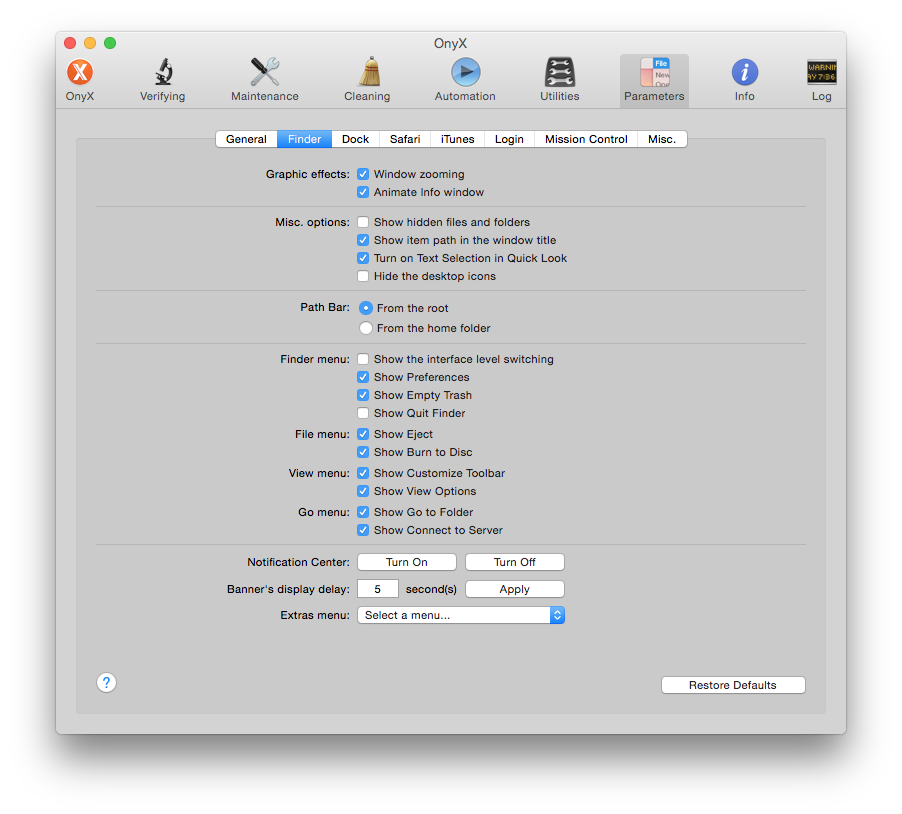 Where It Excels
1. Keeps Mac running smoothly by clearing caches & temporary files purging un-needed system files etc.
2. Runs in the background.
3. Totally free.
Where It Falls Short
1. Easy to mess things up royally with an ill-judged click.
2. It freezes on verifying disk.
Top 10  Disk Doctor
Price: $2.99
Official Page: https://fiplab.com/apps/disk-doctor-for-mac
Disk Doctor is a neat Mac cleaning app let you clean disk by finding and removing files from Applications Caches, Application Logs, Browser Data, Mail Downloads Folder, Downloads Folder, Large Files (files within your user folder that are larger than 100 MB), Partial Downloads, Developer Files, Old iOS Software Updates, Trash Can. With it, you can sort through your Mac drive after searching and scanning your Mac system thoroughly.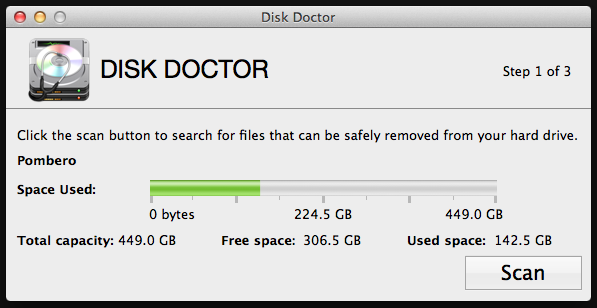 Where It Excels
1. Free up storage spaces on your Mac, automatically sift through and clean junk & cache files on your hard drive.
2. Allows the user to view individual files and check each one off BEFORE deleting them or select whole groups of files for deletion.
3. Will prompt you to make a Time Machine back up prior to making the final deletion in case any mistake.
Where It Falls Short
1. Not really clean Mac system, as the removed caches will get restored again when you use the app.
2. Annoyed ads constantly display for other products.
Bottom line
Here are the top 10 best Mac cleaning tool to optimize and maintenance your Mac hard drive, you can select the application you prefer to clean and gain back storage space in clicks. I really recommend the CleanMyMac X cleaner, as it offers a number of cleaning utilities to efficiently get rid of all kinds of junk files, large & old files, unnecessary apps and more. With a flat price, you get full access to the app and a cleaning Mac.
If you have suggestions for something different, sound off in the comments!
The following inforgraphic summarises the advantages and disadvantages of each mac cleaner.