Summary: This article will introduce the 5 best iTunes Duplicate Removers for Mac and Windows to find and remove duplicate music tracks in iTunes.
If you are a music fan, and you maintain an iTunes library that includes music files from different sources, you may be frustrated by having duplicate audio files in your iTunes library. Therefore, finding and cleaning iTunes duplicates with an effective iTunes duplicate remover may be your concern. In this article, let's take a look at the best iTunes duplicate removers for Mac and Windows to help you find duplicate files in iTunes and how to get rid of them.
Top 5 Best iTunes Duplicate Remover for Mac and Windows
1. iTunes
Price: Free
Supported platform: macOS and Windows
Rating: 

iTunes 11 and later versions are Apple built-in iTunes duplicate remover allow users to show and find the duplicate music tracks. It's quick to get the duplicate songs showed in your iTunes library by clicks. Open iTunes app, in Library tab under category "Songs", click "File > Library > Show Duplicate iTunes" and you'll see all the duplicates songs based on the name and artist. There may have multiple versions of the same song, you can hold the Alt or Option key (Mac) or the Shift key (Windows), choose "File > Library > Show Exact Duplicate Items", and the duplicate songs with the same name, artist, and album will be sorted and displayed for you to review and decide which one to remove.

Simple steps to remove duplicates from iTunes Library: select duplicate items you are wish to remove, choose "Song > Delete", when the deleting duplicates are done, click "Done".
Pros
It's free and quick to locate duplicate music tracks even exact duplicate items.
Cons
You need to delete duplicates manually, if you have lots of duplicates, it's not convenient and time-consuming.
Price: $19.95
Supported platform: macOS
Rating: 

Gemini 2 is a well-designed and simple in use iTunes duplicate finder and remover. It scans your whole Mac and your iTunes music libraries, finds duplicate tracks, and offers you to remove one of the song copies. Gemini 2 uses an algorithm that can find duplicate songs, videos, images, documents, archives and more. This iTunes duplicate remover can find exact duplicate tracks even with different bit rates or changed names.
It's pretty easy to find and remove duplicate music files in iTunes with Gemini 2. Launch Gemini and choose your iTunes library for scan. Note that in order to find duplicate files in your iTunes, Gemini 2 will need to launch iTunes.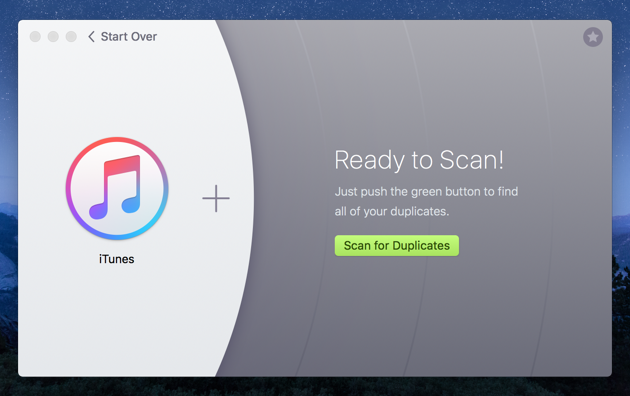 A few minutes to scan your iTunes library, Gemini 2 will sort all the detected duplicate song tracks out, and you can review them. You'll see all the files that Gemini defined as duplicates, preview and choose which duplicate ones you want to delete. It offers three removal methods; you are able to remove all the duplicates songs with one click. You can read the review of Gemini 2 to learn more details of it, including the likes and dislikes from users.
Pros
1. Support add iTunes app to scan, can find duplicate songs as well as similar files.
2. It also can find duplicates videos, photos, documents, archives, etc.
3. Very easy to use. AutoSelect will select the ones automatically for smart cleanup, learns as you use it.
4. Three removal methods. No worries data lose.
Cons
Not free, the trial version will scan all your files, but is only capable of removing 500MB of duplicate files.
Buy Gemini 2 to find and remove duplicates in iTunes now
Price: $39.95 one computer/ 1 year.
Supported platform: macOS and Windows
Rating: 

Easy Duplicate Finder is a duplicate file finder can works well on finding iTunes duplicate files and remove them in one click. This iTunes duplicate finder will scan your iTunes for duplicate music tracks and display them as an easy-to-manage list. After quick scan duplicates in iTunes, you are able to delete the duplicates you don't need both from iTunes and the folders they are located in. It will help you manage your iTunes library quickly and easily, including delete empty folders and dead iTunes tracks.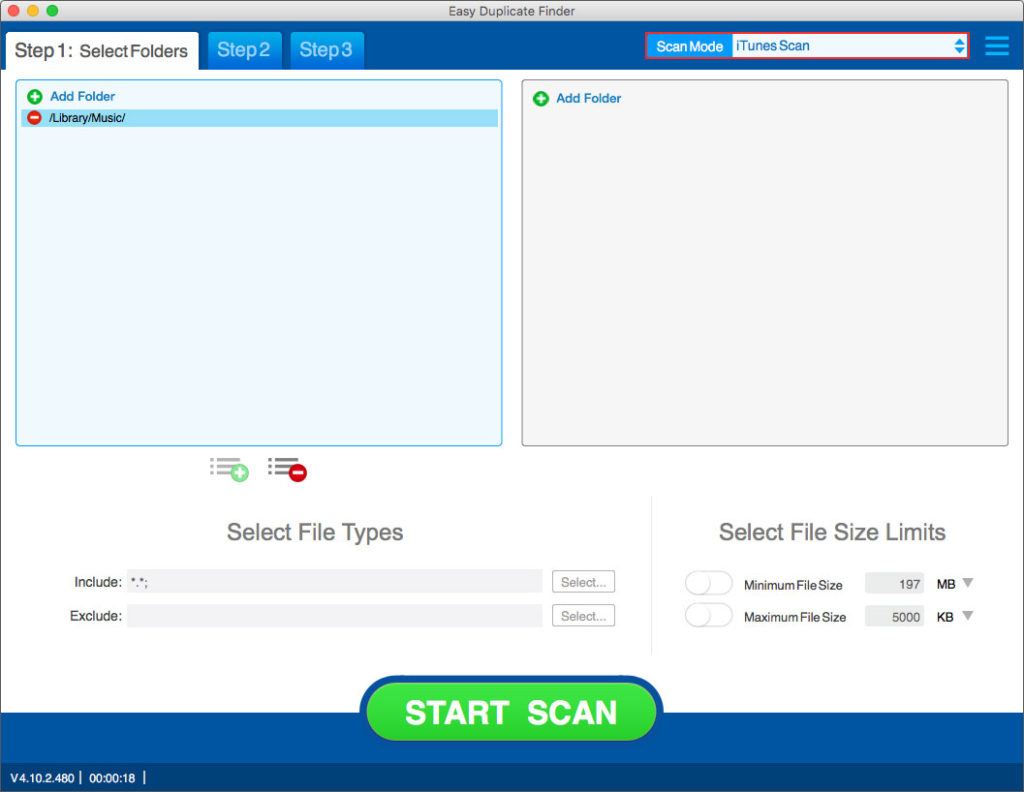 Besides iTunes scan and cleaner, Easy Duplicate Finder also has Music Scan mode, which scans for duplicate audio file on your hard drive rather than your iTunes library. But be attention that, it only looks for music files with duplicate artist and title tags by default. That is to say, it only finds duplicate songs with the same name recorded by the same artist. So under this scan mode, some duplicate results will definitely not be true duplicates, as Artists may record different versions of the same song.
Pros
1. Help you find iTunes duplicates regardless of their physical location.
2. Quickly delete iTunes duplicate tracks with one click.
3. Can help you organize iTunes music collection, and synchronize iTunes across all of your devices.
4. Are able to find a large number of duplicate files with this duplicate finder.
Cons
1. High price, start from $39.95 for one computer.
2. Sometimes fails to complete scanning and deleting the duplicates as program frozen.
Buy Easy Duplicate Finder to remove duplicates in iTunes now.
Price: $14.95
Supported platform: macOS and Windows
Rating: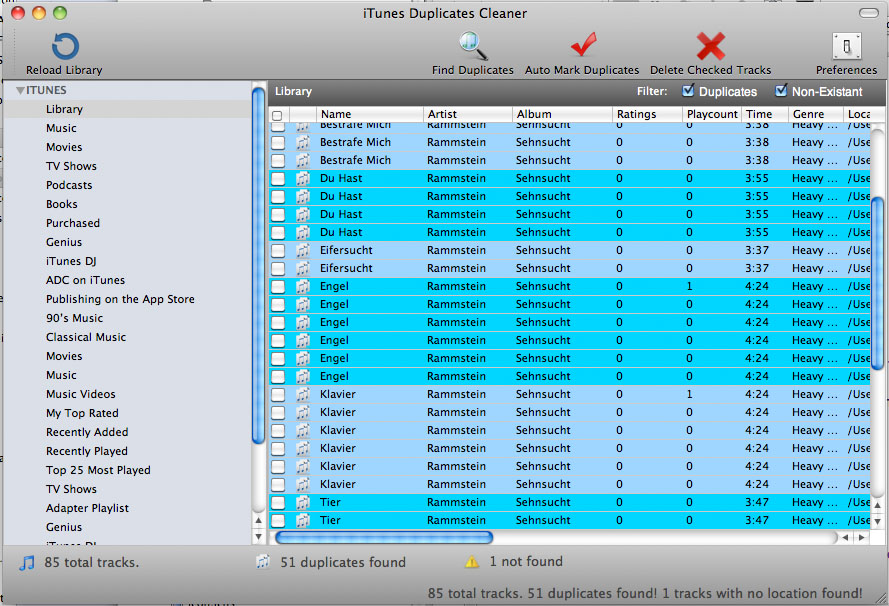 iTunes Duplicates Cleaner is an easy to use iTunes duplicates removing tool for cleaning duplicated tracks in iTunes Library. It can help you find duplicate song tracks according to various pre-defined conditions automatically and sort duplicates into groups. And it will check the duplicate tracks based on how many times the tracks have been played, whether or not the tracks are rated and then mark the ones that should be deleted smartly.
With this iTunes duplicate remover, you are able to remove and sweep thousand of duplicate songs from iTunes library in a few simple steps.
Pros
1. Can sort duplicated tracks into groups according to user defined conditions and clean up duplicates in iTunes smartly.
2. Only do one thing that is find duplicates in iTunes and delete the duplicate tracks.
3. The cheapest iTunes duplicate cleaner, if you only want to find and remove duplicates in iTunes, this iTunes Duplicates Cleaner could be a good choice.
4. It's easy to use.
Cons
Lack of updates and only works for old iTunes versions.
Buy iTunes Duplicate Cleaner to remove duplicates in iTunes now.
Price: $24.99
Supported platform: macOS and Windows
Rating: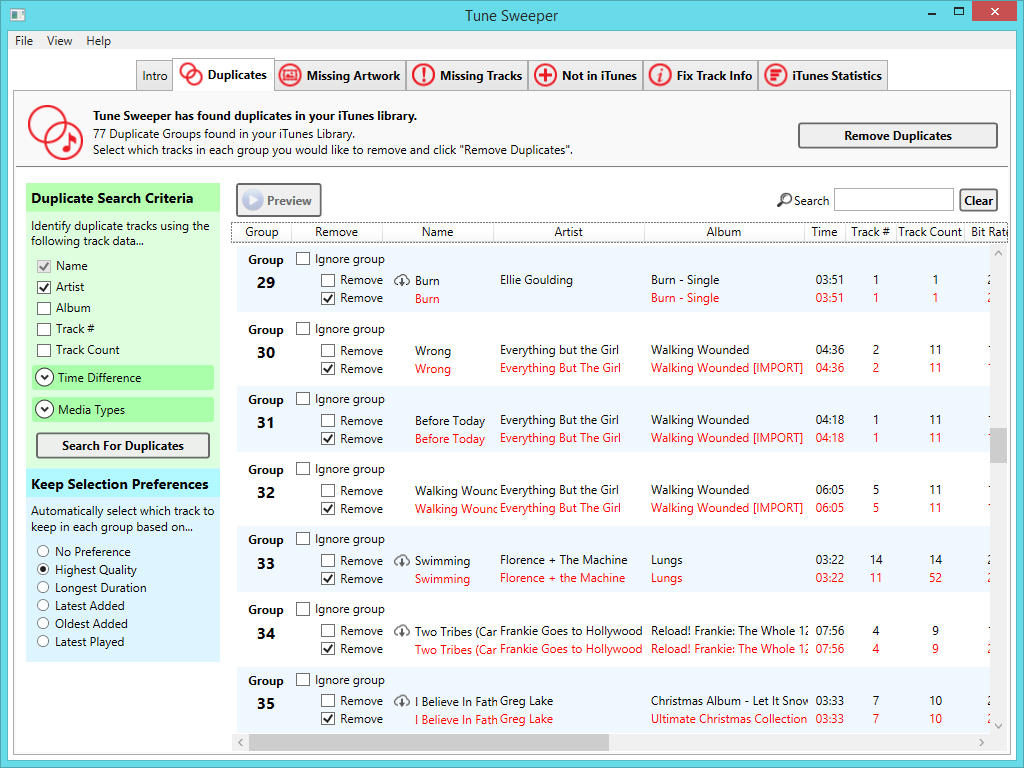 Tune Sweeper is an essential iTunes duplicate remover can help you quickly detect all the duplicate tracks in your iTunes library and remove then in batch. Tune Sweeper quickly searches through your iTunes library and displays duplicate tracks in groups based on your preferred search criteria, including matching track names, artist, and album. This iTunes duplicate remover will suggest you which track to keep and the unwanted music files will be marked for removal based on your preference. Then you need to do is simply confirm the songs you want to keep, the others will be intelligently removed from your music library. And in case, you can optionally back up the tracks that Tune Sweeper deletes from iTunes.
Pros
Automatically remove unwanted duplicate music from iTunes library; provide option to backup the tracks before deleting.
Cons
Not free, free trial version only find duplicate files but can't remove them, and scanning speed is a little slow.
Download FREE trial of Tune Sweeper to remove duplicates in iTunes
Which one is the Best iTunes Duplicate Remover for You?
Above is the brief introduction of 5 best iTunes duplicate remover, so which one is the best or suitable one for you? Obviously, you can't just get only duplicate songs finder, because there are so many more duplicates in your file folders that you might not even know about. If you need to find and remove all duplicate songs in iTunes and all duplicate files such as photos, videos, documents, etc. from Mac, Gemini 2 comes to the best duplicate iTunes remover and duplicate file finder for Mac, and the price is worthy for its finding and removing duplicates features. If you are on Windows, Tune Sweeper could be a good choice for finding duplicate songs and managing iTunes library. If you just want to find duplicates in old version of iTunes library, iTunes Duplicate Cleaner could be the best.
Before buy an iTunes duplicate remover, you could get a free trial version to try first. Besides, if you have another best choice of iTunes duplicate remover, please share it with us in the comments.