Mac Duplicate Finder – The Best Duplicate File Finder for Mac
Gemini 2 is a decent Mac duplicate finder, works as a intelligent duplicate finding software, it can help Mac users to find duplicate photos, document, videos, musics in simple steps and clicks. With it, you are able to remove duplicates, clutter and recover bytes of disk space easily.  This intelligent duplicate file cleaner does the job on finding duplicate files and remove in batch. Gemini 2 uses a proprietary algorithm can spot similar files that are not 100 percent identical, but can be considered redundant due to little difference between them. So don't bother with duplicates or similar images on your Mac any more.
What Mac Duplicate Finder – Gemini 2 can do for you?
Scan your folders, including iTunes, iPhoto app to find duplicate files, photos, videos and musics.
Find duplicate files by file name or contents.
Spot and find out similar photos in your Mac hard drive.
Support identify duplicate folders too
.
Find and remove duplicate in External drives, network volumes
,  cloud storage like Google Drive and Dropbox
.
 Suggested Spaces to help you know where to look for duplicates.
Gemini 2 will autoselect the duplicate copies and keep the originals intact
.
Works as an intelligent duplicate finder, allows you add your own Smart Selection rules, like deleting the duplicates that are older
.
Three modes to delete or remove the duplicate files: moving duplicates to a separate folder or onto a USB drive
, replacing copies with hardlinks, or delete the duplicates into trash.
Support put the deleted duplicates back in a click, when you removed the wrong duplicates.
Presettings of Gemini 2 Mac Duplicate Finder
Gemini 2's default settings should meet most of your basic needs. But also allows you to set your preferences on finding the duplicates.
Open the app and click Gemini 2 > Preferences on the menu bar.
General:
    1. Set minimum file size for a duplicates scan.
    2. Scan for similar files.
    3. Show notifications on your Gemini finding duplicates progress.
    4. Cleanup reminder: once in two weeks, weekly, monthly, never, etc.
Ignore list: Enable you to block specific folders, files and filesof particular extensions from scanning.
Set the smart selection of duplicates for smart cleanup.
     1. Gemini 2 duplicate finder only selects exact duplicates except when smart rules have been applied.
     2. Always select or never select duplicates from specific locations such as ~/Downloads/, ~/Desktop/ where tends to contain useless copies.
     3. You can quickly "Restore Default Selection Rules".
Removal Settings:
      1. Three removal method: Remove to trash, Move the found duplicates to a specified folder, or Remove permanently.
      2. Extras removal: You are able to remove the empty folder, replace files with hard links.
Steps on finding duplicate file on Mac with Mac Duplicate Finder Gemini 2
You are able to find duplicate files on MacOS with Mac duplicate finder Gemini 2 in simple steps.
Download and install Mac duplicate finder Gemini 2 from its official page.
Add or drop file folders and start duplciates scaning.
Shows report of detected duplicates files on your Mac.
Review and remove the duplicates. Clean your Mac hard drive by clicks.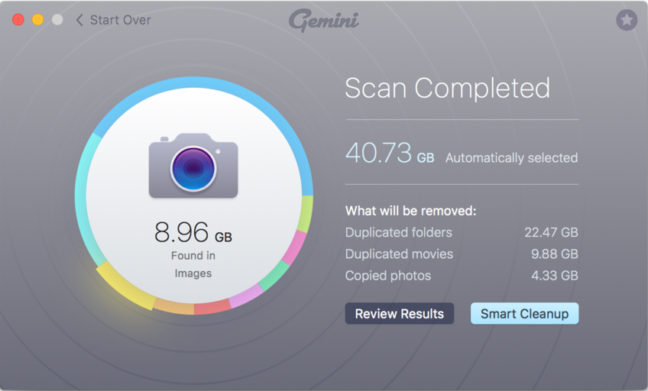 Get Support for Mac Duplicate Finder – Gemini 2
Gemini is smart Mac duplicate finder. It easily tells copies from originals on your Mac hard drive or external drives. It knows which files to keep intact. So get it to help you clean duplicates and sort out similar images for speeding your Mac.
Any relevant support of Mac duplicate finder – Gemini could be found in: