Quick Summary
Gemini 2 is a decent duplicate finder for Mac, works as an intelligent duplicate finding software, it can help Mac users to find duplicate photos, document, videos, music in simple steps and clicks. With it, you are able to remove duplicates, clutter and recover bytes of disk space easily.  This intelligent duplicate file cleaner does the job on finding duplicate files and remove in batch. Gemini 2 uses a proprietary algorithm can spot similar files that are not 100 percent identical, but can be considered redundant due to little difference between them.
If there's anything that Mac owners value the most, it's the storage space. So, you can't really afford to have useless files and documents taking up valuable space – especially if they are duplicate files.
The multiple pictures you've taken, the multiple copies of a file, downloads etc can take up valuable storage space. You will need to purge duplicates, but we all know, we're too busy (or too lazy!) to actually clean up our systems.
If you're short on space and you know that it's because of the excess files you've stored, then download the Gemini 2 Duplicate Finder  – one of the best duplicate file finders and removers in the market for Macs.
Let's find out more about this Mac duplicate finder tool.
What is MacPaw Gemini 2?
MacPaw Gemini 2 is a duplicate finder app for Mac and other external hard drives. It helps you eliminate duplicate files on your MAC and frees up storage space that may have been lost because of those files.
Gemini 2 does a quick job of weeding out space-consuming duplicates and helps you reclaim your space, using it for other valuable content.
Most of the time, we don't realize it, but we end up downloading or saving multiple iterations of the same files and overlook them. With the MacPaw Gemini 2 though, duplicated files are no longer a problem. All you have to do is download the software, run the installation and let it scan your drives in a matter of minutes.
Is Gemini 2 Safe?
When you install Gemini 2, you may be prompted to provide the software access to your files and drives. Rest assured though, that it's totally safe to give the software access.
Once you give access, Gemini 2 will start scanning your drives and filter out duplicate files. It uses analytic algorithms to detect files that are similar or that have minimum changes. When it is done scanning, it lists all duplicate files for you to review. You can choose to delete all duplicate items, or you can select files you want to keep.
Gemini 2 does not remove system files. It only scans images, files, and videos. This means nothing relevant to the OS will be accidentally removed. The files you delete will go into the Trash folder so unless you manually remove it from the trash can, you can still restore the files whenever you want.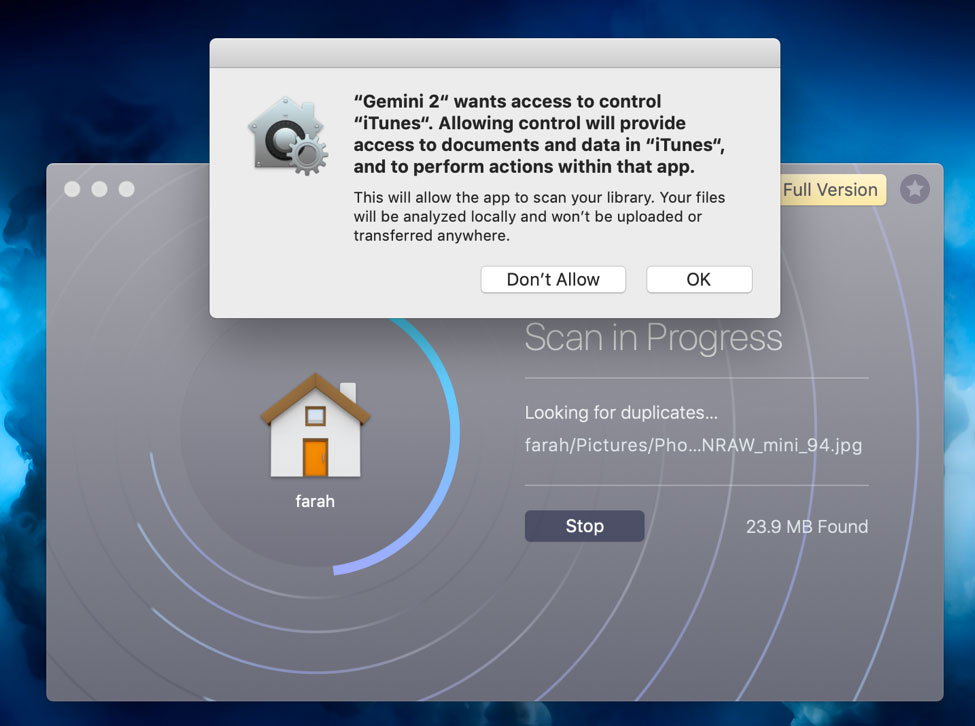 How Much Gemini 2 Cost?
The trial version of Gemini 2 can scan your OS for an unlimited number of times, but it can clean up to only 500MB of data. To complete the cleanup process, you can purchase a yearly license for a fee of $19.95.
One license can operate only on one Mac. If you need the software for 2 or 5 Macs, you'll be paying $29.95 or $44.95 respectively.
Alternatively, you can also purchase a one-time Mac license for $44.95.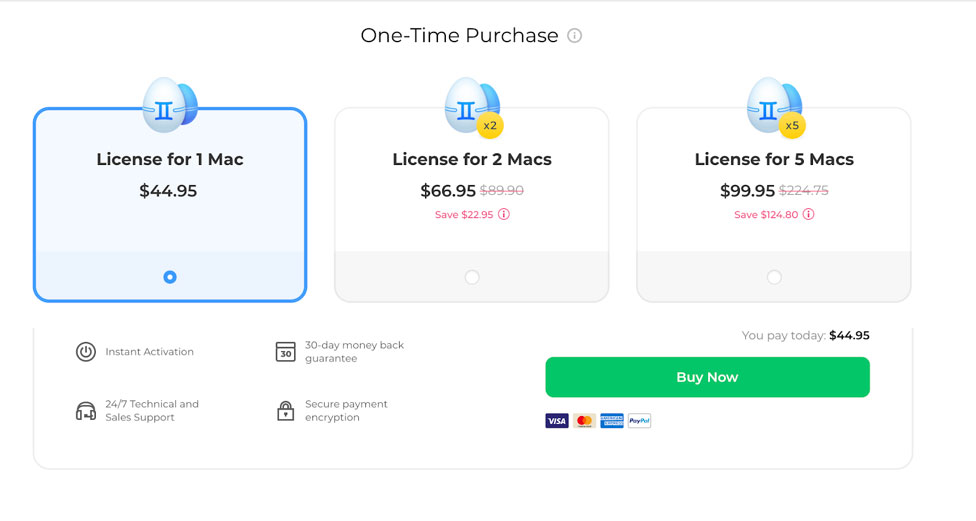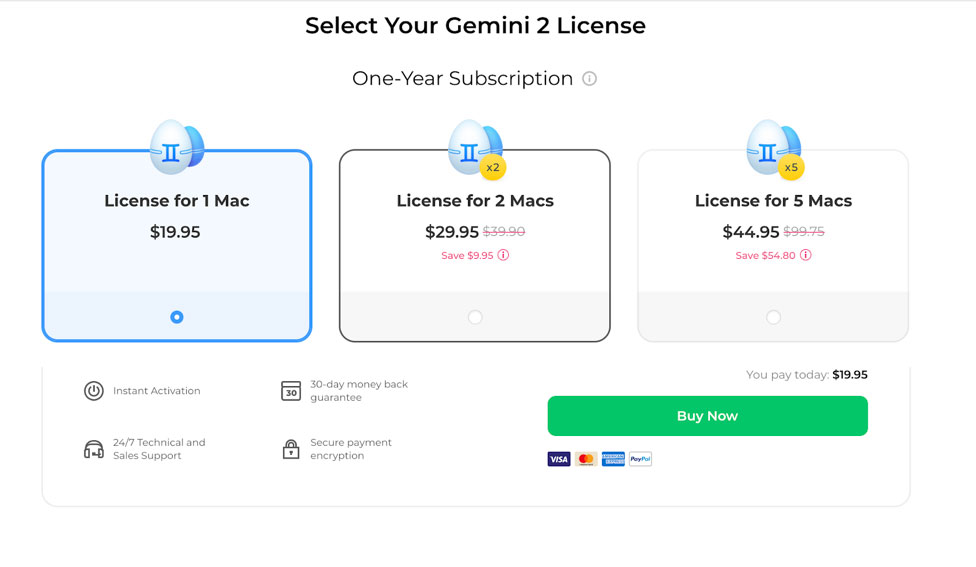 Is Gemini 2 Available for Windows?
Nope. The Macpaw Gemini 2 is not available for Windows. You can however, try other alternatives for Windows such as Wise Duplicate Finder, Duplicate Cleaner Pro etc.
What Gemini 2 Duplicate Finder For Mac Can Do For You?
The MacPaw Gemini 2 is an easy-to-use, simple duplicate finder that gets the job done in a matter of minutes. Below is a list of features Gemini 2 have:
Scan your folders, including iTunes, iPhoto app to find duplicate files, photos, videos and musics.
Find duplicate files by file name or contents.
Spot and find out similar photos in your Mac hard drive.
Support identify duplicate folders too.
Find and remove duplicate in External drives, network volumes, cloud storage like Google Drive and Dropbox.
 Suggested Spaces to help you know where to look for duplicates.
Gemini 2 will auto-select the duplicate copies and keep the originals intact.
Works as an intelligent duplicate finder for Mac, allows you add your own Smart Selection rules, like deleting the duplicates that are older.
Three modes to delete or remove the duplicate files: moving duplicates to a separate folder or onto a USB drive, replacing copies with hardlinks, or delete the duplicates into trash.
Support put the deleted duplicates back in a click, when you removed the wrong duplicates.
We'll explore each section of the app and see what it offers!
    Easy Drag and Drop Option for Scanning Specific Folders
 When you download MacPaw Gemini 2 for the first time, it will automatically scan all your folders and photo libraries. Of course, it will ask you for permission to access the folders before it begins scanning them.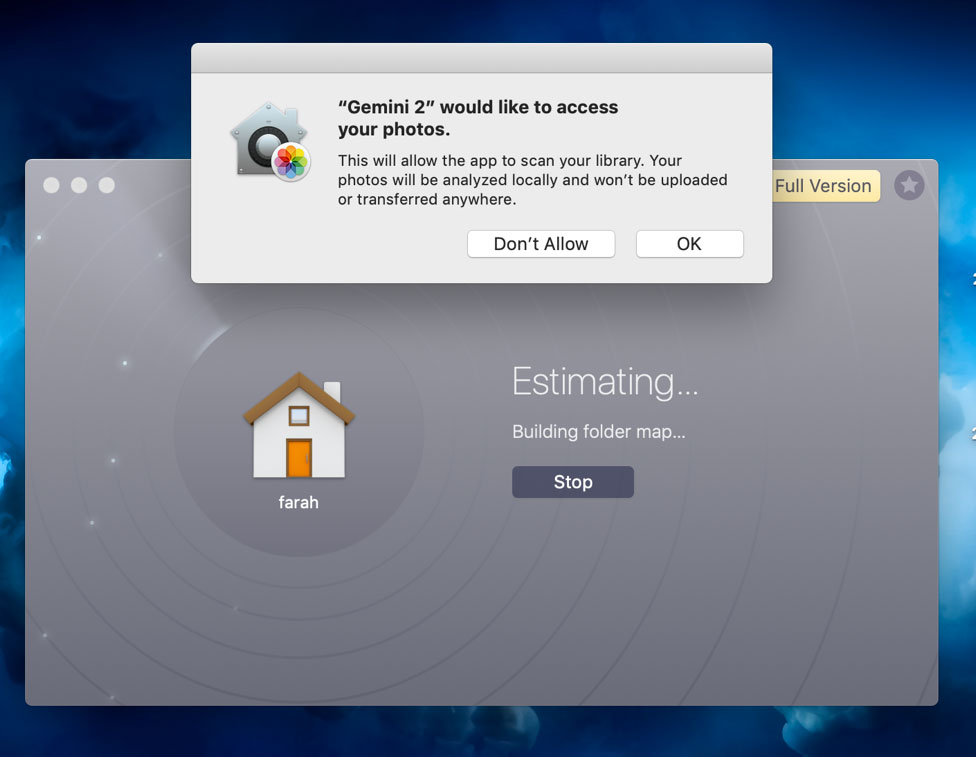 You can also choose to manually check specific folders for duplicates. This is quite useful if you've got folders in external drives and want to comb through them for purging duplicates. All you need to do is simply drag and drop the folders and beginning scanning for duplicates.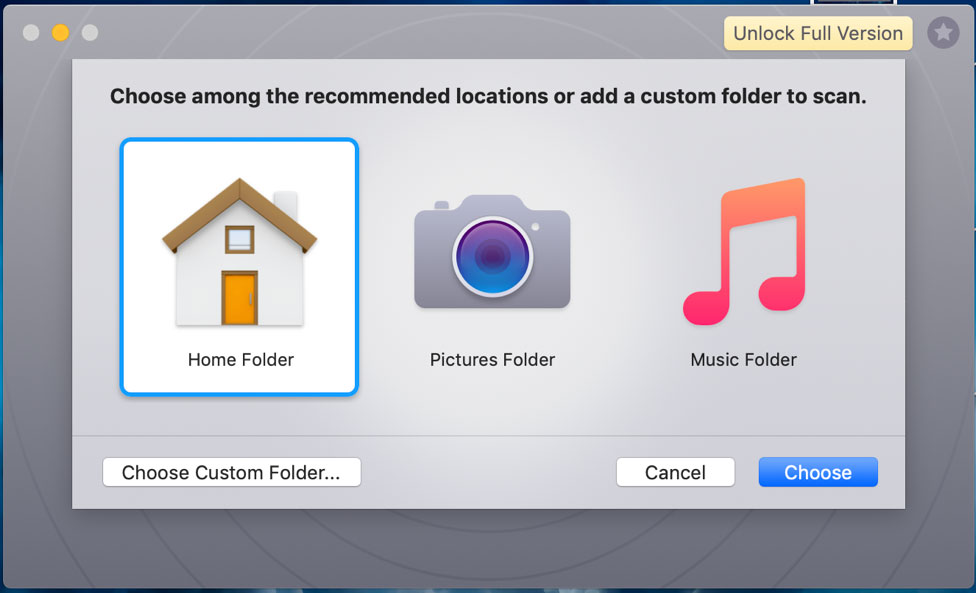 Gemini 2 compares files by analyzing their creation and modification dates along with other parameters such as extensions, file names, paths etc. Once it has all the files rounded up, it will provide you with Smart Selection – the option to remove similar files by default.
Depending on the size of your folder and the complexities of the files, a typical scanning session could be from 10 seconds to 15 minutes. Gemini 2's positive point is its lightning speed scanning ability.
    Exact and Similar Files
Once the scan is over, the software will provide two types of files – exact duplicates and similars. Files that have the exact parameters such as filename, size, creation and modification dates etc. are duplicates; whereas files that may look the same but have slightly different modifications would be categorized as similar files.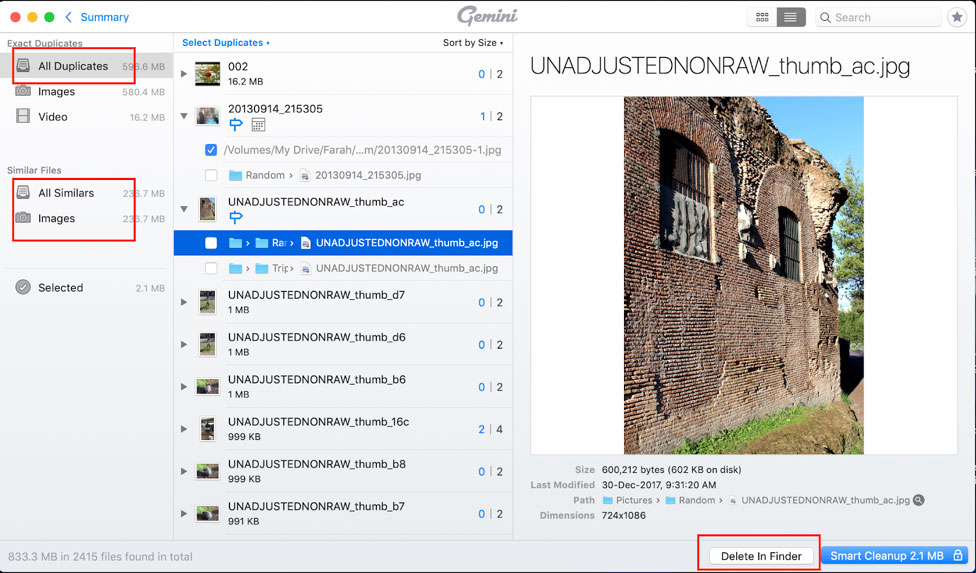 For example, if you've taken different shots of the same landscape or venue, the app will categorize it in the similar files folder. Before you delete any file or folder though, Gemini 2 will create a warning popup where it's going to ask for confirmation before you delete the file.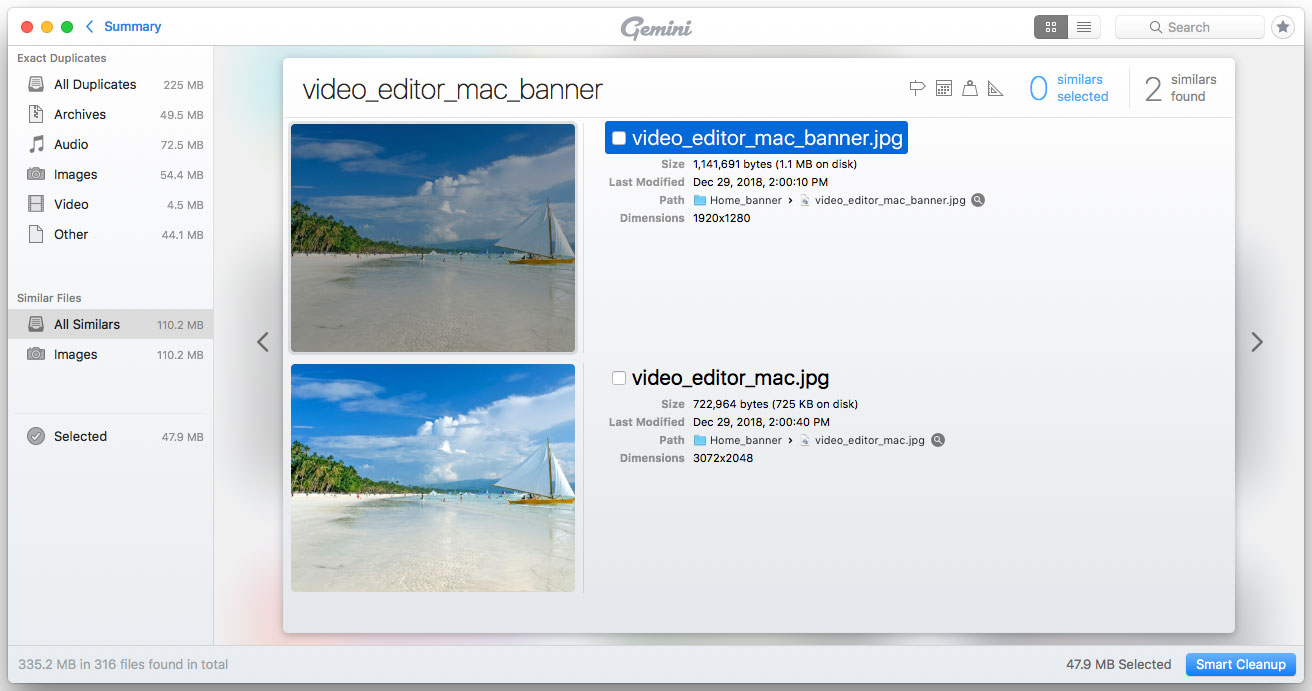 A quick scan of our files and folders showed duplicated audio files and videos that were accidentally downloaded multiple times. It also showed images that were similar (a few of them were modified using filters). A total of 32MB of unnecessary files were duplicated in my MacBook.
    Deleting from Mac's Finder
If you don't have the paid version, don't worry. You can manually delete the files from Mac's Finder. Clicking on any of the file will take you right to the file's location where you can manually delete it. Of course, with the paid version, you can do all this within a jiffy.
We actually found this feature quite useful. The free version does a good job detecting all kinds of files you ought to remove and if you have the time to sort through the files, you can delete them directly from the destination folder.
Another great thing about the software is that it doesn't permanently erase your files. It simply moves them to the Trash Can so if any time you want to recover your files, you can easily do so by restoring files from Trash.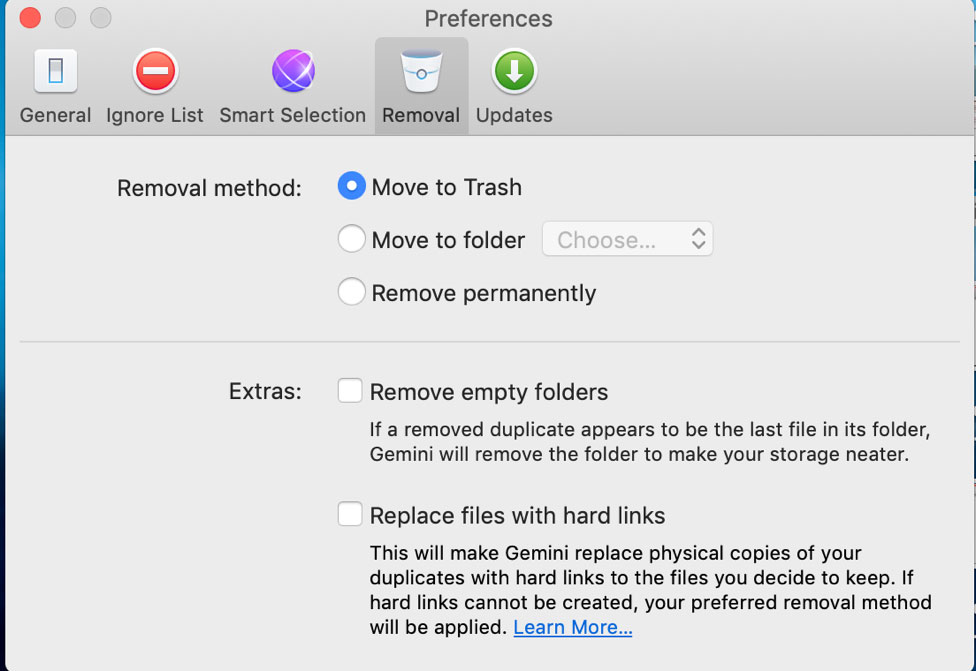 Some Other Important Features
For being a simple duplicate finder, Gemini 2 does boast of plenty of features and settings. If you're curious and want to explore additional settings, you can check out the Preference section where you have more options to customize your search.
For example, you can choose to scan for specific file sizes, you can choose to activate the weekly or monthly reminder for a clean up, you can select folders or pathways that you want the app to ignore while scanning. There is quite an interesting feature called Smart Selection that lets you choose not to select images that were edited via Instagram. You can also use Smart Selection to always select or never select duplicates from specific folders or locations.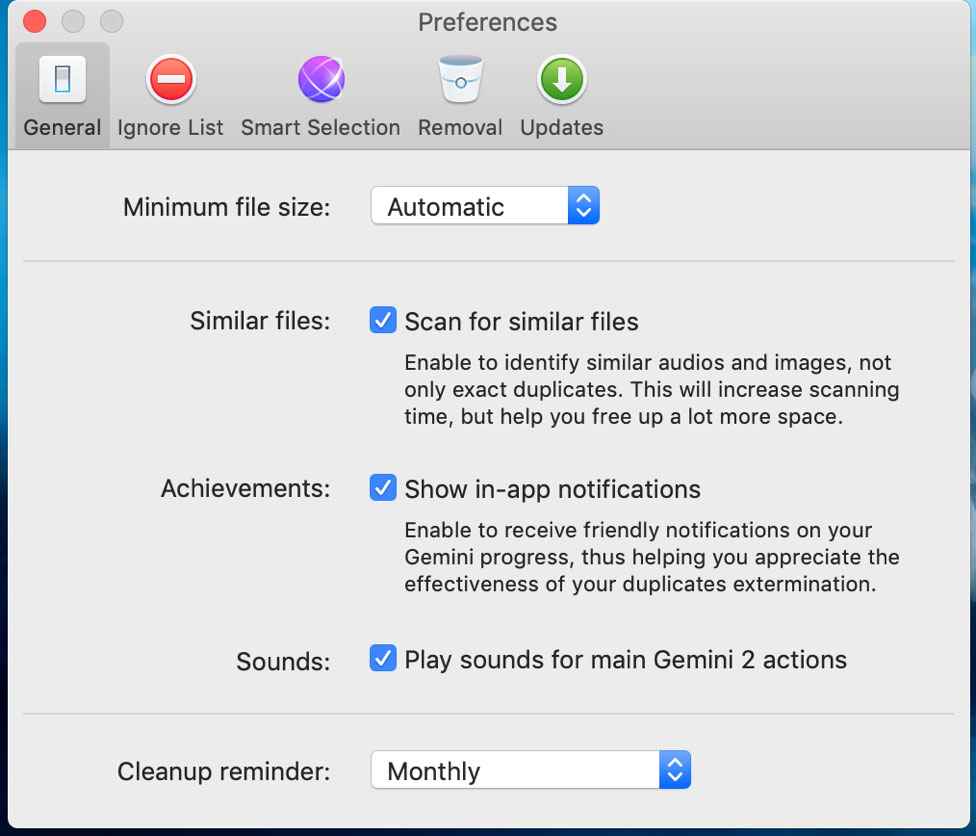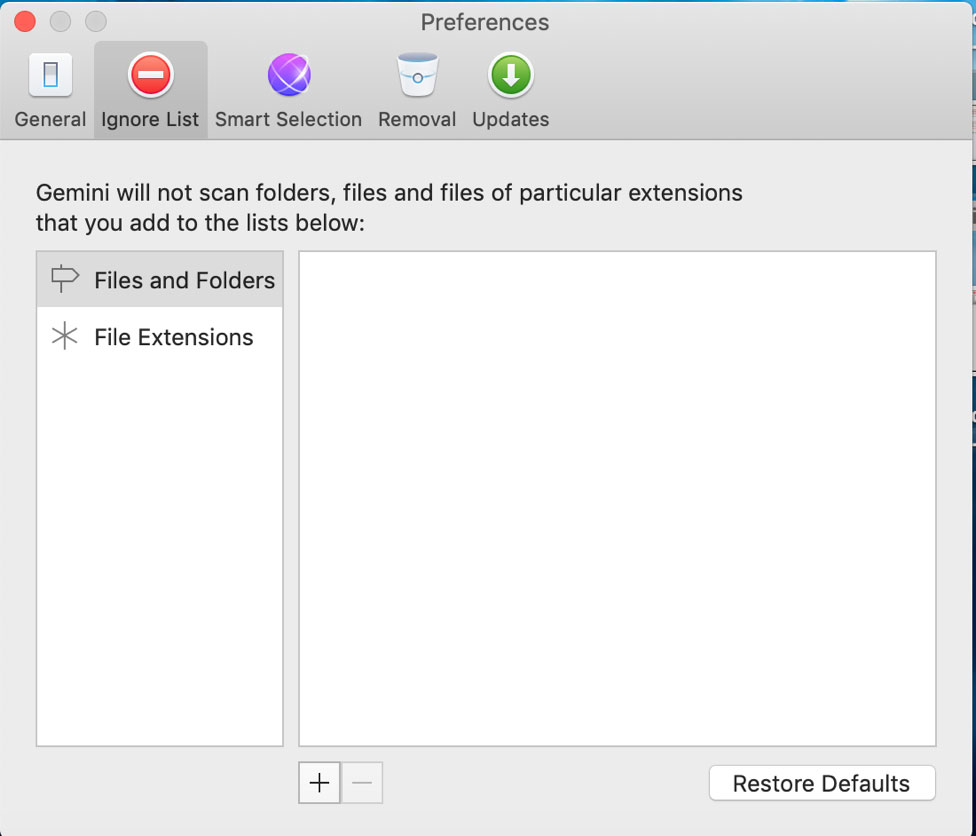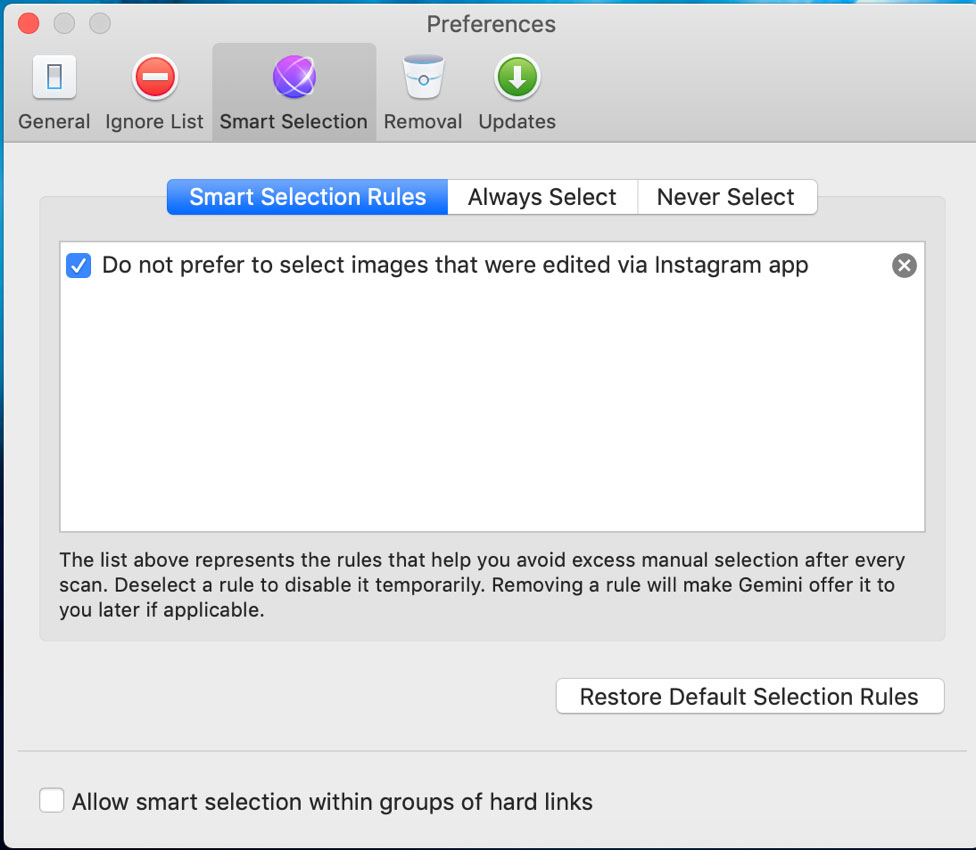 Finally, you can also choose how you want to remove files – send them to system trash, to another folder or delete them permanently. Oh and in case you want auto-check app updates, you can do so in the Updates tab of preferences.
How to Use Gemini 2 to Find Duplicate Files on Mac
Gemini 2 is actually quite easy to use and the fact that it is non-destructive makes it a much more valuable option for a non-tech user.
You are able to find duplicate files on MacOS with Mac duplicate finder Gemini 2 in simple steps.
Download and install Mac duplicate finder Gemini 2 from its official page.
Add or drop file folders and start duplicates scanning.
You can choose from a custom folder, a pictures folder and a music folder to sort through specific category of files. Simply click on the + sign given on the front of the app and choose your folder. You can analyze folders by simply clicking on Start Over once the result of the previous folder has been sorted through.

Automatic analysis and shows report of detected duplicates files on your Mac.
When you launch the app for the first time, it will automatically ask you for permissions to access files and picture libraries. Give access by clicking on Allow. The app will start scanning your files and folders. Once files are scanned, the app will list the results for you to review.

Review and remove the duplicates. Clean your Mac hard drive by clicks.
Before you delete any file or folder, it is highly recommended that you review the files first. Although you can always retrieve deleted files, it's still a good practice to review them before you hit the delete button. You can review audio, documents, images, video and other types of files individually as the app automatically categorizes files according to their respective formats.

P.S: If you don't have the paid version, you cannot clean up more than 500MB of files. So if you have duplicated files in GBs, you might want to make a purchase.
If you want to remove iTunes Duplicates quickly, check this Best iTunes Duplicate Remover list and get the suitable one to start finding duplicates in iTunes.
Reviews of Mac Duplicate Finder Gemini 2
So! Let's quickly review some of the good and the bad of Gemini 2.
The Good: 
It's easy to use and is not complicated like other programs.
It's fast but it could slow down if you've got a lot of unsorted, complicated files and folders to clean up
It's accurate and is able to find all files that are exact duplicates or similars.
It has good control features that lets you control the app usage according to your preference
It allows you to review files and folders and prompts you with a warning tab when you hit delete.
It allows you to delete from the Mac finder itself so even with the trial version, you can still delete redundant files.
The Bad: 
Some duplicates may still appear in scan results which according to MacPaw occurs when the user account doesn't have proper permissions to delete it, so the file won't be removed. Instead it will be moved to a Gemini 2 duplicates folder.
Customer service may be slow to respond.
Reviews of Gemini 2 Duplicate Finder From Authority Mac Tech Websites
Gemini 2 Duplicate Finder also is a favorite duplicate finder for Mac around the technology sites.
Conclusion
The MacPaw Gemini 2 is a powerful duplicate finder and remover tool, however, at a price of $19.95, it is suitable for users who have GBs of duplicate files. If you have a new Mac and don't generally have a lot of duplicated files, you don't need to use the paid version of the software. If you have some patience though, you can use the software simply to scan for duplicates and then delete them in the finder itself.
Overall, this is a great tool to use if your Mac is screaming for some additional space!
Effectiveness on finding duplicates
9.0/10
Pros
Easy to use.
Fast and accurate on finding duplicate files.
Able to find all similar files.
Good control features and app preference.
Able to review all duplicate files and can retrieve back wrong deleting.
Cons
The app may crash with big scans (>50GB duplicates).
Customer service may be slow to respond.