If you have thousands of photos on your phone, camera, and laptop taking up disk space, getting rid of those duplicate photo files hidden deep in folders and subfolders is one way to gain more space. Well, you need a duplicate photo finder to organize your files, and help you get rid of all those extra images, multimedia files, etc. We'll discuss what criteria the best duplicate photo finder should cover, and pick a list of the best duplicate photo finder for Mac and Windows in this article. Read on and get the best duplicate photo finder you need.
Key Attributes of an Ideal Duplicate Photo Finder
There are plenty of duplicate photo finder programs available in the market with a variety of features. Some allow deeper scanning of files while some allow for basic duplicate search, however, the best duplicate photo finder have the following essential features.
A simple user interface: The whole point of using a duplicate photo cleaner is to remove duplicate photos fast and easy. A complicated user interface beats the whole purpose of using the software.
Be able to scan similar photos: A good duplicate photo remover is smart enough to detect similar photos through its scanning abilities. Similar photos are different from, 'same' photos where the former are multiple shots you take of the same location and the latter are files with the same name copied twice (usually happens when you copy files from one folder to the other).
Search various image types: The duplicate photo cleaner should be able to search and scan through all image types such as PNG, JPEG, BMP, GIF, TIFF etc. A more thorough finder can access multiple camera formats which means you can connect your camera and phone to the finder for instant sorting.
Ability to add multiple drives and folders:  A smart duplicate photo cleaner will allow you to add multiple drives and locations for simultaneous scanning which saves you the effort of redoing the same procedure for each drive or folder
Important Note: It is highly advised that you have backup of your image folders before you put them through the duplicate photo remover. You don't want to accidentally delete years of images.
Best Duplicate Photo Finders for Mac and Windows to Delete Duplicate Photos in Mins
No. 1 Gemini 2
Price: $19.95
Rating:


Supported platform: macOS 10.10 and higher
Official Page: https://macpaw.com/gemini
Gemini 2 is the best duplicate photo finder for Mac on the market now. It is the second version of the earlier Gemini with more features and enhanced functionality. It's available for a free trial download, which will allow you clean up to 500 MB duplicate files, you need to purchase to get full functionality access.
The Gemini 2 allows you to group scanned files by exact duplicates and similar files – features which makes it a smart duplicate photo finder on Mac as compared to others. You can even add multiple drives and folders for scanning, taking just minutes to scan for all kinds of files and pictures. The app has a simple, easy to use, and beautiful interface that allows you to get the most done without taking up too much time. It also informs you of the total disk space you'll be able to free up when deleting the duplicate files. The program also offers three types of removal option – permanent delete, delete to a folder or delete to system trash can.
Pro tips:
You might be tempted to let the app scan all of your files and folders, but you can make it more efficient if you choose only the types of files you want to remove. If you don't have duplicate documents and are just bothered with movies or images, it's best to just select the file types. This eases the selection process and allows you to focus on one type of file at a time.
You could read the full review of Gemini 2 to learn more details of it, including its likes and dislikes from users.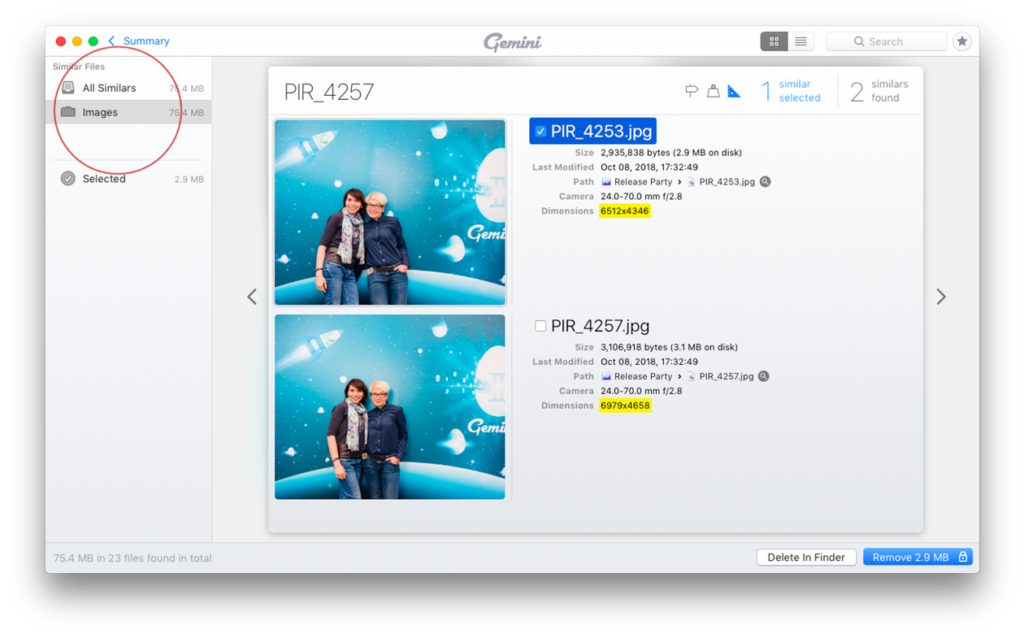 Which falls:
Gemini 2 for Mac with a $19 price tag, it may be an expensive program to use if you just need it once or twice. The cleaner may take up system resource and has been reported to slow when scanning large MB files while also needing improvement at the smart scan feature.
Buy Gemini 2 to find duplicate photos and similar images on Mac now.
No. 2 Easy Duplicate Finder
Price: $39.95
Rating:


Supported platform: Windows 10, 8, 7, Vista, XP and macOS 10.10 or later
Official Page: https://www.easyduplicatefinder.com
WebMinds' Easy Duplicate Finder is another costly option at $40, Easy Duplicate Finder can scan deep into your files and subfolders offering you the chance to delete all redundant files from your system. Although powerful, some users reported the program to be buggy and non-responsive, with slow response time as well. Some users have even reported problems while scanning images while some have complained of automatic installation of WebMinds toolbar (you can opt out of this when installing the program). If you're unsure, you could try out the free version but that would allow only 10 groups of duplicate files to be deleted.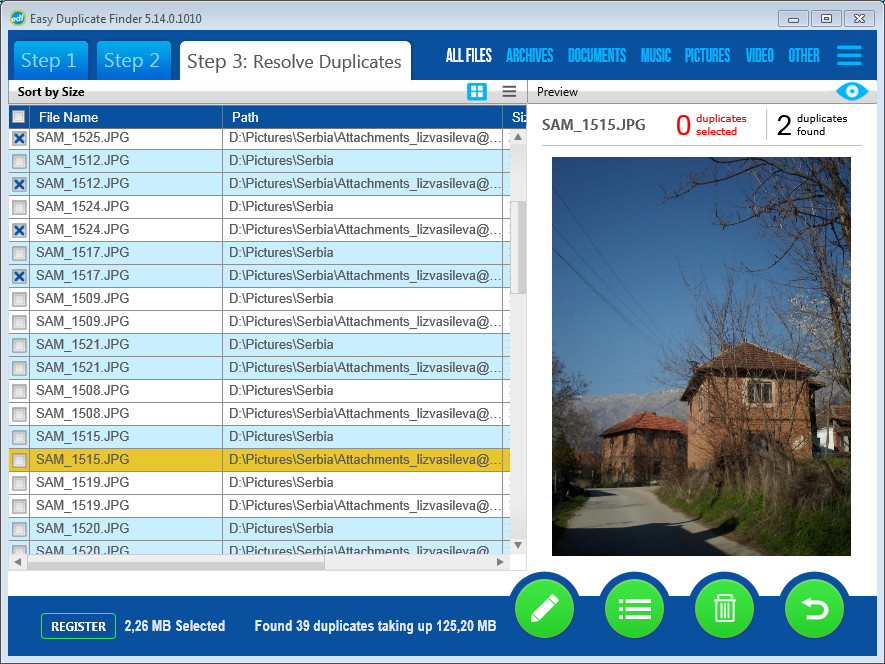 Pro tips:
Make efficient use of filters and the Resolve Duplicate Assistant to help you manage a large number of duplicate files. The duplicate Assistant lets you delete files by types by simple selection. You can learn more from the review of Easy Duplicate Finder.
Which falls:
A buggy interface and automatically installation of toolbars may annoy users who have paid a premium price for the program. However, if you're looking for a powerful and thorough duplicate finder, the Easy Duplicate Finder is just what you need.
Buy Easy Duplicate Photo Finder to detect and delete duplicates photos
No. 3 Duplicate Cleaner Pro
Price: V4 – $29.95, V5 – $31.2
Rating:


Supported platform: Windows 10, 8, 7 and Vista.
Official Page: https://www.duplicatecleaner.com/index.html
For Windows users, the Duplicate Cleaner Pro is a recommended duplicate photo finder tool designed to free up PC hard drive space. It's available for a free trial download but options to delete the files within 15 days is limited. You can only delete the first 100 groups.
The tool is high-end and comes with a bundle of options and filters to scan and select all kinds of files including Zip files and music files across multiple drives and networks. The interface is inclined towards technically adept users especially since it has advance features that a non-tech savvy user may not be aware of. That said, it is a powerful tool that allows you to comb through every element in your files and folders, presenting a summary of all items that you need removed.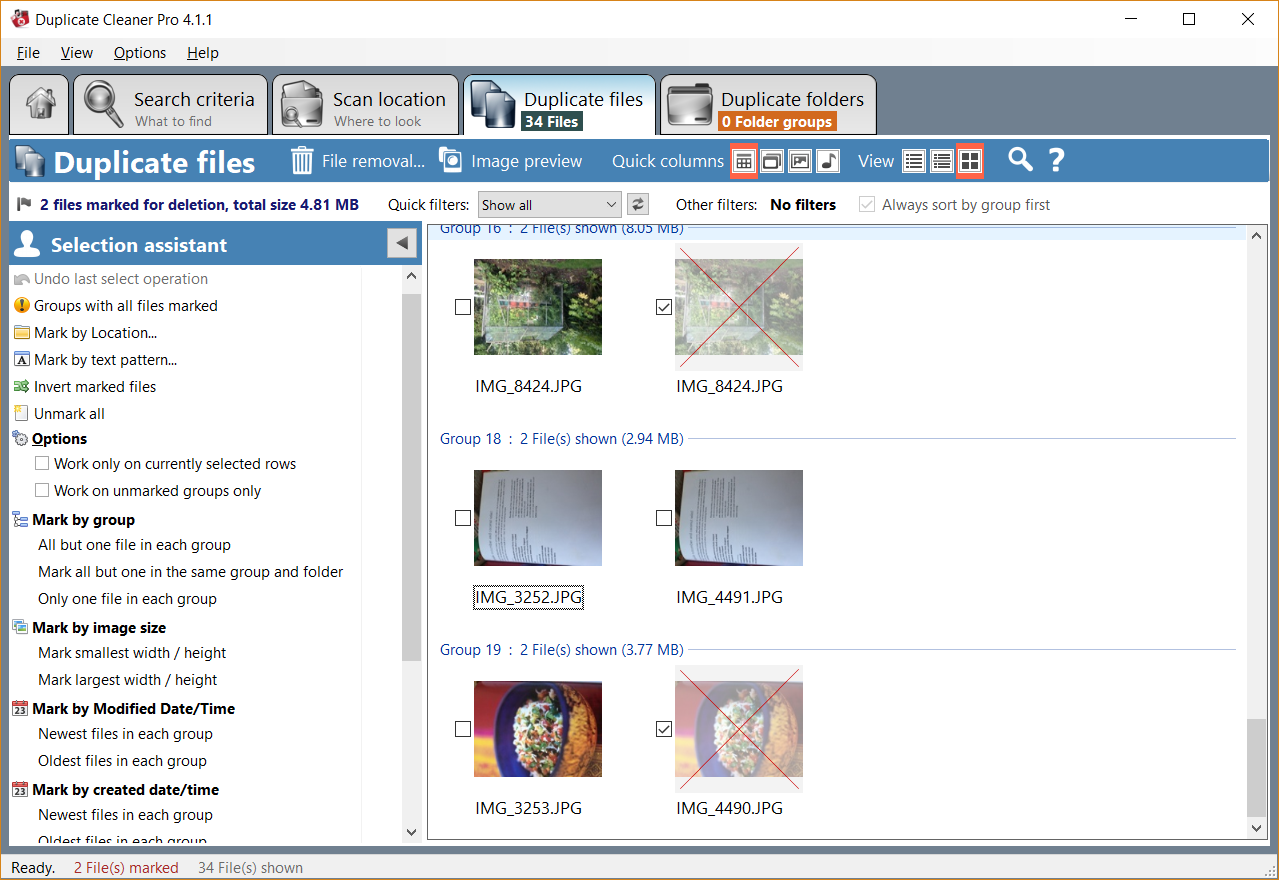 Pro tips:
Duplicate Cleaner Pro cannot be paused when it's scanning and searching so if you want undisturbed scanning of all your drives and folders, you might want to set it up and let it complete the task before working on anything else. Remember though that the process may take longer especially since Windows has more disk space than a Mac.
Which falls:
This duplicate photo cleaner program has negligible interface issues which can be overlooked but the lack of a pause feature may make be a bit of a issue if you want to work and scan at the same time.
Buy Duplicate Cleaner Pro to find and clean duplicates photos
No. 4 PhotoSweeper
Price: $9.99
Rating:


Supported platform: macOS 10.10 or later
Official Page: https://overmacs.com/?p=photosweeper
A cheaper duplicate photo remover alternative than the Gemini 2 and Cisdem, PhotoSweeper costs $10 on the Mac App Store and is the ideal app for sorting duplicate images stored in iPhotos. The app allows you to selecting photos by color labels, sources, keywords, sizes, and ratings among others and is fully compatible with Aperture, iPhoto and Lightroom supporting PDF, DNG and WebP formats.
A feature that makes PhotoSweeper stand out from the rest is the side by side comparison tool that makes it easy to see if you want to remove similar photos. If you're looking for an easy and cheaper alternative than the other two apps, the PhotoSweeper is a good choice.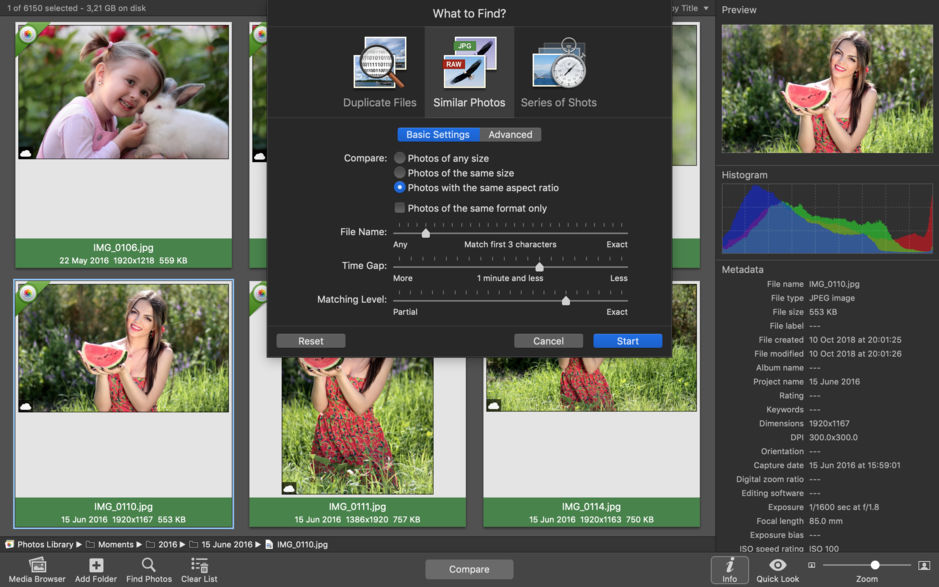 Pro tips:
PhotoSweeper doesn't directly send your pictures to trash. It moves the marked images to Photos in its own Trash Folder after which you get instructions on how to permanently remove the photos. This saves you from unintentional removal of pictures.
Which falls:
The dark interface of the app is not liked by many people and it's not as intuitive as the other programs. If the black interface is not a problem for you, the PhotoSweeper does a good job at an affordable price.
No. 5 Cisdem Duplicate Finder
Price: $29.99
Rating:


Supported platform: macOS 10.10 or later
Official Page: https://www.cisdem.com/duplicate-finder-mac.html
Cisdem Duplicate Finder detects duplicate photos and other files that exist both in the Mac hard drive and external drives, so if you want to connect your external drive for the sorting, and Cisdem Duplicate Finder does it well.
A simple, easy-to-use interface, Cisdem duplicate image finder attempts to get the job done as smoothly as possible. All you have to do is add in a folder or multiple folders, click Scan and let the app scan for all duplicates. It gives you a listing of different file types and the space occupied by each. Once done, duplicate files are automatically selected (you can unselect all if you want to go file by file) and ready for deletion. By default, the files removed from the Mac are sent to the Trash (you can adjust the removal method by choosing a different removal method).
The app offers a free trial to download but it will just sort and list duplicates; it won't delete them if you don't purchase the license. It's available for $29.99 on its official website to be used on one machine with a key provided via the purchase.
Learn how Cisdem Duplicate Finder works on finding duplicate photos on Mac from this video:
Pro tips:
To get the best out of Cisdem, go to the Settings of the tool and adjust it according to your preference. You can select files of a certain MB to be scanned. You can even choose a default removal method from the settings.
Which falls:
The Cisdem duplicate photo cleaner for Mac does the job well, with no visible falls other than the lack of a few advance options such as save scanning process and advanced file management features. Initial versions of the Cisdem were reported to lack warning prompts, however, in the latest version, this issue has been addressed and users can now get warning prompts on file deletion. Also price is fairly high.
Buy Cisdem DuplicateFinder to find and remove duplicates photos on Mac
No. 6 AusLogics Duplicate File Finder
Price: Free
Rating:


Supported platform: Windows 10, 8.1, 7, Vista, and XP
Official Page: https://www.auslogics.com/en/software/duplicate-file-finder/
Auslogic is a free to use duplicate photo finder. Unlike the paid counterparts, Auslogic offers a basic scan with options to delete permanently, delete to a recycle bin or delete to AusLogic's rescue center. It's a simple and easy to use interface, allowing for a rapid scan by setting up filters for file type and size. It gives you full control, allowing you to go through the copies and deciding which ones to delete.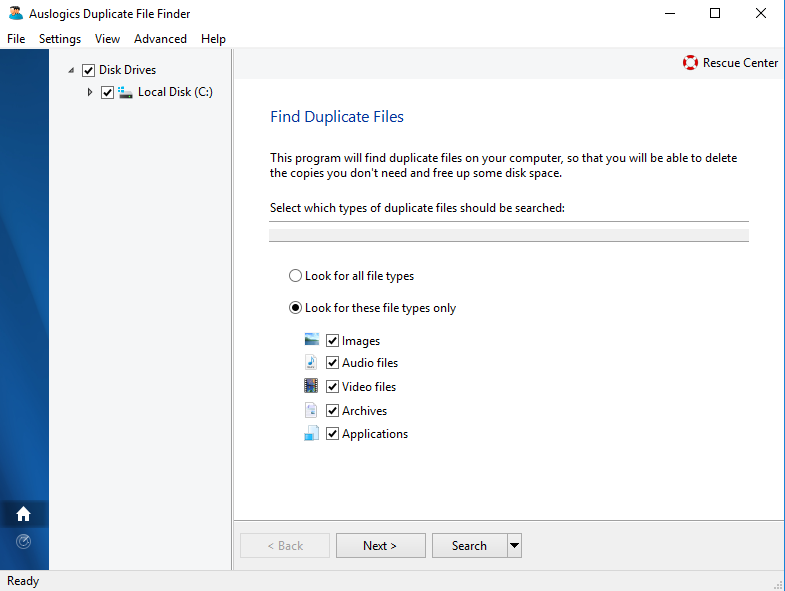 Pro tips:
Auslogic is easy for users of all level but if you really want to make this work efficiently, scan only for one type of file or folder at a time. This way you get to decide on the types of files to keep or delete.
Which falls:
Since it's a free model, you may have to deal with ads and a toolbar installation. You can prevent the toolbar installation by disabling it. Other than that, it's a quick to use software that does what it's required to.
Conclusion
Redundant files are a cause of frustration when you need disk space but run short. To avoid any last moment frustrations, invest in a good duplicate photo finder and use it once every two or three months to clear your disk from redundant files.
After reading the brief introduction of top 6 best duplicate photo finder tools listed above, which one will be the best or suitable one for you? On Mac, since you might want to find and clean not only the duplicate photos, but also other duplicate music, documents or things like that, I would recommend you to get MacPaw Gemini 2 as your general duplicates cleaner, it's the most cost-effective duplicate finder and similar photo remover for Mac. On Windows, considering all factors, Duplicate Cleaner Pro could be a good choice. And remember to install duplicate finders only from the official Mac App Store or the developer's website. This way you won't have any malware and the programs will be safe to use.