Summary: WebMinds Easy Duplicate Finder is a duplicate file finder works for macOS and Windows, it can help to scan and find duplicate files on your computer, iTunes, external drives, Cloud storage solutions like Google Drive & Dropbox, and then remove all the found duplicate files automatically in clicks, so you can free up valuable space. It also offers options for you to review before deleting all the duplicate files, or "Undo" for emergency recovery. If you are considering to purchase Easy Duplicate Finder or not, please read on this Easy Duplicate Finder review, to learn the details of Easy Duplicate Finder's features, advantages and disadvantages, and then make your choice.
What is Easy Duplicate Finder?
As the name suggests, Easy Duplicate Finder is an easy-to-use application which helps to straighten out cluttered storage within seconds. It assists in locating and removing recurrent files on your computer, Google drive, iTunes or external drives. It is a comprehensive tool which can function for duplicate documents, spreadsheets, MP3's and a lot more. The software bores deep into your system searching through music tags, compressed files, examining all data and can find all duplicates of images, documents or music files in a single folder.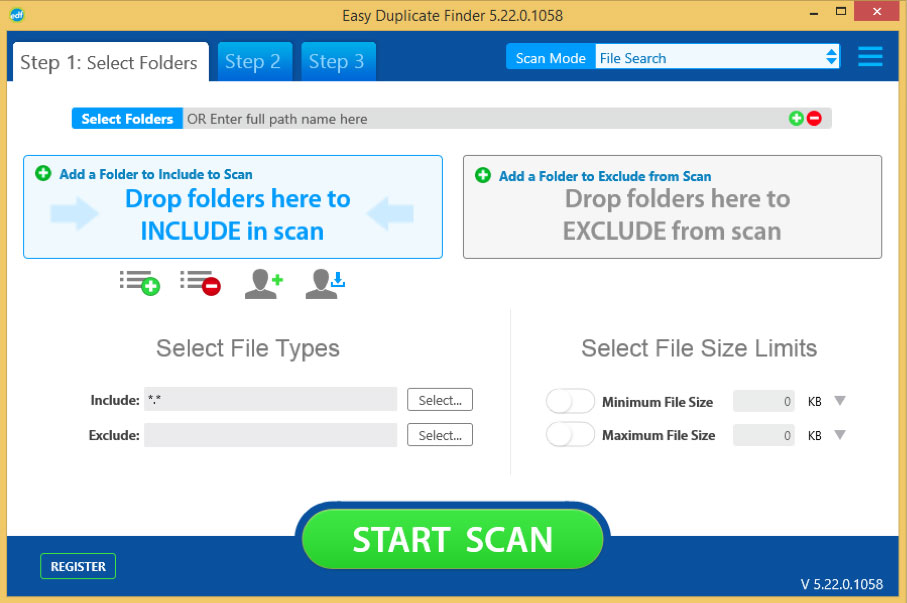 If you are bored with lots of duplicate files on your computer, Easy Duplicate Finder can help you free up the duplicate files to gain valuable space, it as well can help you properly organize your data.  It is available for both macOS and Windows system, costs $40 for one computer with a year of updates. There are available other plans that allow you to use the app on more computers or give more years of updates. And you also can try Easy Duplicate Finder for free, the free trial provides unlimited scanning and lets you manage 10 groups of duplicate files.
Is Easy Duplicate Finder safe?
The safety your files is a significant concern, but to clear all doubts, Easy Duplicate Finder is safe to install and use. It has been tested to have no viruses or malicious code. Easy Duplicate finder helps with your decisions by presenting the search results at the bottom of the windows. You can automatically delete the duplicate files and keep the original, and since some copies might still be relevant, you can review them to choose to delete, move or rename any. Since the app is designed to delete duplicate files from your hard drive following your command; before using the app, it best to have a backup, just in case you mistakenly delete an important file. But to ensure you don't lose your data from a mistake, there is an Undo button to restore your data.
Who Is Easy Duplicate Finder For?
Well, multiple duplicate files could be as a result of repeated downloads, errors on copying and pasting actions, created backups or other installed software apps. Irrespective of who you are or where you work, when you begin to have issues of identical duplicates in your ever-expanding iTunes library, Google drive, and the external or internal memory of your Windows or Mac computer; Easy Duplicate Finder is your go to. Outlook users are not left out, you can also locate duplicate contacts and emails with it.
Easy Duplicate Finder Features and Specs
Easy Duplicate Finder comes with unique features and fine-grained control specs to clean unneeded duplicated data from your computer. We'd cover the features, to reveal what the app has to offer and also share our opinions.
Search Files
Easy Duplicate Finder is a reliable tool for selecting different folders or directories and scanning them for recurrent files according to your choice. It allows you to effortlessly choose a folder or exclude specific ones by clicking on the designated option or using the drag and drop method. You can also copy the directory of a concerned folder and paste it in the dedicated bar on the app. Not just file, the scan mode of the program is also able to weed out repeating contacts, emails, music file and even data stored on the cloud.
With the object-oriented interface, the process involves scanning the folder or subfolders by dragging and dropping. Using the filter, you can browse for specific file types, select limit file size or exclude certain folders from the scan. The search is not limited to a single folder, you can compare files stored in several locations, and if you are not sure of the items to include, you can exclude them from the scan before skimming duplicates out.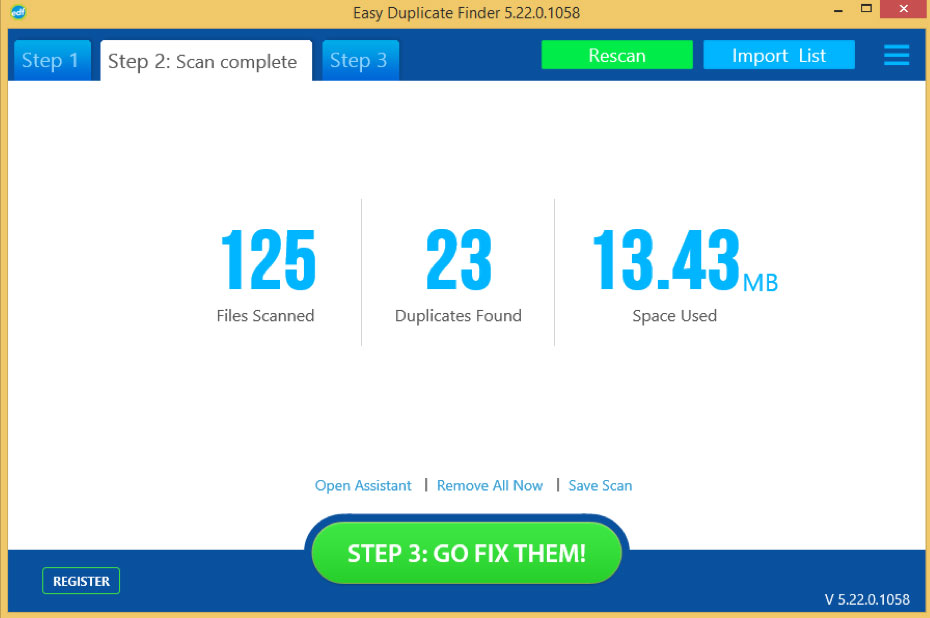 While doing your search, you can specify the minimum and maximum file size you aim to consider, remove the files identified as duplicates and save your preference so another time when you have to, you can effortlessly scan the same folders.
Music Files and iTunes Scan
Media and audio files often take up a lot of space, and if you have to deal with duplicate files, you may prefer like to begin there. You may have saved up lots of music files on your hard drive or iTunes library; meanwhile reoccurring songs kills your rhythm. Regular Finders do not take music tags into account like Easy Duplicate Finder, which features a music scan for duplicate audio files with the artist, title, year of release, track duration, and bitrate tags. So here you may have to be a little careful as often some artist record different version of the same song. You may even be an artist or a music producer where you have to deal with a variety of audio clips, loop tracks, and mastered tracks. Instead of listening to each track, Easy Duplicate Finder can weed out the records with similar attributes to keep your music library organized.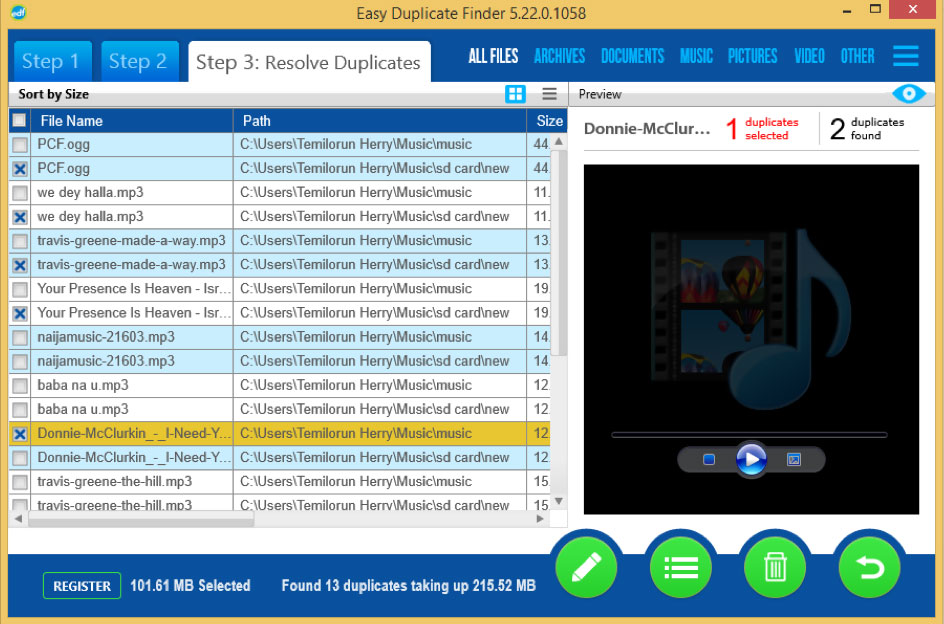 Some of the supported files include commonly used formats like MP3, AAC, M4A, FLAC, WAV, RM, MIDI and a lot more.
Photo Scan
Whether it be selfies, travelogue, fashion shoots, memes or album artworks; all captured moments in picture formats could be downloaded or backed up multiple times. With a couple of clicks, Easy Duplicate Finder can be used to find, manage and delete the photos on your Mac. The program features a mode called iPhoto scan to manage the duplicates in your Photo library.
Contact Scan
Multiple contact information does not use up so much space, but duplicated copies complicate finding the right one, and that can be extremely frustrating. The duplicates would sometimes carry partial information and are often caused by syncing contacts from another device or cloud backups. You can save yourself from this stress with a feature in Easy Duplicate Finder. The contact scan feature examines the contacts based on the name and email; you can also decide to scrutinize sub-folders to ensure you've got them all.
MS Outlook and Email Scan
Sometimes your work heavily depends on emails, and you may have to deal with hundreds, if not thousands of them. Now, if following up your previous conversation becomes a challenge, as a result of a duplicated mails causing a cluttered mailbox, Easy Duplicate Finder could be helpful. The doubles are removed based on the sender and receiver's name, contents of the body, size, attachments, and date of conversations. You can select the mail folders you want on your computer per your choice and also filter with text in capital or lower case letters. Third-party services like MS Outlook can also be checked for repetitions with the dedicated option to search Microsoft emails and contacts.
Google Drive and Dropbox Scans
Since we regularly need more information on the go, we become adaptive with giving our data more mobility; we tend to lean towards cloud storage as the most appropriate choice. As much as we use our cloud services, we sometimes forget they only offer limited storage and spend almost no time organizing our drives on the cloud.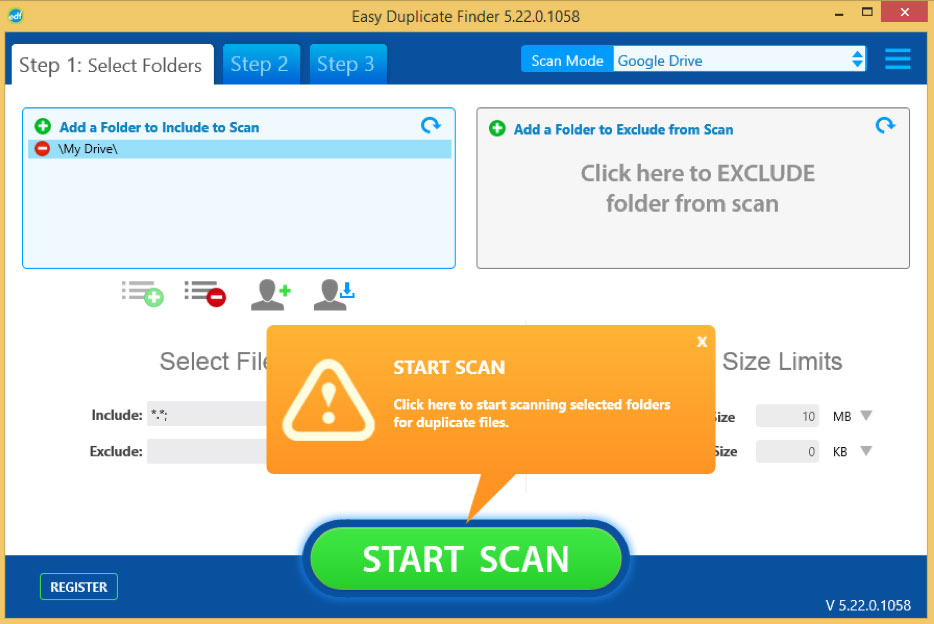 Even when we feel consuming the space on the cloud services is a wise strategy since we paid for it, having repetitive files on your Google Drive and Dropbox will cause disorganization. Easy Duplicate Finder takes an in-depth glance into the different folders and subfolders in the cloud storage to sniff out the doubled files and applications
Folder Comparison
At times, you can have similar folders on your computer, and you want to compare them for duplicates without having to scan your entire drive. To detect which is the original file or the copy without singling out each file path, Easy Duplicate Finder uses the Folder Comparison mode to seek out backups against sources or merged data.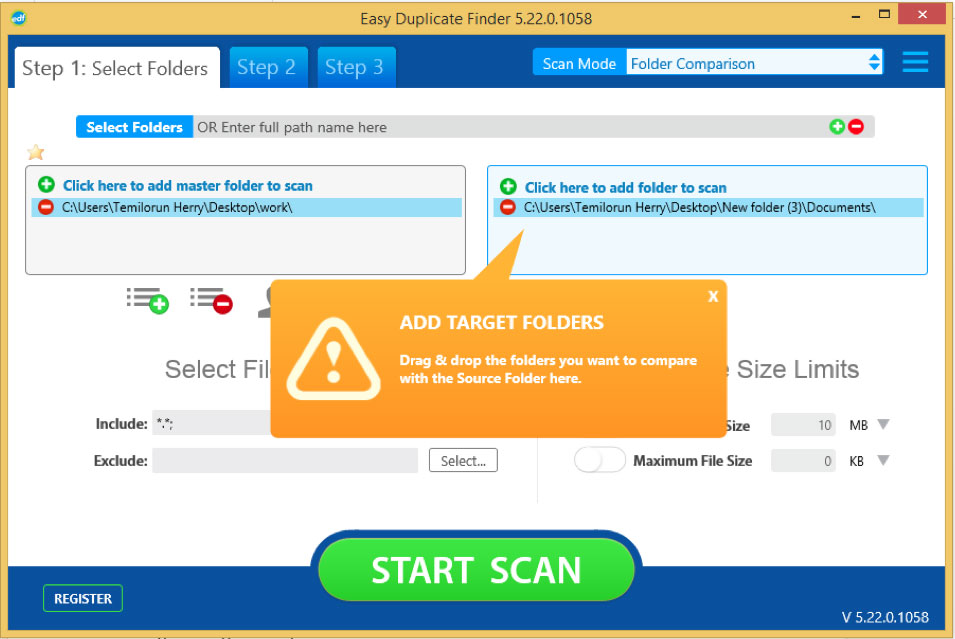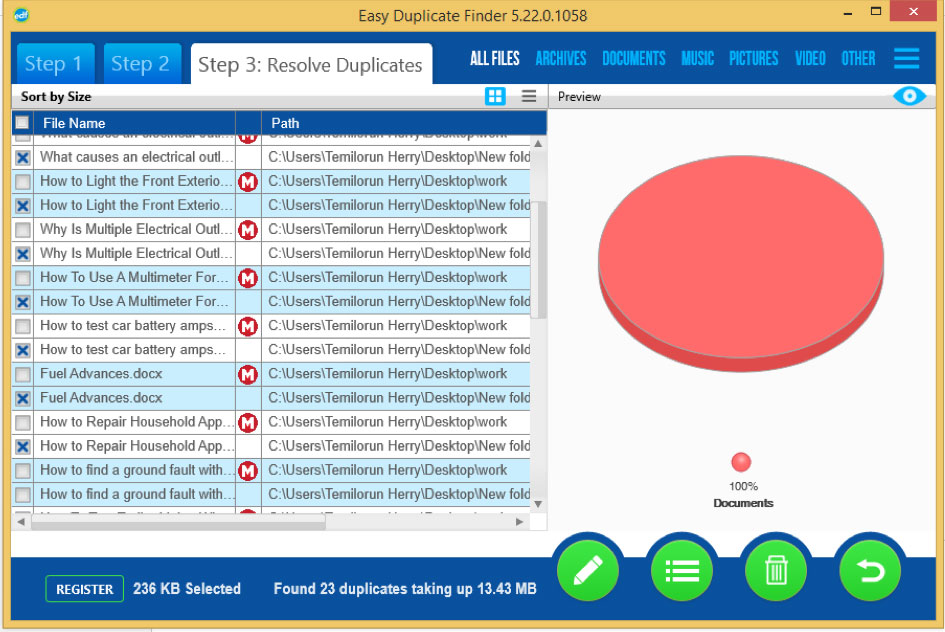 The app treats all files in the backup folders as duplicates and the ones in the source folder as originals, so you don't delete the originals.
The Good and the Bad of Easy Duplicate Finder
Easy Duplicate Finder is an elite duplicate file detector with excellent results, but to – compliment the good side there are also the bad sides – let's mention a few.
The good
Offers various options for dealing with the duplicates detected, so you don't have to delete a file you are not sure about. You can choose to rename or move the items.
A powerful search engine to perform fast filename checks, with bytes to byte comparison, ensuring you have accurate results from a scan.
Straightforwardness, easy to understand and use. Speaking about the easy usage; the software is solid and customizable to provide you with results in a matter of seconds.
The search options are flexible, allowing you to scan files from multiple sources on your device, including external drives by predefined or customary masks, so the scanned results can be analyzed and saved for future use.
It does not just detect the files with the names and dates alone; it also matches them by the contents using a CRC checksums algorithm to guarantee that the scanned files are the exact duplicates without false positives.
Offers the "Undo" for emergency recovery
The bad
The interface is a little old fashioned which would not pose as a problem if you know how to work it.
The software sometimes gives no explanations for failed actions in finding mode.
The free trial only allows you to sort out a maximum of 10 groups per scan even if it finds all your duplicates.
40 dollar per computer seems to be a bit expensive.
Easy Duplicate Finder Alternatives
Asides Easy Duplicate Finder, you can also consider some of the alternative apps in the reviews in case you have lots of free space and a few files or, you only need one for a simple duplicate file detection on a home computer and you want to save your money. MacPaw Gemini 2(macOS, priced at $19.95): MacPaw Gemini is an alternative duplicate file finder that can also free up lots of storage space by fishing out duplicate and similar files from a Mac or external drive. If you are having any complications accepting Easy Duplicate Finder for your Mac OS, then this software can be your go-to.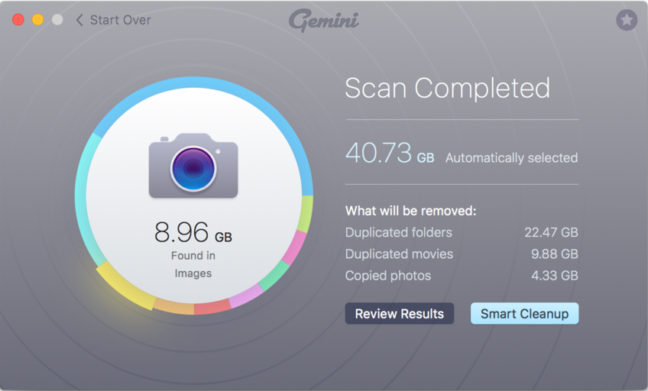 You may not necessarily need a duplicate finder if you have a new Mac with plenty of available storage, but when you start running out of space, the MacPaw Gemini is not so bad at weeding out tons of duplicates. To make the reviews easy, you can categorize the files and customize the app preference. Compared to Easy Duplicate Finder, Gemini duplicate file finder has a sleeker user interface which may sometimes be quite distracting. Regardless, it gives better navigation experience and more explanations of warnings or notification. What you wouldn't like is how the app seems to use up a lot of the system resources heavily and causes the fan to run loud during the scan. You can read our Gemini 2 review. DigitalVolcano Duplicate Cleaner Pro (Windows, priced at $29.95): DigitalVolcano Duplicate Cleaner Pro is another excellent choice of duplicate finder for Windows users. The program is specifically designed to search and delete useless duplicate items on the PC hard drive.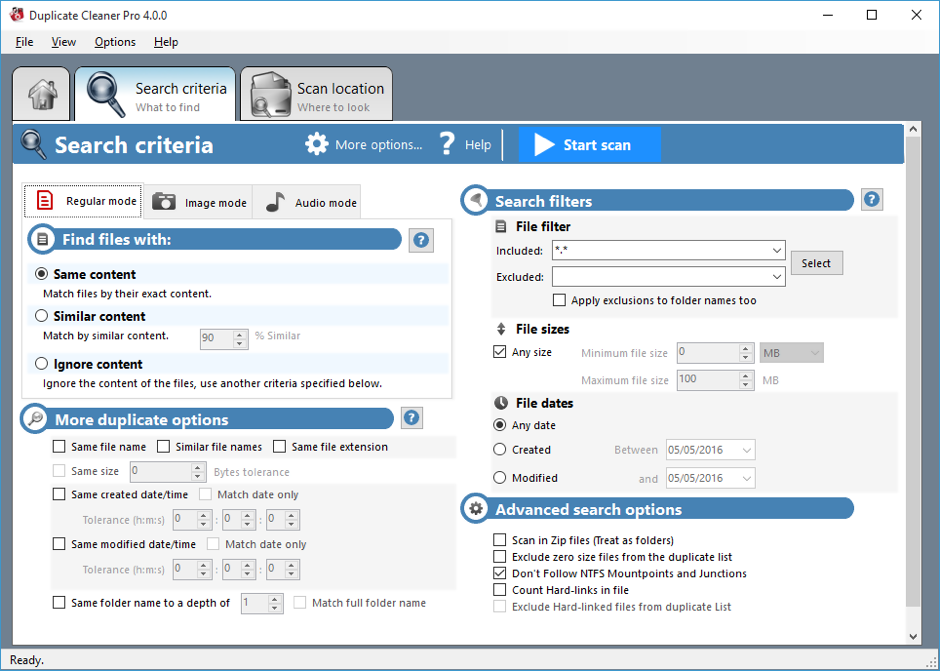 Since the idea is to free up storage space, you can perform deep scans for almost all types of files including, videos, music, photos, documents, and more. Like other duplicate finders, Duplicate Cleaner Pro provides tons of customized file matching options in case you want to set a preference. But the impressive aspect of the Duplicate Cleaner Pro is supported extra materials and tutorials in both text and video formats by the makers that have proven to be so helpful. Auslogics Duplicate File Finder (Windows, Free): Auslogics Duplicate Finder is another quality alternative for Easy Duplicate Finder that helps to locate and remove multiple copies of the same file, free up space and better organize the file collections.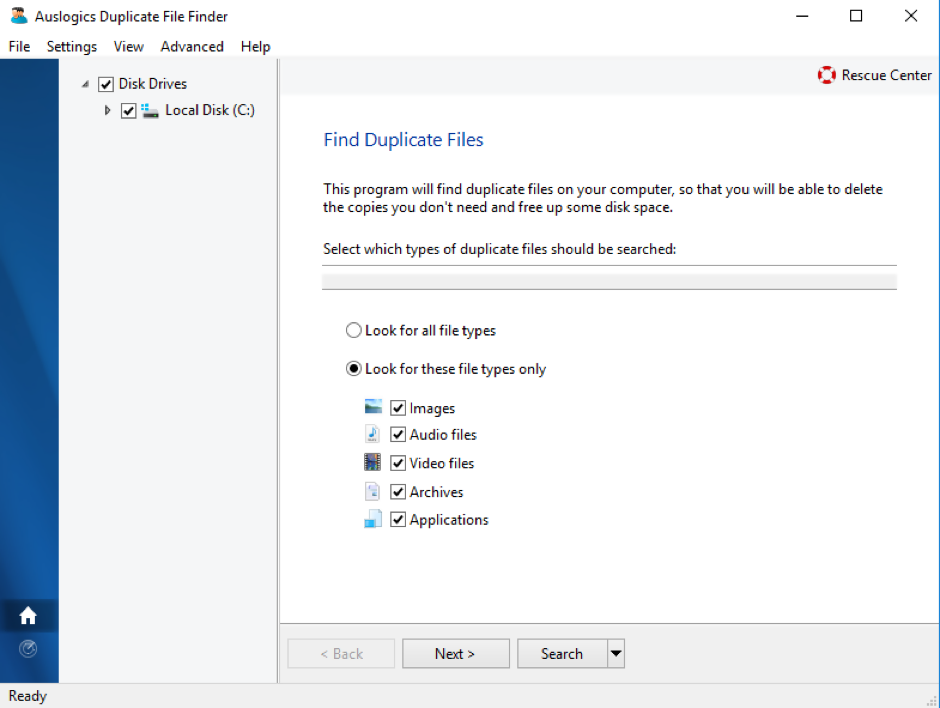 The software is a product of Auslogics, and it's completely free, included with free regular updates without limitation. It uses intelligent algorithms to compare files with both names and contents. It also meets the demands of full control as you can look through the list of duplicates before making your decision.
Easy Duplicate Finder Review Conclusion
Easy Duplicate Finder is a utility tool offering the most value to both Windows PC and macOS users. Easy Duplicate Finder scans fast and presents accurate results of duplicated files in two flexible views for selecting which to delete. Easy Duplicate Finder shows up as a saving grace when you have hundreds of documents, photos, music or media files you have lost track of, occupying so much of your disk space and you cannot bear to start sorting them out manually. When you think of a duplicate finder with best features and speed, you don't need to go any further.
Easy Duplicate Finder is the most valuable utility for Windows PC and macOS users. Easy Duplicate Finder scans fast and displays the exact accurate of duplicate files in two flexible views to choose which files to delete. When you have hundreds of documents, photos, music or media files taking up a lot of disk space and you don't want to spend too much time sorting them out manually, Easy Duplicate Finder can help you. When you think of a duplicate finder with the best features and speed, you don't need to go anywhere else. Easy Duplicate finder also offers duplicate finder tools for different types of duplicate files, so you are free to choose the one that suits you best.
Download Easy Duplicate Finder and free up your disk space immediately! If you want to consider some of the alternative duplicate finder software, you can choose one from the list that we mentioned above in the review. If you have plenty of hard drive space free, or only have a few files in computer, save your money.
Easy Duplicate Finder
$39.95
Pros
Offers various options for dealing with the duplicates detected
Powerful search engine to perform fast duplicates check
Straightforward interface
The search options are flexible
Offers the "Undo" for emergency recovery
Cons
Sometimes fails actions in scaning mode
A bit expensive with $40 per computer
Free trial only allows you to sort out a maximum of 10 groups per scan