So, you are looking for a drone with the longest flight time? We know how hard it can get to find the model you are looking for. Especially since the market is overflooded with tons of brands and models. That wouldn't be a problem if most of them weren't just toy-grade drones that are exactly what their name suggests…Toys.
But, fear not as we are here to help you out in your search. In this drone buying guide, we will first go through the things to consider before buying a drone, then check the best models on the market, and go through all the bells and whistles that make them worth considering.
Let's start with things to look for when buying a drone with the longest flight time, followed by the table of the models we recommend so that you can get a better insight into what to expect:
What to Look for in a Longest Flying Drone?
Before purchasing a drone, there are a few things you should keep in mind. You can't just act on impulse and buy a drone that you like, for example, for its color. The chances are great that you will end up with a model that is quite the opposite of what you need.
So, when it comes to things to keep in mind when buying a drone for its flight time, here is what you need to check.
Manufacturer flight time claim vs. battery capacity
Sure, you will find manufacturer claims of their drone being able to stay in the air for half an hour or more. In some cases (for DJI, Autel Robotics, and Parrot) that is close to the truth but not really true.
Those flight times were achieved in ideal conditions (no wind and not pushing max speed). Therefore, the real flight time is always a minute or two shorter than the manufacturer claims.
Now, when it comes to drone brands that are not as trustworthy as the ones we mentioned, the only way to get the idea if the manufacturer is exaggerating is to check the battery capacity. For example, if the manufacturer claims that the drone can fly for half an hour, but the battery specs are low (1S battery with 500 mAh capacity), they are exaggerating.
For flight times that go over 20 minutes, the minimum battery requirements are 3s to 4S, with over 2500 mAh capacity. In voltage, that would be 11V and 15 V. Anything lower than that will not get you more than 5 to 8 minutes of air time.
Weight of the drone
This one is somewhat logical, isn't it? The lighter the drone is, the more air time you will get. Therefore, try to find the weight specs before making the actual purchase. Also, keep in mind that the more additional gadgets the drone have, the sooner it will run out of battery juice.
Additional things to keep in mind
Nowadays, drone manufacturers like to include additional gadget in the package to make their drones more versatile. For example, the DJI Mavic 2 Zoom comes with an additional speaker and spot light (for search and rescue missions). This is a brilliant idea because it allows the drone to be used for much more important things than just videography.
However, this also means that the drone will carry extra weight so you cannot expect the half-hour flight time if the drone has the speaker and light mounted on.
Therefore, when buying a drone, keep in mind that if you want to use various accessories for your drone, your flight time will be significantly shorter than advertised.
Top 10 Drones with Longest Flight Time Comparison Table
Top 10 Drones with Longest Flight Time – The Best on the Market
The moment you've been waiting for. Let's take an in-depth look at each model we selected and see what makes them stand out of the crowd. The first in line is the Yuneec Mantis Q.
Yuneec is a drone manufacturer that's been known for its large hexacopter series (Typhoon). This series is considered to be one of the most stable aerial camera platforms on the market. But, the same market has taken a turn in the last couple of years and now small, portable drones are in demand.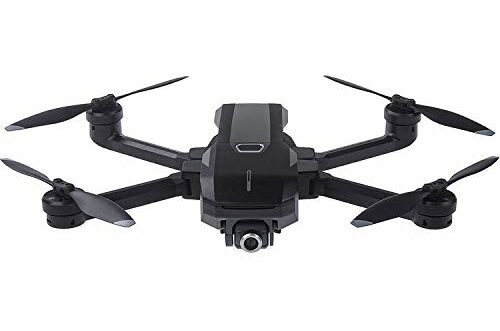 Thus, Yuneec decided to design the Mantis Q. This is not their first shot at "selfie" drones as they already have the Breeze model. However, the lack of reliability and constant issues with this model did not go well in the drone community. But, with the Mantis Q, Yuneec has stepped up and reentered the portable drone market with a bang.
Flight time
So, what makes this drone so special? Well, first of all, it has the best flight time on the market. With a fully charged 2800mAh battery, you will be able to get at least half an hour in the air. If there's no wind and you fly it moderately (not push it to its limits) the drone can stay in the air up to 33 minutes. Which, considering the rest of the models on the market, is quite impressive.
The Camera
Another thing worth highlighting is the integrated 12 MP, 4K video camera. The camera is advertised as having a 2-axis gimbal, however it's not stabilized with motors but with soft mounts. It does have a motor in the gimbal but not for stabilization but for tilting the camera up and down.
Don't get us wrong, the video is pretty smooth, but not as smooth as with a mechanically stabilized gimbal. Also, when shooting in 1080p, the drone has electronic image stabilization. Too bad it doesn't have that option for 4K shooting.
Performance
The Mantis Q is a reasonably well performing drone. It has the GPS and GLONASS tracking, which make it stable in flight, but not as stable as the DJI drones. It will, however, drift a foot or two when you let go of the sticks and not stay "glued" in a place like, for example, the Mavic or the Phantom.
Also, you have two speed modes: Normal and Sport. The former is limited to some 14 mph which is ideal for slow, cinematic shots. In sport mode, the drone becomes much, much faster and sharper in turns (up to 45 mph) but you also need to be more careful as the stopping distance is much longer.
As for camera and flight autonomy modes go, you have Journey, Point of Interest, and the Safe Mode – RTH (Return To Home) in case you panic and want the drone back, or when it goes out of control range.
Special Features
When it comes to special features, the Mantis Q is not mode packed like the DJI models but it has a few useful ones. For example, you have the follow me mode that can be done in several ways. The drone can support you by flying backward and pointing the camera at you, from your sides, and from behind. It can also accompany you by circling around you as you move.
However, a feature that no other drone has are voice commands. Yes, you read that right! The mantis Q can take off, land, return to home, start recording or snap a picture if you tell him so. Quite an exciting and useful feature because you don't have to take your fingers of the controls in any moment.
Summary
When you take all things into consideration, the Yuneec Mantic Q drone is a high-end drone but not as high as one might expect. It has a good camera and makes decent photos and videos from, let's say, family vacations. But, if you want to use it for professional videography and make real estate ads or music videos, this is not the drone for you.
When the first DJI Mavic PRO came out the drone community has raved about it and they still do. And, ever since the rumors of the Mavic 2 came out, it's all the droners have been waiting for.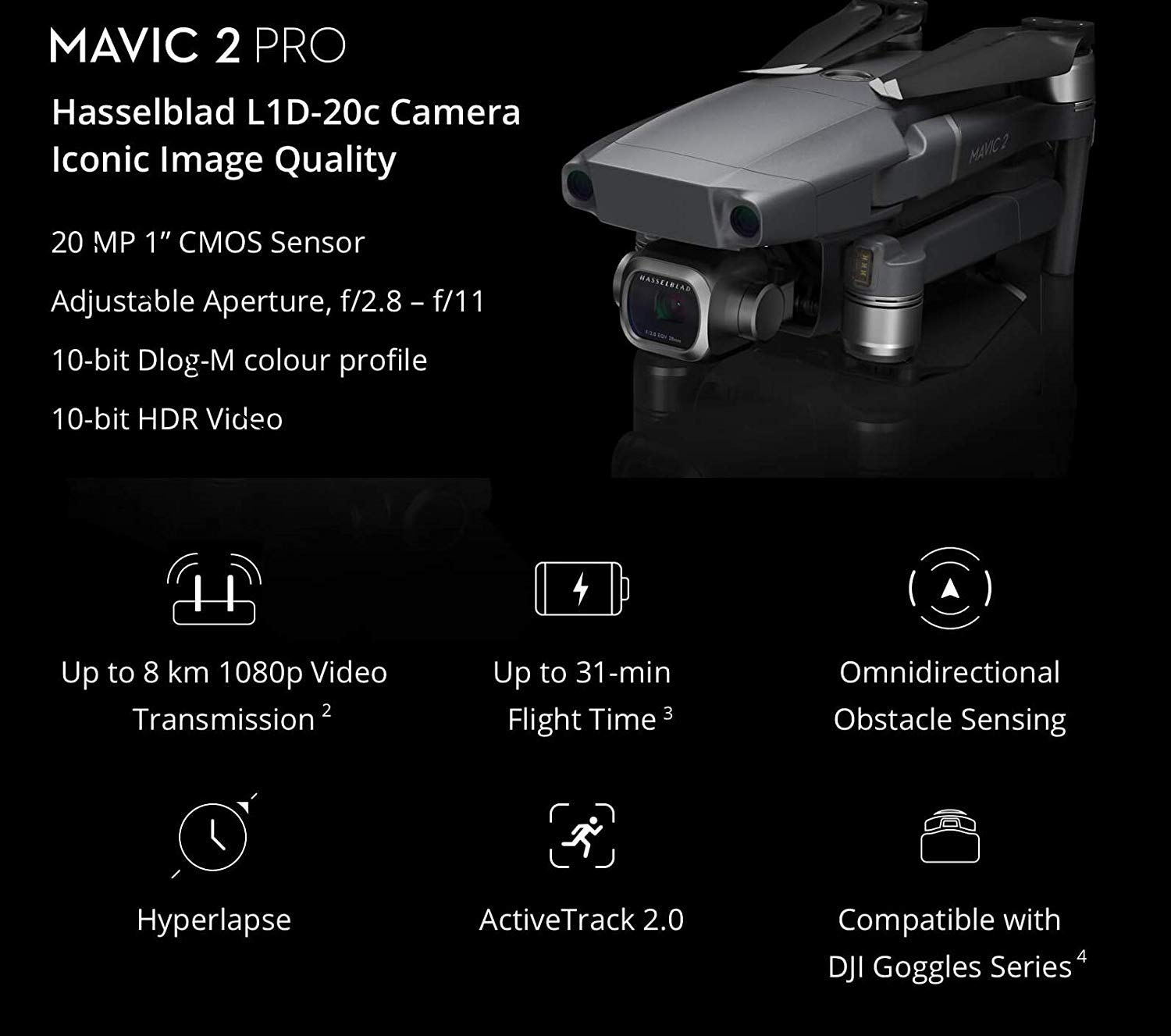 Now, as far as how advanced the Mavic 2 PRO is over the original Mavic, we can say that DJI didn't make a revolutionary step but rather an evolutionary one. They kept most of the original Mavic PRO and just improved what was needed. The shell design remained the same and they only changed the camera and added some new software under the hood.
Flight Time
As we just said, not much performance wise has changed with the new Mavic 2. But, thanks to slightly more powerful and efficient motors, and a little different prop design, DJI has managed to add 3 more minutes to flight time. Therefore, instead of 28 minutes the original Mavic PRO offers, now you can stay in the air for 31 minutes. Which, to be honest, is quite enough regardless of what you are doing.
The Camera
This is where the Mavic 2 PRO outshines every other consumer drone on the market. The M2P comes with a 1-inch CMOS sensor and a Hasselblad camera. Now, the larger sensor (when compared to the original Mavic PRO camera) offers a wider dynamic, thus better low-light performance, and better resolution. In addition, the new camera also has manual aperture adjustment feature. This means that you can change the depth of field and control how much light enters the camera.
For ordinary people (casual camera users) this doesn't mean much. However, for professional photographers, this opens up a whole new field of experimenting and a wider range of possibilities.
Performance
Performance wise, there's not much difference over the previous Mavic. It's still one of the most agile drones on the market. Though, the Mavic 2 PRO is slightly faster and reaches a top speed of 44 mph (4 miles per hour faster than the Mavic PRO). This means that the sport mode is even more interesting to fly, especially when the camera locks in FPV mode.
Special Features
Special features are where the new Mavic goes way ahead over any other drone there is. The previous Mavic had obstacle avoidance sensors in the front. On the other hand, the Mavic 2 can detect, avoid, and even predict the movement pattern of, for example, a car that he is following.
Let's say that you are following a car that drives on a road that goes through the woods. Any other drone would lose the car as soon as went under a tree. Not the Mavic 2. Thanks to the new ActiveTrack 2.0 system, the tracking ability is working flawlessly and, as mentioned, is capable of predicting the movement pattern so that the object that is tracked is always perfectly in the middle of the frame.
In addition, you don't have to worry when you are in tracking mode because the Mavic 2 has 10 sensors and you pretty much can't crash it even if you wanted to.
Summary
All in all, the DJI Mavic 2 PRO is one of the most versatile and agile camera drones on the market. It has a rather respectable flight time of 31 minutes, and tons of cool and useful features that make aerial videography much easier and more effective than before.
Autel Robotics is already a name in the drone community thanks to its Phantom rival, the Autel X Star Premium drone. But, once the Mavic Pro raised the bar for all other drones, Autel came back with an answer. And, their answer was the Autel EVO Drone. Let's see what is all the buzz about.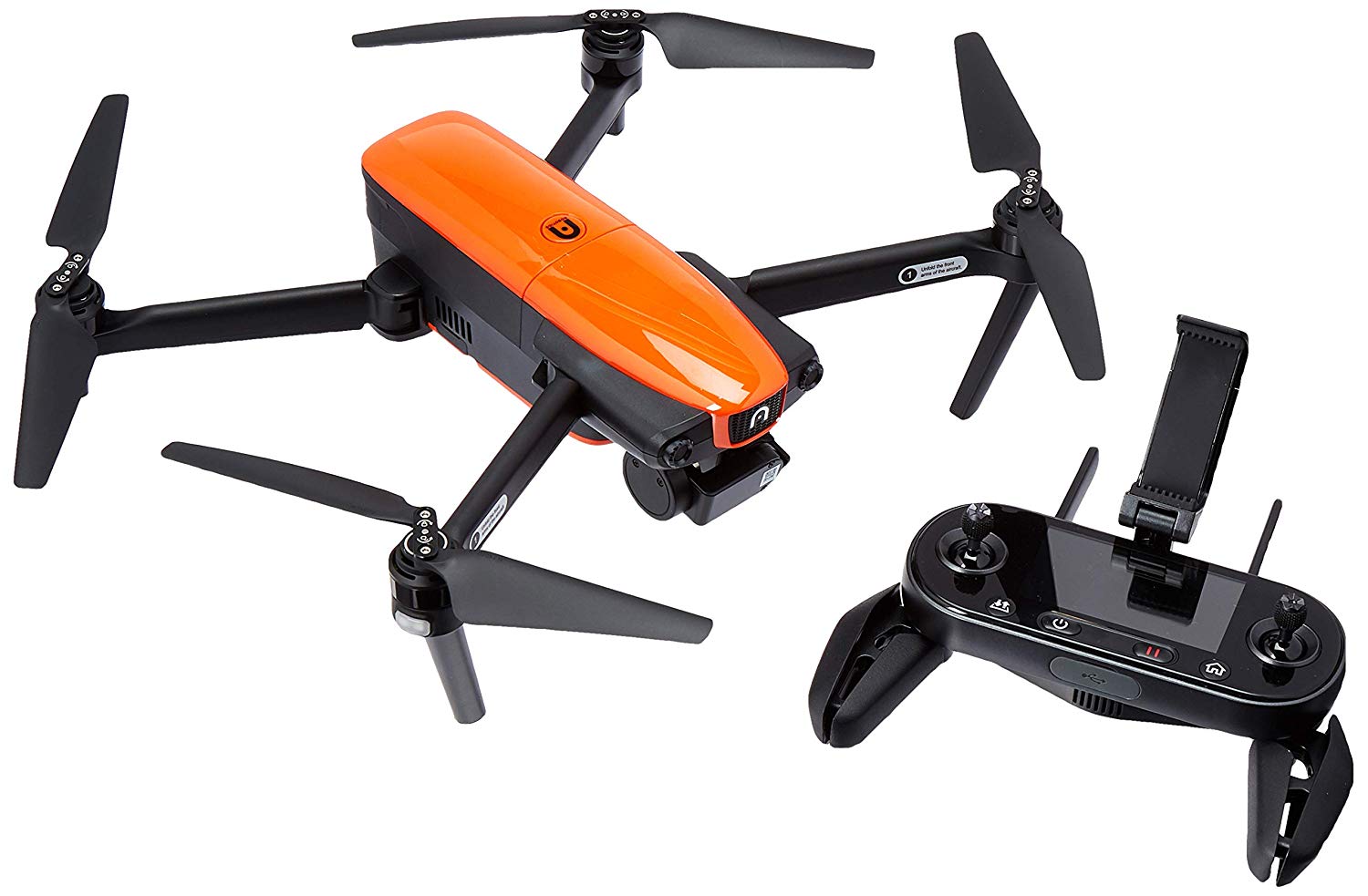 Flight Time
Remember the section about the flight time and battery relation, well this is the perfect example of how a powerful battery brings long flight times. The autel EVO drone comes with a 4300 mAh battery and can stay in the air up to 30 minutes. However, this is in ideal conditions (which happen pretty much never) and in reality, you should expect some 27-28 minutes.
The Camera
The EVO camera is the section which is the main selling point of Autel. Yes, it shoots in 4K like most of high-end drones. But, how many of these models shoot 4K videos with a frame rate of 60fps? Not many…
Not only that EVO creates 4K videos @60fps, but it also raises that fps speed to 120 when shooting in 1080p and 240 fps in 720! Some wicked slow-motion videos can be produced with this drone that's for sure. In addition, the camera also has an ultra-wide field of view of 94 degrees. Furthermore, the drone also has a 3-axis gimbal for perfect, smooth videos.
Performance
Performance wise, the EVO doesn't fall back behind the Mavics, both the original PRO and 2 PRO. It is an agile, fast, and really an adrenaline raising drone that will leave you breathless. With the max speed of 44 mph when the sensors are turned off, there's nothing you won't be able to keep up with. Though, when the follow mode is on and all the avoidance sensors are working, the max speed is reduced to 22 mph.
Special features
Beside some autonomous and semi-autonomous modes, we see in most of today's drones, the EVO has a few tricks up its sleeve. For example, the remote controller comes with an integrated OLED screen so you pretty much don't need your smartphone like with most other drones.
However, if you want, you can combine the OLED display with your phone and get even more flight data and additional features. An interesting and useful feature, wouldn't you agree?
Another very interesting feature is 3D mapping. Even though not many people will use this feature, Autel included the 3D mapping option within their official app. This opens up the doors for land mapping, building engineering and plenty of other gigs you can actually use your drone for.
Summary
All things considered, the Autel Robotics EVO drone is a serious piece of modern drone engineering and one of the best portable drones on the market. The truth is, it's just as good as the Mavic PRO, only with less geofence restrictions and you don't need to update it if you don't want to. Which is not the case with the DJI drones.
If you are looking for a perfect aerial filming platform, the DJI Phantom 4 might just be the model for you. Sure, the Inspire series offer more versatility when it comes to camera swapping, but their price range is not for everyone's pocket. But, even though the Phantom 4 comes with a single camera option, it is nothing short of spectacular, and you have plenty of flight time to use it for breathtaking videos and photos.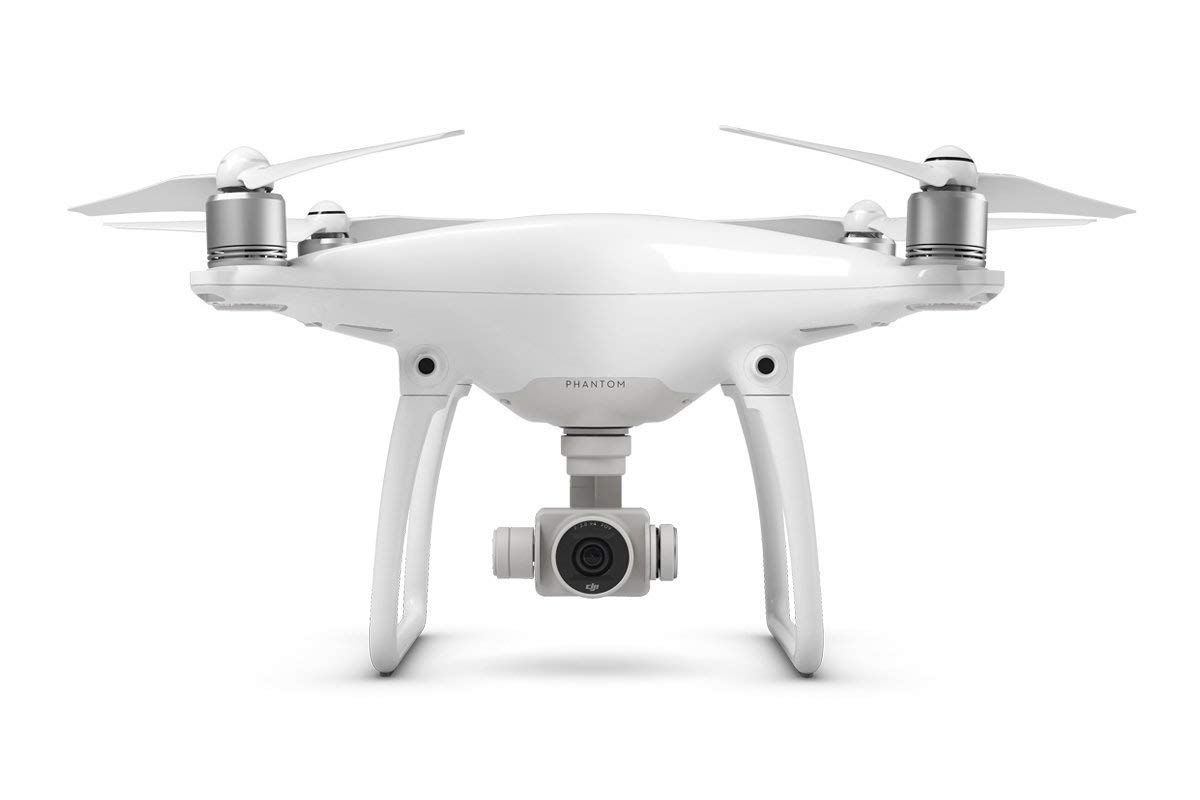 Flight Time
Speaking of flight time, the Phantom 4 is the first drone ever to break the 20 minute barrier. In general, the DJI Phantom series drones were the ones that raised the bar when it comes to flight times. But, for years, no drone was able to stay in the air more than some 21 to 22 minutes. That changed with the Phantom 4 and it's 28 minutes were revolutionary. Even today, with so many portable and light drones, the P4 is one of the best when it comes to flight times.
The Camera
The P4 's camera is something you won't see on any other drone, even the newer ones (Inspire series doesn't count here). The 1/2.3" CMOS sensor is there to deliver crystal clear, vivid colored 4K videos and photos. In addition, the corner sharpness is better than on the Mavic's series cameras. In layman's terms, this is a camera that is suitable for both recreational and professional videographers and photographers. You can use the footage for serious advertisement projects, and even music videos and documentaries.
Performance
The P4 is as stable as the drones get. It's amazing how DJI managed to combine GPS and vision positioning system to make it unbelievably reliable and fixed in one spot when you let go of the sticks. Even while flying, the drone won't have sudden height drops or side drifting. It will stay on its course rock solid, despite the wind hits or sudden direction changes from your side.
Furthermore, if you want to get to a location faster, you can switch to sport mode and reach speeds of up to 45 mph. Though, you have to be careful because the avoidance systems are not working in this mode.
Special Features
When compared to now newer models such as the Mavic series or the Autel EVO drone, the Phantom 4 doesn't stand out. It has all the autonomous camera and flight modes such as follow me, orbit, point of interest and such. Nevertheless, it delivers exceptionally good videos and still shots.
Also worth mentioning is the ability to sense the obstacles (only in the front sadly) and either stop or avoid them on its own. In addition, it has bottom positioned visual positioning sensors so that it's always aware of the ground and the distance so that you can't hit the ground when flying really low.
Likewise, you can pair the remote with DJI FPV goggles and have an immersive experience while making your video or simply enjoy the flight from first person perspective.
Summary
All in all, the DJI Phantom 4 drone is still one of the most reliable aerial platforms on the market and most wanted model among professional videographers and photographers. But, it is also so easy to use that even people who never flew drones before can use with a really short and nearly flat learning curve.
If you are looking for a drone with great camera specs and some never seen on a drone camera mode, for an unbelievably reasonable price, the Parrot Anafi might just be the drone for you. But let's dig deeper into all the bells and whistles of this drone.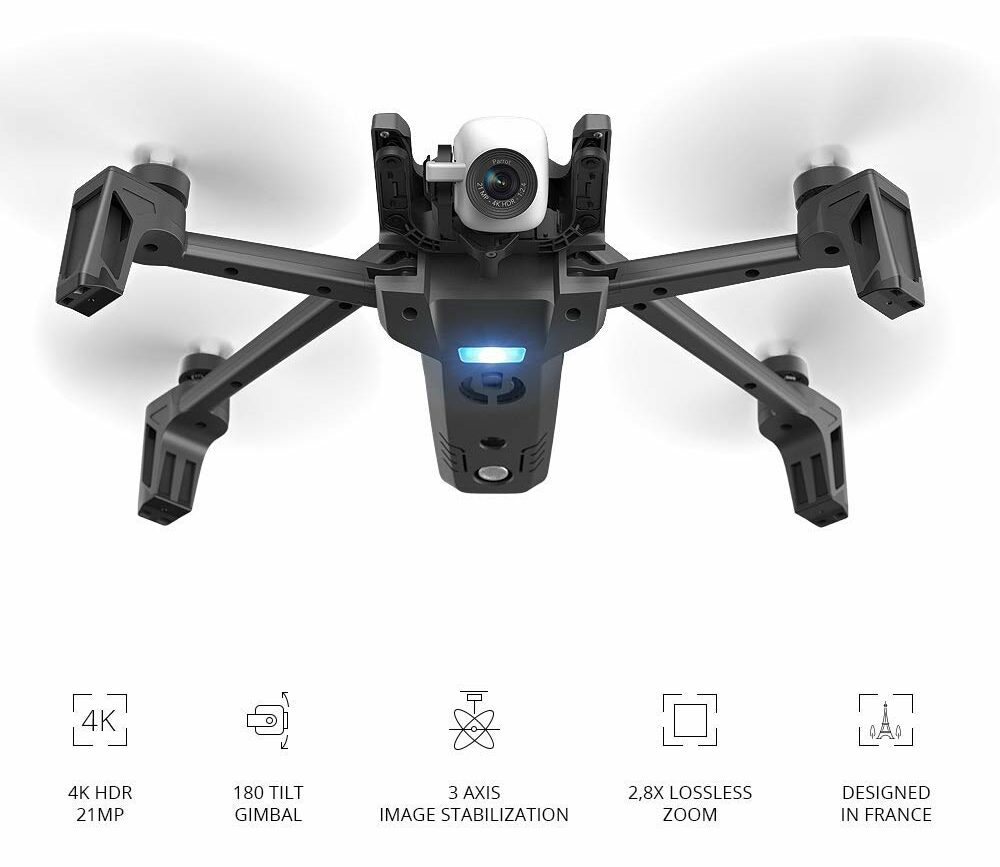 Flight Time
Considering that the price tag of the Anafi suggests that it should be listed in the group of drones that have max flight time of some 12 to 15 minutes, it's quite a surprise that you get up to 25 minutes! This is even more surprising when you factor in the 7.6V, 2700 mAh battery! With such voltage and capacity, other models can barely squeeze out 15 minutes.
Performance
Performance wise, the Anafi doesn't fall short behind the DJI drones. It is reliable, stable in filming mode and fast in sport, and has autonomous camera and flight modes that work without a flaw. And, unlike with most other advanced drones, the pairing process, the GPS search and everything else that takes a few minutes before you can actually fly the drone, is unbelievably fast with this drone and it's the fastest drone when it comes to taking off from zero.
The Camera
The Anafi's 4K HDR camera is definitely the star of the show. Sure, most newer drones shoot in 4K, but not many of them can shoot in HDR right on the go. Plus, there are other useful camera features such as slow-mo, hyperlapse, and ZOOMING IN! The zoom feature alone makes it stand out of the crowd in its price range.
And last but not the least, the Anafi's gimbal offers something that no other consumer drone has – the ability to pan the camera vertically 180 degrees! Yes, you can pan it upwards up to 90 degrees from its normal horizon level position. This feature allows videographers and photographers alike to get never seen before angles.
Special Features
As far as the special features go, you get pretty much the standard modern drone camera and autonomous modes package. It has the cool follow me, orbit, and so on camera features. However, what the Anafi's camera can do, makes it worthy of the much more expensive drone class. The only thing Parrot could include in a possible Anafi 2 version is obstacle avoidance system.
Summary
Without a doubt, this is the best drone Parrot has built so far. However, we can't say, despite the amazing camera features, that it's a drone we would recommend to someone who never flew a drone before. Not that it's unresponsive or unreliable, on the contrary, it flies great, but the lack of obstacle avoidance systems means that you can hit stuff around you and you need some prior experience if you don't want to crash such an expensive toy.
The Shadow HEX from Force1 is basically an MJX Bugs drone. And, the MJX Bugs series is well known for their speed and frame strength. This is pretty much a large FPV racer with training wheels. Great for those who want to get into FPV racing or freestyle flying after getting some FPV flying experience.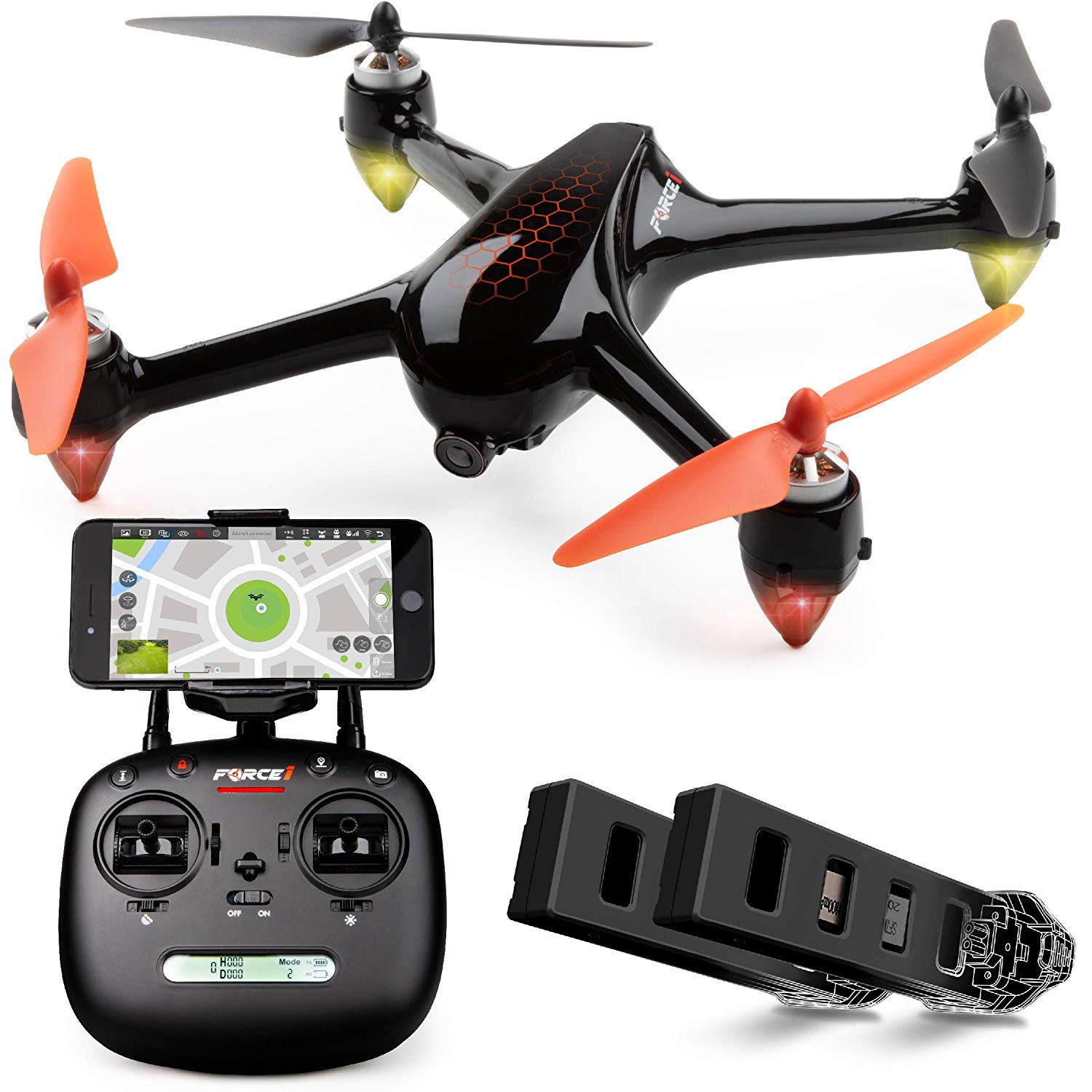 Flight Time
Yes, this drone has a 1080p camera, but no, it's not an aerial filming platform. As we said, it is much closer to racing drones than the filming drones. With this in mind, the flight time of 18 minutes is jaw dropping because the most you can get out of full blooded FPV racers is 5 to 7 minutes! That's a lot of freestyle in the air if you ask us.
Performance
When it comes to how well this drone behaves in the air, all we can say it flies amazing! Sure, you can't expect the DJI stability even though the Shadow HEX comes with GPS tracking ability. But, you will reach some breathtaking speeds and have a much more stable flight than with FPV racers.
The Camera
As advertised, the Force1 F200SE drone indeed has a 1080p camera that records quite decent footage. However, there's no image stabilization whatsoever so not much use of the camera if you want smooth, cinematic videos. But, for recording your aerial stunts while having a live HD video feed, it one of the better drones on the market.
Special Features
Special features with a racing drone? Yes, that exists actually. The Shadow HEX comes with some semi-autonomous camera and flight features such as follow me and waypoints. We say semi because unlike with the high-end drone that use visual positioning to track a subject, the Shadow HEX uses the phone's wifi to track it.
So, it can only track whoever is holding the phone. Plus, it doesn't have a gimbal and you cannot expect smooth bumpless videos.
However, what many racers lack is HD video feed and the Shadow offers just that. You can fly FPV with your phone inside VR goggles and have a darn good video feed quality. But, again, it's the drone uses the phone's wifi for video streaming and that means limited video range…
Summary
When you take into consideration all that this drone has to offer and what it lacks, we can say that it is a great drone for people who never flew a drone before and want to give FPV flying a shot. Or, if you are tired of your slow Phantom and you find FPV racing more interesting, but you don't want to go straight to FPV racers, the Shadow HEX is just the drone you need.
Aerial Blackhawk is another version of the famous MJX Bugs 3 drone and it is unbelievably fast. It doesn't have any advanced features such as GPS position lock, autonomous flight modes, or altitude hold, but it's really a fun drone to fly.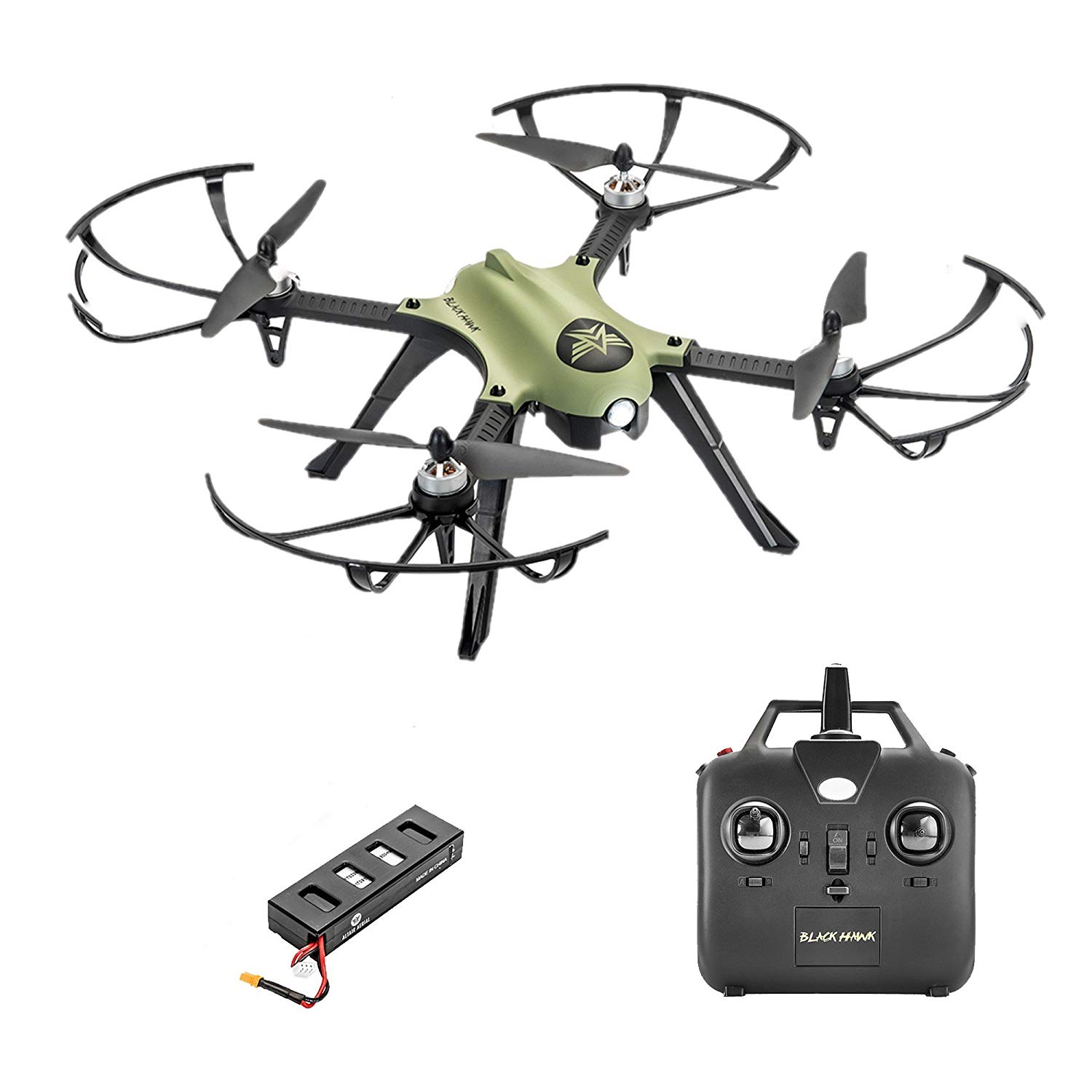 Flight Time
When it comes to flight times of the Blackhawk, you can expect from 15 to 17 minutes, depending on how much you push it. It comes with a dedicated 7.4V (2S) 1800 mAh LiPo battery, and considering that this is not a 3S battery and that the capacity is well over 2500 mAh, the flight time is quite admirable.
Performance 
This is why this drone was built for – to perform! And, we are happy to say that not only that it performs well but it blows your mind once you reach speeds of up to nearly 60 mph! Yes, it is that fast. And, not only that it flies fast but you can also make sharp turns and the controls are very responsive.
The drone comes with 2 speed modes: Slow and Fast. The former is for beginners until they get some more air under their props. But trust us, you will get there after a few days and it will be only high-speed mode from there on.
The Camera
Unfortunately, this drone doesn't come with a camera. It does have an action cam mount though, and you can attach a GoPro 3 or for and make videos of your flight. However, you would pretty much make a video "blind" because there's no video signal transmitter.
But, this drone is not known for being used for aerial videos as much as its famous for being molded to carry an FPV cam and a mini FPV transmitter. This is an easy mod and allows you to start enjoying extreme FPV flights with a rather big drone.
Special Features
Other than a great flight time and aerial flips with a push of a button, this drone doesn't offer special features. But, as we explained above, this is a highly moldable drone and you can make special features on your own.
Summary
If you are looking for a drone that can help you create awesome aerial videos of your holidays, or a wedding, this is not the drone for you. However, if you want to have an adrenaline rush while you wear goggles and fly at high speeds, this is the drone you should seriously consider. It's not a full-fledged racer, but it's pretty close.

Portable, small, full HD camera, loads of modes and cool camera features, and a 2-axis gimbal, this is what you get from the famous DJI Spark. Let's get a better look "under the hood" and see what exactly makes it so good.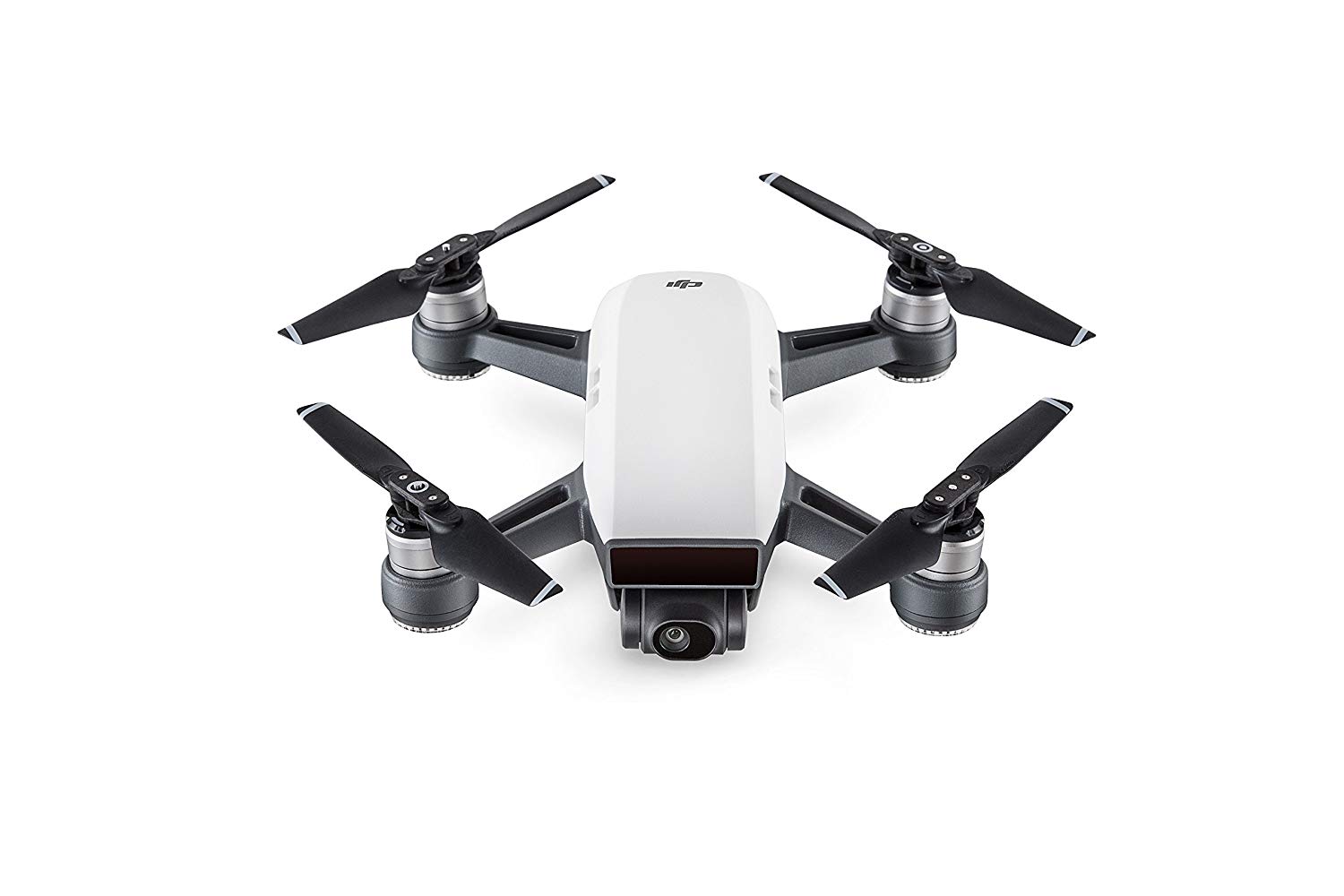 Flight Time
Okay, you won't get half an hour of air time that's for sure. However, 16 minutes is quite enough for amazing vacation videos. Or, if you are in the wedding videos business, with a few spare batteries, you can create fantastic video stories that newlyweds will love watching over and over.
Performance
Make no mistake, even though the Spark is a small drone, it performs just as good as the Mavics, and even better than the Phantoms. In fact, when in sport mode, the turning radius, despite the 31 mph max speed, is much smaller than, for example, with the Mavic series.
Also, the autonomous modes it comes with are all completely reliable and you can pretty much relax and enjoy the ride while the Spark follows an object or circles around a point of interest. In addition, when paired with the dedicated controller, the spark can go up to 2 Km from you! Quite impressive for such a small drone.
The Camera
Spark's camera is not the most advanced on the market. It shoots videos in 1080p max. However, if you are not a professional filmmaker, FHD is more than enough for beautiful videos. Plus, editing 4K material is something that demands serious computing power and takes too much rendering time.
So, for mechanically stabilized 1080p, crystal sharp, and vivid colored videos, the Spark is all that you will ever need, and you can take it anywhere with you without lugging an additional suitcase.
Special Features
What the Spark lacks in the 4K sector, it fully compensates with all the special features it offers. For instance, the Spark was the first drone ever to come with hand gesture control.
You can launch it from the palm of your hand after it scans your face, and control it by simply making specific hand gestures. This is pretty useful for quick videos where you don't want to go far away and use the controller.
The Spark also comes with all the famous DJI autonomous camera and flight modes, and they all work exceptionally well.
Summary
All in all, the DJI Spark is a small, extremely versatile drone that is meant for pretty much everyone. It can follow you while you ski down a mountain, or while driving your car through a beautiful landscape. Also, it creates breathtaking panoramic stills that give the viewer the impression much more advanced drone was used.
Finally, with 16 minutes of flight time, you can get a decent amount of footage, just from one fully charged battery. With a few spare batteries, this drone turns into a serious aerial filming platform with plenty of possibilities.

The Holy Stone GPS drone is a more affordable version of the DJI Phantom series meant for beginners in this hobby. It flies well, has a decent 1080p camera, and has a nice air time. Basically, you get the Phantom 1 specs, but with an included 1080p camera. Let's see what else this drone offers.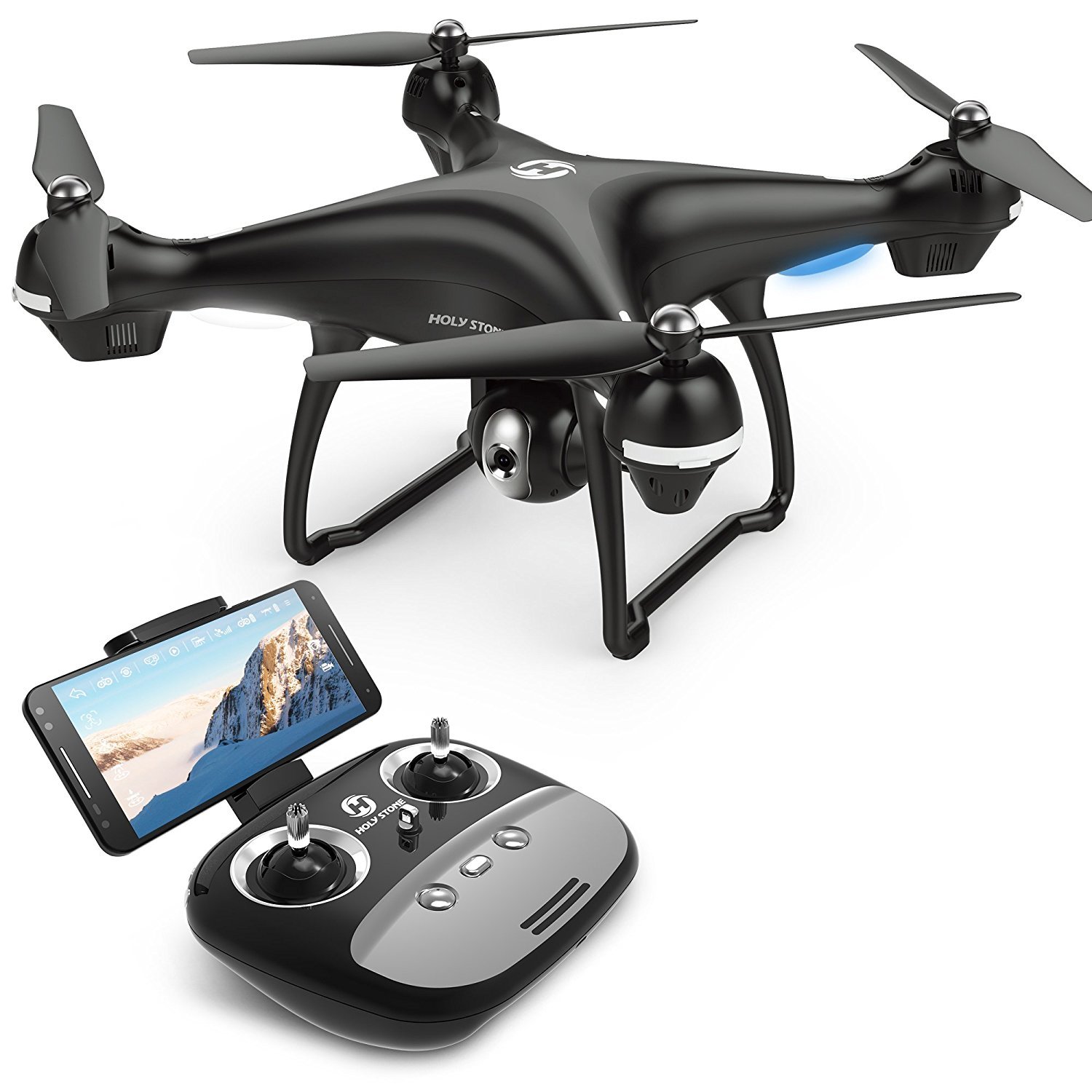 Flight Time
Considering that this is more less a cheaper Phantom 1 version, the flight time of 15 minutes is actually quite impressive. To be honest, with the Phantom 1, the max you can squeeze out of its factory battery is 11 minutes and that's when you are not pushing it to the max.
Therefore, we think that 15 minutes is really a good offer considering the price and the video quality you get from this drone.
Performance
Despite its size, this is after all considered a toy-grade drone. Therefore, the max control range of 500 meters is not something we expected because most models in this class can't even reach 200 meters.
Furthermore, thanks to GPS tracking, the drone flies exceptionally reliable and it has a quite stable hover. It sure isn't a speed demon, but you can have relatively fast flight and make somewhat sharp turns. Likewise, the controls are quite responsive and there's no input lag whatsoever.
The Camera
The Holy Stone drone comes with an integrated 1080p camera. It has a wide angle lens and allows you to have a 120-degree field of view. However, there is no gimbal stabilization and you can't pan or tilt the camera remotely. Other than that, the videos and still shots are relatively good.
Special Features
When it comes to special features, you shouldn't expect wonders like with the Spark or the Mavics. But, it does have GPS tracking and it can follow you based on the position of your phone.
In addition, the drone also has return-to-home, automatic take off and land features, headless mode, and altitude hold. These features all come in handy when you want to make cool looking videos or a selfie with a stunning background.
Summary
All in all, for the price this drone is offered, you get a nice aerial filming platform for beginners. Sure, the camera records only 1080p and doesn't have a gimbal, but for recreational use and learning how to fly in general and in FPV, we think that this is a great deal.
For people who are looking for a budget friendly selfie drone, the f22 might be one of the best options on the market. It has plenty of advanced features and a great 1080p camera. Let's take a better look at why you should consider buying it.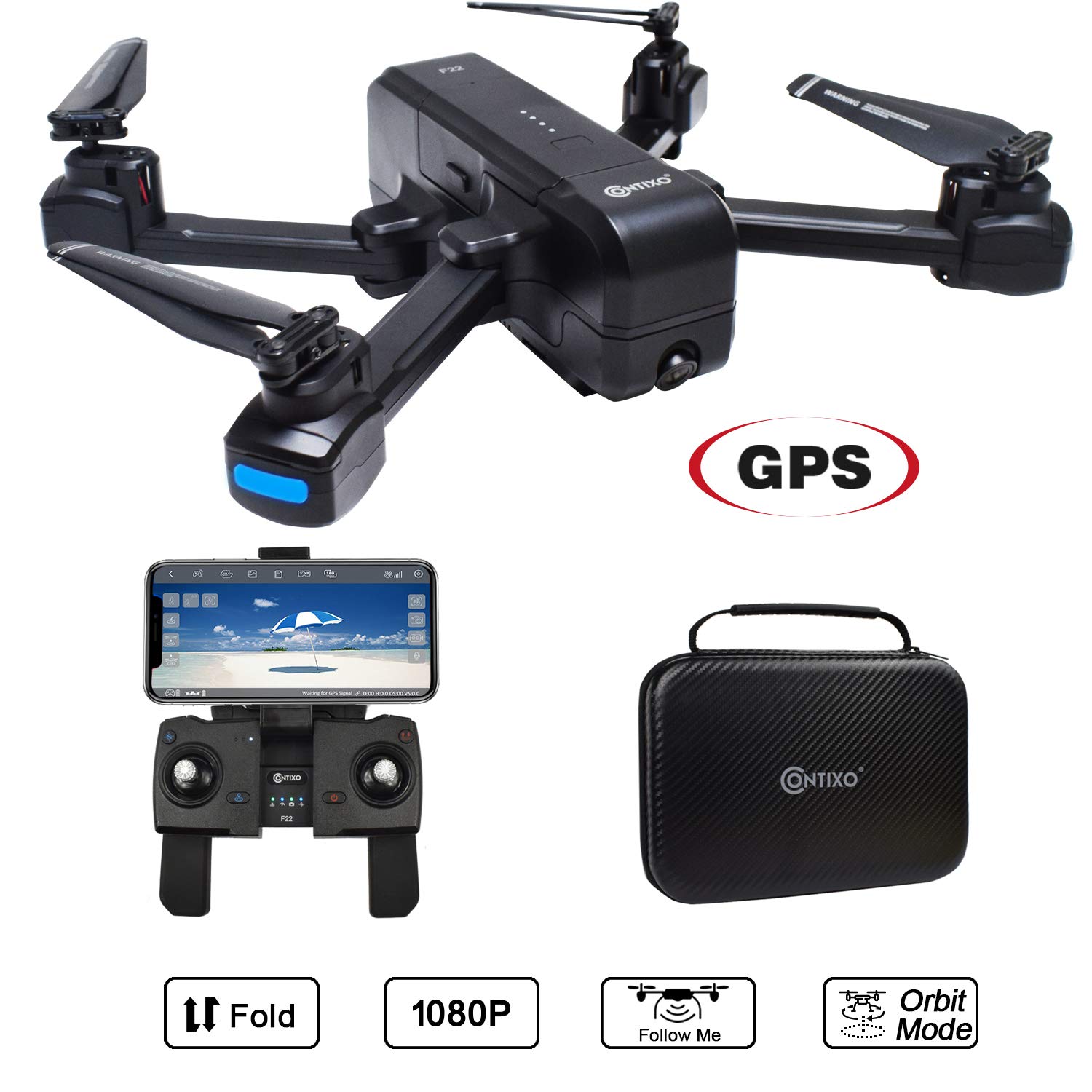 Flight Time
The battery that this drone comes with is a 7.4V, 1200 mAh LiPo. And, to be honest, with that number of cells (2) and such low capacity, one should expect no more than 7 to 8 minutes of air time.
However, Contixo managed to make a hardware and software combo that allows the drone to stay in the air for 15 minutes! More than enough for tons of great shots, wouldn't you agree?
Performance
First of all, this is a selfie drone so it can't actually reach the speeds the Mavics can. But, it can go up to 20 mph, which is not slow by any means.
Also, the drone is quite stable and responsive and thanks to GPS tracking, it hovers exceptionally. Not a fast turner though, but then again, it's not meant for racing but for nice vacation videos and photos.
The Camera
The drone comes with an integrated 1080p camera that shoots @25 fps. This means that you will have that cinematic motion blur, but it will lack high-details. Also, the camera connects to your phone for live FPV feed but that limits the video feed range to some 150 meters. Which is not much of a limit if you plan on using it for short videos of, for example, family trips to other cities where you can't actually fly more than 100 meters away from you even if you wanted to.
Special Features
Again, Contixo surprised us with their ingenuity. Not only that for this price you get a quite decent camera, but you also get features and modes that usually come with much higher priced models.
The drone can do pretty much everything the Spark can. For example, you have gesture control, Follow me mode, FPV mode, Tap Fly, waypoints, Point of Interest, and a bunch of other cool features. Also, it returns to home automatically when the signal is lost and lands on its own.
Summary
When you take into consideration the price of this drone and all the advanced features it offers, we think that it's perhaps one of the best budget friendly drones on the market. It flies great, records 1080p videos (though not stabilized), and has a great flight time. What more can a drone pilot beginner ask for?
Tips on How to Improve Your Drone's Flight Time
Now that you know which drones offer the best flight times, let's have a look at how you can actually get the most out of your drone's battery and stay in the air as long as possible.
Avoid Flying in Windy Conditions
When flying your drone in windy conditions, its "brain" tries to compensate the wind pushing the craft itself in the opposite direction. It has to constantly juggle with how much power is sent to each motor, thus the battery drains much faster.
Fly as smooth as possible
Pushing your drone to reach the max speed and making sharp turns "eats" your batteries much faster than you think. Think of it as driving a car. The faster you go and the more aggressive you drive, the faster you will empty your tank.
Therefore, fly slower, make softer turns and not only that you will have longer air time, but your videos will look more beautiful and professional.
Take care of Your Batteries
The LiPo batteries drones use are quite sensitive. For example, if you plan on flying your drone, make sure you charge the batteries the day before and not a week before the flight. The longer they stay home, fully charged, the faster they lose their power storage capabilities.
However, even if your batteries are fully charged and you somehow don't have the time to take out the bird for a spin there is a solution. Get a balanced charger that has the discharge option. This way, you can actually drain the battery with the charger and lower the Voltage levels to storage proper ones.
Wrapping It Up
With the flight time improvement tips, we have reached the end of our drone with the longest flight time buying guide. So, what have we learned today? Here's a short summary:
We know which models on the market offer best flying times
We know which model suits which type of a drone pilot
For example, the Mavic 2, Yuneec Mantis Q, and the Autel Evo are for pilots that want exceptional video and photo quality but also want some adrenaline rush and the ability to create extreme sports footage. On the other hand, if you want a perfect camera and impeccable stability, the Phantom 4 should be your choice.
Furthermore, the DJI Spark and the Parrot Anafi are pretty much for everyone and can perform excellent in various situations, while other drones such as the Force1, Altair Blackhawk, Holy Stone, and Contixo are more beginner oriented drones with quite decent cameras and a few advanced features.
And, we have learned how to get the most out of the battery and fly longer
There you have it, all the information you need to find the perfect drone for you and to keep its battery in excellent working shape. Now, it's up to you to decide which model is the one you are looking for.
Thank you for sticking with us to the very end and please feel free to leave questions about drones in the comments sections. We would love to help you out. Also, don't hesitate to share this guide on social media so that your friends can also learn a thing or two about drones and perhaps become your wing (prop) men one day.
Stay safe, fly safe, and we wish you clear skies!