In today's technological age, data and information is a valuable asset for anyone, whether an individual, a small or medium-sized business or a corporation. Backing up data helps to recover valuable files in case of system problems. However, not everyone prioritizes data backups and ignores the advice to back up data. Sometimes, even if you have backed up your data, files may be lost or deleted by mistake. So if you want to know how to restore those files that you forgot to backup and lost them or deleted them accidentally? Well, we have brought to you a list of the best data recovery software for Mac which will help you to easily recover data on your Mac without much hassle.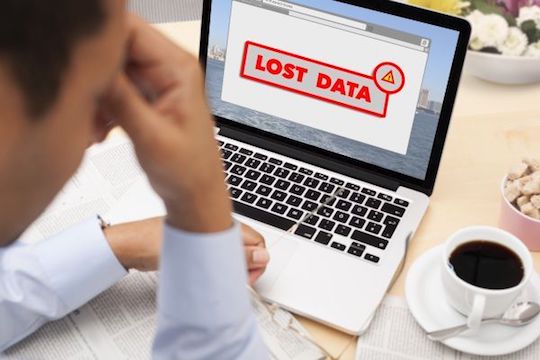 Data loss can occur suddenly due to an operating system crash, hard drive failure, accidental deletion of files and folders, accidental formatting (if you formatted your MacBook hard drive by mistake), file system conversion (inaccessible files due to conversion to another file format), or any other terrible event, such as being the victim of a malicious virus attack, may catch you by surprise and cause the loss of important files or folders. Loss of data may take away the best memories of your life (a treasure trove of lost family photos) or a Bitcoin vault or any other important work files.
Data Recovery Software for Mac – Your Best Friend to Recover Lost Data
All's not lost and you can overcome the tragedy of such a nightmarish incident. Wondering, how? Data recovery can save your day. Data recovery is just like repairing broken toys with glue so that they can be used again. The damaged storage and broken toys are related for the reason that just like the way glue is used to repair broken toys, similarly, data recovery software is used to make your lost and inaccessible data usable again. A data recovery software for Mac is your best companion and sometime the only hope to recover all your lost data. However, it's essential that you choose the best data recovery software for Mac to recover your lost files because your most important and precious documents are at stake.
Data Recovery – Do's and Don'ts
Do not panic and create chaos, just stay calm and make a note of whatever you do with your Mac for later point of time reference.
If you notice any unusual changes with your drive or system, take an immediate back up of all data.
Ensure you check all the data and power connections to the drive.
If the affected drive is an external drive, connect to another system.
If you hear any grinding or clicking sound from your Mac, switch off the Mac immediately to avoid any further damages.
Always look for professional help from data recovery specialists if you are not 100% sure of what you are doing. Do not go with a trial and error option unless you are familiar with everything as this could result in irrecoverable data loss.
What you need to know before choosing a data recovery software for Mac?
A survey from software company StorageCraft found that – 31% of professionals mentioned hardware and system failures as a reason for data loss, with 29% citing data loss due to human error, and 29% becoming the victims of malware attacks. The question is what to do when you are hit by data loss. Fortunately, there are many data recovery software's available in the market that help you recover lost data with minimal fuss.
With so many data recovery software's available for Mac, it is challenging to choose the best data recovery apps for your needs.  We suggest you analyze all the features of each data recovery software before making your best bet on them. Below are a few checkpoints to be considered when choosing the best data recovery software tool for any data loss situation –
Data recovery software should support multiple file formats.
The software should maintain a copy of all the files and documents that have been moved to a particular folder.
A good data recovery software is one that is compatible with all versions of Mac OS.
The software should be able to neutralize any risks posed to the actual source.
Be capable of perfectly recovering all lost data from hard disks and CD ROM's.
Try a demo version of the data recovery software before you decide to make a purchase for the same as this gives you the user a better understanding on the recovery capabilities of the software.
To test the capability, reliability, performance, speed, and ease of use, try recovering your corrupted files with the demo version of the data recovery software. If it's easy to use and the demo version of the software displays the data, buy the paid version without hanging back for data recovery on your Mac.
Choose a data recovery software that is backed with great customer reviews.
Do not always get enticed to use free data recovery software's as they might not provide complete recovery of lost data and also are likely to pose malware risks or virus threats.
Ask the data recovery software company, if they have a "no data, no cost" guarantee policy.
10 Best Data Recovery Software for Mac
Data loss can result in emotional heartache and financial problems. You probably have thousands of memorable photos, audio files, confidential office documents, or important PDF's that you cannot afford to lose. No doubt, doing a reliable and timely data backup is the best option but in case you forget to data recovery software tools are the second-best and the only option available.
Look into our suggestions for the best data recovery tools for Mac that are highly appreciated by users these days.  Read on to check out detailed info about some of the best data recovery software tools for Mac –
No. 1 Stellar Phoenix Mac Data Recovery Software
Official Page:  https://www.stellarinfo.com/data-recovery-mac.php
Price: $79.99
Supported OS: macOS Big Sur 11, Catalina 10.15, Mojave 10.14, 10.13, 10.12 & 10.11
With more than 5 million annual downloads, it is one of the easiest and best data recovery software for Mac to deal with critical data loss situations. It performs a variety of recovery tasks like reviving lost Mac volumes, reclaiming accidentally deleted files, recovering time machine hard disk drives,  and also recovers data from an encrypted hard drive. This data recovery software can also recover all your inaccessible data from unmounted volumes on Mac OS X. Stellar comes with an extraordinary feature – "Stop, Save and Resume Recovery" meaning if the recovery process needs to be stopped to focus on other tasks there is a convenient "Resume Recovery" feature that lets the user save a disk image file(.DMG) on the hard disk that has a snapshot of the recovery process completed so far. Just load the .DMG file into Stellar software to resume the recovery process at a later point of time from the state where it was last left off.
Tom's Guide reviewed it, "does an admirable job of trying for something more usable and attractive. It has all the features you'd expect from software of similar caliber, but manages to have a clean, minimalistic interface that doesn't intimidate when doing something as precarious as data recovery. It doesn't quite reinvent the wheel, but it does its job really well."
No 2. Data Rescue For Mac
Official Page: https://www.prosofteng.com/mac-data-recovery/
Price: $99
Supported OS: macOS 10.12 and later (Intel only)
With 20 years of rich heritage and billions of files recovered, Data Rescue for Mac is one of the most professional data recovery software program with a clean layout. It not just makes scanning easier but also helps users make the best out of the wide number of configuration options available. The users can select almost everything right from the file type to the size of the file when deciding on the search parameters.  
With the most granular options for scanning, this data recovery software makes it easy to quickly find the specific lost files. However, the scan process is not the intuitive and inexperienced users might find it a little overwhelming to accurately navigate and look for the file they need. The integrated chat button, physical recovery lab, excellent file recovery, generous licensing, and available call centre make it one of the best data recovery apps for Mac.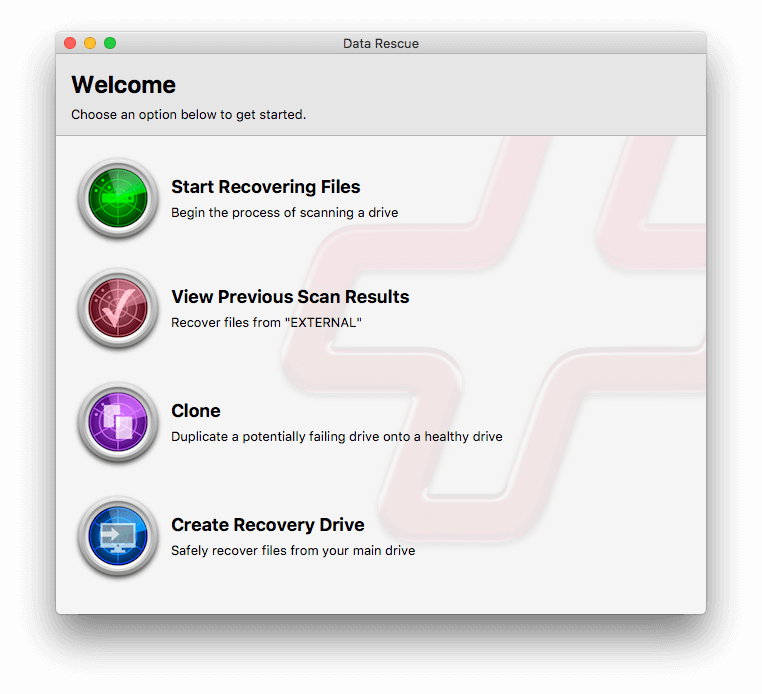 TopTenReviews reviewed it as one of the best Mac data recovery software, "It has high file recovery rates, regardless of file type, and offers a wide range of features that make it useful for business. It's easy enough for even the most novice user to navigate, but robust enough for IT professionals."
No. 3 Disk Drill for Mac
Official Page: https://www.cleverfiles.com/
Price: $89
Supported OS: Mac OS X 10.8.5 or Later
Disk Drill for MacOS is one of the best data recovery software tools to repair and retrieve corrupted MacBook files. The software is available for free but one needs to upgrade to the full paid version to make the best use of its premium features. The premium features of the software help you dig in depth to recover everything that might have been accidentally corrupted or erased from your Mac.
It's intuitive and user-friendly interface makes data recovery easy for Mac OS users. It can recover data from virtually any storage device be it -USB, memory cards, external hard drives, internal drives and more. This data recovery software is familiar with 200+ file types making it an ideal choice for data recovery on Mac.  The free version of the software lets you preview the files that can be recovered before you purchase the pro version of the software. Disk Drill Pro version for a single user(can be run on up to 3 Mac's) is $89 while for enterprises it's $399 for an unlimited number of users.
No. 4 EaseUs Data Recovery for Mac
Official Page: https://www.easeus.com/mac/mac-data-recovery/
Price: $89.95
Supported OS: macOS 11.2 ~ 10.9
A tool that makes data recovery simple for any user with just the click of a few buttons be it an IT manager or an individual user who has never used a data recovery software. An extraordinary feature that makes it on to the "List of Best Data Recovery Software for Mac" is its remote network access that helps quickly locate any missing documents or files which is important to recover data successfully. A MacBook connected the office network can be scanned and recovered from any remote location. Just in case, if the system has crashed totally and is not loading the OS, the tool has a version that can be launched from the bootable media to recover inaccessible data. The free version of EaseUs lets you recover data up to 2GB, that's a lot more than offered by other free trials.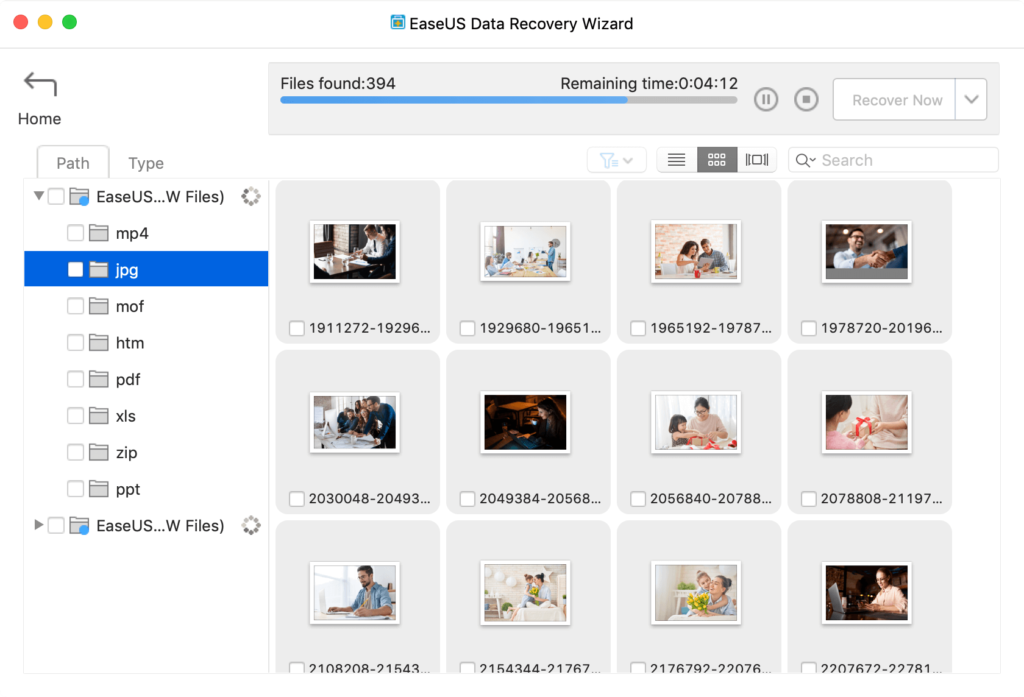 No. 5 R Studio Data Recovery Mac
Official Page: https://www.r-studio.com/data_recovery_macintosh/
Price: $79.99
Supported OS: Mac OS X 10.5 – 10.14
When the drive is deteriorating having software like R Studio that copies and creates images of drives to recover data is crucial. The R Studio interface might not look user-friendly in the beginning but when once you get used to it and understand what's happening you will realize that the interface is highly efficient. Just like other data recovery software's for Mac, even R Studio can undelete a file that you might have accidentally trashed. A great data recovery software for a quick scan and simple undo operations. The flexible parameter settings of this software give users complete control over data recovery.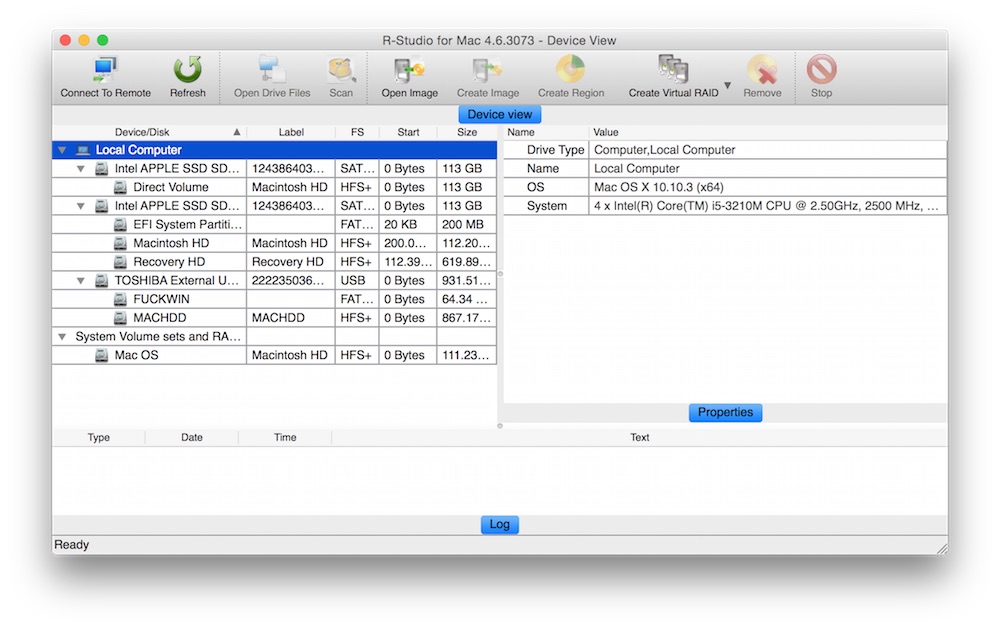 R Studio data recovery tool is available in three versions –
$899 -Technician License which can be used on any PC across the network.
$179.99 – This is the network edition of R-Studio that is used for recovering across a network.
$79.99 – For a single user that helps recover data across the drives that are connected to the running MacOS computer.
No doubt, it might seem slightly pricey but it's worth it if you can recover all your lost data.
No. 6 Wondershare Recoverit for Mac
Official Page: https://recoverit.wondershare.com/data-recovery-mac.html
Price: $79.99
Supported OS: macOS 10.10 – macOS 11: Big Sur
With support for more than 550 file formats, this is an all-in-one recovery data recovery software for Mac that works wonders. It's easy to understand interface is a blessing for the users as they do not have to navigate through complicated menus. This recovery tool helps users in the most difficult times of data loss such as formatted disk drives and lost partitions. The free variant of this data recovery software lets users recover up to 100 MB of data which is sufficient enough for users who want to recover only documents and other similar files. For larger files, the software has a Recoverit Pro version priced at $89 and Ultimate version priced at $109.
No. 7 MiniTool Data Recovery for Mac
Official Page: https://www.minitool.com/data-recovery-software/mac-data-recovery-personal.html
Price: $79
Supported OS: Mac OS X 10.5 and above
MiniTool is a great data recovery software with rich feature base and customizable settings for recovering files from lost disk partitions and damaged drives. It has functional modules that help deal with specific data loss scenarios making it easier to recover important lost files. Nevertheless, shows below average performance when it comes to covering audio and video files. The only drawback to this tool is that the free trial version of this software lets you recover only 1MB of data, that's a lot less compared to other recovery tools. However, the personal license cost for MiniTool is $79 for either the Bootable version or the Personal version, just in case you want the license for both the versions it's $89 (just 10 bucks more).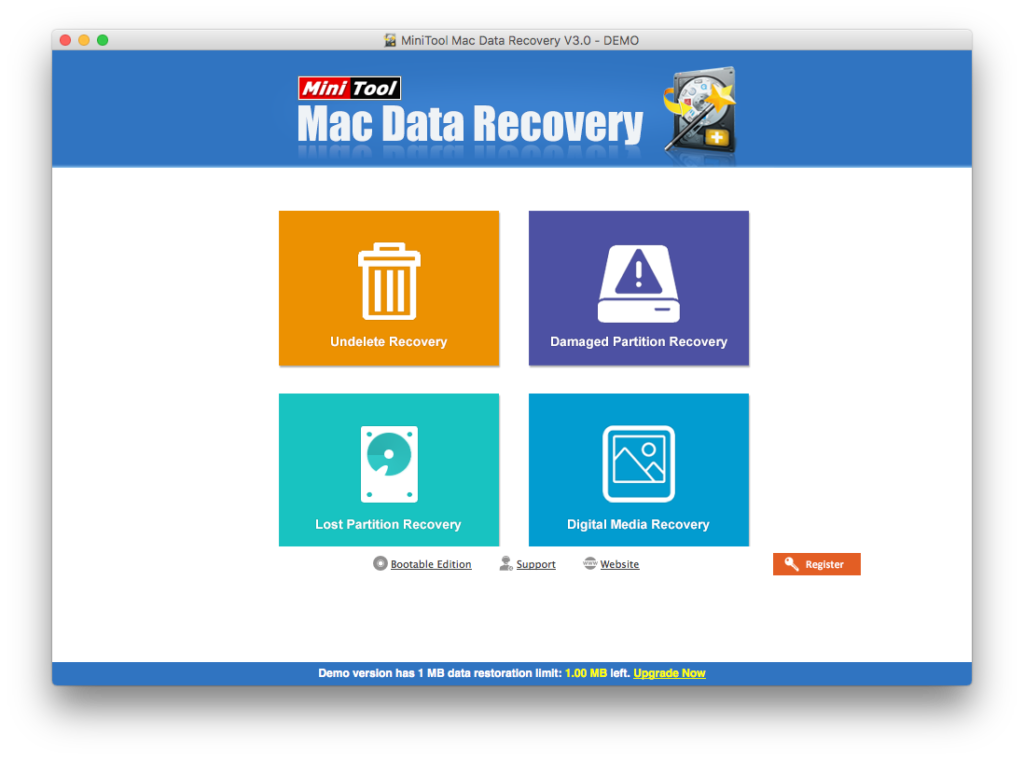 No. 8 Easy Recovery for Mac from OnTrack
Official Page: https://www.ontrack.com/products/data-recovery-software/
Price: $99
Supported OS: Mac OSx 10.14, 10.13, 10.12, 10.11, & legacy OS
The ease of use of this data recovery software for Mac makes it stand out from others as the intuitive interface makes it easy to tackle any highly advanced disk recovery strategies. This software has been described as the most "comprehensive" and "do-it-yourself" tool for data recovery as it helps users quickly and easily recover data from a diverse range of devices including – hard disks, USB sticks, optical media, local or external SSD's, and RAID volumes. Instead of merely initiating a scan, the software provides a menu to select the kind of device you need the data to be recovered from and what are the issues that have been affecting it. The software automatically makes parameter settings for the scan based on what the user selects – reformat recovery or deleted file recovery. It has a slower scan speed compared to other data recovery but does not affect the overall performance of the scan. The Home edition of this software is priced at $79 while the professional edition costs $139 and the Technician edition costs $499.
No. 9 Do Your Data Recovery
Official Page: https://www.doyourdata.com/mac-data-recovery-software/pro-mac-data-recovery-software.html
Price: $99
Supported OS: macOS 10.14 – 10.6, and Mac OS Server
An easy-to-use data recovery software that helps you recover deleted files due to OS crash, malicious virus, OS upgrades, power failure even if they have been deleted from Trash. This recovery software supports data recovery on all Mac's – Mac Mini, Mac Pro, iMac, MacBook Mini, Mac Server, MacBook, MacBook Air, and MacBook Pro. The full version of this data recovery software supports retrieval of lost data from inaccessible or deleted hard-drive volumes. This data recovery tool has two recovery modes-
Quick Recovery Mode
Advanced Recovery Mode
One can first begin with the quick recovery mode to recover recently deleted files. In case, all lost files cannot be recovered using the quick mode, try the advance recovery mode wherein the software scans the hard disk deeply(deep scan) to find much more lost files. Despite the fact that there is a preview feature available and a user can recover up to 1GB of lost files, it is not capable of reading and scanning all the lost files.  One year licensed Pro version of this software is priced at $49 while one just needs to $69 for lifetime license of the Pro version to recover almost all lost files.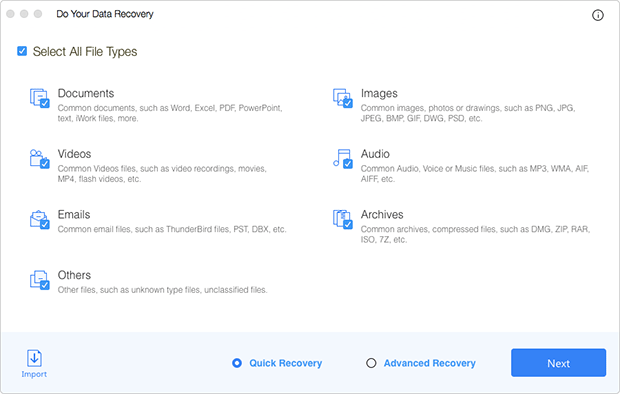 No. 10 Cisdem Data Recovery for Mac
Official Page: https://www.cisdem.com/data-recovery-mac.html
Price: $49.99
Supported OS: macOS 10.12 or later
The most flexible, effective and easy to use data recovery tool that uses advanced scanning technology and directory restructuring algorithms to recover lost data. The shiniest feature of this recovery tool is that it classifies data to be recovered based on file types and the files are listed to the users based on that. This software also lets you mention the extension of the lost file to save time while it looks for it.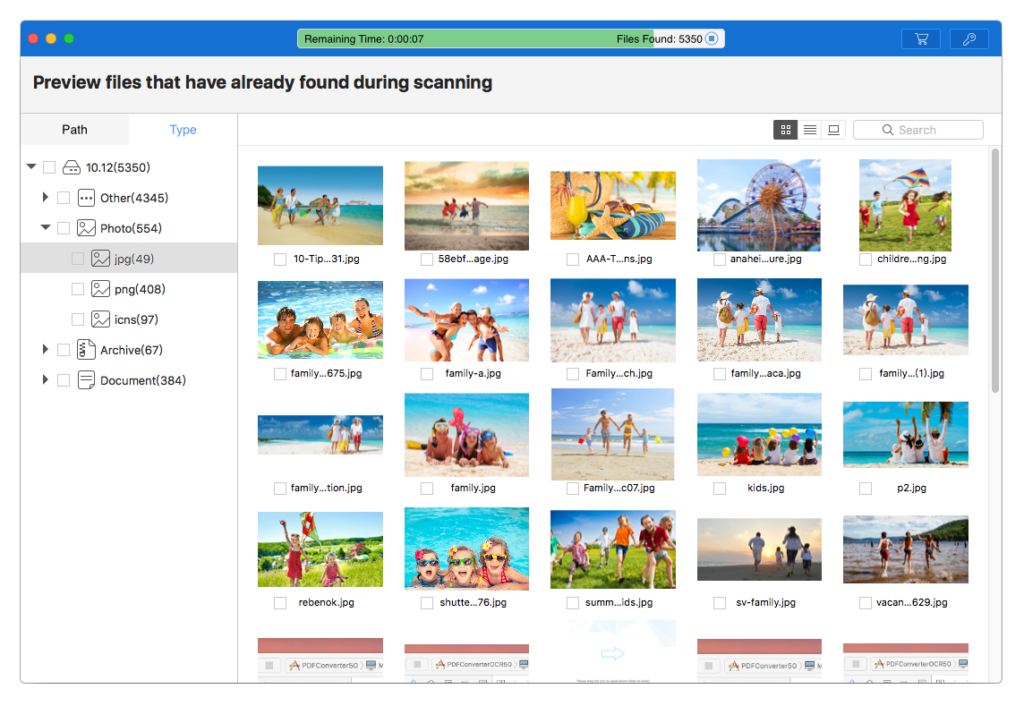 Over to You
Yeah, data recovery is a challenging task but following the above guidelines and choosing the best data recovery software for Mac can make the process of data recovery easy and hassle-free. Every data recovery software for Mac has pros and cons, and deciding which one is worth considering depends on one's requirement for recovering precious and irreplaceable data. The key is not to panic and choose an awesome data recovery software based on your requirements that has an intuitive user interface, is backed by good looks, and provides tons of free disk tools (like disk clean-up, disk health, duplicate finder)  which can prove to be handy for data recovery.
Thanks for reading the article. That's a wrap of the "Best Data Recovery Software's for Mac in 2019". We wish you good luck in recovering your lost data! Share your data recovery experience on Mac, for any guidance. If you know any other data recovery software for Mac that has been missed and should have been on the list, let us know in the comments below.