Quick Summary: Wondershare Filmora is an easy to use video editing software with many templates, transitions, and video effect presets that are beginner friendly and easy to use. I found its interface to be very intuitive and you can quickly export your first video in about 30 minutes. It supports all modern video formats for input, as well as HD and 4K video editing and output. It is not a professional video editing suite, but based on its affordable price and ease of use, if you are absolutely new to video editing and are looking for an easy to use program to get started, then Wondershare Filmora Video Editor is worth having.
This article will outline the main features, pros and cons of wondershare Filmora video editor, as well as how to use it for beginners, who it is intended for, read on and decide if it is the right video editor for you.
Filmora FAQs
What is Filmora
Wondershare Filmora is a video editing software built for starters who want to create video content in the least amount of time. Although it's a software for beginners, the video editor supports 4K videos and has dozens of audio and visual tools users can use to create attractive content – from different text styles to effects, sound options to editing options, the choices are plenty. With an easy-to-use dashboard, Filmora is one of the most preferred video editing software by entrepreneurs, influencers and content creators who use the platform to create quick video content for social media and personal blogs.
Is Filmora Safe to Download and Use
Yep. Completely. As a software reviewer, I am quite picky when it comes to installing programs on my system, but with Filmora, I didn't have any apprehensions. The software is by Wondershare Technology, a global leader in application software development with over users in over 150 countries. The company has been operational since 2003 and has offices in Europe as well as Canada and has been recognized by Forbes as well as Deloitte for one of Asia's fastest-growing enterprises. To avoid any unwanted problems, it is recommended that you download only from the official website.
Is Filmora Video Editor Free?
NO. Filmora video editor is not free, but it offers free trail version. You can get the free trail version from its official website to have a try, the latest version is Filmora 9
Then how much does Filmora video editor cost? Filmora has three types of license: Personal, Commercial and Educational. The three differ in terms of pricing, however, in terms of features, they remain mostly the same, except for additional stuff like sales support and multi-user controls for commercial license. If you're someone who's just starting out with video editing, then the personal plan would suit you best.
The pricing breakdown is given as: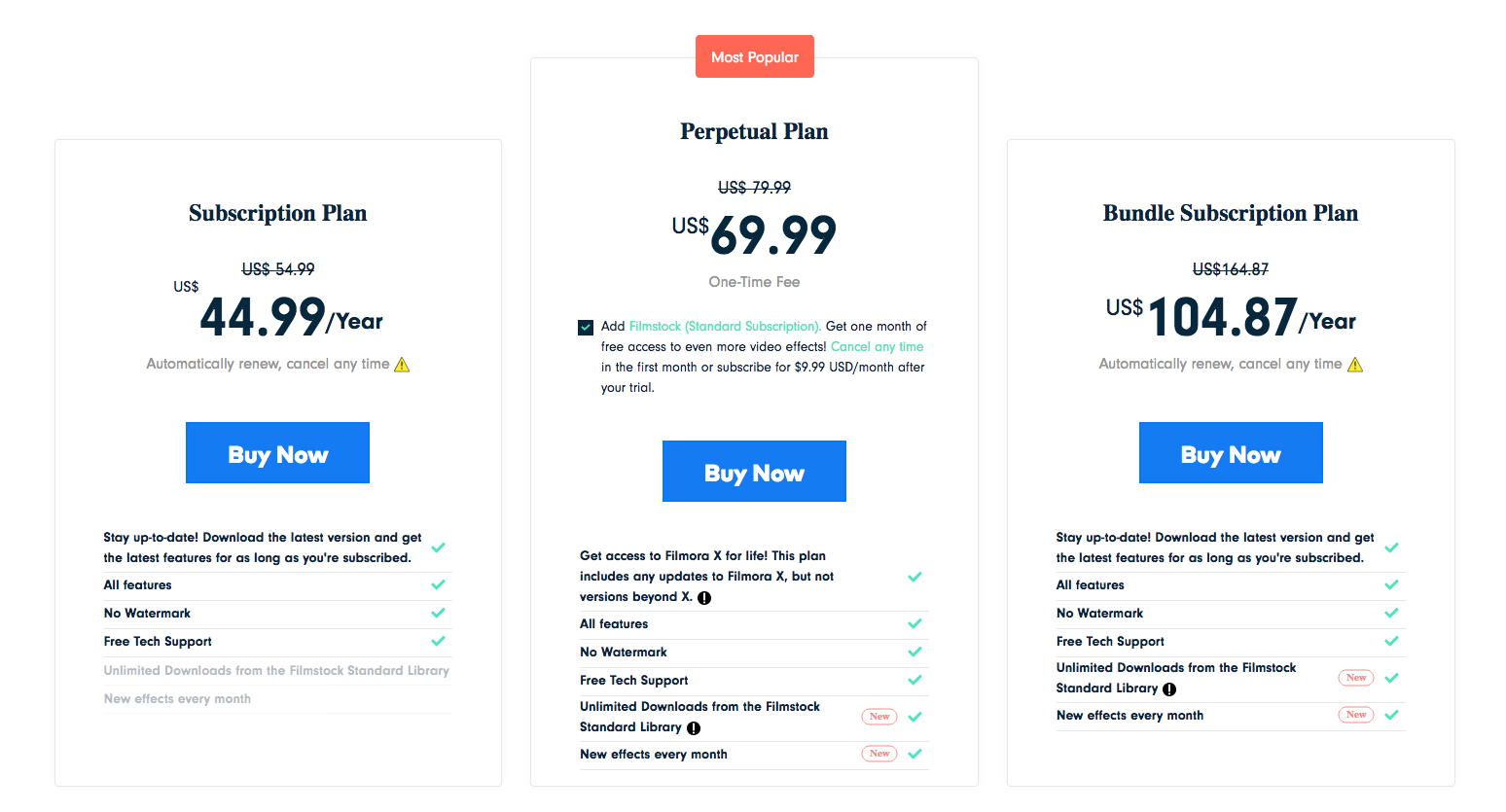 For both the per year and lifetime license, you'll get all features, free updates, no watermark (trial version has a Filmora watermark) and free tech support. The Unlimited license will give you access to unlimited downloads from the Filmstocks Standard Library as well as new effects every month. The most popular package is the $69.99 which gives you lifetime access to the software. Unless you need new effects or stock downloads every month, the lifetime plan is the best buy.
Filmora Video Editor Features and Specs
And now is the exciting part of this review! Let me run you through some of Filmora video editor features and specs that you'll be using to create outstanding videos.
1. Easy-to-use Dashboard
One of the first thing that you will find impressive is the software's easy-to-use dashboard. As soon as you launch the program, you're prompted to create a project with a screen ratio of 16:9. Once you select new project, you're taking to the main workspace where you'll see an import/record option on the left, a preview window on the right and a video timeline at the bottom. Everything's pretty much drag and drop so all you need to do is open a video or use the record option to record and begin applying desired effects on your video.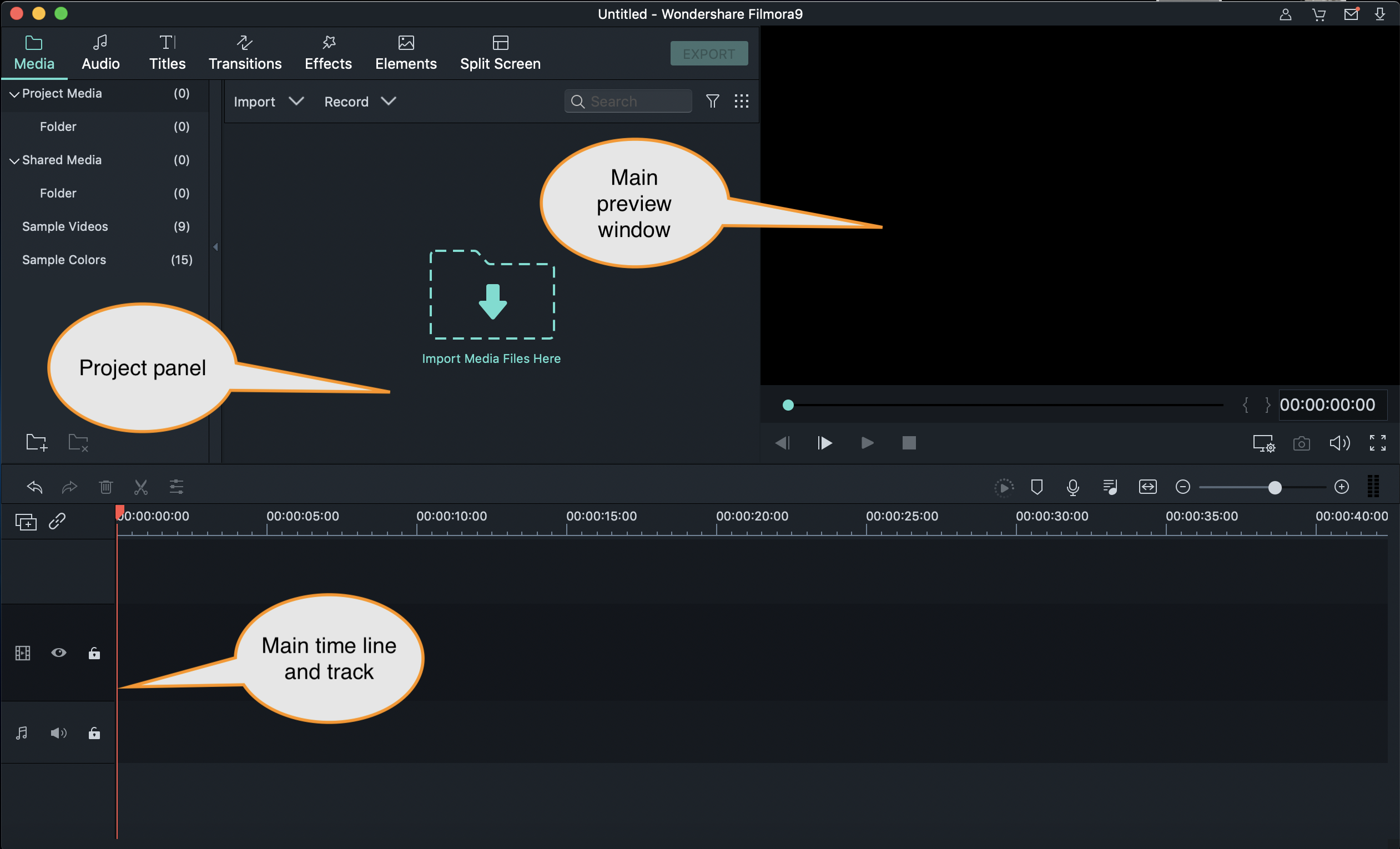 2. A Wide Collection of Audio Files
A great music clip is essential to the success of a video. If you don't have your own music to use in the video, you can pick from the 51 audio files provided by Filmora. The files are categorized into multiple categories such as young and bright, folk, electronic etc. You can't get any preview of the audio files, instead, you'll have to download them all (or one by one) to check them out. This can take quite some time if you set out to check all 51 audio files. You can download for more files from the website after signing in with your ID. There are free effects you can install and if you're a new user, Filmora will let you enjoy unlimited downloads for three days!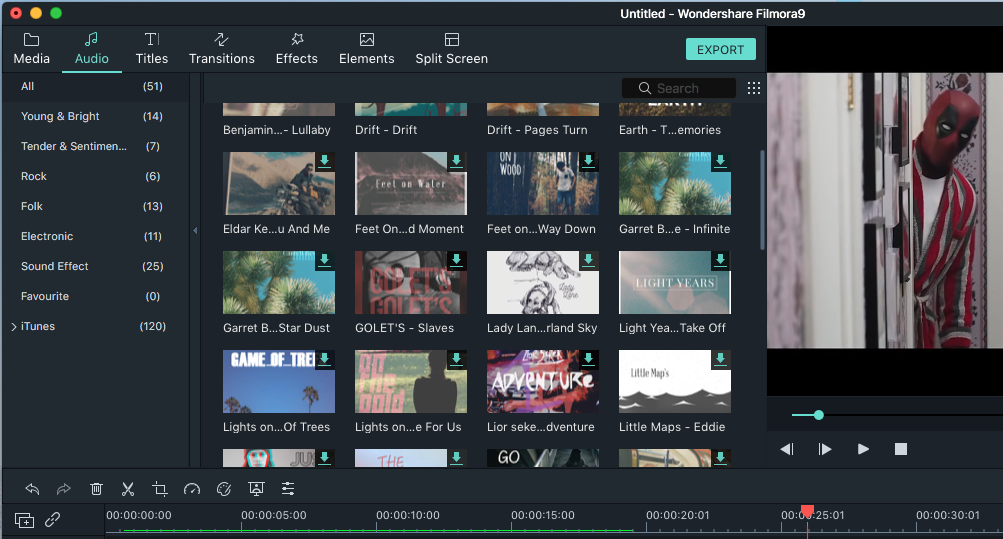 3. Text Editing & Stylization
Want to give credits to people involved in your project? Or simply want to have a great opener? Filmora has a collection of credit text that you can further edit and customize accordingly. There are a total of 137 styles ranging from simple rolling credits to colorful and animated video openers to creative subtitling and styling. You can change the color, the font size, align, rotate and do a dozen other things with the text. What truly impressed me was the ability to add more text in the form of different shapes and being able to animate it in a different number of ways. If you're into text stylization, Filmora doesn't disappoint.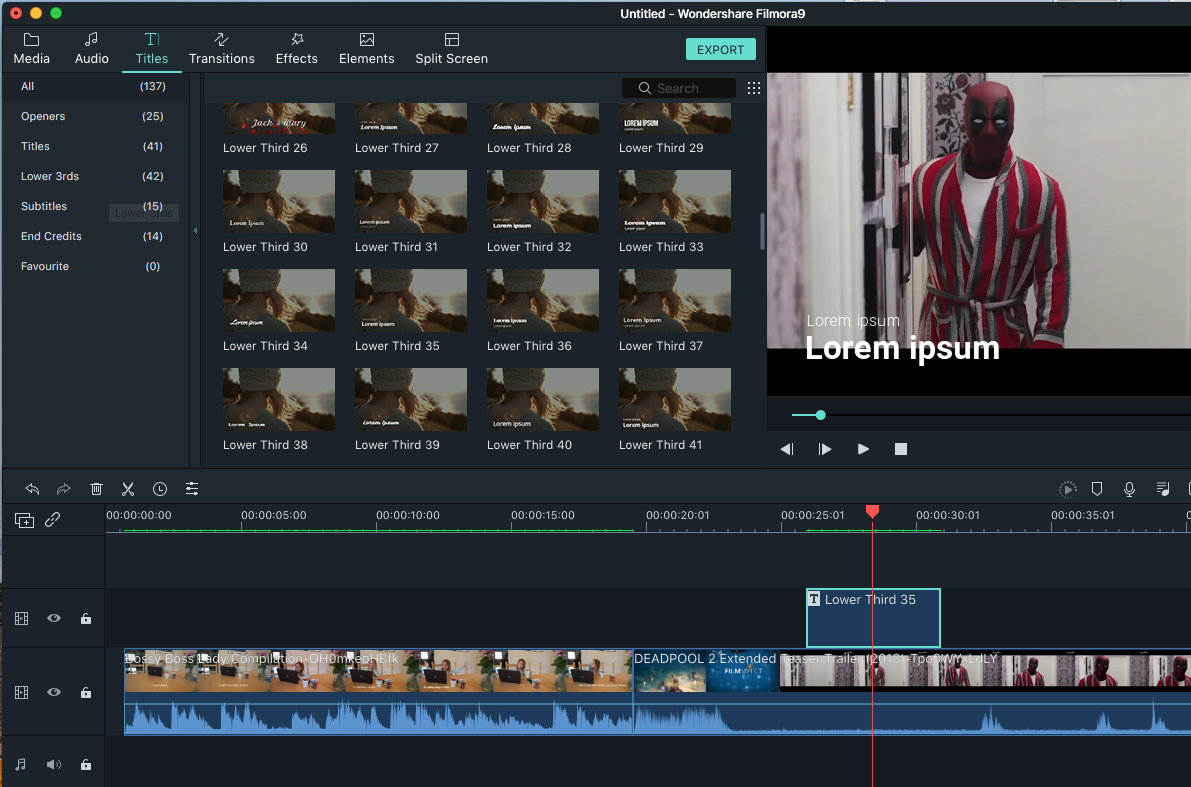 4. Transitions
Transitions are used to smoothly move from one scene into the next. Unlike PowerPoint's boring transitions, Filmora has a range of modernistic transition effects. From butterfly scrawling to box flip styles to dissolve styles, there are 178 transitions to choose from! You'll have to spend quite some time here to explore all the cool transitions you can apply on your video.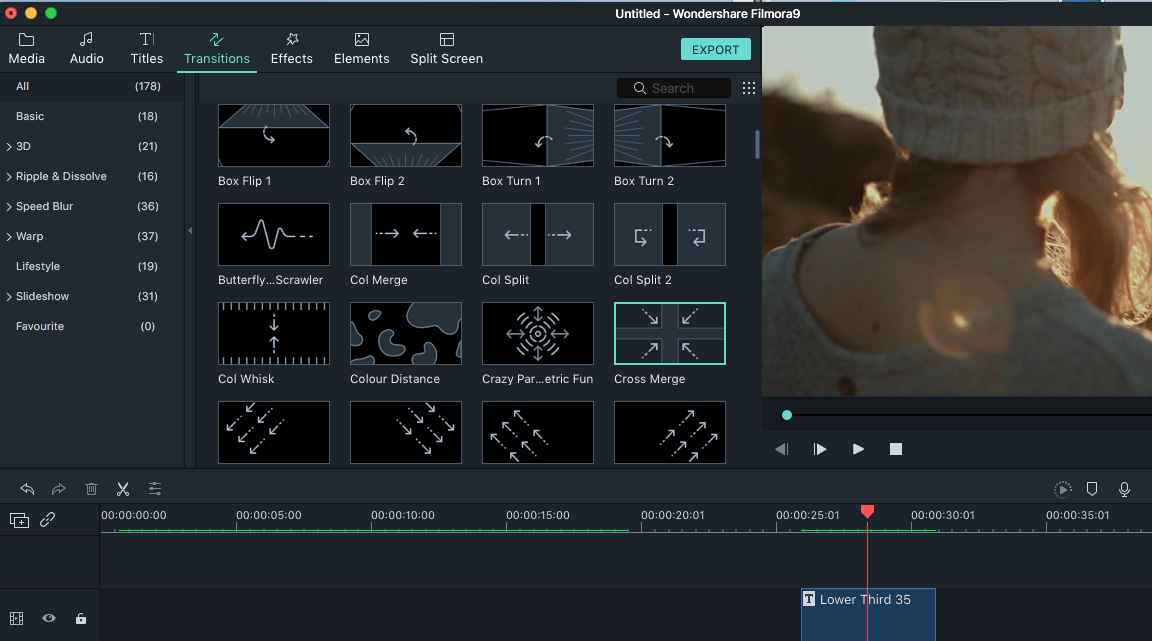 5. Effects
With 254 effects, you get plenty of options to create a unique style for your videos. Again, you'll have to download the effects to see how they work on your video. There aren't any editing options with effects apart from increasing or decreasing intensity so if you're looking to adjust your effects, you won't be able to do it here. That being said, the effects are pretty well done so you won't really need to make any adjustments. You can also download additional effects by visiting the official website.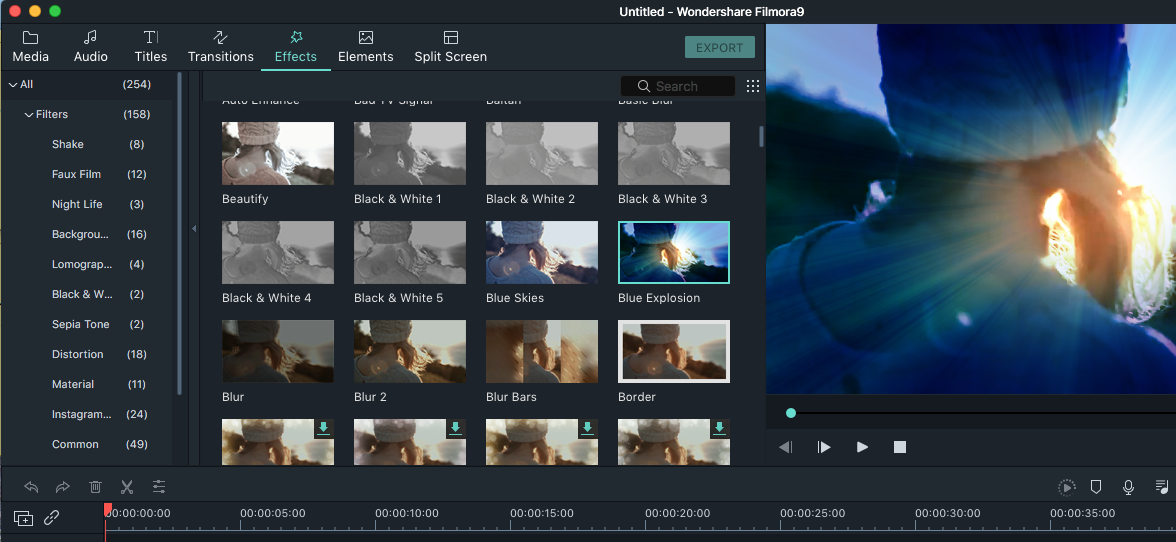 6. Elements
Want to add emojis and other cute graphical elements to your videos? Filmora has 191 elements that you can use (solo or a combination of effects) in one video. You can edit the elements by giving it different motion effects and even adjust colors to your liking.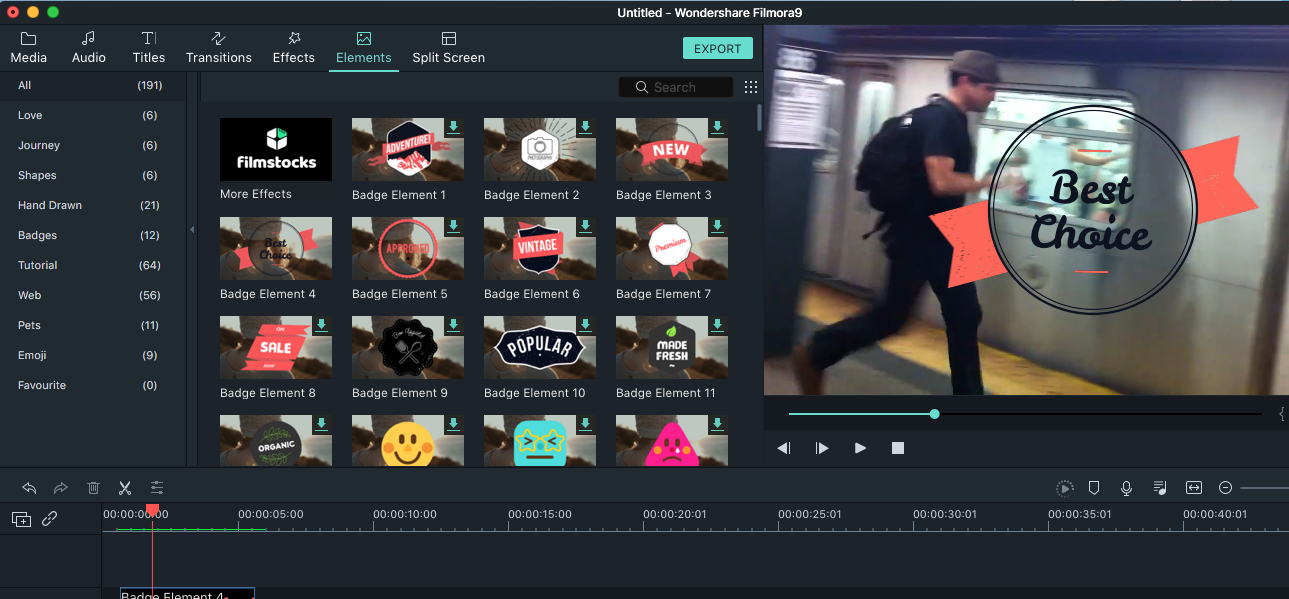 7. Chroma Key
Recorded a green screen video and need to add an overlay to it? Filmora actually has a Chroma Key feature that you can use to replace the green screen with your choice of background. To do so, all you need to do is use the chroma key option and choose the color that covers your screen (it doesn't have to be green!).
8. Split-Screen
If you've got multiple video clips and want to create a cool video with each of the clip having its own effects/transition then the Split-Screen feature by Filmora allows you to create one amazing video in multiple split screens! All you need to do is drop your videos into the different screen slots and edit each one according to your preference.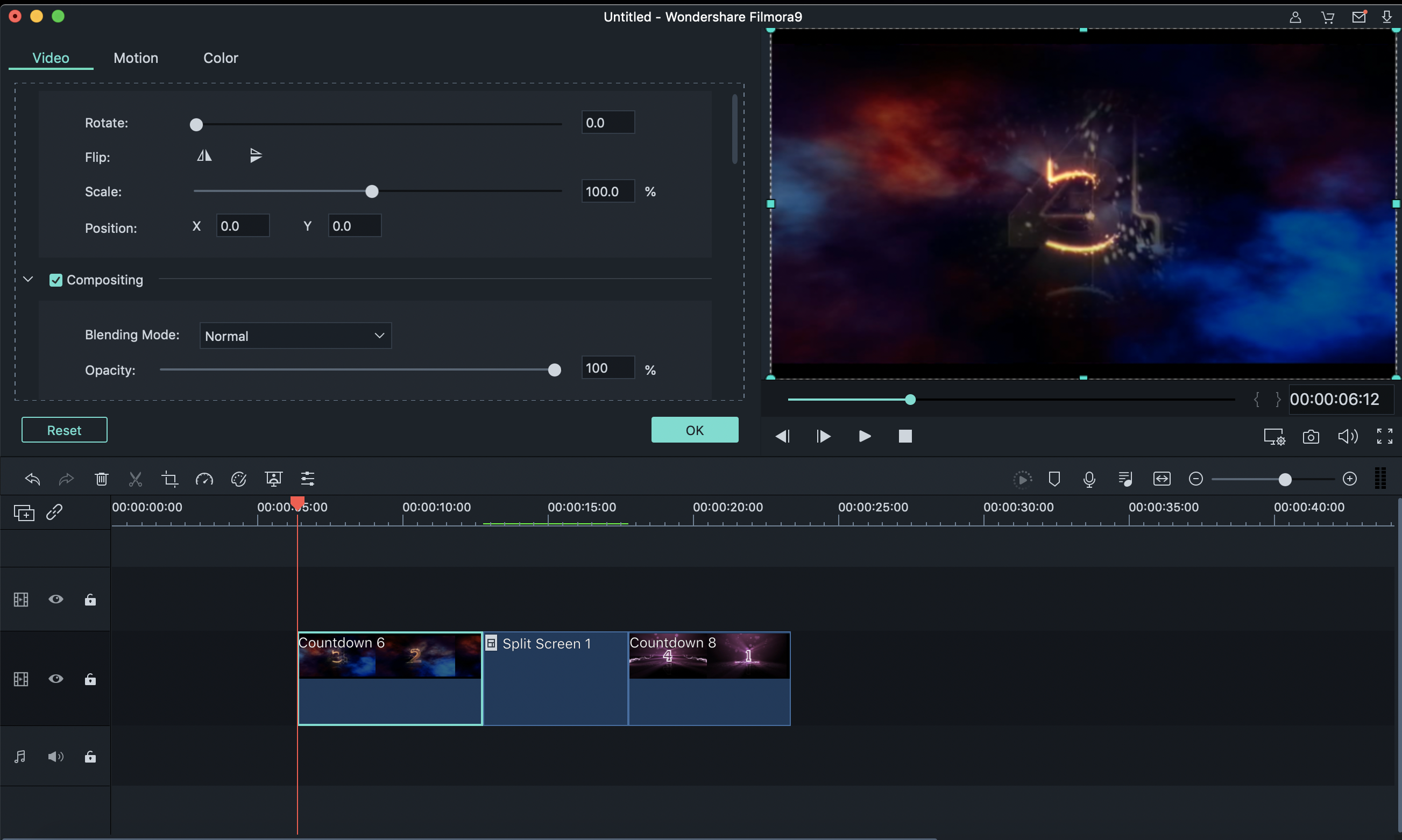 9. Voice Over
If you want to record your voice while editing your video, you can do that with the audio recording option provided on the dashboard. You can go ahead and adjust the audio level of your voice over by adjusting the levels given in the audio mixer.
10. Social Media Import
Filmora also allows you to directly import your media files from Facebook, Flickr and Instagram. It imports your feed into the dashboard when you sign in letting you choose your files and saving it to a folder on your desktop. This feature is quite helpful for people who make videos or take images directly from Facebook or Instagram.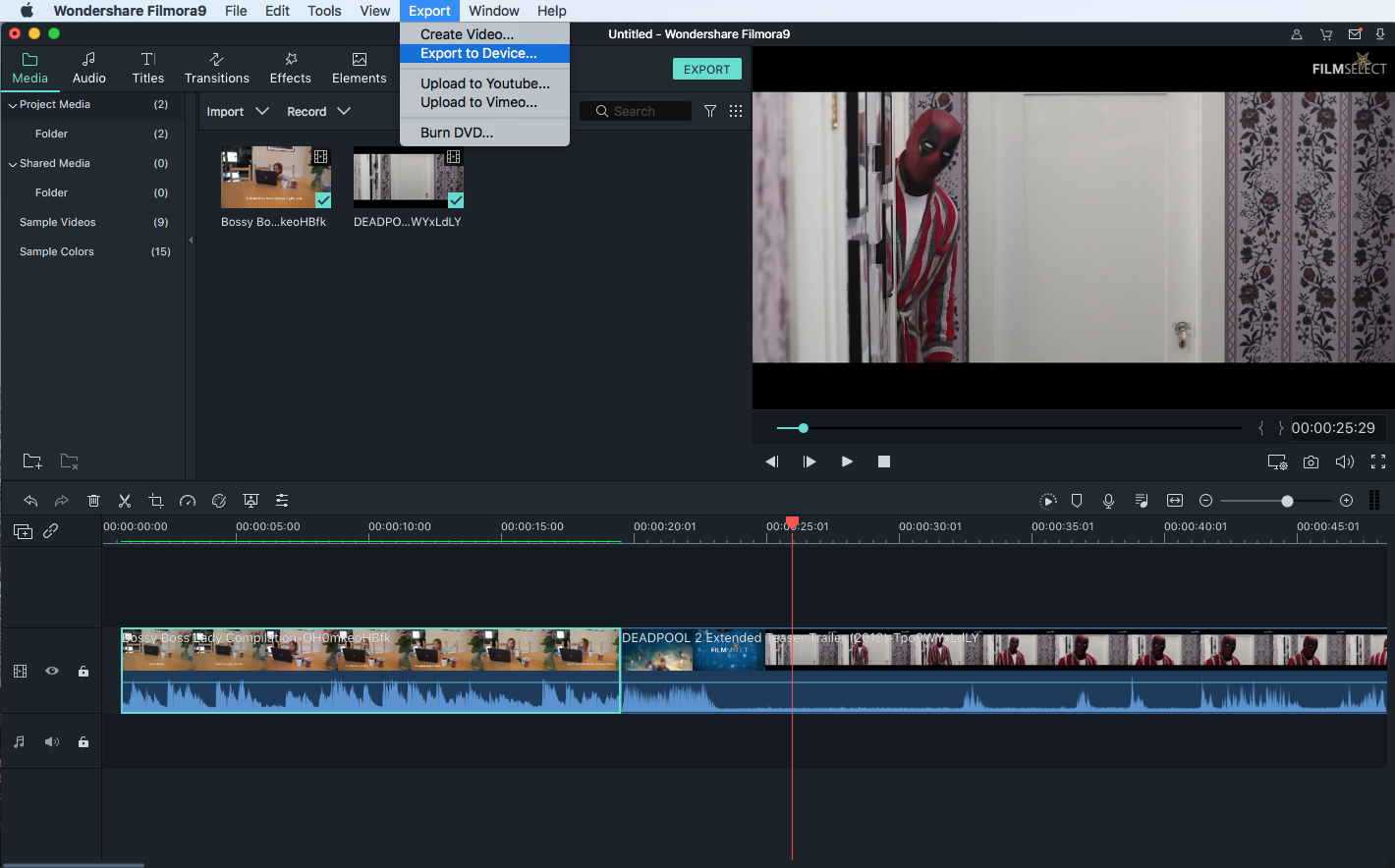 Whew! Filmora has an extensive list of features. Here's a quick summary of all its features and specs:
4K resolution support
Video stabilization
Lens correction
Blurring and opacity control
3D Lut
GIF support
Noise removal
Frame by Frame preview
Video trimming and cropping
How to Use Filmora Video Editor
There are plenty of things you can do with Filmora. To learn more, I highly recommend you visit the Video Editing Academy of Filmora where you'll learn to do wonders!
In the meanwhile, here's a quick 1,2,3 guide to using Filmora video editor.
Step 1: 
Once you're done installing the software, launch it and start a new project. To start a new project, simply select the New Project.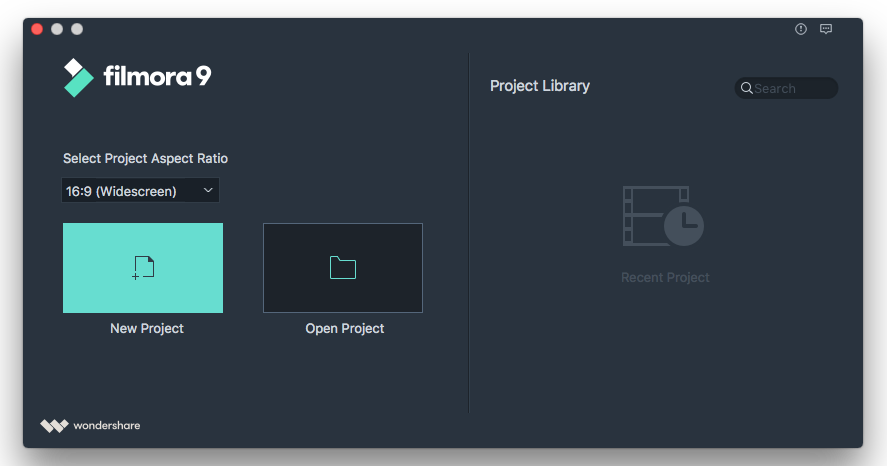 Step 2: 
When you click on New Project, you'll be taken to the main interface. Here you'll have all the effects, transitions, split-screen etc on the top menu. The main screen will have a project panel where your videos will appear. On the right you'll have the preview screen which will preview your video.
Step 3: 
The story timeline is the most important part of the interface. It is here that you'll be spending most of your time. To start, add a video by clicking on the import option in the project panel.
Step 4: 
To add effects, audio, transitions, and other elements, drag them onto your video track. Keep previewing your video by hitting the space bar of your keyboard. It will help you know how your video looks and where you need to do necessary edits.
Step 5: 
Once you're satisfied with the video, click on Export option followed by Create Video. You can choose the format in which you want to export your video. You can even choose to upload to YouTube directly. If you don't want to pause on the project to rework later, you can use the Save As option in the file section.
Is Filmora a Good Video Editor?
Filmora video editor is surely a power-packed video editing software for both beginners and professionals alike. Although it doesn't offer granular controls like Final Cut Pro or Premiere Pro, it has enough capabilities and functionalities to let you create outstanding videos. During the use of this software, I was quite satisfied with the output, considering the fact that I am an average video editor with experience using Premiere. I remember when I first started with Premiere Pro, I was overwhelmed with the technicalities, but with Filmora, it took me just an hour to make a stellar video.
The Good:
Easy to use
Plenty of effects, styles, audio files and visual tools to use
Easy video trimming
Multiple importing and exporting options
Ability to stabilize video (especially if you're making a mobile video)
Futuristic and modernistic look for videos
Ability to record PC screen
A store with additional effects to use and download
Direct upload to YouTube
High-quality output
The Bad:
No preview option for audio files or video effects. You have to download them all.
Can't download a batch of effects or audio at once.
Effects store not available with lifetime purchase.
Limited storyline/tracks.
Filmora Video Editor Review Conclusion
Filmora video editor is one of the most efficient video editors out there that is affordable and has a plethora of features. Unlike its other competitors, Filmora doesn't require you to have any technical or basic video editing knowledge at all. In fact, you'll pass off as an expert video editor by just using the options provided by the software. For $69.99 Filmora is just what you need if you're planning to do some exciting video content this year!
Filmora Video Editor
$69.99 Lifetime license
Effects and Element
8.5/10
Pros
Easy to use
Plenty of effects, styles, audio files and visual tools to use
Futuristic and modernistic look for videos
Ability to stabilize video (especially if you're making a mobile video)
Multiple importing and exporting options
Cons
No preview option for audio files or video effects. You have to download them all.
Can't download a batch of effects or audio at once.
Limited storyline/tracks.
Effects store not available with lifetime purchase.