If you are looking for reviews about Wondershare DVD Creator, then this Wondershare DVD Creator review might provide you with some valuable information. We did this review by actually trying and testing this program, as well as compiling the feedback shared by our readers and summarizing its pros, cons, and key features. In addition, there are more details about this DVD creating software, as well as the limitations of its free trial, the people who are suitable to use it, etc.
Let's take a look at this Wondershare DVD Creator review, and learn its pros and cons.
What is Wondershare DVD Creator
Wondershare DVD Creator is a DVD/disc burning tool can let you burn video, music files, and images files to DVD/Blu-ray Disc/BD Folder/ISO/Data disc. It provides more than 100 free static and dynamic DVD templates in different themes and custom background images/music, title thumbnails, etc. Besides, this DVD burning software supports manual and automatic chapter creation.
If your main goal is to create a DVD for family, friends and personal use, Wondershare DVD Creator just works. If you want to do more, I would recommend trying their video editor Wondershare Filmora.
Is Wondershare DVD Creator Free
No. Wondershare DVD Creator is not free. It offers a free trial version, which will watermark the output DVD files. And the free trial version only has 3 DVD templates to choose from. The full version priced at $39.95/year for windows, if you are on Mac, the price is $49.95.
Is Wondershare DVD Creator Safe
Yes. Wondershare DVD Creator is safe to install and run on your system. It has been tested to be safe and non-virus.
Wondershare DVD Creator Features
Installing Wondershare DVD Creator is easy. Just select the right version for your operating system (Mac or Windows), and download a rather small 1-2MB file. Running it will prompt you where you want to install it.
Unlike most free trial software, this one won't pull a fast one on you and make you install unnecessary junk. A few clicks later, you will be off to the races.
You can create a DVD project, save it, and resume where you left off.
Note: In order to use it, make sure you have writable DVDs or Blu-Rays including DVD-9 and DVD-5; DVD-R/RW, DVD+R/RW, DVD+R DL, DVD-R DL, DVD-RAM; BD-R, BD-RE, BD-25, BD-50, BD-100. However, a caveat to add here. Blu-Ray formats are only supported on Windows-powered machines.
You will also be happy to know that Wondershare DVD Creator supports major video file formats right out of the box. No need to install those pesky codecs to get it working.
Some of the file formats it supports include:
Basically, anything but the kitchen sink! This app handles every media file you can throw at it.
When you first open the app, you will be greeted with a simple user interface.
These are the features that you can use during the TRIAL version of Wondershare DVD Creator.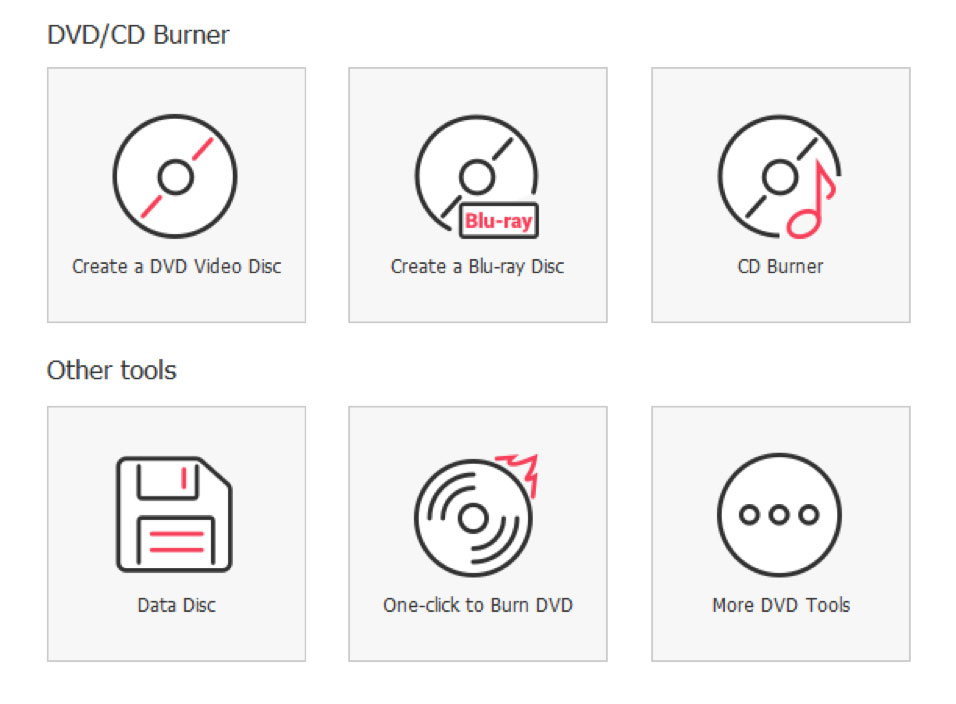 You can create:
A DVD Video Disc – We reckon this is what most people will use it for. You can build your customized menus, full of pictures or videos you choose.
Create a Blu-Ray Disc – So you want to play in the big leagues huh? It's nice that Wondershare has included support for Blu-Ray discs as well. Ultra high definition videos here we come.
CD Burner – Ah the good old Audio CD days. For those who prefer old-school music on CDs, this option works.
Data Disc – Even though Wondershare advertises itself as a DVD creation app, you can still use its cool and calm interface to add your data files on a disc.
One Click to Burn DVD – if you have got a bunch of pictures or videos that you just need to burn into a DVD, this feature is your best friend. Fast and easy.
More DVD Tools – You thought we were done? Wondershare DVD Creator has got some more cool options tucked inside here.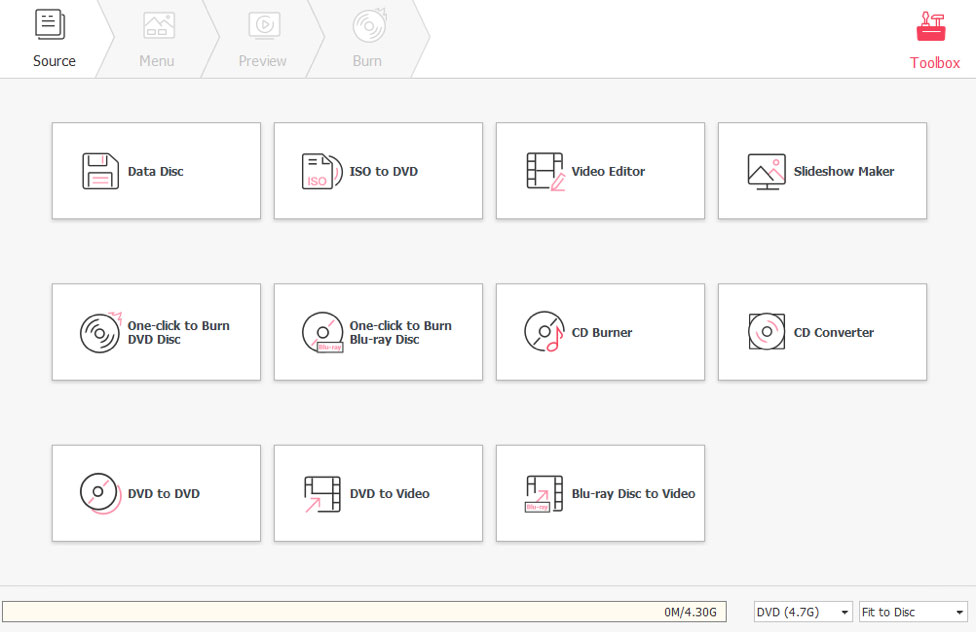 Expanding on its feature set, here's what we got:
ISO to DVD – If you have a disc image i.e. an ISO file of a DVD, then this feature is for you. You want to recreate a DVD EXACTLY the way the original copy is, you can just pick an ISO file from your hard disk to burn onto a compatible DVD.
Video Editor – Now we're getting to some good stuff. Wondershare includes a very simplified and intuitive Video Editor inside the app. Trim, add effects, and more with this feature.
Slideshow Maker – If you have a bunch of vacation or wedding pictures you want to send to your grandparents, this feature is going to prove helpful for you. Plus you can also add your music here.
DVD to DVD – Provided you have two DVD drives connected to your workstation, you can use this option to make an exact duplicate copy of a DVD.
DVD to Video – This feature is going to be used for a lot. You can turn your DVD into a digital video file, in a file format that you prefer.
Blu-ray Disc to Video – Your enormous-sized Blu-rays can also be converted into compressed and playable video files for other platforms with this feature.
Wondershare DVD Creator Pros and Cons
Now that you're fairly acquainted with everything Wondershare DVD Creator has to offer, let's get down to its pros and cons.
Pros
Ease of Use is unparalleled
Wondershare has a plethora of options for you to choose when you want to make a DVD menu. These menu screens are easier to navigate via a DVD Player, and they look great as well.
Easy to create DVD Menus
For menus, you can add frames, a personalized background, custom text, drag-drop elements, even have a tune of your choice as the background music. These are enough to help you create your personalized DVD.
3 Step Process
Also did we mention how quick and painless it is? Since the aim of Wondershare is to help you make those DVDs faster, the software features a 3-step process in order to accomplish that. Here's how it works:
Select your pictures or videos you want to include in the DVD:
Customize your menu, with background, music, etc.
Burn your DVD once you're ready.
Now to sum it up:
This app is so easy that no technical knowledge is required to use it.
Supports all major video, image and music formats.
Built-in video editor gets the job done.
Cons
Limited Templates in free version
For the trial version, you are restricted to just 3 themes and templates that Wondershare DVD Creator offers you. For most people, this might not be an issue, but if you are the kind of person who wants control over every aspect of the DVD menu, there's better (and time-consuming) alternatives out there. But for the average user, it works. The paid version includes 100+ templates though.
Video Editor is barebones
Since the app emphasizes speed and simplicity, the included Video Editor looks barebones when compared to other alternatives. You can add watermarks, play with brightness, contrast and saturation, trim videos, zoom and flip it. Last but not the least, you can add a subtitle to go with your DVD video if need be. You can also crop out unwanted bits so that the video can fit your screen.
Paid Version vs Free Version
In order to get the most out of it, you will have to go for the paid version of Wondershare DVD Creator. Here's what you're missing out while using the free version: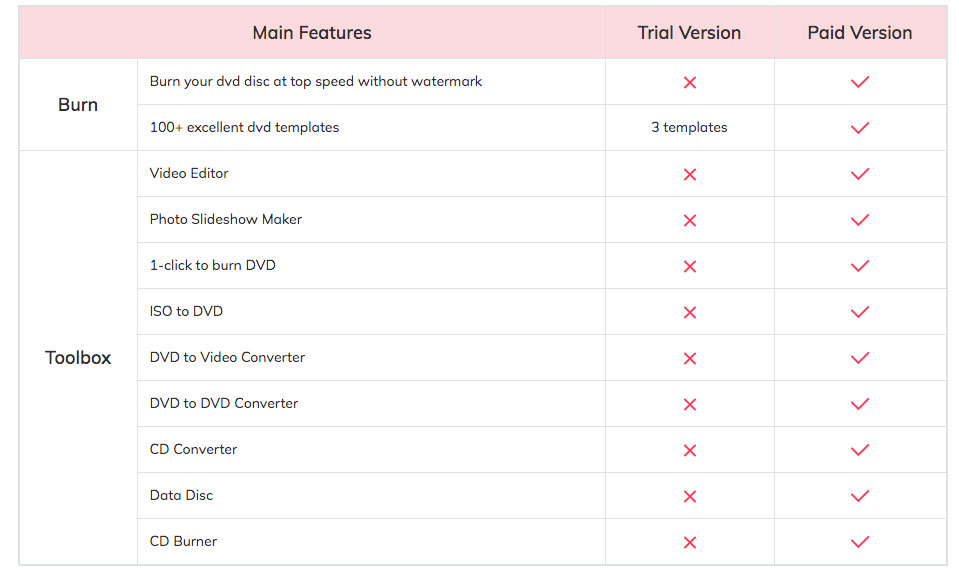 Here's another factor that you might want to consider here. Wondershare offers a subscription-based monetization model, meaning that for $39.95 / year (for Windows), you will get access to its full suite of features and updates. Is it worth for the price it's being offered at?
Mac Users lose out on Blu-ray features
Also Mac users, tough luck if you want to be able to burn Blu-ray discs, because Wondershare only features support for the bigger discs on Windows machines.
To Sum up of Wondershare DVD Creator
App subscription price is on the higher side at $49.95 per year for Mac.
No Blu-Ray support for Macs.
Many features are locked out of the TRIAL version.
 Limited themes and templates for DVD menu on TRIAL version.
Who is Wondershare DVD Creator for?
This is one of the core strengths about Wondershare DVD Creator – it's almost for everyone. Given its rather simple yet effective user interface, you don't need to be a technical wizkid or video editing pro to be able to use it.
These are the people who can get to using Wondershare DVD Creator instantly:
Students who need to be able to put a video for their presentation.
Couples who just got married, or came back from a vacation to remember.
Mom and dads who just want to celebrate the achievements of their children, be it sports, academics, extra-curricular activities, and so on.
People who want to preserve their DVD and Blu-ray collections on their hard drives and vice versa.
Folks who have no technical understanding of various video and image formats, yet want to be able to turn them into DVD-player compatible versions.
If you're looking for a DVD creation software that you can just set it and forget it, you can't go wrong with Wondershare.
Wondershare DVD Creator is a blast to use, though its limited features might put you off.
For people who want total control over every aspect of the DVD creation experience, there are other alternatives out there. However, these software are almost guaranteed to come with a big learning curve than Wondershare DVD Creator.
Conclusion
For your basic DVD burning needs, the free version of Wondershare DVD Creator gets the job done. It's ease of use makes it a good choice for novice users. Since Wondershare supports all major DVD and Blu-Ray media (with one major caveat for Mac users), you won't have to waste your precious physical media.
The app also features support for all major video, pictures and music file formats, making it a formidable choice to create custom DVD menus without any hassle.
For $39.95 per year, you get access to features that makes Wondershare an all in one DVD and digital media toolbox. You get a surprisingly decent  Video Editor that takes care of your main annoyances (removing unwanted parts, cropping, enhancing the quality, to name a few). You also get the capability to burn ISOs direct to supported physical media. And of course, all those DVDs that are collecting dust on your shelves, rip them into nicely compressed yet still high quality digital files for your home network. The possibilities are endless.
So what are you waiting for? Try out the trial version of Wondershare DVD Creator today. It only takes a couple of minutes to get up and running and on your way to burning DVDs like a pro.
Rating: 4 / 5 Stars