Suppose you have a physical document. It could be a resume, a guide, even a book. Wouldn't it be great if you could convert it into a digital file so that you could edit, share, annotate and even store it safely on your Mac or PC? Thanks to a nifty little technology called optical character recognition (OCR for short), you can do all of the above and then some more. The best OCR software lets you archive and edit important documents for those moments when all you have is that paper in your hand, saving you hours of painstakingly typing it away word by word on your computer.
We take a look at top 10 of the best OCR software for Mac and Windows machines, helping you decide which one suits your purposes and needs perfectly.
Abbyy FineReader is the Best OCR Software for Mac with High Accuracy 
If you work with documents, notes and PDFs day in and out, ABBYY FineReader helps you make the most of them. You can neatly organize your digital PDFs, and annotate them as needed for professional and academic uses.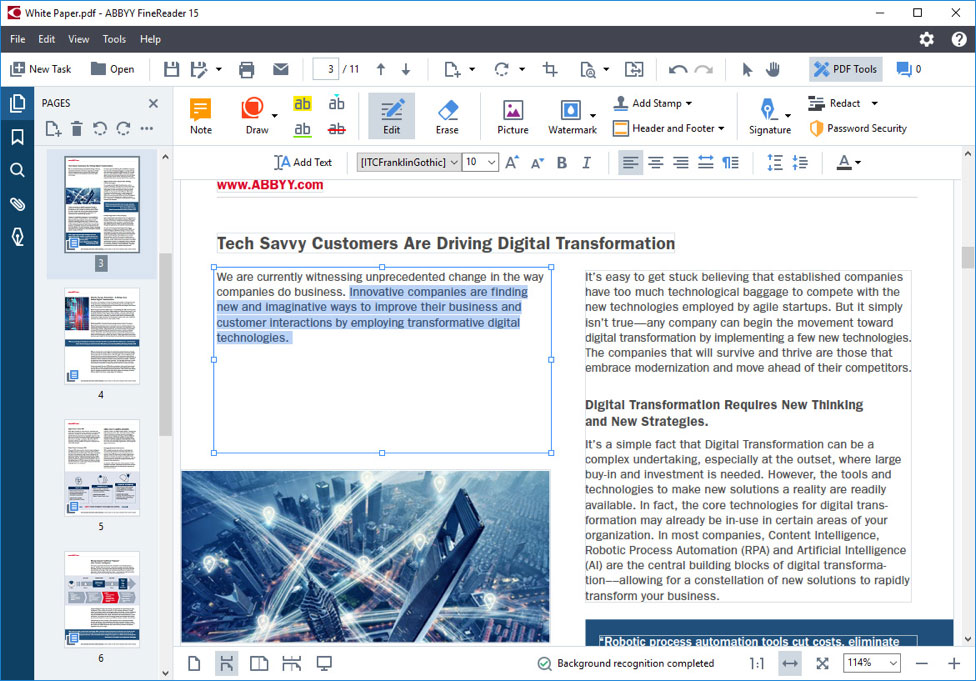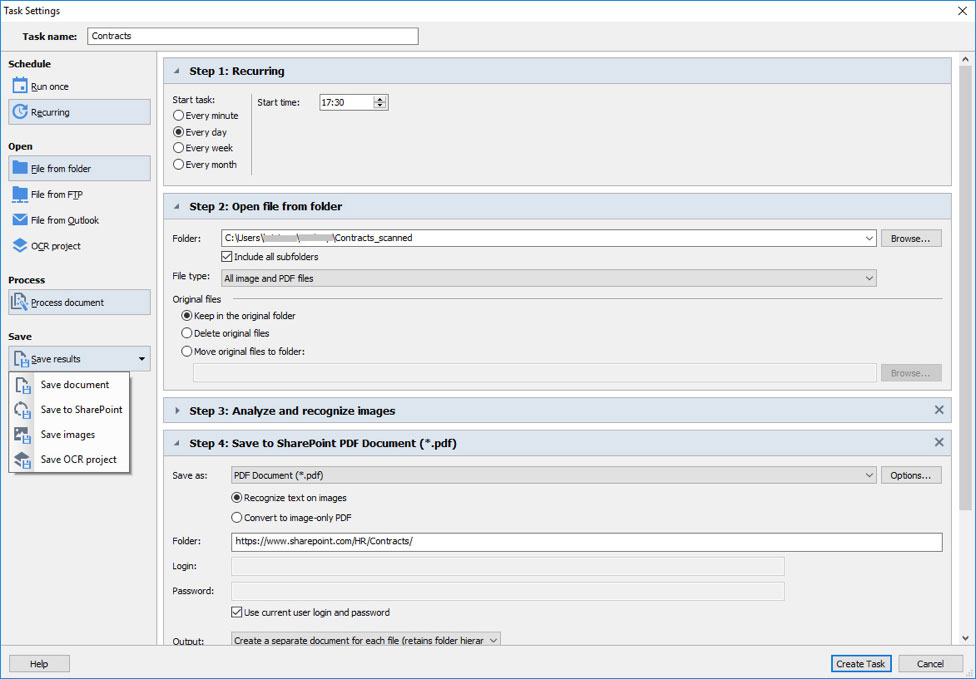 Supported Input Formats: 
PDF, including PDF/A
Image formats: TIFF, JPEG, JPEG 2000, JBIG, JBIG2, PNG, BMP, PCX, DCX, GIF
Windows version will also support inputting below file formats:
Editable formats: DOC(X), XLS(X), PPT(X), VSD(X), HTML, RTF, TXT, ODT, ODS, ODP
Barcodes
Output Formats: 
PDF, including PDF/A (1a, 1b, 2a, 2b, 2u, 3a, 3b, 3u)
Image formats: TIFF, JPEG, JPEG 2000, JBIG2, PNG, BMP, PCX, DCX
Editable formats: DOC(X), XLS(X), PPTX, HTML, RTF, TXT, CSV, ODT
E-book formats: EPUB®, FB2
Details of Windows version supported file formats, please refer to here: https://www.abbyy.com/finereader/specifications/.
Where it excels:
Want to see if there are any changes between the original source and the output? Abbyy FineReader lets you compare documents in different formats, so that rest assured, you can see if anything was lost in translation. Plus it's an all-in-one universal PDF tool, which can automate the digitization of your physical documents in a jiffy. You can also use the snappy Search function to retrieve any specific information you require, instead of flipping through hundreds of pages to recall where you saw it.
Adobe Acrobat DC – The Most Advanced and Best OCR Software for Professionals
The PDF file format was first pioneered by Adobe Inc. It's no wonder that as far as the best OCR software for Mac and PCs go, Acrobat DC is hands down the de-facto professional software for all your digitization needs.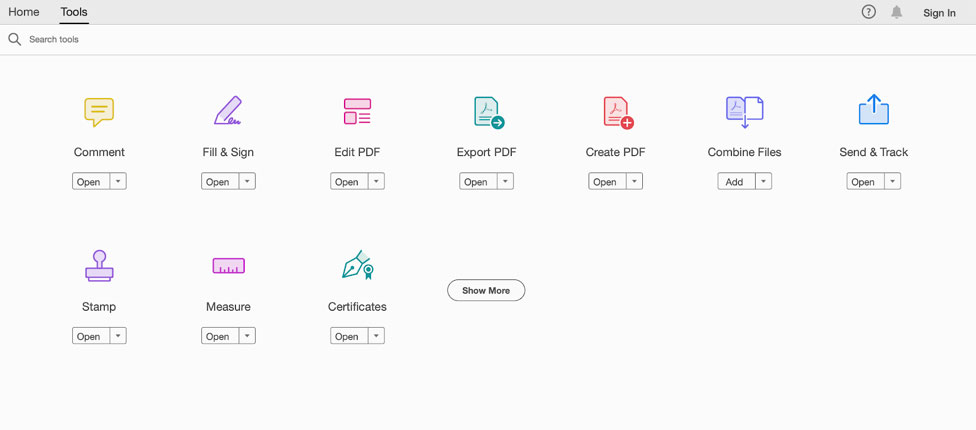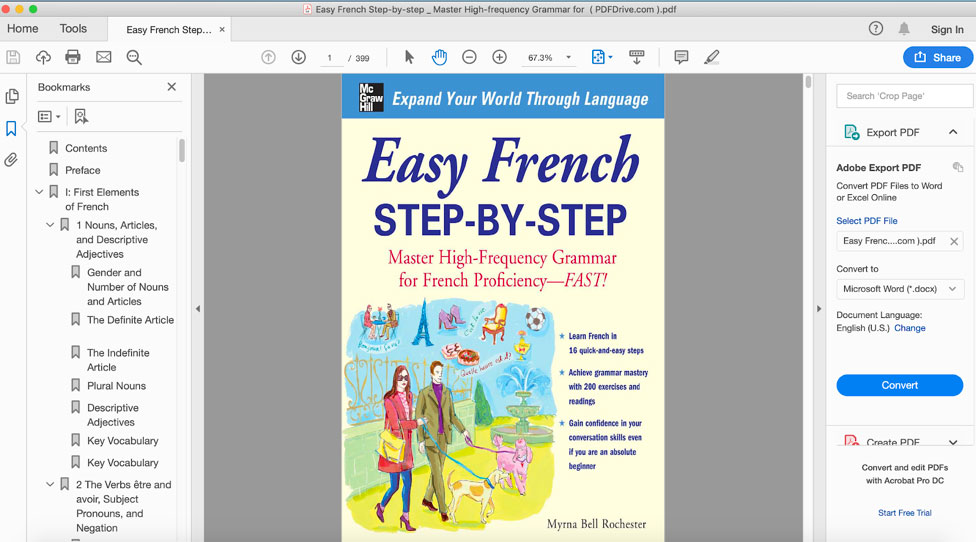 Input formats
Image formats: TIFF, JPEG, JPEG 2000, JBIG2, PNG, BMP, PCX, DjVu
Editable formats: DOC(X), XLS(X), PPTX, HTML, RTF, TXT, CSV, ODT
HTML
Output formats
EPS
TXT
XML
All major image formats
Editable formats: DOC(X), XLS(X), PPTX, HTML, RTF, TXT, CSV, ODT
E-book formats: EPUB®, FB2
Where it excels
As mentioned before, Adobe Acrobat DC is made with professionals in mind. There are no tradeoffs in quality and you get every feature at your disposal to create, annotate, sign and fill out your PDFs after scanning your physical documents. However, the average user could find using Acrobat a bit technical. There are better alternatives out there for casual users.
Google Vision or more accurately, Google Cloud's Vision API lets you use OCR tech in images to extract text and symbols with remarkable results. You can simply drag any image here, and get intelligent insights about the information you have captured, all powered by artificial intelligence. Use this to identify products, objects, text and more from an image. This OCR tool is web-only but extremely powerful in what it can do.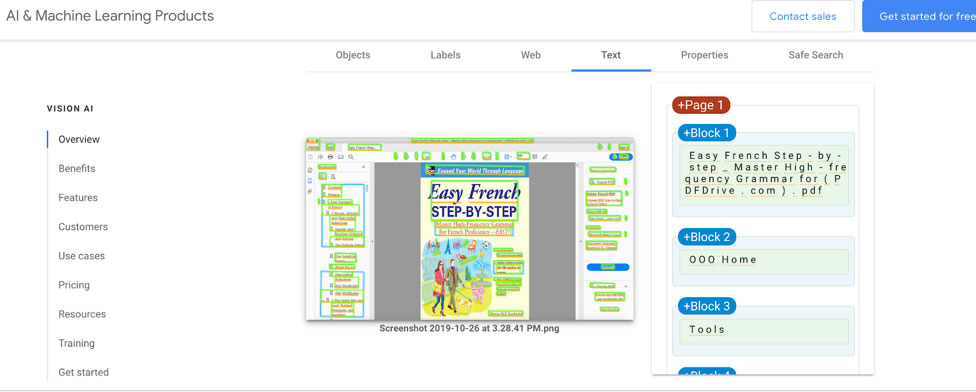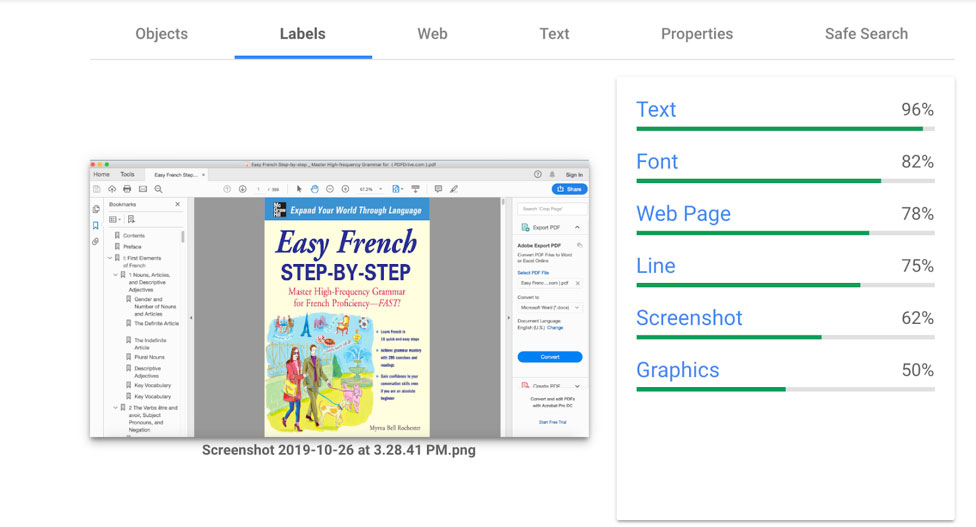 Input formats
All major image formats:
JPEG
PNG8
PNG24
GIF
Animated GIF (first frame only)
BMP
WEBP
RAW
ICO
PDF
TIFF
File size should not exceed 20 MB.
Output formats
This web-only tool generates output files as needed. For example, if a developer is looking to extract text, lines or specific objects from an image, Google Vision API can do it for you.
Any document file.
Any image file.
Database
What it excels at:
This tool is powered by machine learning, and Google has made it friendly for programmers and coders to modify it for whatever needs they want. Developers can create 'actions' to extract the type of content they require from images (be it text only, or more). It can also be used to catalog and classify information as needed.
Soda PDF OCR features a simple drag-and-drop interface for turning any PDF, scanned document or image into a modifiable file.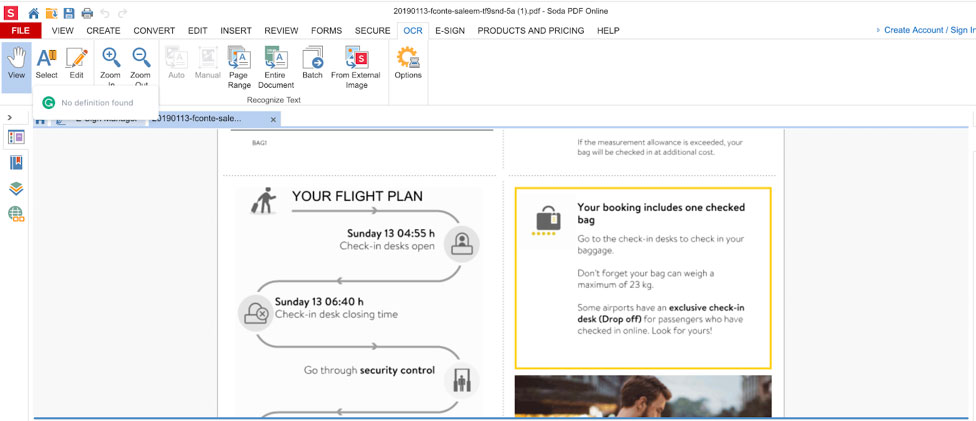 Input Formats
Editable documents: Word, Excel, PowerPoint, Text, HTML
Image files: GIF, JPG, PNG
Output Formats
PDF
HTML
Word, Excel, PowerPoint
Image formats
What it excels at
This online and offline tool may be basic, but we think its simplicity and ease of use will make it a hit with the average Joes and Janes who just need to get the job done. It works on any device, whether Mac, PC or mobile, making it one of the best OCR software all around.
One of the best OCR software out there, PDF Element Pro makes it easy for you to make use of OCR capabilities to create, modify and share files with others in your organization.  Though, keep in mind that the OCR feature is available for paid users only.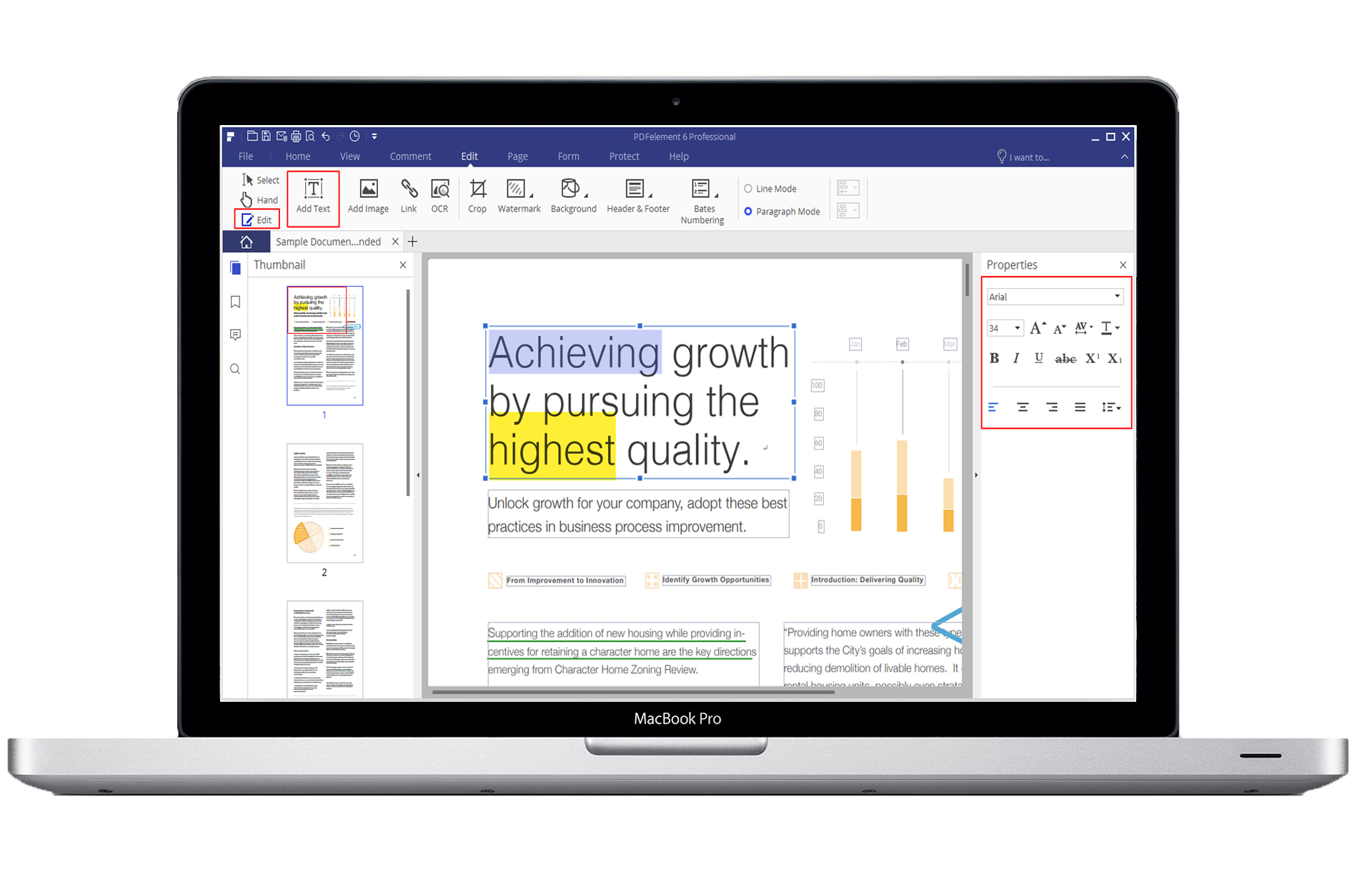 Input formats
PDF
Major image formats
Editable Document formats
HTML
Output formats
Word
Excel
Searchable and editable PDF
PowerPoint (PPT)
Image
Text
Epub
HTML
RTF
What it excels at
If you're looking for a professional OCR software but one that is a lot more affordable than Adobe Acrobat DC, PDF Element Pro fits that bill. It offers all the features that Acrobat does, and is perfect for digitizing your files.
With Smile PDFpen Pro, you can scan physical documents and perform OCR either in single file or batch processing mode. Using this helps you edit text, adjust resolution, color, contrast and more. Once scanned, you can edit text and pictures as you need.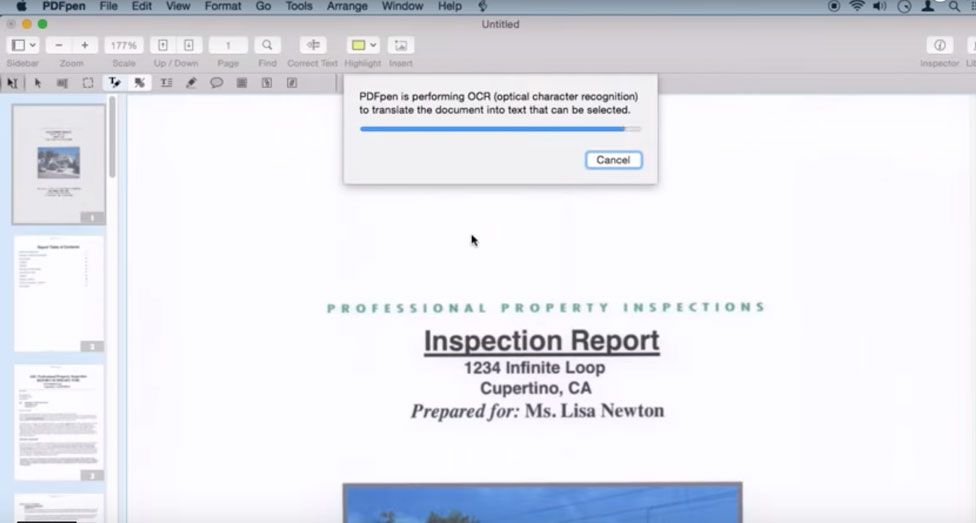 Input formats
HTML
Major file formats
Scanners
Output formats
Editable documents: Word, PowerPoint, Excel
PDF and PDF/A
Portfolio documents
What it excels at
This multipurpose PDF editing tool makes for one of the best OCR software for Mac. You can add text or signatures, upload your files to the cloud. You can even use PDFpen Pro on iPad and iPhone and sync Library items via iCloud.
If you ever wanted to convert your paper documents into a lot of digital formats, that too with a few clicks in between, Canon's Readiris Pro fits the bill. Use its OCR capabilities to convert your physical documents into PDFs.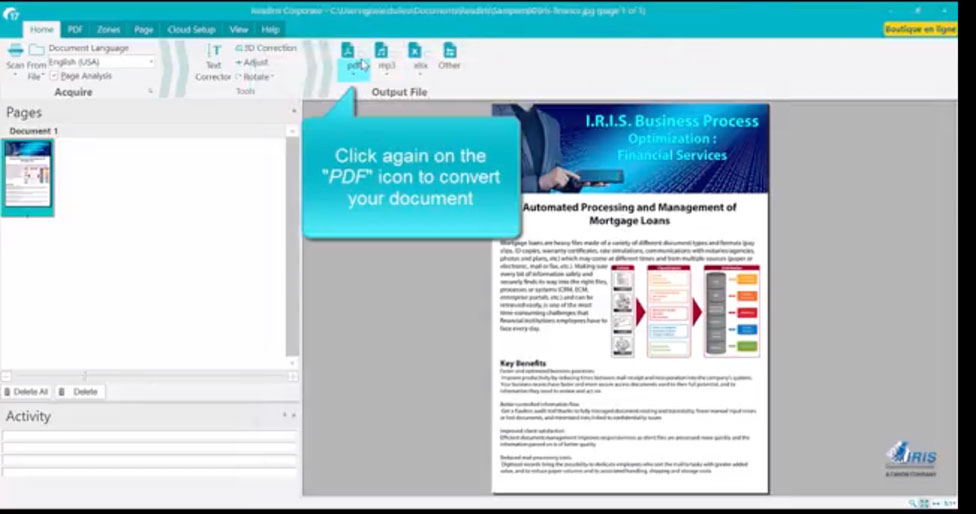 Input Formats
Scanner
Major image formats – JPEG, PNG, GIF
Text
Numbers and Calc files
Output Formats
PDF
Editable documents: Word, Excel, PowerPoint,
Audio book
ePub
TXT
What it excels at
If you're looking for a relatively faster document processing application, Readiris claims that it is 20% faster than other alternatives out there. It is also among the best OCR software for Mac since it comes with support for Numbers and Calc files.
Geared more towards small and medium sized businesses, Nuance Omnipage features an attractive and professional suite of features for your OCR needs.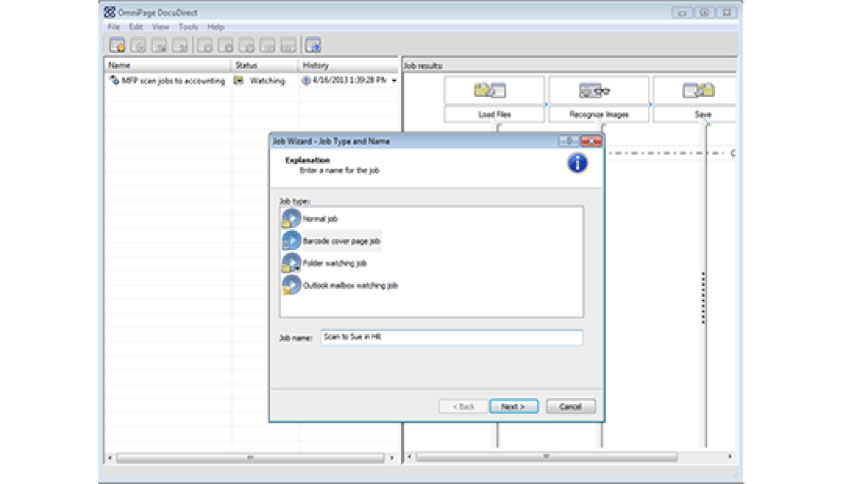 Input formats
PDF, .XPS, .JPG, .TIF, .MAX, and other common image file formats
Output formats
PDF
Editable documents: Microsoft Word, Excel, PowerPoint, Corel WordPerfect, infoPath
HTML
CSV
RTF
ePub
AZW – Amazon Kindle ebook file
Major image formats
What it excels at
Since time savings are a significant factor when it comes to businesses, you will be making use of its recurring conversion jobs. There are also built-in workflows that can help you quickly convert those physical documents into digital and editable ones.
This scanning application is available for Macs, iPads and iPhones in over 40 languages. It is designed for everyone, given its very user-friendly interface.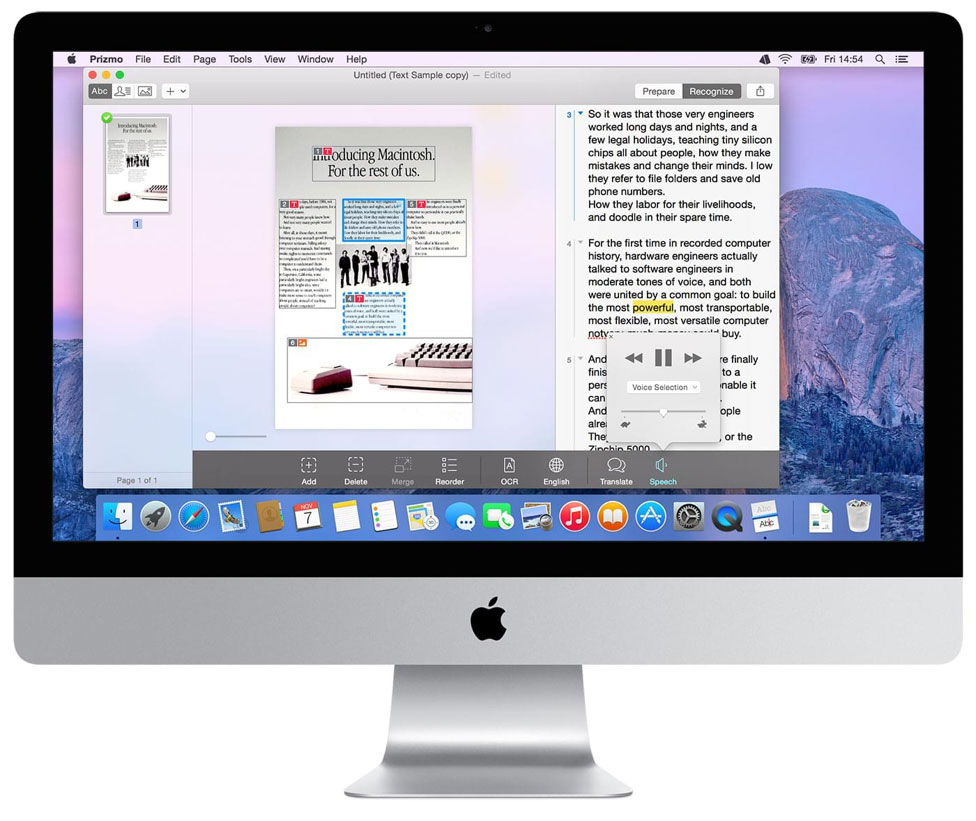 Input Formats
Regular Photo Files including JPEG, RAW, TIFF
PDF Files (even Multipage)
Output formats
Prizmo Documents (.pzdoc)
JPEG, TIFF, PNG
vCards for Business Cards
OCR Results (Multipage Documents Exported as a Single File):
PDF (Text)
PDF (Image + Searchable Text indexable by Spotlight)
RTF
TXT
What it excels at
Usually, OCR apps just capture the information on a physical piece of paper and turn it into machine-readable text/ images. With Prizmo, you can go a little further. With its support for neural network-based translation, Prizmo can translate captured text into 22 other languages. Mac users can also take advantage of its integration with Automator, saving tons of time in the process.
Tesserect is an open-source alternative for all your OCR scanning needs. It is primarily aimed for developers, given its command-line user interface and limited support for image file formats.
Input formats
Any image readable by Leptonica is supported in Tesseract including BMP, PNM, PNG, JFIF, JPEG, and TIFF.
Output formats
Where it excels
Tesseract is free, and it is constantly being developed. If you're looking to turn a few images into digital files and are not too thrilled with the idea of plonking down $ for an application, then Tesseract can get the job done.
Conclusion
There's no one best OCR software to rule them all. We have listed 10 such apps that can make quick work of scanning and digitizing your archives into editable and searchable ones. There are some minor, albeit significant unique selling points for all the apps we have mentioned.
If you want OCR support for mobile devices, there are some apps who do exactly that. If you're looking for the fastest OCR processing app, we've got you covered there too. Or maybe you need a free alternative to a paid one. There is something for everyone here.
Advantages of OCR Technology
Because OCR tech can turn printed documents or even handwritten notes into machine readable text and images, the question becomes – why aren't more people using it already. The biggest advantage to using OCR software is that it can turn legal, historic or hard copy documents into digital versions. These softwares could help you turn it into a PDF, which could then be easily shared or stored. Or you could use a word processing app like MS Word or Google Docs to edit it.
Here are some other advantages to using OCR:
You can automate data entry work, saving countless hours and labor costs as a result.
You can easily deposit your check electronically. There's no need of a bank teller or long queues that one usually faces at banks.
For historians and scholars, archiving information from magazines, newspapers and books is easy. They can also search for specific pieces of information and instantly get it via a digital file.
For search engines, archiving and indexing printed material is possible.
If you teach a class of visually-impaired students, OCR can help you convert text from any book into voice, thus delivering read-out-aloud content.
You can store signed documents in an electronic database.
You can take advantage of translation tools to turn any captured text into other languages.
Not only does using OCR result in significant time savings, you also eliminate the probability of human error with a lot less effort. You can share those files, even zip a bunch of them as required.