For those looking for a reliable photo editor, or considering purchasing Luminar NEO, it's essential to consider what other users have to say about the software. In this article, I will provide an in-depth review of Skylum Luminar NEO, including its main features, advantages, and disadvantages.
What is Luminar Neo?
Luminar NEO Simple Introduction
Luminar NEO is a new artificial intelligence-powered photo editing software from Skylum, a leading photo editing software company. Although it is a new version, it is not intended to replace the previously launched Luminar AI. Instead, Luminar Neo is designed to address some of the challenges that users encounter when using Luminar AI.
The software uses artificial intelligence to streamline the photo editing process, making it faster and more efficient. With one-click operation, the Powerline and Sky Replacement AI tools save time that was once spent on tedious tasks. In addition, users have access to portrait enhancements, relighting AI and numerous presets for easy improvement.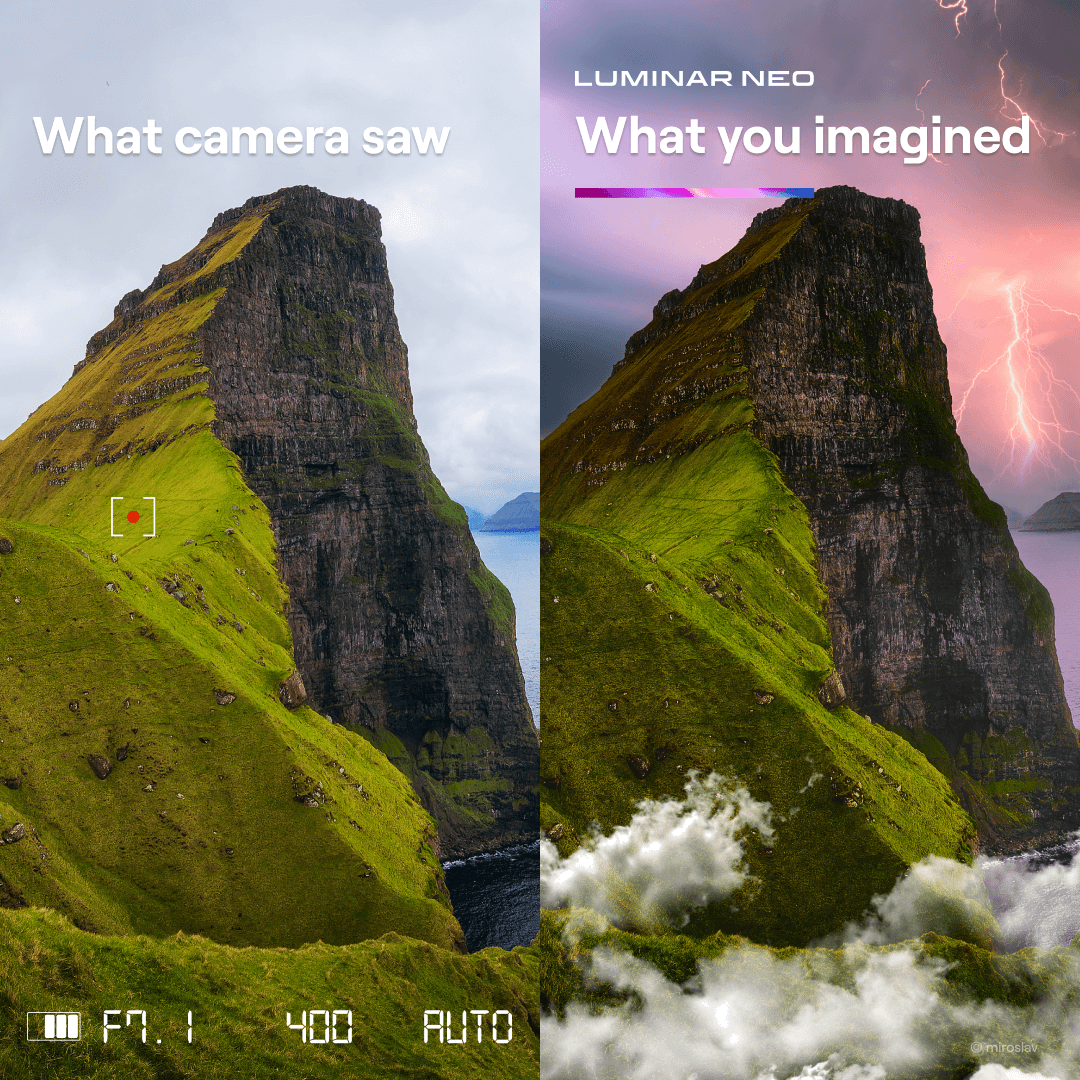 Although Luminar Neo is not yet in its final form, Skylum is constantly updating the software to add new features and tools that set it apart from previous versions of the software. Notably, Luminar Neo introduces layer and mask AI tools that broaden its appeal and move it in a similar direction to Adobe Photoshop.
Previously, users of Luminar AI encountered performance problems. However, the new high-speed core engine introduced in Luminar Neo improves the speed and performance of the software without compromising the AI tools that impressed so many of Luminar AI's users.
Skylum's Luminar Neo software is a promising addition to its photo editing product suite. It brings a new approach to AI-driven editing and enhances the user experience with continuous updates.
Luminar NEO Computer Specs Requirements
Skylum Luminar Neo is a powerful photo editing software that requires specific system requirements to operate correctly. Here are the minimum Mac system requirements needed for Luminar Neo:
Mac Model: MacBook, MacBook Air, MacBook Pro, iMac, iMac Pro, Mac Pro, Mac mini; Early 2010 or newer models.
Processor: Intel® Core™ i5 or better central processing unit (CPU)
Operating System: macOS 10.14.6 (Mojave) or higher
Memory (RAM): 8 GB RAM or more (16+ GB RAM is recommended)
Disk space: A minimum of 10 GB of free space on your hard disk. It is recommended to use an SSD for optimal performance.
Display: A display with a resolution of at least 1280×768 pixels
The minimum specs needed for Luminar Neo on Windows:
Hardware: A Windows-based PC with a mouse or similar input device
Processor: Intel® Core™ i5 or better CPU; AMD Ryzen™ 5 or better
Operating System: Windows 10 version 1909 or higher (only 64-bit OS)
Memory (RAM): 8 GB RAM or more (16+ GB RAM is recommended)
Disk space: At least 10 GB of free space on your hard disk or SSD for optimal performance.
Display: At least 1280×768 pixels or better resolution.
Graphics: Open GL 3.3 or later compatible graphics card
It is crucial to ensure your computer meets these minimum requirements before installing and using Luminar Neo. If your system doesn't meet these requirements, it may cause issues with stability, compatibility, and speed.
It's vital to check the system requirements for any software before installing it on your computer. In this case, it's necessary to ensure that your computer meets the minimum requirements for Skylum Luminar Neo on either a Mac or Windows computer. By ensuring that your system meets the requirements, you can achieve optimal performance while using the software.
Who is Luminar NEO For?
Luminar Neo is a powerful photo editing program that offers a range of AI tools and new overlay features, making it a great choice for both novice and professional photographers. With its sophisticated AI templates and modes, Luminar Neo is perfect for social media content creators who want to turn dull and uninspiring photos into captivating images. Moreover, Luminar Neo's AI tools are advanced enough to cater to high-end photo editing needs, making it a great option for fashion and editorial photographers looking to prepare their images for publication.
One of the most attractive features of Luminar Neo is its AI clean-up tool that can easily remove dust spots and power lines from photos with just a few clicks. This saves photographers time and money by eliminating tedious tasks. While Luminar AI is a great option for photo editing, Neo distinguishes itself by providing advanced creative image manipulation tools that open up new opportunities for photographers and digital artists alike. In addition, Luminar Neo offers mask and layer tools that cater to a broader audience, making it a valuable asset to Skylum's product line.
In my honest assessment, Skylum Luminar Neo is a suitable photo editing software for most photographers. However, there are a few exceptions where it may not be the best fit. If you fall into one of the following categories, I would recommend you not get Luminar Neo.
Firstly, if you have an outdated or slow computer that doesn't meet the minimum system requirements, Luminar Neo may run slowly and lead to a frustrating experience. However, this issue applies to all photo editing software, not just Luminar Neo. In this case, it's recommended to upgrade your computer before attempting any photo editing.
Secondly, if you're a highly experienced Photoshop user who regularly uses advanced tools and techniques like creating composite images or using layers and masks for brightness blending, then Luminar Neo may not offer enough advanced features for your needs.
Lastly, if you prefer to solely focus on photography and don't want to perform any photo editing at all, then Luminar Neo may not be necessary for you. However, if this is the case, you're probably not reading this article in the first place.
Key Features of Luminar NEO Photo Editor
AI-Powered Tools
Luminar Neo's artificial intelligence-driven tools are its outstanding feature. The software includes a range of AI tools that can automatically adjust your photos based on the content of the image. Some examples include AI Sky Enhancer, AI Structure, and AI Skin Enhancer. These tools can save you a lot of time by making quick adjustments to your photos without the need for manual adjustments.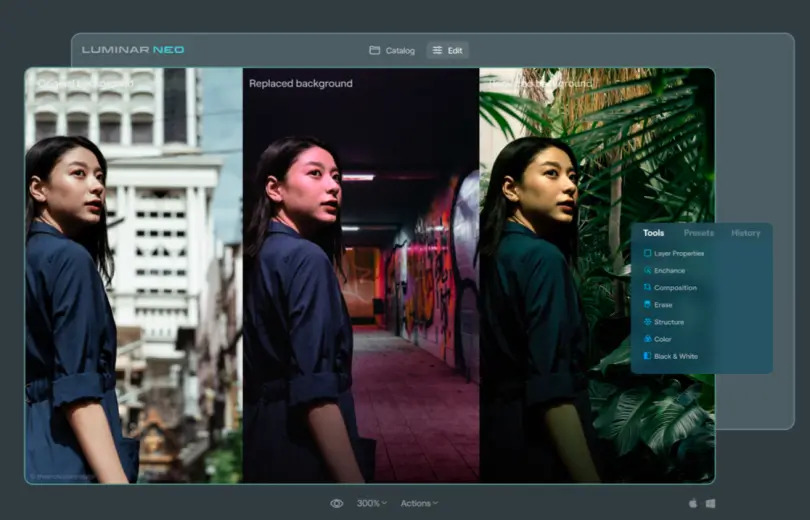 The AI Structure tool is one of the most impressive AI tools in Luminar Neo. It analyzes the content of your photo and applies adjustments to enhance the details and textures. It can also remove noise and smooth out harsh lines in your photo. The AI Accent tool is another useful tool that automatically adjusts the exposure, contrast, saturation, and other settings to improve your photo's overall look.
Sky Replacement
Luminar NEO makes it easy to replace skies in your photos with just a few clicks. It includes a range of sky presets, as well as tools for adjusting the color, lighting, and other settings of your new sky.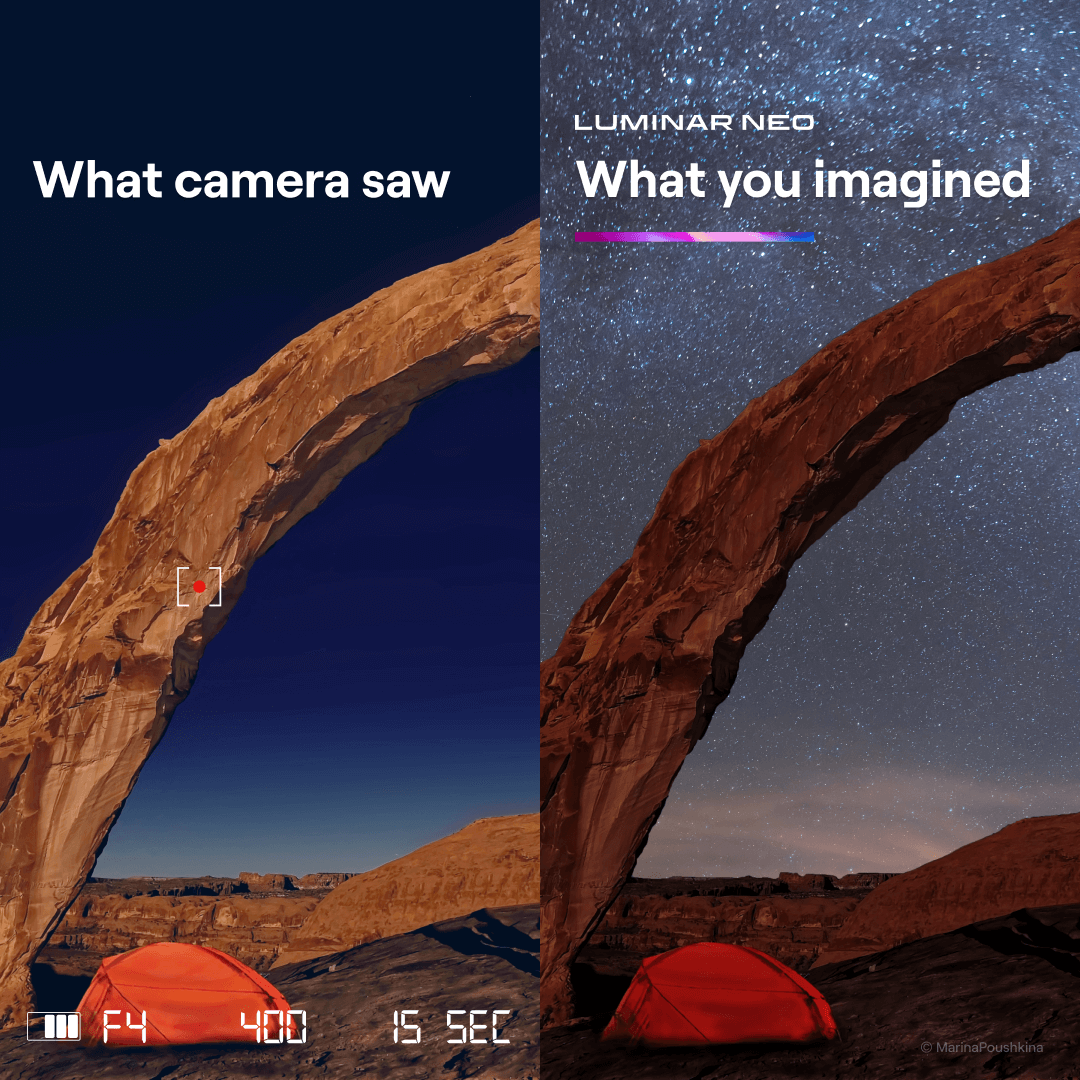 Layers and Masks
Luminar Neo's layering feature is another powerful tool. You can use layers and masks to create complex photo compositions. You can add multiple adjustments to a single photo by stacking layers on top of each other. Each layer can have its own settings, and you can add and edit multiple layers, adjust opacity and blend modes, and use masks to selectively apply edits to specific parts of a photo.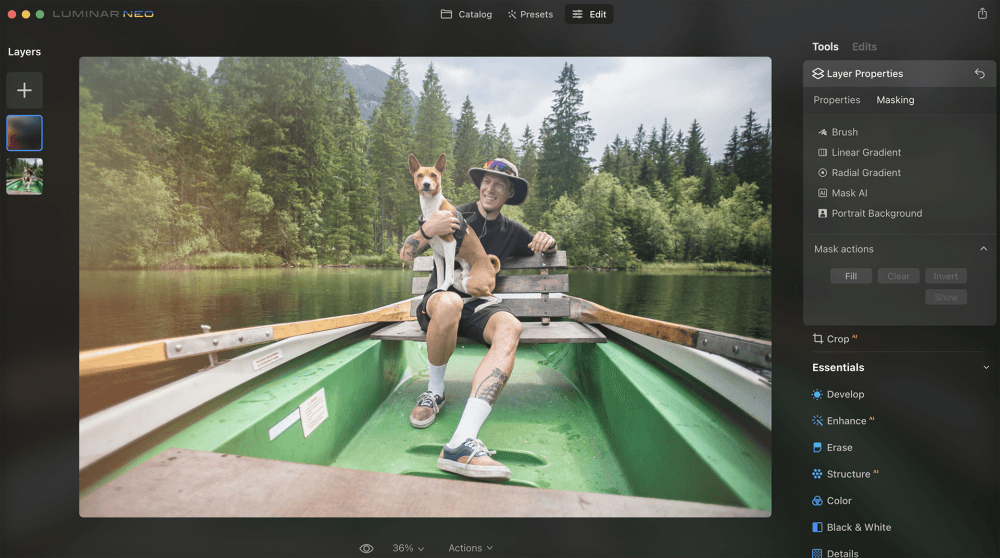 Creative Tools
Luminar NEO includes a range of creative tools that let you add unique effects and styles to your photos. These tools include Film Grain, Sunrays, Texture Overlay, and Creative Bokeh, among others, that can be applied to images to add an artistic touch.
With Luminar NEO, users can easily adjust the color balance, saturation, and hue of their images. The program also includes a range of color grading tools to help create unique looks.
Non-Destructive Editing
Luminar NEO uses a non-destructive editing workflow, which means that you can make changes to your photos without overwriting the original file. You can always go back and undo your edits or adjust them later.
Customizable Workspace
Luminar NEO's interface is highly customizable, so you can set up your workspace to suit your needs. You can create your own workspace layouts, adjust the size and position of panels, and even customize keyboard shortcuts.
Batch Processing
Luminar NEO includes batch processing capabilities, so you can apply edits to multiple photos at once. You can create custom presets and apply them to batches of photos, which can save you a lot of time when working with large numbers of images, and streamlining the workflow.
Integration with other software
Luminar NEO can be used as a plugin for popular photo editing software such as Adobe Photoshop and Lightroom, as well as Apple Photos.
Performance
Skylum Luminar Neo is a feature-rich photo editing software that runs relatively fast and smoothly, even with large files. The software is well-optimized and doesn't slow down, even when using resource-intensive features.
In my personal experience, working with Luminar Neo on my computer has been a hassle-free experience. I haven't experienced any significant lag or slowdowns, even when performing complex photo edits. This is impressive, considering the numerous features and effects available in the software.
Moreover, Luminar Neo's stability is noteworthy. It's relatively stable and hasn't crashed during my usage, which speaks to the software's robust design and development.
Skylum Luminar NEO Price
If you're considering purchasing Skylum Luminar Neo, one of the first things you'll want to know is how much it costs. Luminar Neo offers two pricing options: a yearly subscription plan for $59 or lifetime access for $79.
The primary difference between the subscription and lifetime access is that the subscription gives you all future upgrades and add-ons, while the lifetime purchase only includes performance, stability, and Mask AI updates. If you plan to use Luminar Neo on multiple computers, there are options to buy two seats of the software. For two seats, the subscription plan starts at $79 per year, while lifetime access costs $99.
Here's a breakdown of the two pricing models:
Yearly Subscription (Starting at $59/year):
All future updates and add-ons
Designed workflow for creative photo editing
Unique AI tools to simplify repetitive tasks
Built-in library of Textures & Overlays
30-day money-back guarantee
24/7 technical support
Lifetime Purchase (Starting at $79):
Performance and stability updates
Designed workflow for creative photo editing
Built-in library of Textures & Overlays
Unique AI tools to simplify repetitive tasks
Lifetime license
30-day money-back guarantee
24/7 technical support
Update with AI Masking and Portrait Background Removal
It's important to note that both the subscription and the lifetime purchase offer similar features, making it a matter of personal preference and budget when deciding between the two. Regardless of which option you choose, Luminar Neo offers an accessible and versatile photo editing software that can help take your photography to the next level.
Skylum Luminar NEO Free Trial
If you're interested in trying Luminar Neo but aren't ready to commit to a purchase just yet, you're in luck. Skylum offers a 7-day free trial of the software so that you can test it out and see if it's the right fit for you.
To start your free trial, simply click on the following Skylum Luminar Free Trial link. Once you've downloaded the software, you'll have access to all the features and tools available in Luminar Neo for 7 days.
During this time, I encourage you to experiment with the various editing features and see how they can enhance your photos. Get familiar with the intuitive workflow and unique AI tools that can simplify repetitive tasks and save you time.
By the end of the trial period, you should have a good idea of whether Luminar Neo is worth the investment. If you decide to purchase a subscription or lifetime access, remember to use my Luminar NEO discount code MACLIBSNEO (*affiliate link) to save money at checkout.
I hope you enjoy testing out Luminar Neo during your free trial and discovering new ways to elevate your photo editing skills. Happy editing!
Conclusion
Overall, I rate Luminar Neo 4 out of 5 stars. While there are a few minor issues that I've encountered, the software is incredibly powerful and versatile, making it an excellent addition to any photographer's toolkit. I'm excited to see what Skylum does with it in the future and plan to continue using it for the foreseeable future.
Skylum Luminar Neo is an exceptional photo editing software that provides reliable and efficient performance. It's an excellent choice for photographers and photo editors who want a seamless editing experience without compromising quality.
The AI-powered tools and new editing features in Luminar Neo are impressive and offer great value to its users. It's a powerful software that simplifies the editing process for even the most complex tasks, making it a worthy competitor to Photoshop.
In my opinion, Luminar Neo is particularly suitable for serious photographers and photo editors. Its advanced features and capabilities make it a valuable asset in its workflow. Moreover, the fast speeds, stability, and optimized performance ensure that users can achieve their desired results quickly and efficiently.
It's exciting to see Skylum expand its product line with Luminar Neo, which offers a unique and innovative addition to the world of photo editing software. Overall, Skylum Luminar Neo is an outstanding software that delivers exceptional performance and is a valuable tool for any photo editing enthusiast.
If you already own Luminar Neo and have used it yourself, I'd love to hear from you! Please feel free to share your thoughts and ratings in the comments section below. Thank you again for reading and considering Luminar Neo for your photo editing needs.