Update: Now Skylum Luminar offers Time-Limited discount sale for Macapplibs readers, you can get Luminar AI 1 seat at only $37 with coupon code "MACLIBS" applied – ONLY this link valid: [https://skylum.evyy.net/rnDm65], and you can pre-order Luminar Neo at $65, If you pre-order bundle with Aurora HDR, you can use promo code "MACLIBS" to get an extra discount on Luminar Neo bundle.
Luminar AI discount promo code
New users can get the latest Luminar AI at the following prices after applying the promo code "MACLIBS":
•1 seat for $69   ($79)
•2 seats for $89 ($99)
Luminar AI Plus Bundle: Luminar AI 1 seat + Luminar X Membership $128 ($138)
Luminar AI Max bundle: Luminar AI 1 seat + Aurora HDR + Power of Nature skies pack + Burst of Drama skies pack $192 ($202)
Great news! Skylum has ​given MacAppLibs readers an exclusive Luminar AI and Luminar 4 coupon code: MACLIBS, to save some money on their popular photo editing software Luminar AI and Luminar 4.
Luminar Neo Pre-order discount code
On Sept. 6, Skylum announced Luminar NEO, which builds on the company's well-known and unique AI editing technology. According to the company, Luminar NEO further redefines the image editing experience, enabling creators to express more with fewer boundaries and rediscover the joy in their creative work.
From September 9 to September 19, the Luminar Neo will be available at an early bird discount. The discount is valid for the first 30,000 customers.
Current Luminar and Aurora customers will receive a $20 discount.
𝗡𝗲𝘄 𝗨𝘀𝗲𝗿𝘀:
𝗘𝘅𝗶𝘀𝘁𝗶𝗻𝗴 𝗟𝘂𝗺𝗶𝗻𝗮𝗿 & 𝗔𝘂𝗿𝗼𝗿𝗮 𝗛𝗗𝗥 𝘂𝘀𝗲𝗿𝘀:
𝗣𝗹𝗲𝗮𝘀𝗲 𝗻𝗼𝘁𝗲: if you buy the big bundle of Luminar AI, Luminar NEO and Aurora HDR, then you can use 𝗽𝗿𝗼𝗺𝗼 𝗰𝗼𝗱𝗲 "𝗠𝗔𝗖𝗟𝗜𝗕𝗦" 𝘁𝗼 𝗴𝗲𝘁 𝗮𝗻 𝗲𝘅𝘁𝗿𝗮 $𝟭𝟬 discount 𝗼𝗳𝗳.
Every purchase comes with a 30-day money-back guarantee.
Luminar AI & Luminar 4 Brief Introduction
Luminar AI is the easiest AI photo editor yet alternative of other photo editors. It is easy to use and as good as photoshop with all the bells and whistles attached to for a one-time fee.
With Luminar AI, everyone can produce stunning images faster. Luminar AI is an image editing software designed for bloggers, amateur photographers, and professional editors. Luminar AI uses artificial intelligence technology to streamline the editing experience. Luminar AI automates common manual tasks and reduces the complexity of the editing process to help users tell their stories as simply and powerfully as possible. By pre-ordering Luminar AI – which will be released on December 15, 2020 – you'll also get access to the exclusive AI Insiders community.
Luminar AI empowers visual communicators to create great photos with unique AI.
​Luminar 4 is an image processing app with a bunch of innovative AI features. Skylum said Luminar 4 will be the first photo editor to have a full sky replacement technology. The new features include AI Sky Enhancer, AI Sky Replacement analyzes and detects the sky in your photographs. With Luminar 4 AI Sky replacement technology, you can select from a multitude of sky replacement looks for your image. What's important, to replace Sky, Luminar 4 works consistently, and on nearly all your photos you have in your library.
​With this Luminar AI promotional code, and Luminar 4 coupon code, you'll be able to save $10 on Luminar AI, Luminar 4, which will be one of the most competitively AI image editing softwares.
Skylum Luminar 4.3 for only $57 with coupon code "MACLIBS". 
That is, you can get:
Luminar 4 License for 1 computer = $57 
Luminar 4 + B&W Classic looks / EyeEm Creators looks =$64.5
Luminar 4 + Aurora HDR + Andrei Oprinca's LUTs Collection =$130.49
Luminar 4 + Aurora HDR + All looks and collections =$179.48
Use coupon code "MACLIBS" will give an additional 10 USD OFF.
And the coupon code "MACLIBS" also will give you an additional $10 OFF for Luminar X, Aurora HDR, and AirMagic.
​How to Claim Your Luminar AI Promo Code and Luminar 4 discount.
​Step 1
Click here to be taken to the Luminar AI Checkout​
Step 2
Click the blue 'Enter Promotional Code' text.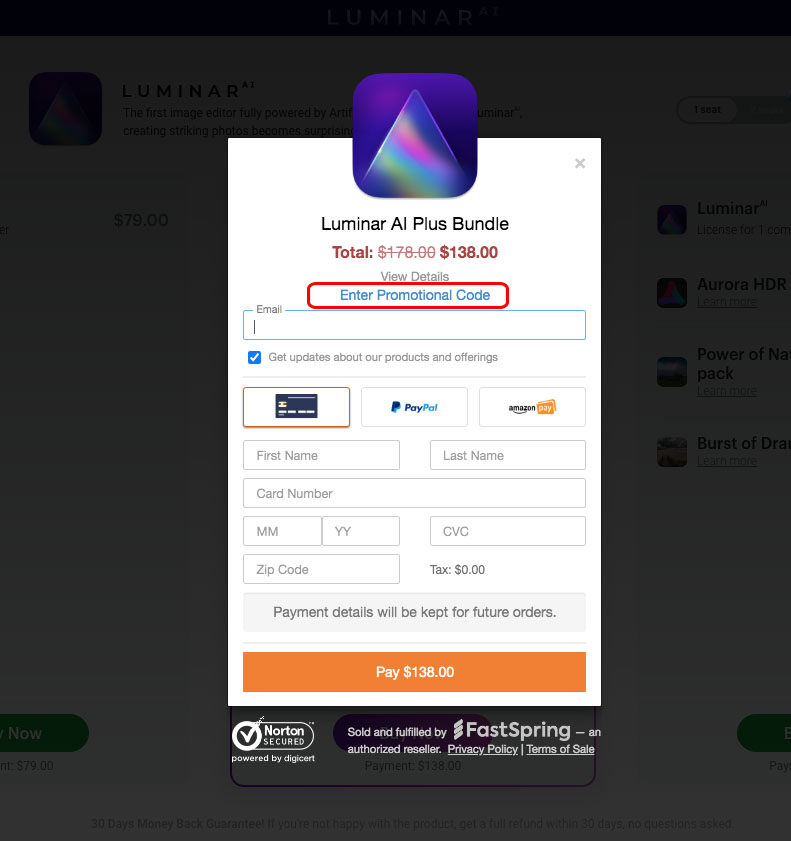 Step 3​
Enter promo code MACLIBS and ​click 'Apply' ​to save $10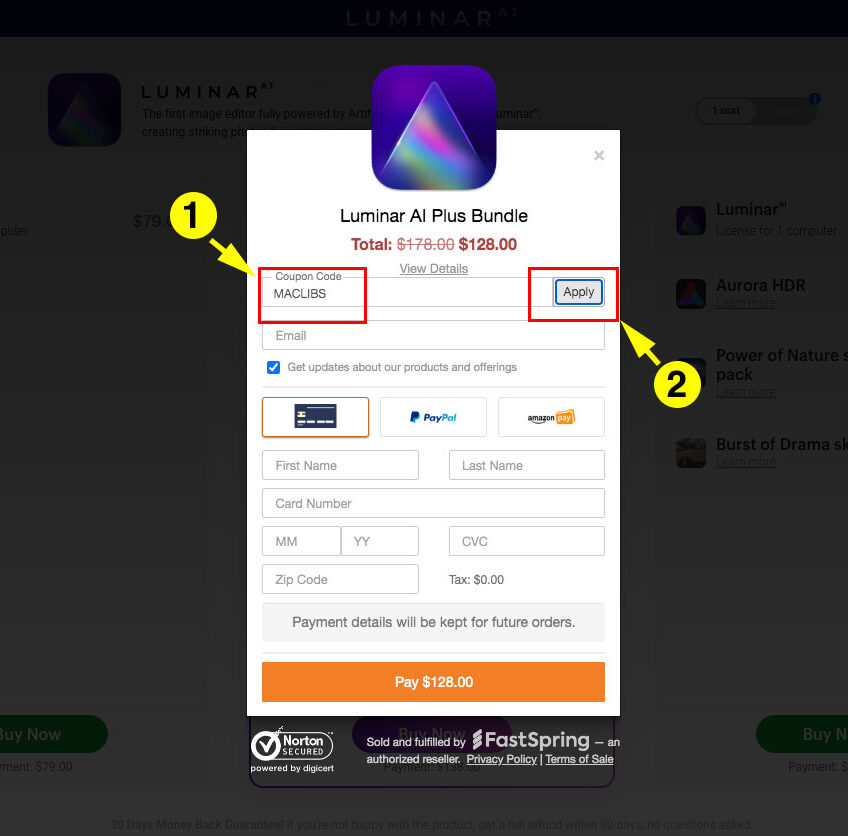 To apply the coupon code "MACLIBS" for Luminar X, Aurora HDR, and AirMagic, it's the same steps as above, go to the checkout page,  paste the code and apply, you'll get the extra $10 OFF.
Other Skylum Luminar AI promo & Aurora HDR discount
I also found another Luminar AI coupon code "MCKINNON15" from YouTuber Peter McKinnon, which can save $15 (or €15) when you check out Luminar AI(only valid for Luminar AI). Get the great photo editor Luminar AI from skylum now: https://macapplibs.com/recommends/luminar-ai/
Besides, I also found a special discount for Luminar AI: right now you can get the Skylum Luminar AI photo editing program for only $59 (€59), or get two licenses for $69 (€69), this special discount is a special offer for focusonline & Chip. (100% valid, checked Aug. 01, 2021), you can get here:  https://bit.ly/LuminarAIfocusonlinedeal
Besides, I also found a special discount for Luminar AI and Aurora HDR, which is only for fans of photographer Jim Nix, you can get a special discount through this special link: https://skylum.evyy.net/omEG9
you can get:
Luminar AI + Aurora HDR for $99!!
get Aurora HDR for $30!
Luminar AI only $69
And with coupon code "MACLIBS" also will get an additional 10 USD OFF.
Checked the discout still valid. I think this is a bug within skylum, but someone did confirm that this is working at the moment and has received a registration code from Skylum.
The standard version means it is the product itself and not bundled with other things like skies, presets, etc.  that price is to purchase it outright, you own the software.
Don't miss this great sale on Luminar AI!
Luminar  AI  Student Discount
Luminar AI also offers student discount, if you are Qualified students, you can receive a 50% discount on all software to get access to Luminar outside the classroom to keep learning at home. Just get contact with Skylum support to get the discount.
For students and teachers using Luminar in the classroom, Skylum promises that you can use Luminar in the classroom for free, meaning that qualified schools and educational programs can use Luminar in the classroom completely free of charge for students ages 13 and up. you can learn the details here: https://skylum.com/schools
How to qualify for an educational or military discount?
Email contact Skylum support team a picture of any document that verifies your affiliation with the military or education institution and Skylum will reply with your special discount offer and purchase instructions.
Luminar Upgrade Discount
If you already own any other Skylum software product, the loyalty pricing is $10 off, the Luminar coupon code "MACLIBS" is still valid for the upgrade, and that's another $10 off.
All discounts mentioned above are valid and were checked manually on August 1, 2021!
User Reviews on Luminar AI Photo Editor
"Luminar AI is a great tool for me. I am an advanced hobbyist, but found I was spending too much time editing my photographs. So I neglected a lot because I didn't have enough time. With Luminar AI, I save a lot of time with extraordinary results compared to the little time spent on each photo. In addition, with the advanced tools and the masks, we can refine the results very well by spending more time there if I want to. This program is not a toy and it can be used in different ways with always interesting results, and that's what makes it so interesting. Nice job Skylum, thank you and I absolutely do not regret my money." — Thor Donar on YouTube
"Just downloaded my Luminar AI 4 hours ago. OMG! It is even better than I expected. It integrates well with Mac Photos as a plug-in and the speed of editing, using templates followed by edit controls, I find very impressive. It has the familiarity of Luminar 4 which is great for me, but then takes it to the next level. Well done Skylum!" — Malcolm Clark on YouTube
"I support Luminar because I'm tired of Adobe having the monopoly in editing software. Luminar software is also legit good and fun to use." — The Rice King on YouTube
"Excellent photo editor since I used it for the first time, I loved it very easy to use and is very intuitive with its artificial intelligence, very recommended! I love your software thanks team SKYLUM" — A V STUDIO MIX on YouTube
"I had already Luminar 4 and I purchased now Luminar AI, of course there are differences but 90% of the editing you can do with Luminar 4 which is a great program. Luminar AI is not needed if you have Luminar 4. You can save your money. Even the skies are the same, and Bokeh AI is missing which was promised from the very beginning." — MrPetervdk
Disclaimer: The recommendations are impartial and based on testing experience, with no bias to the products or the brand. The products in this article may contain affiliate links.