Update: Now AirMagic has merged with Luminar AI, there may be some changes to its features and price. And recently Skylum announced the latest photo editing software – Luminar Neo, please visit the official Skylum page for more information.
Summary: This is a complete review of Skylum AirMagic, we tested and tried Skylum AirMagic to see how well it performs on drone photo editing, and you can find the good points and the bad ones of it.
The invention of drones made it possible to capture stunning images of buildings, cities, landscapes, and oceans from an aerial view. Capturing an aerial image using drones is half of the work – bringing that image to life with spectacular colors and effects is the most important part which can only be done when using a powerful editing app. There are hundreds of apps and programs offering all kinds of image manipulation capabilities, however, there are very few that offer a focused-approach to image manipulation. One of these powerful apps is the Skylum AirMagic App (a product of Skylum formerly Macphun) designed with one objective – to enhance aerial images shot from drones.
If you just want a program that can edit photos professionally and make photos more beautiful in mins, you may try Skylum Luminar 3.
What is the Skylum AirMagic App?
The Skylum AirMagic App is both a standalone app and a plugin that can be used with popular image editing programs as LightRoom or Photoshop. The sole purpose of the app is to enhance aerial view images using A.I to determine where and what should be edited/manipulated to give you the perfect image. Photographers and image editors only need to drag an image into the app and let the A.I perform tasks such as controlling/removing haze, adjusting contrast, sharpness, saturation, and chromatic aberration. These specific features help photographers address common issues such as haze and contrast problems in aerial captures. They don't have to invest hours in getting the right effect via Lightroom or Photoshop when the app does it much better in a matter of seconds.
Features and Specs of Skylum AirMagic
1. Plugin and Standalone App: One of the most important features of this app is, of course, its ability to be both a plugin and a standalone app for Mac and Windows. As a plugin, you can use it with Apple Photo Extensions, Adobe Photoshop and Adobe Lightroom. Available for $39 the license(use coupon MACLIBS will get 20% off) be used on up to two computers.
2. Easy to Use: A simple program, the app is easy to install and use. As soon as you're done installing, you start right away by dragging an image into the app. Images need to be at least 800 x 600 px in size for the app to work. There is support for all kinds of RAW, DNG, JPEG, TIFF and PNG images.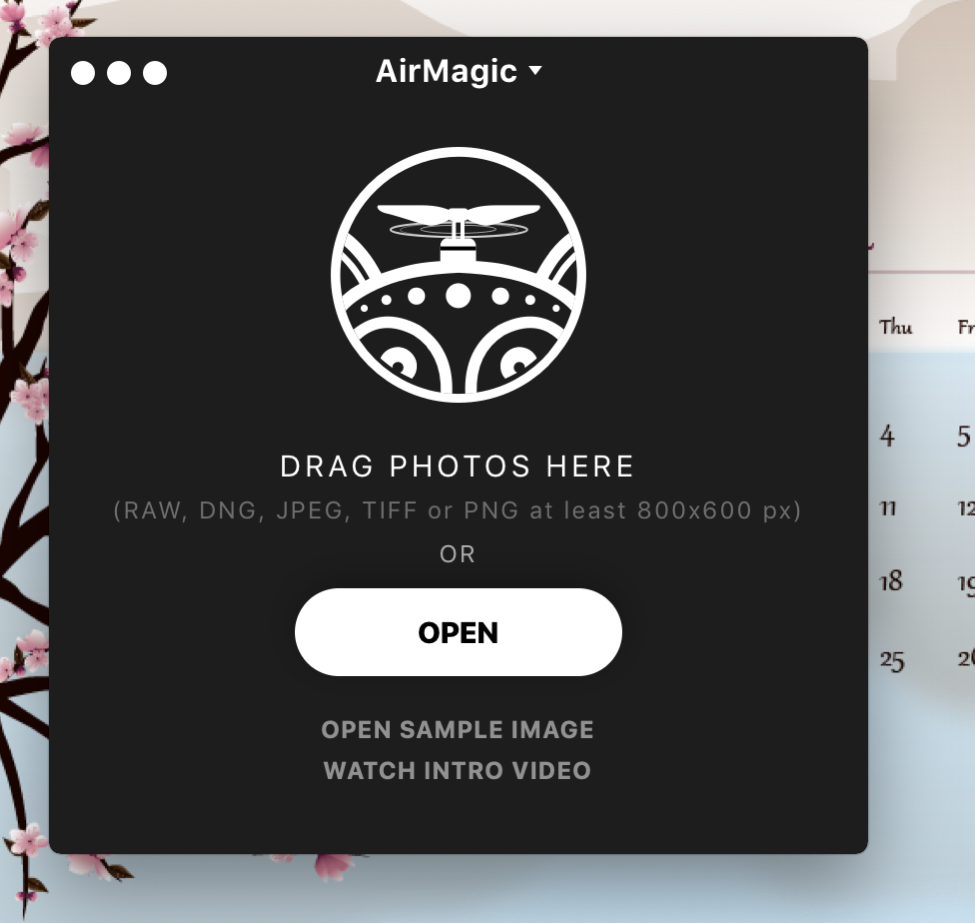 3. Automated Detection: As soon as you open an image, the A.I will detect the quality of your picture and the problems it may have. The app automatically adjusts the settings based on controls like haze adjustment, contrast, sharpness. Primarily though, it adjusts three major areas of image correction:
– Haze Removal: Haze is a common problem with drone photos and can potentially hide important details while also making your photo look dull and misty. The A.I automatically adjusts or removes excessive haze from the photo giving you a clear view.
– Reveals Details: The app reveals details of the photos in a subtle way without adding any excessive noise or startling colors to the image.
– Boost Colors: Drone images are usually dull and colors are not clearly visible until you edit them. The app automatically detects color correction issues and boosts colors while still retaining the natural look of your photograph.
Here's how the A.I adjusted the image. It should be noted that this image is not a RAW file and the effects may not be drastically obvious, nevertheless, there is a significant difference in the before and after images with more vibrant colors visible.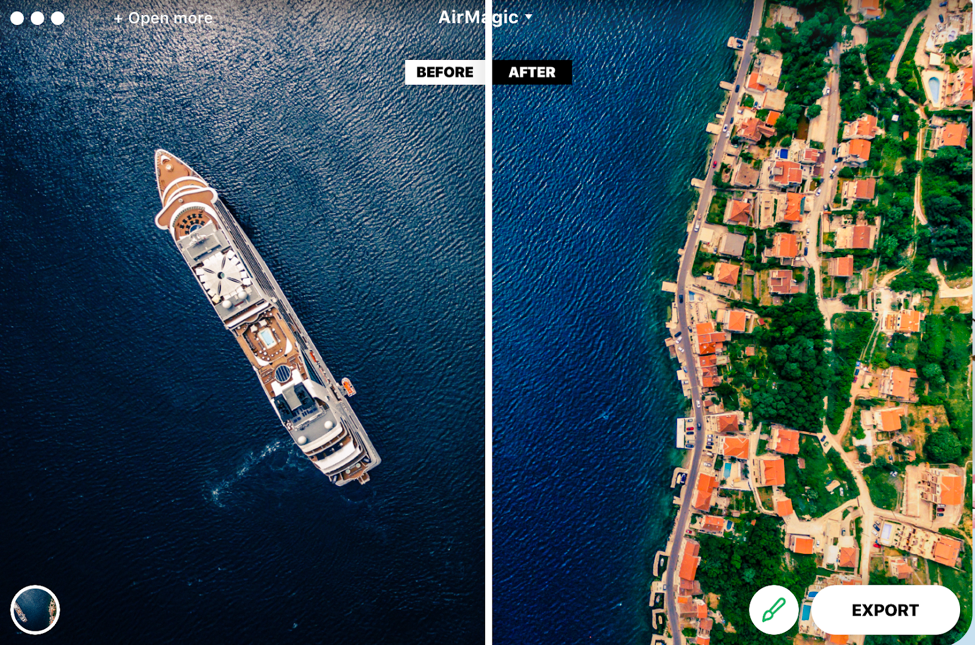 4. Multiple Styles to Choose From
There are by default six styles to choose from. The styles act like filters and are applied after the A.I analyzes the images based on the same specific features of haze, skies, contrast etc. The images can be modified additionally based on the style you choose. You can purchase more styles from the AirMagic marketplace with each new style costing $12.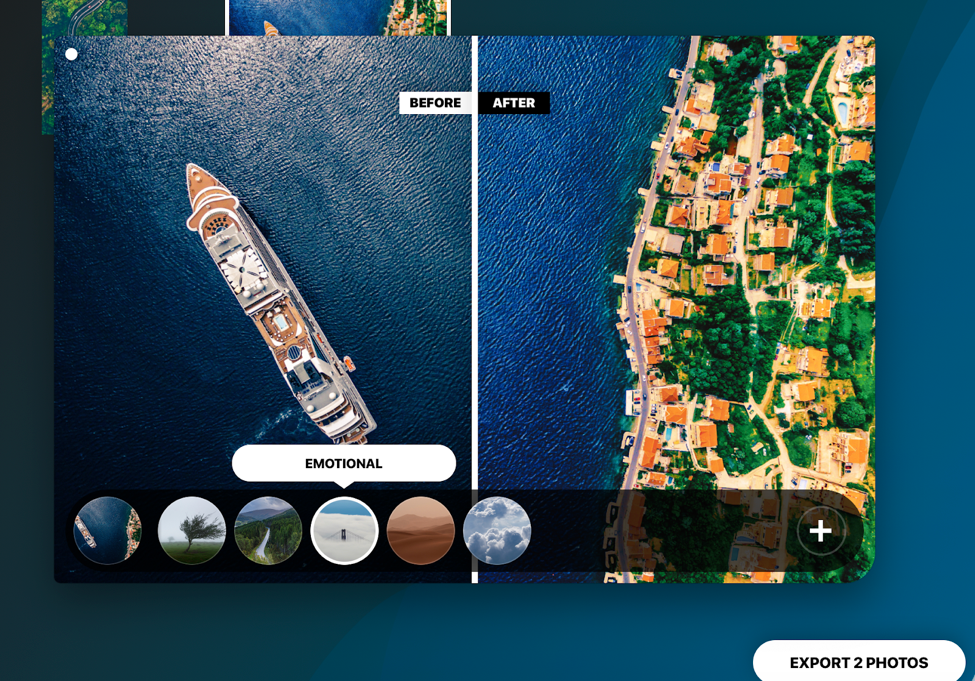 5. One Tool to Adjust Intensity: You're given a single tool to adjust the intensity of the picture. You can make it darker or lighter by dragging the tool. Other than this tool, there is no other tool to do any other manual adjustments on the image so if you're expecting the app to have any other tool, you may be in for a disappointment. The fact is though, the app is created simply to adjust aerial images based on a few critical aspects, which it does. But if you're picky and want to have control over these aspects, the app is not what you may need.
6. Export: With the export option, you can directly export your image to email, disk and any other photo editing app which is integrated with the plugin.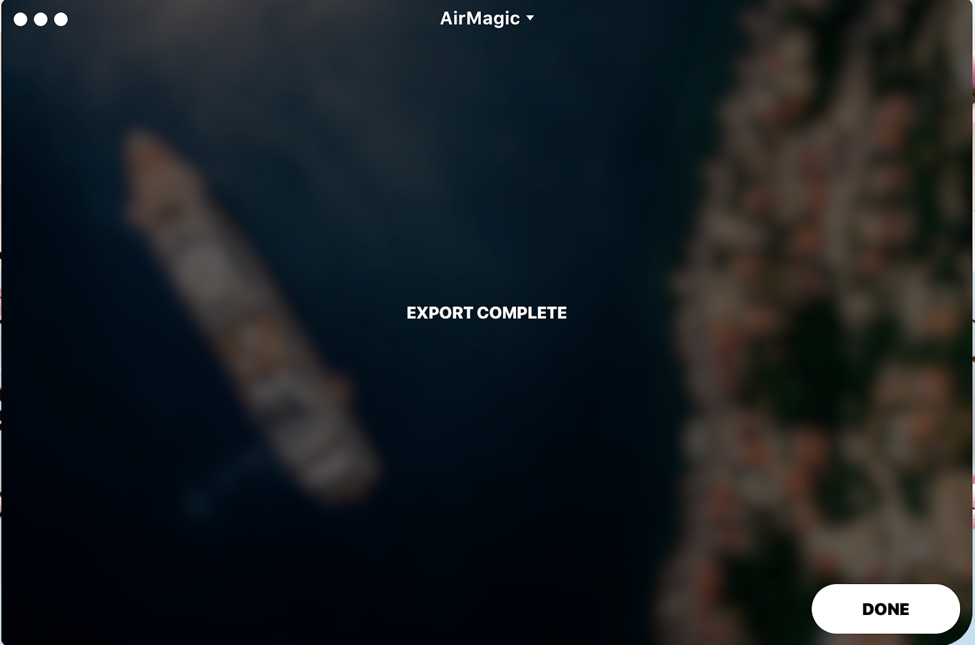 Once done, you can choose to update any other image you want by simply selecting the Open More Image option.
The Good:
The Skylum AirMagic App works with one single purpose – to enhance aerial images and reduce/remove any kind of haze or contrast issues affecting the image. You would generally have to perform these enhancements using LightRoom or Photoshop and painstakingly get every aspect accurate to get desired results. With the AirMagic app, all it takes is a single drag and drop and within seconds your image is enhanced. Other than the automated enhancements, the app also allows you to select multiple images and have them all enhanced at once saving you time and effort.
The Bad:
Although the sole purpose is to get the A.I to do all the work, this app may not be beneficial for professionals who want to have complete control over their images. You could use this as an additional plugin into your preferred software interface, but as a standalone, it might not be of much use.
Conclusion
AirMagic app can enhance a batch of your aerial images within clicks, according to David Cardinal, "it definitely does a better job "out of the box" than my generic Photoshop Camera Raw defaults — which of course isn't at all surprising. And AirMagic is good at dealing with some of the fancier customization, like time-of-day lighting, and specialized processing of sky and foliage." As an automated AI drone photo editing software, Skylum AirMagic could be a nice timesaver for drone photographers. Now, it's available at $39 for use on two machines, you can use coupon "MACLIBS" to get 20% off. Read this guide to learn how to apply the promo code step by step.
Skylum AirMagic
$31.2 with coupon "MACLIBS"