Summary: This essay is a review of PDF Expert, we will discuss what it can do on editing PDF files, comparison to Adobe Acrobat, reviews from medias and users, pros and cons, read on and find out if it is the right PDF editor you are looking for.
You've probably faced this situation multiple times – trying to edit, sign or work on a PDF document only to be miserably frustrated with the lack of support and options for PDF editing. The only mighty software that does it is the Adobe Acrobat but at a price tag of $450, it is definitely out of consideration. Don't worry though! Luckily, for people who have extensive work with PDFs (contracts, forms, letters etc) you can now work on a program called PDF Expert which is cheaper (only cost $79.99) and offers almost all the options you ever needed from Adobe Acrobat.
What is PDF Expert
PDF Expert is a PDF editor developed by Readdle, which is designed exclusively for the Apple ecosystem, meaning you can use it on your Mac, iPhone and iPad. It is the most popular PDF editing system, providing a range of tools to perform annotation tasks, highlight important text, add elements such as shapes and text, create signatures and do a whole host of other tasks . The interface is easy to use and intuitive, giving you the ability to do a lot without going crazy. Once you're done editing, you can send the file directly to an email address without having to attach it as a file.
PDF Expert for Windows
According to Readdle, the developer of PDF Expert, at the moment, PDF Expert is not available for Windows. And they do not have any plans to develop a Windows version of the app yet. So, if you want to get an alternative of PDF Expert for Windows, I would suggest you try PDFelement, which is a great PDF editor built-in OCR technology, can edit existing PDF text and offers many other features in editing PDF document.
Free to Download
The program offers a free trial, was super easy to download and install from the official website with a Zip file of just 524Kb. Unzip and you have the PDF Installer that literally took just seconds to get started. You can skip through the introduction to get straight to editing your document. And if you are satisfied with the trial version, you can get the full version at$79.99.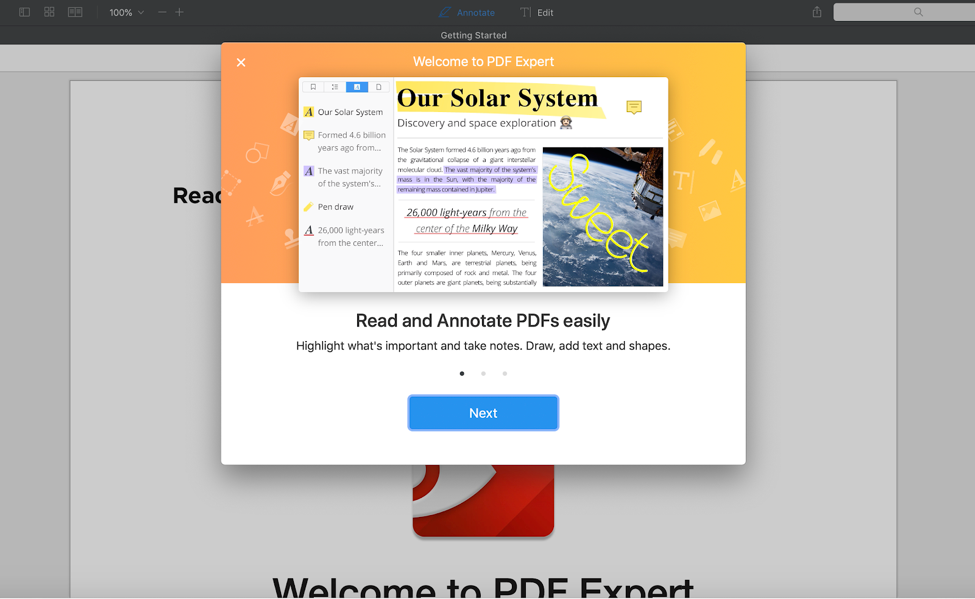 Easy download and install PDF Expert
What PDF Expert Can Do for You
There are six major options to choose – edit, read, annotate, merge files, sign contracts and fill out forms. Let's take a look at these major options.
Edit PDF
You can edit, text, links and even images in the file. If you've worked on a PDF document before, you'd probably know it's super difficult to actually change the size of your images. The PDF Expert allows you to add, crop and resize an existing image. You can even insert an image and resize it within the program itself. In the 'FREE' version though, you can only edit what is currently available. You can add images, but you cannot have it automatically aligned to an empty space. You would need to create an empty space to fit the image.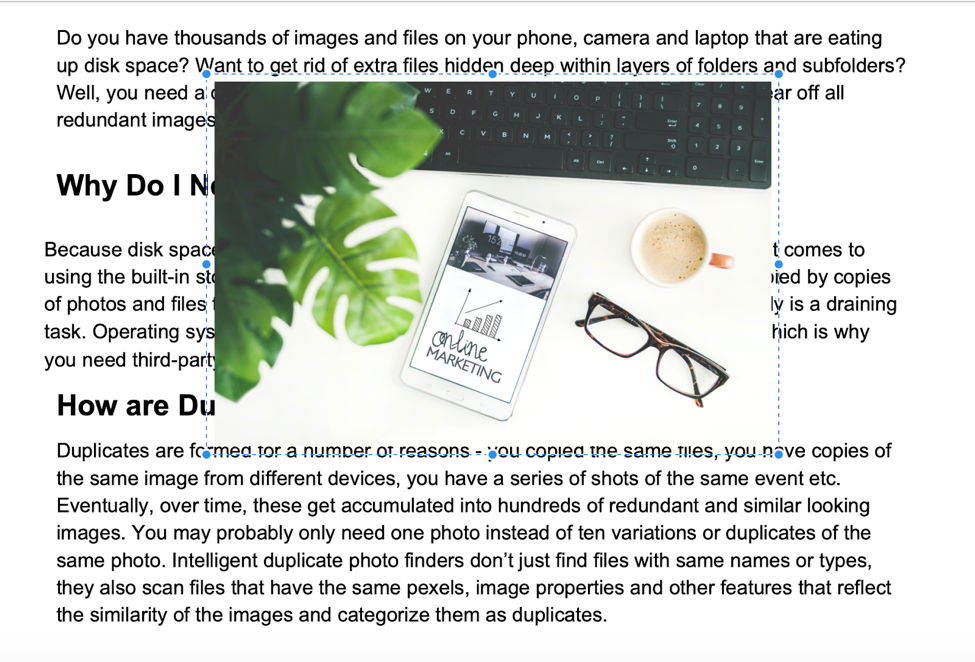 Learn how to edit PDF with PDF Expert step by step from this video:
Read PDF
If you want to read PDFs, you can set PDF Expert as your default viewer which will open any PDF document when double-clicking. If you don't want to set it as your default viewer, you can easily drag and drop files into the 'new tab' option. The PDF Expert interface has tab options similar to a browser allowing you to do six different things on different files. Unlike Mac's default PDF viewer, you don't need to view ten different previews. With each tab, you can perform multiple actions so you can easily keep track of all the changes you're doing on different documents. Other than dragging and dropping, you can also drag documents into the PDF Expert doc icon and the file will automatically open in a new tab. Easy!
Annotation on PDF
Need to work on a proof-reading assignment? The PDF Expert's annotation tool is the best for proof-readers. You can do most of the things required in proof-reading with the Annotation tool. Some essential features are:
Text Markup: Three different text markup options available – text color change, text underline and text strikethrough.
Drawing: Need to draw something on the PDF? Use the drawing tool to start drawing using multiple color options and line widths. This is super cool if you're in a habit of making small doodles or small emojis to convey a point.
Eraser: Select areas you want to erase and it's done!
Text Notes: Want to type corrections within the text? You can add in text notes using different color options. Simply select an area you want to add additional text.
Shapes: If you ever want to add a circle, square or other shapes on your text, you can easily do with the shapes button.
Notes: This one is super important. Acting as a comment box, it allows you to leave notes exactly where you want it to. Usually, in programs like MS Word, you'd have to do that by placing a comment box at the right side, but with the PDF Expert, you simply need to select the area and you can drop a note right there.
Stamps: This is a very cool feature that allows you to add a status to your file. With a number of pre-defined stamps, such as Approved, Released, Draft etc you can create a status of your file.
Signature: You can add your signatures to your documents in multiple ways. Detailed discussion signatures below!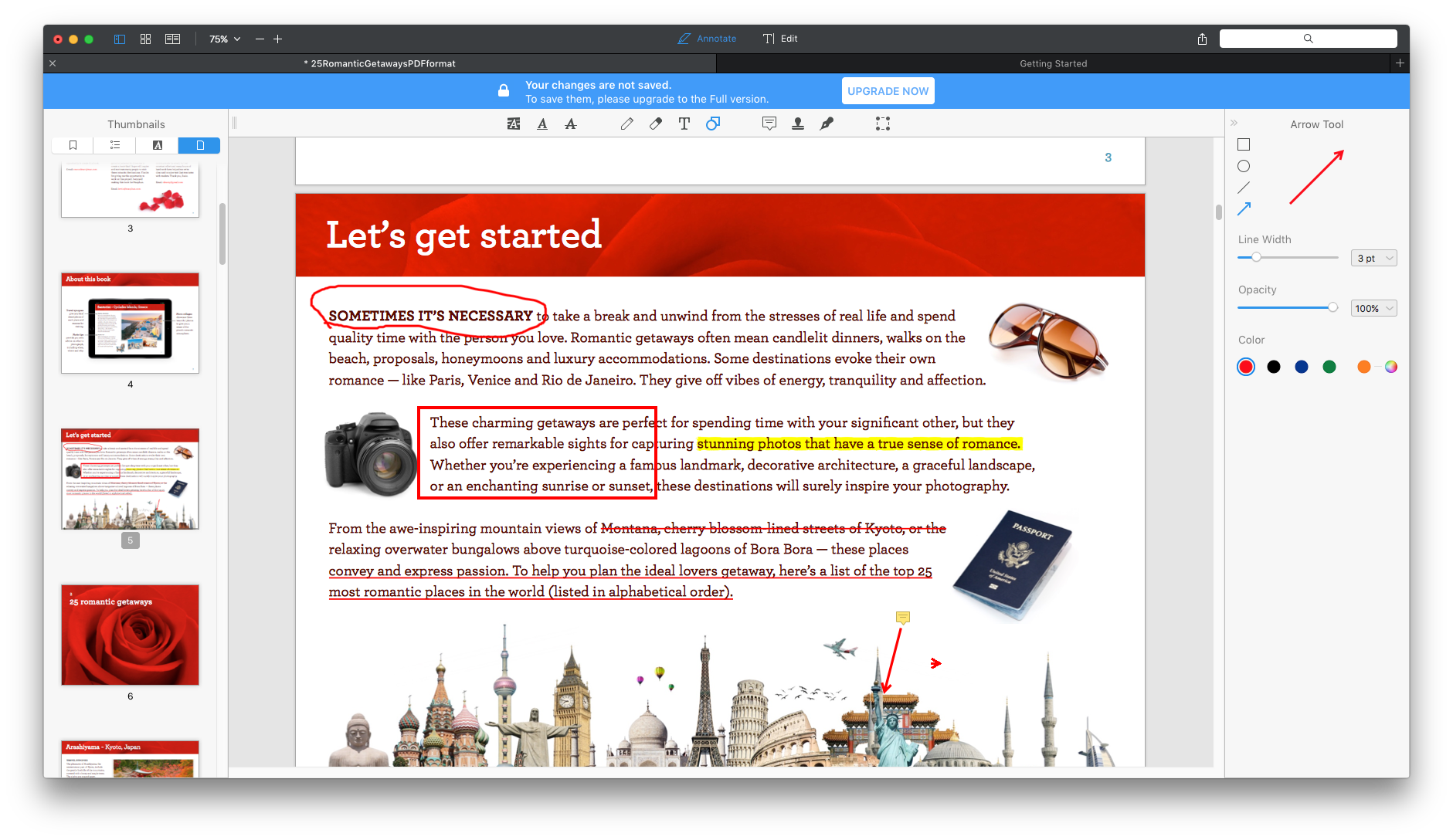 Merge PDF File
The file merge allows you to merge one PDF file with another. To do so, you need to use the Append File option that lets you select multiple files to add to the PDF. An additional cool feature is the ability to merge multiple files without having to open each of them.  You can select five files for example and all of them will automatically merge into one main file. You can also delete, extract and share file after all changes are made. With the add page option, you can add in an empty page but be wary of using this option – there is no automatic alignment of text (unlike Word) and you'll have to manually adjust spaces between paragraphs. With the File Append option, you can add in pages from another file and save it as one complete file. This is a useful option if you've had to add in additional content and didn't have to recreate the entire PDF.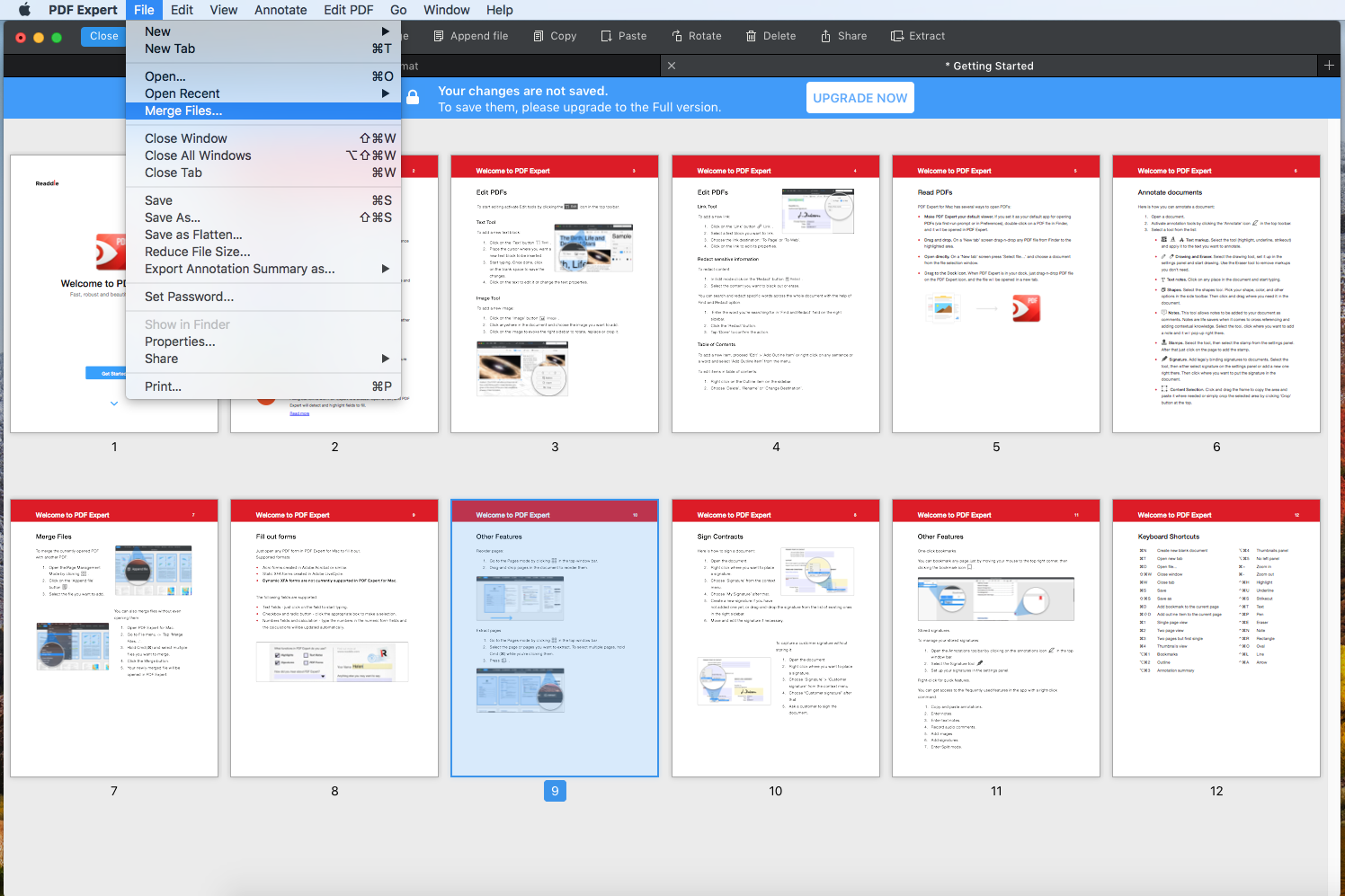 Signature PDF
PDF Expert has three signature options which we believe still needs considerable improvement. The first option is by simply typing your name into the box which produces a 'signature' effect with slanty font styles. The second is using the trackpad to sign. Now this which should supposedly be the best option is unfortunately not smooth and functional. Although a large blank space is given, you can only draw your signature using a small corner. You can't move further than that given space which means if you have a large signature, you won't be able to fit it in the given space. The third option is adding your signature via an image. To do that, you'll either have to have an image of your signature ready or you'll need to take a picture and place it into the system. An additional feature is the ability to create a space for your customer to sign the document with a special option for, 'customer signature.'
Fill Out Form Features
If you ever had to fill out a form, you'd know how frustrating it could get. With the PDF Expert though, you can fill out any PDF form created in Adobe Acrobat or similar. The program lets you fill in text fields, click checkboxes and radio buttons, type numbers which are automatically calculated.
Learn how to fill PDF with PDF Expert step by step from this video:
Additional Features
Apart from the major editing features, the PDF Expert also has a few options that really make it a powerful editing software. Here are some we really like!
Reordering pages according to the sequence you prefer by simply dragging and dropping it. We all know how much this is often needed but impossible to do!
Bookmark your pages easily by using the bookmark option which places a read icon on your page.
Store your signature once to easily use them for all your documents
Ability to reduce file size which is pretty important if you need to send something by mail, only to realize it exceeds a certain file size.
Annotation summary can be viewed as HTML, Text or Markdown which means easy readability by anyone who wants to get a quick view without going into deeper detail.
Allows for dictation of text but since Apple doesn't allow for instant dictation from voice to text (you need to download), this might not be of much use.
Multiple view modes which you can use to compare documents.
Addition of header and footer (things we usually miss out!)
Password protection for all your documents.
With these features, the PDF Expert is almost at par with the Adobe Acrobat and works well in sync with the Mac OS. We did not face any installation bug or glitches while running the program. Lightweight, efficient and easily does the required job.
PDF Expert Vs Adobe Acrobat
It goes without saying that the Adobe Acrobat is a powerhouse for PDF editing, but along with its rich features are also a lot of complications. It takes quite a while to get the hang of things on the Acrobat compared to the PDF Expert which as a simple and intuitive design focusing on getting the main job done. Another thing we loved about the PDF Expert was its speed. Opening a heavy document of a few hundred pages just literally took seconds compared to the agonizingly long wait of Acrobat. It's also been reported that the PDF Expert consumes less RAM than the Acrobat while doing 99% of the stuff Acrobat is famous for.
Some Minor Observations
While the PDF Expert is a great software, it does lack OCR support which is pretty important when it comes to dealing with documents. People are in the habit of taking pictures of their notes, text and other documents to be used online and often they want the ability to edit those notes right in the platform. The lack of OCR gives Acrobat an edge over PDF Expert, but then again, compared to all its other features, this could be a small limitation that they might hopefully overcome in the near future.
The second problem we encountered was the messy trackpad signature. The experience can be much more enhanced because people would prefer to draw their signature than to use a default font style. When it comes to the signature, you'll have to put in the additional effort to take a picture and insert in the document as an image.
Reviews of PDF Expert
Medias:
"PDF Expert 2 review: Goodbye Preview, hello affordable PDF editing on Mac" – Macworld.
"App of the Year" 2015 Runner-up by Apple.
"PDF Expert is a more powerful solution than the built-in Preview app and more cost-effective than Adobe Acrobat DC." – 9To5Mac
"PDF Expert puts Adobe Acrobat to shame" – Cult of Mac.
Users:
"The best PDF APP on the Planet! Highly recommend it to all professionals." – TC-LSV on Mac App Store
"I said goodbye to Adobe Acrobat! PDF Expert is a solid app, works flawlessly." – Collin edge 07 on Mac App Store
"Time Saver and User Friendly. PDF Expert is a terrific app." – SilverCreekDoc on Mac App Store
Conclusion
The PDF Expert by Readdle is one of the fastest and most preferred PDF editor in the market. With multiple features allowing you to easily navigate through PDF documents, it is the best program to edit extensive PDF files. The speed, the interface and the intuitive annotation options make it an excellent tool for professionals and students alike. The only set back is the lack of OCR which may be a deal breaker for many people who want to be able to translate hand-written notes into workable PDFs. If OCR is what you're after, the PDF Expert is definitely not for you. You can check the list of best PDF editor for Mac and select one with OCR ability as PDFPen do to edit your PDF. Other than that, the FREE trail of PDF Expert only lets you do the editing and not the saving of the file which is definitely a bummer but still makes a good experience if you want to try before purchasing.
Pros:
Lightweight and easy to use
Intuitive interface
Fast to load documents
Multiple features to get everything done on your PDF
Cost-effective
Cons:
Lack of OCR support
Trackpad signature needs improvement
Pros
1. Lightweight and easy to use
2. Intuitive interface
3. Fast to load documents
4. Multiple features to get everything done on your PDF
5. Cost-effective
Cons
1. Lack of OCR support
2. Trackpad signature needs improvement