PDF is an acronym for Portable Document Format, which undoubtedly makes it easy to transmit and share with others. Relying on the ability to retain the original format and page layout of the features, PDF is commonly used in business contracts, product introductions, research reports and many other occasions. If you want to edit a PDF file when signing a PDF, filling out a PDF form, or modifying some data in a PDF file, then you need a good PDF editor to help you do that. What is the best PDF editor for Mac? This publication reviews the editing capability, markup and annotation ability, OCR feature, and design features of the major PDF editors, hope can help you to choose the best PDF editor for Mac, and edit PDF files easily.
Top Rated and Fastest PDF Editor for Mac: PDF Expert
PDF Expert, developed by Readdle, is a simple to use PDF editor for Mac with capability of editing PDF text, images, links, and outline in clicks. Macworld reviewed it as affordable PDF editing tool on Mac, it is the fastest and most intuitive PDF editor app. If you read PDF files frequently and just looking for a PDF editor to annotating, editing text/links, cropping, re-positioning of pre-existing images, PDF Expert will be a remarkably powerful and reliable PDF editor for Mac. And you'll be amazed at its feature-editing and how easy it is to use!
Highlights Features:
• Works as a PDF reader with three modes for comfortable reading.
• Edit PDF text, images, and links efficiently and intelligently, will preserve the text font and size as original text.
• Annotate PDFs by highlight what's important and take notes: draw, add text and shapes.
• Extract pages and combine PDFs: reorder, add and remove pages, merge documents into one PDF.
• Fill in forms and sign PDF.
Learn how to annotate and edit PDF document with PDF Expert quickly and easily from this video:

Where It Excels:
1. Good for a quick fix on text editing or image replacement/rearranging.
2. Good for quick markup and annotation.
3. Fill in and sign PDF forms, contract easily.
4. Works fast on multiple and huge PDF files with a tabbed interface.
5. Affordable, easy to use PDF Editor for Mac.
6. Works across Apple device: Mac, iPad, and iPhone.
Where It Falls Short:
1. Lacks support for optical character recognition (OCR) on scanned documents.
You can check the review of PDF Expert to learn more about its features and pros & cons.
Price: $79.99 for 3 Macs, free trial available to download.
Powerful PDF Editor for Mac with OCR Ability: Smile PDFpen
Smile PDFpen is a clean installing PDF application does great work on PDF editing, annotating, OCR, etc. If you are interested in serious PDF editing, and OCR PDF, Smail PDFpen is highly recommended. It offers a completely integrated PDF toolbox that has a long track record with decent support and maintenance that will handle most any PDF task as well. PDFpen allows you to make changes to PDF text and correct typos, add text, images, signatures, fill out forms, redact or erase PDF text (even OCR text), merge or split PDF documents, and perform OCR on scanned document with high resolution and securely. A pro version is available with more powerful and options on PDF editing and exporting.
Highlights Features:
• Edit PDF text or correct typos with ease.
• Markup and annotate PDFs with highlight, circles, lines, or simple drawings.
• Transform paper document into searchable PDFs.
• Fill out interactive PDF forms and sign them.
• Export PDFs in DOCX format, and allows adjusting a range of image resolution.
Learn edit PDFs all away with PDFpen from this video:

Where It Excels:
1. Editing PDF and markup annotation fairly straightforward.
2. Incredibly easy to apply OCR to PDF document and make edits.
3. Quickly export PDF to Microsoft Word, Excel(pro version), PowerPoint(pro version), and PDF.
4. Fill out PDF forms and sign documents with ease.
5. Automate PDF manipulations with AppleScript.
6. Compatible with iCloud Drive.
Where It Falls Short:
1. May lost font style when editing PDFs.
You may be interested in reading PDFpen Review to learn more details of it.
Price: $74.95 (Download the free trial) Or Get it via SetApp ($9.99/mo)
Best Professional and All-around PDF Editor for Mac: Adobe Acrobat Pro DC
PDF file format is created and introduced by Adobe since 1991, when discuss about editing PDF files, we can't leave out this industry standard PDF editing program. Adobe Acrobat Pro DC is the most professional and powerful PDF editor to do any editing on PDF file. It's a premium PDF editing software designed for those who want the most comprehensive features set including create PDF, edit PDF, convert PDF, process scanned PDF, or any others. It's the perfect option for professional use and those who need the most powerful PDF editor. And if you have already subscribed to Adobe Creative Cloud, Acrobat DC is available for you to do any PDF editing tasks any time.
Highlights Features:
• Edit, replace or change PDF contents with ease.
• Converts and save scanned documents into editable PDF.
• Merge and create multiple documents, spreadsheets, webpages, and the like into a single PDF file.
• Create, Fill in, and Sign interactive PDF forms.
• Cloud-based storage and document access supported.
Learn how to use Adobe Acrobat Pro to edit PDF and more from this video:

Where It Excels:
1. User friendly and efficient interface with tab organized by function: Create & Edit, Review & Approve, Forms & Signatures, Protect & Standardize, and Customize.
2. Powerful PDF editing features: Add or edit text, change or replace text and images, markup and comments, fill in and sign.
3. OCR recognition for scanned PDF and images.
4. Numbers of export options including PDF, Microsoft Word, Excel, PowerPoint, HTML, RTFD, Text.
5. Keep PDF security and maximum compatibility.
6. Pretty cool print, share and track features, can print straight multiple pages on one sheet with ease.
Where It Falls Short:
1. A little complex for new users to navigate the rich features.
2. Expensive.
3. No undo function for OCR correction feature.
Price: $14.99/month for annual subscription, $24.99 monthly
Subscribe Adobe Acrobat Pro DC on Official page or get it from Amazon at one-time fee.
PDF Element is a PDF tool bundled with create, edit, markup and convert functions. It is a capable and stable PDF editor for Mac to edit entire PDF text, convert PDF into word or other formats, and create PDF forms with ease. With its built-in OCR technology, it can help you to edit and convert any types of PDF document (native or scanned) with high accuracy output. PDF Element is an easy-to-use and all-in-one PDF solution for those who want to edit and annotate PDFs, convert or create PDFs in clicks. Extensive editing tools such as adding text to PDF, adding image or link, watermarking or adding background to PDF, even OCR PDFs make it an excellent PDF editor for Mac.
Highlights Features:
• Edit and correct PDF text whether native or scanned PDF documents.
• Mark up PDFs by highlight text, add sticky notes, signature, or add simple drawings.
• Convert and export PDFs to multiple file formats including Excel, Word, Pages, and more.
• Create in-depth PDF forms or documents in mins.
• Transfer paper documents or scanned PDF into searchable PDF file.
Learn how to edit PDF with PDFelement on Mac from this video:

Where It Excels:
1. Offers easy way to edit PDF text, image, links, background, headers and footers, watermark and background.
2. Built-in OCR technology let it works on any kinds of PDF documents.
3. Capable to search PDF text for redact information.
4. Create PDF forms and fill in efficiently and intelligently.
5. Convert PDFs into searchable/editable PDF, Word, Excel with high accuracy.
Where It Falls Short:
1. Only paid version has OCR function and redaction feature.
2. A little slow to process big PDF files at times.
Price: $79/year
Thanks for Wondershare, we applied a coupon "SAFWSPDF" for readers to get PDFElement Pro at only $63.20 (20% off).
Abbyy Reader is an all-in-one PDF software built-in high quality OCR technology on the market, it provides professional, powerful, yet easy-to-use editing tools and conversion options for PDF files and scanned documents. It's a good PDF editor can edit and comment PDF files by recognizing blocks of text/image/table content, and can transfer the scanned document and PDF file into MS Word, Excel, searchable PDF or other formats. Abbyy Reader is the best all-round OCR app, so if you are looking for a Mac PDF Editor can accurately recognize text in any kinds of PDF document (including scanned PDF or even image file), it is the best choice for you. Or else, we would recommend you get the more rounded Mac PDF editor mentioned above.
Highlights Features:
• Powerful OCR software with high accuracy text recognition and document conversion.
• Edit PDF text, annotate PDF, fill out forms and signature.
• Redact sections of PDF contents.
• Convert PDF (even scanned and image) into MS Word, Excel and other file documents.
Learn how to edit PDF documents with Abbyy Reader from this video:
Where It Excels:
1. Recognize blocks of text in PDF or scanned document tremendously accurate and fast with its superior OCR engine.
2. Support hundreds of different languages.
3. Simplified interface, easy to use.
4. Convert and export PDF or image to different types of documents.
Where It Falls Short:
1. Requires good computers, or else it is very slow and constantly freezes.
2. Price is fairly high for those who don't have many documents to work with.
3. Requires high quality of scanned documents, or else it will make mistakes that need to be fixed manually.
Price: $119.99/one-time/user.
How About Those Free PDF Editors for Mac?
Preview – Software comes along with macOS system. It's a good PDF tool for markup, signing documents, and simple PDF management, but if you want to edit PDF text or make more corrections, Preview can't access and accomplish, so it's not a "true" PDF editor.
Skim – More like a PDF reader and note-taker, it can let you add and edit notes on PDF documents, highlight text. It doesn't support to change PDF text or images, so it's not a really PDF editor too.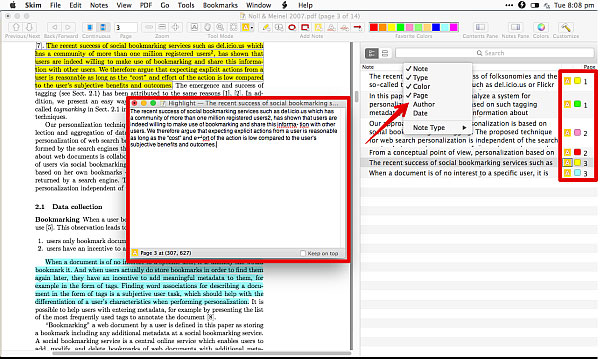 Free Online PDF Editing Tool
PDFEscape
PDFEscape is an online PDF editing tool, which will allow users to annotate and markup PDF files, but can't exactly edit PDF text or images in existing files, it's limited to handle with PDF file not exceed 10MB, and comes along with Ads, so it's not a really free PDF editor for Mac users to edit PDF text or image. To use it requires a JavaScript enabled web browser.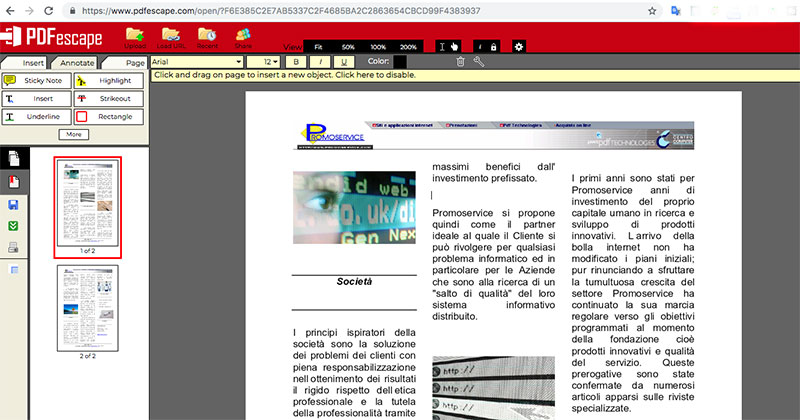 SmallPDF
SmallPDF is a popular online PDF editing tool that allows users to do very basic editing on PDF, such as add text or image to PDF, add shape (only circle, square, arrow), or draw lines on PDF text. It's limited usage and can do batch processing, also displays ads. If you want to remove the limitation and gain more functions, you'll need to pay for it.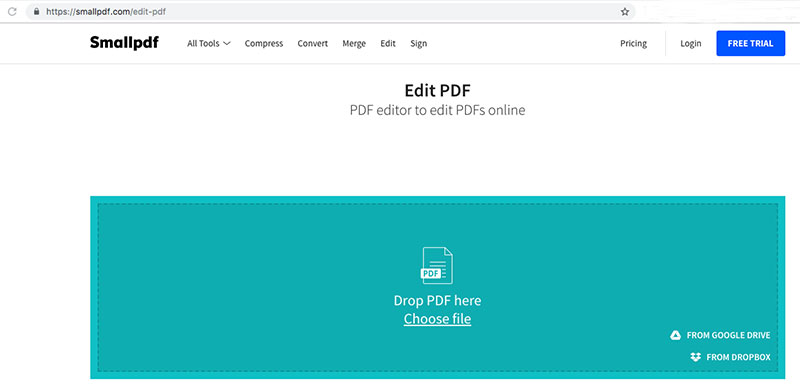 What to Look for in The Best PDF Editor for Mac
To choose the best PDF editor for Mac, we could follow some criteria that make the PDF editor stand out:
1. Friendly User Interface. Obviously, the program design should meet user habit, the best PDF editor should have a clean and friendly user interface, editing features are easy to understand and use.
2. Editing Features. The best PDF editor should not only can edit the text, but also can edit other elements including images, forms, links, shapes and signatures.
3. Markup and Annotation. Most users require annotation and markup when doing PDF editing, so it must be easy to add comments and highlights to PDF document using the best PDF editor.
4. Optical Character Recognition(OCR). It's an optional feature that you may need. When you want to edit scanned PDF or image file, apply Optical Character Recognition(OCR) will let the scanned PDF or image editable and searchable, and then you can edit PDF files like in MS word.
5. Process Speed and Compatibility. The speed of load large PDF files, and quickly find where you want to edit and change, to implement editing immediately would improve your work efficiency. And the best PDF editor should be compatible well with your macOS system, and works smooth on all kinds of PDF file version.
6. Export Options. Optionally, you might need to export the PDF file into other format, and share & send to other application easily.
Conclusion
Above are the best PDF editors for Mac that you can choose to edit PDFs quickly. When doing edits on PDF, quality should be the most important concern, so choose the right one that you need based on the features. If you often work with PDF files and wish to edit PDF easily and effective, PDF Expert is a good choice. If you are looking for a PDF editor that comes OCR ability, then could pick PDFpen Pro, which offers powerful editing features and great output quality.