Summary: PDFpen is a PDF editing software for Mac, iPhone and iPad, originally developed by Smilesoftware, which has been acquired by Nitro. It offers powerful capabilities in editing PDF and OCR scanned files (pro version support only). With PDFpen, it's easy to add text or images, change and correct typos, fill out forms, and add signatures to PDFs.  Compared to Acrobat Pro, it costs about a tenth of the price. Read this review and let's see how well it works for editing PDF files and whether it's worth the money.
What is PDFpen?
PDFpen is a very lightweight PDF editing software, you can use it to create PDF files from scratch, it allows you to add images, text on PDF files without losing quality, in addition, you are able to use it to add passwords to your PDF files.
Most of the time, PDF documents are read-only and can't easily be edited without finagling your way through complicated software and various file transformations. But through the pdf editing software, you can make quick edits to any PDF file or customize PDF files to better serve you and your business. PDFpen is one such PDF editing software.
PDFpen brief introduction
PDFpen is a PDF editing application that can edit previously finalized PDF files, as its name implies. It can allow you to make drastic or minor edits on the go or at your desk on any device or computer that uses a Mac OS. It can help you to fix typos, add or remove text, sign and fill out forms and so much more, giving you total control over your PDF files. And PDFpen is one of our top 5 best PDF editor for Mac to edit PDF.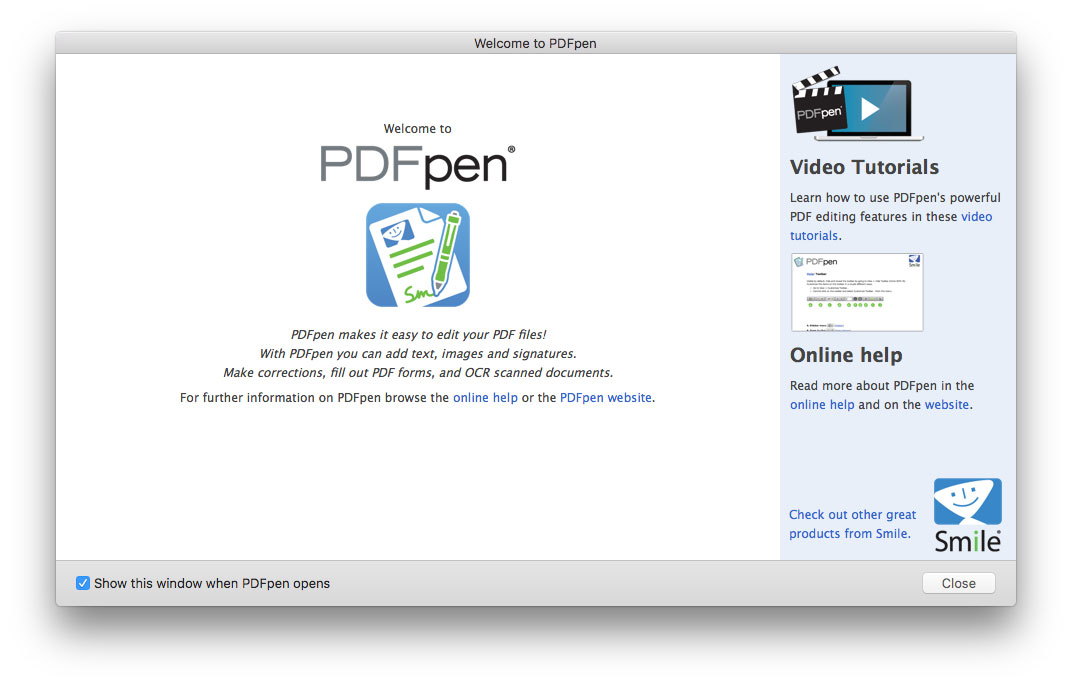 PDFpen VS PDFpenPro
PDFpen is the basic and core version of the software that contains most of the signature elements which PDFpen is known for. This version is normally enough for most users looking to edit their PDF files or transfer them smoothly between their business partners.
PDFpenPro is an advanced version of the software that gives you even greater transformation and exportation options. Some of the features that Pro includes to give it a leg up over the basic software include the ability to transition entire websites directly into PDF form, create and edit your own custom forms, export PDFs to Microsoft Excel or PowerPoint, create networks of links from URLs, add tables of contents, and make entire portfolios of your PDF files for easy demonstration and collection.

PDFpen cost $74.95, the pro version cost $124.95. We are reviewing the basic version in this review. And the extra $50 will give you these features in PDFpenPro listed below, plus all features of PDFpen.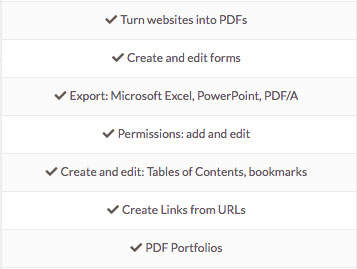 Who is PDFpen Software Good For?
PDFpen is excellent software for any working professional who spends a lot of time in a digital environment. It's impossible to avoid dealing with PDF files no matter which industry you find yourself in. Many times, you'll find that quick edits or changes are necessary for the PDF files that you send and receive, but making those changes is usually more of a hassle than it needs to be.
PDFpen makes those edits and changes a lot easier to accomplish. Because of all the controls that PDFpen gives you, it's a great choice for any modern professional who spends a lot of time working through or editing PDFs.
In particular, PDFpenPro is a solid choice for those who either have to make extensive PDF portfolios as part of their job or who need to make many PDF files for form-filling purposes. The Pro version of the software makes both of these aspects of digital business intuitive and user-friendly; it will save you tons of time that you would otherwise spend wrestling with subpar PDF editing software.
There's also a PDFpen app for the iPad or iPhone, allowing you to make PDF changes through your mobile device if that suits your working schedule better.
PDFpen Features and Specs
PDFpen has a number of rich and innovative features that make it an excellent product for anyone who does a lot of business using PDF files. I was blown away by the number of things that I could modify or alter; it really gave me control over the various PDF files that I tested with it.
Easy to Use Interface
PDFpen's interface is relatively simple but easy to parse. At the top of the screen, there is a series of basic inputs you can mess with to navigate your PDF file: these include page selections, orientations, and zoom levels. Right beneath that, you'll be able to find all of the major categories of operations that you can perform. You can select various tools arrayed across an icon bar, and each icon is relatively easy to attach to its function.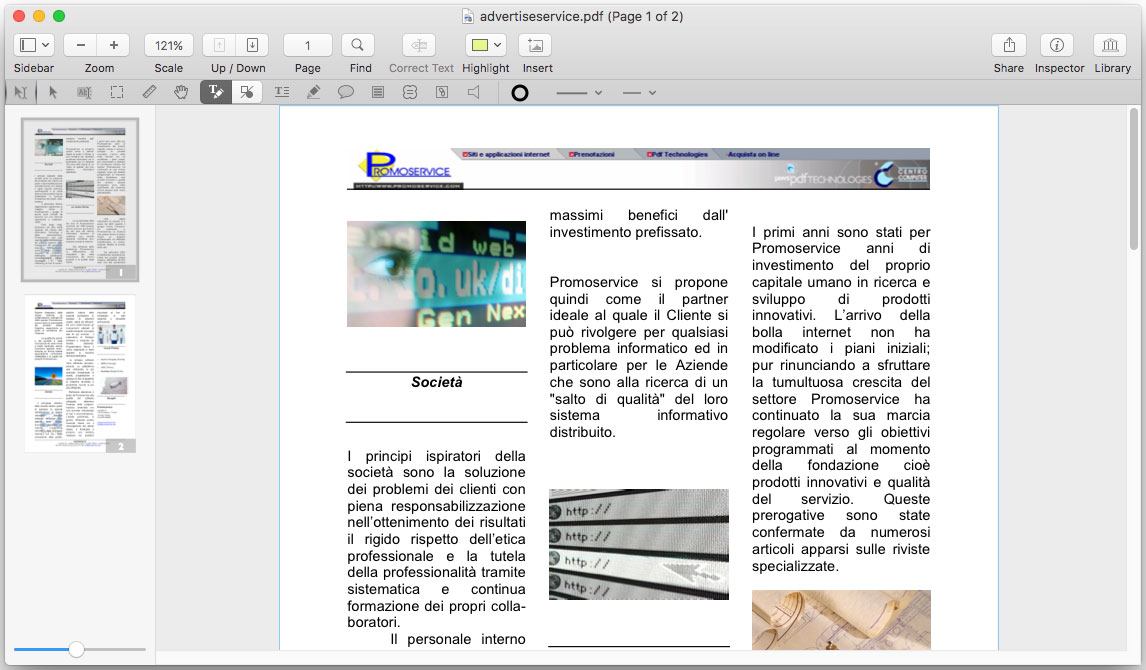 Right now, PDFpen has been programmed to operate on macOS versions 10.12, 10.13, and 10.14. You'll need to update your own computer's operating system to these levels if you want to run the software.
Edit PDF Contents: Text, Image, Link, etc.
Some of the most basic but essential features included are the tools allowing you to edit, add, or remove text on any PDF files. I found that it was really easy to change text already implemented within a document with just a few button presses and some quick typing. Adding paragraphs was a snap, and fixing typos was a lot less stressful. Now, whenever I got a PDF from someone I was working with, I could correct any glaring typos I saw in mere seconds. So much better!
Any images present in a PDF document are able to be resized through PDFpen's toolset. This gives you even more control over your PDF file than virtually any other PDF modifying software on the market.
You can see I changed the text and add new contents "correct text here: add your new contents" in the following screenshots, and I also resized the image on the left corner.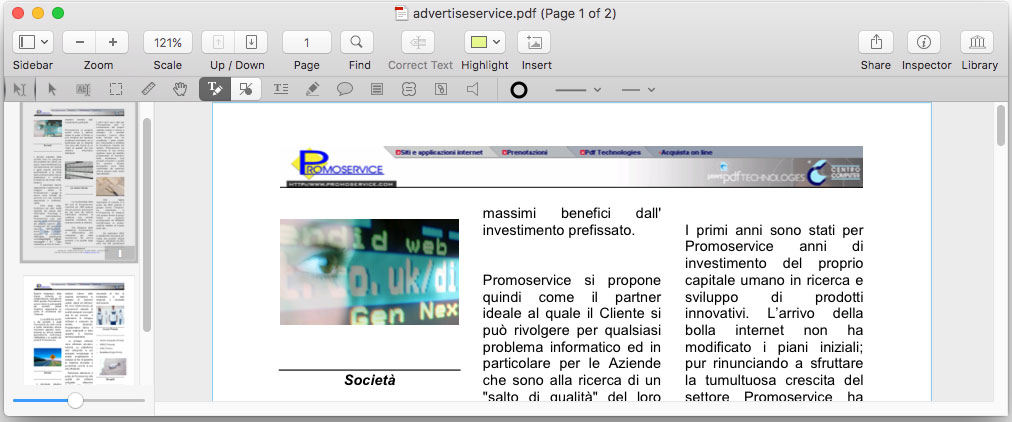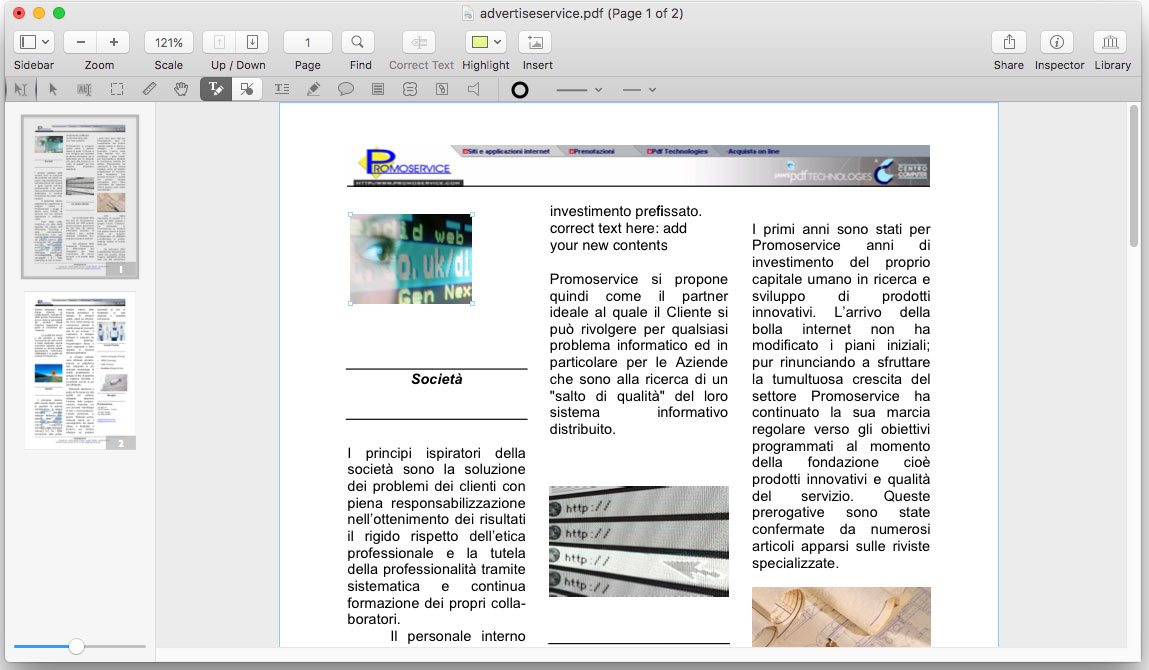 You are easy to snap objects into place with guides. Modifying the exact dimensions and placement of items on your PDF file has never been easier. Automated guides will ensure that every aspect of the PDF's graphics will be aesthetic and properly lined up.
Fill Out and Sign PDF Forms
I also found that I could add signatures relatively easily. No longer do you need to print out a PDF document, sign it physically in the real world, then re-scan it to turn it into an updated version. With PDFpen, you can just add your digital signature right into the current PDF file in moments. You can even validate other digital signatures that you might receive to make sure that they're authentic. Business transactions are a lot safer with this functionality.
Fill in PDF forms will be quite easy with PDFpen, but if you want to create forms, you'll need PDFpenPro.
Annotate PDF
PDFpen also lets you add notes and comments to various sections of a particular document. These show up as small bubbles that can be noticed by anyone making edits or changes. It's a great way to allow for collaboration and creative teamwork.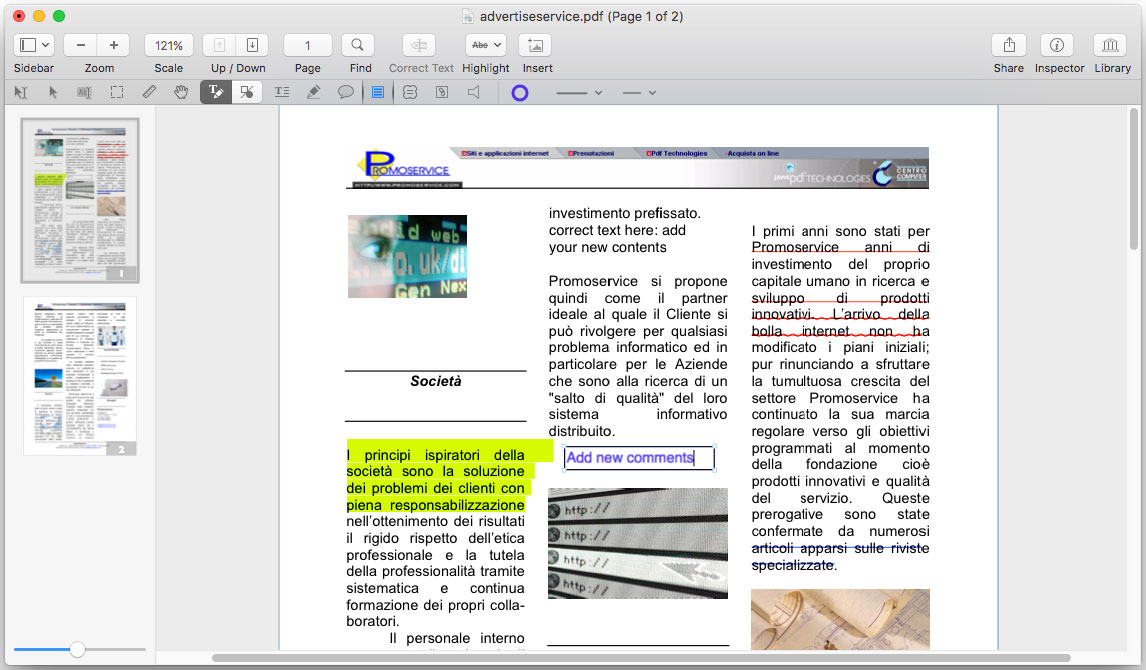 Perform Optical Character Recognition (OCR)
Using an appropriate scanner, PDFpen can transform scanned documents directly into a PDF file for easy editing and transfer. It can perform these functions directly from Image Capture or TWAIN scanners.
Add Image to PDF
Adding images is a breeze, too. I found that this could include larger images or smaller logos, so customizing a PDF document for a brochure or a pamphlet was very doable. Modifying those images is possible with a selection of intuitive imaging tools including at the top of the screen.
I found that you could snap these into place pretty easily, so lining up various charts or logos to make a PDF document seem as crisp and perfect as possible is easier than ever. There's a handful of measurement tools you can use you make sure that your various objects and segments are lined up properly, too.
Preview or Extract File Attachments
File attachments included in a PDF file can be previewed from the PDFpen program window. I thought this was a really great bit of functionality since it stops you from having to open a new program entirely, slowing your editing or changing process down by another few seconds.
Audio stuff is included, too. You can record your own audio annotations and attach them to specific bits of text for easy understanding between you and your collaborators. And, of course, if someone sends you can audio bit, you can play that back right from the PDFpen program window. Once again, no need to boot up a separate program or app.
Other Editing Features
You can also add page numbers, headers, and footers through PDFpen. This allows you to recontextualize your entire PDF document. Further adding to this functionality is the ability to add or remove pages, or reorganize them as your editing efforts continue. It's a lot easier than making new pages, copying exiting text over, and deleting the original just to move a page back further into a complete document.
One interesting extra thing I noticed was the ability to erase or redact sensitive information through PDFpen's interface. This let me cover up certain bits of text without having to drastically modify the entire file. It's a good solution if you ever need to send a PDF around to various people with different security clearances.
PDFpen has even more features. You can add a password onto specific PDFs; this will be encrypted using 256-bit AES encryption, which is far and above most protection that PDF files get these days.
Export or Sync PDF
You can export PDFs to Microsoft Word or other processor programs as well. This makes further editing even easier, as sometimes it's easier to write big chunks of text with Word instead of through a PDF interface. This exportation feature is much smoother and more intuitive than the traditional method, which involves transforming the file a few different times each way, potentially messing up formatting or other aspects of the complete document.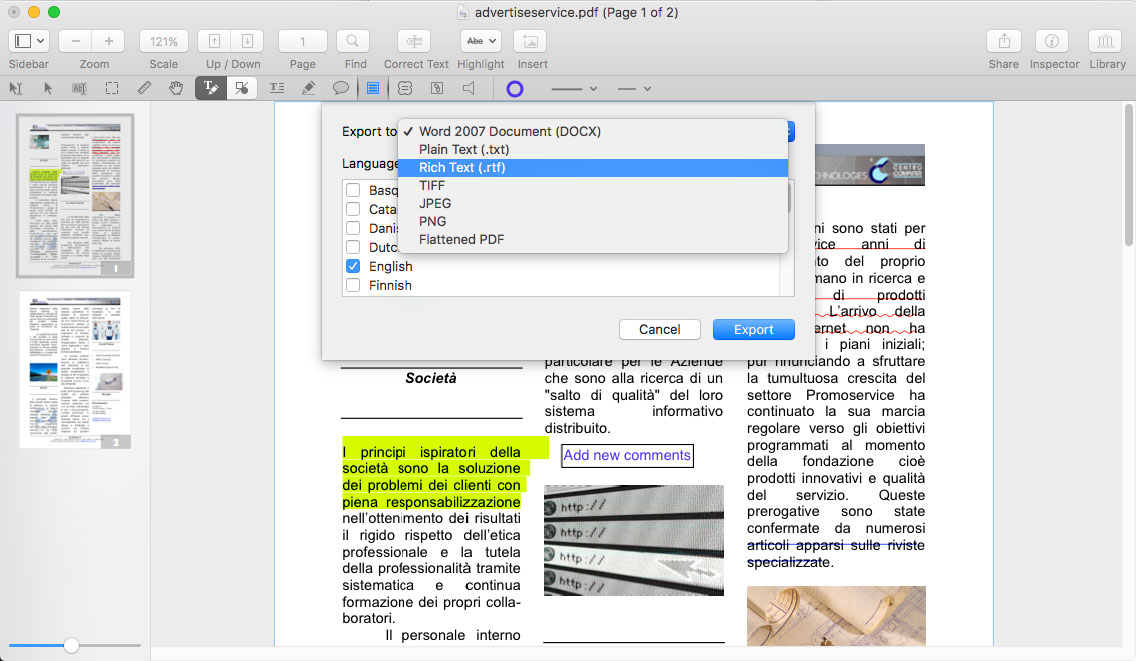 Except Microsoft Word document(.docx), PDFpenPro will allow you to export PDF to Microsoft Excel, PowerPoint, PDF/A. If you need more export option, just go for it.
PDFpen allows you to synch items or files through iCloud or Dropbox. For further transfer freedom, you can synch any PDFs directly from PDFpen's interface to iCloud or Dropbox. It all takes just a few seconds.
The Good and the Bad of PDFpen
PDFpen has a lot going for it.
In terms of PDF editing, there's no one aspect that it really leaves out of the program. No matter what kind of change or edit you have in mind, you can make it with the toolset granted by PDFpen. I found that it was as easy to rewrite an entire PDF file from scratch as it was to go through and thoroughly markup an existing file that needed a ton of edits.
Its interface is incredibly user-friendly and intuitive, which is a good thing because the entire point of the software is to allow you to quickly and comfortably make edits or changes to PDF documents. Marking, editing, or even drastically changing any PDF document can be accomplished relatively easily and smoothly.
The learning curve is incredibly generous and it'll only take you an hour or so to fully grasp all of the features that I mentioned above. If you do get stuck on the learning curve, Smile's website has a ton of video tutorials that you can utilize to grasp the software's functions more easily. There's even a PDF user manual, which is appropriate given the software's capabilities.
In addition, PDFpen doesn't run too heavily on your computer. Many of these kinds of software tend to be performance hogs and slow the other processes of your machine to a crawl while they do their work. PDFpen does take some processing power, but it's overall a much smoother program to run than many of its competitors, like Adobe Acrobat Pro.
There are a couple of downsides that you will quickly discover as you use PDFpen.
For one, text that you edit sometimes doesn't come out with the right font. This can be quite annoying, since you may have a particular font that you're set on and having to change each bit of edited text manually is time-consuming and defeats the purpose of intuitive PDF software in the first place.
In addition, although bugs are being worked out every day, PDFpen still crashes every now and again, so you'll definitely want to save your progress frequently so that all your edits aren't lost as a result of an unfortunate system glitch.
Finally, the asking price is a little steep if you only need to edit a few PDF documents and won't use the software frequently. I can't recommend it for anyone who only needs one or two documents changed slightly, but it's well worth the cost if you handle a ton of PDFs every week and find yourself frustrated over all of the minor changes you have to make for each job or project.
Conclusion
Overall, I'd heartily recommend PDFpen for any digital professional who spends a lot of time dealing with PDF files. It does exactly what it advertises, and extremely well at that. While it does have a couple of minor quibbles and flaws, these aren't enough to drag it down from the top spot. It easily beats Adobe in terms of raw performance and usability, in my experience.
But its asking price is rather significant, so I would hold off and hope that they release a cheaper version if you only need to modify a few PDF documents and would never touch the software again otherwise. If you're on the fence, I highly recommend trying out the free trial that you can find on the PDFpen website. This will allow you to get a grasp of the app's features and really see all that it has to offer.
>>> Get PDFpen from its official site <<< OR >>> Get it via SetApp ($9.99/mo)<<<
Pros
Well-rounded editing and markup options.
Easy to apply OCR to PDF document and make edits.
Fill in and sign PDF forms with ease.
Export or sync with iCloud/Dropbox makes cooperative work easy
Incredibly user-friendly and intuitive interface.
Cons
The font style may loss when edit PDF.
Crashed sometimes.