If you are looking for a free photo editor to work on your Mac, in this article we will share 5 best free photo editors for Mac for you, these 5 photo editing software are totally free and verified. So you can use them and edit your photos without any cost.
Quick Navigation
GIMP – small but usefull free photo editor for Mac
Gimp is a small but useful free photo editing software tool.
If you don't want to use the bulky PhotoShop, then you can try Gimp, it is the closest free photo editing software to Photoshop. It has all the features it should have, drawing, keying, sharpening, as long as you have enough creativity, you can use it to create the photos you want.
Compared to Photoshop, GIMP is only 100M in size, it is an open-source photo editing software, and it is completely free and has full platform support for computers, as well as 17 languages.
If you are already proficient in Photoshop, you can master GIMP relatively quickly.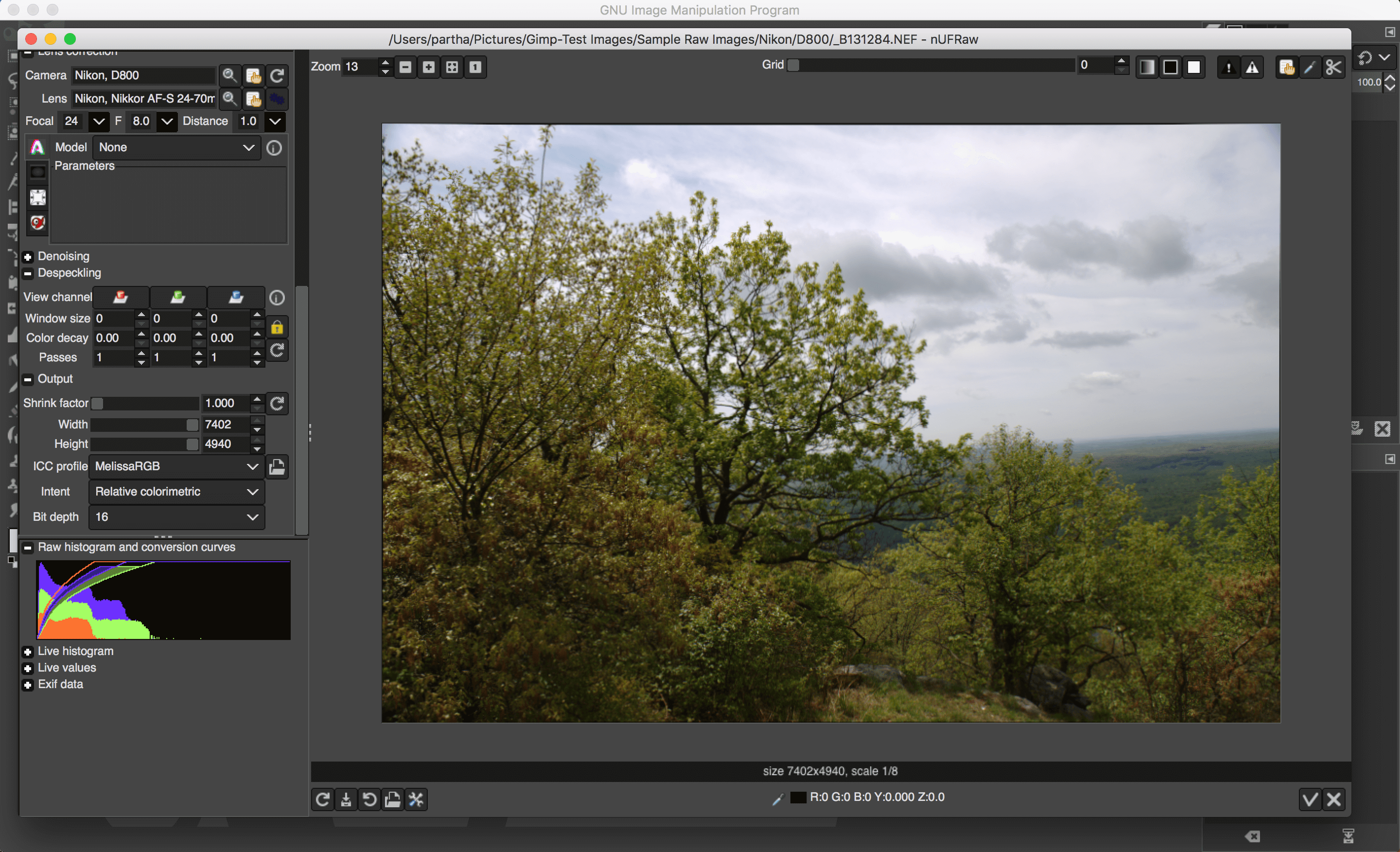 Pros: It has almost as many features as Photoshop, but without the cost.
Cons: If you are a complete beginner, the learning curve is steep and difficult to master.
Support platform: macOS | Microsoft Windows | GNU/Linux
Polarr – free photo editor for mac offers professional features
Polarr is a professional free photo editing software.
The target user it locates is the photographers, so the photos it fixes will instantly shine and stand out a lot. The natural beauty function is really powerful, and it takes no time to make your face beautiful. There are more than one hundred kinds of filters for you to choose, and the effects can be changed at will.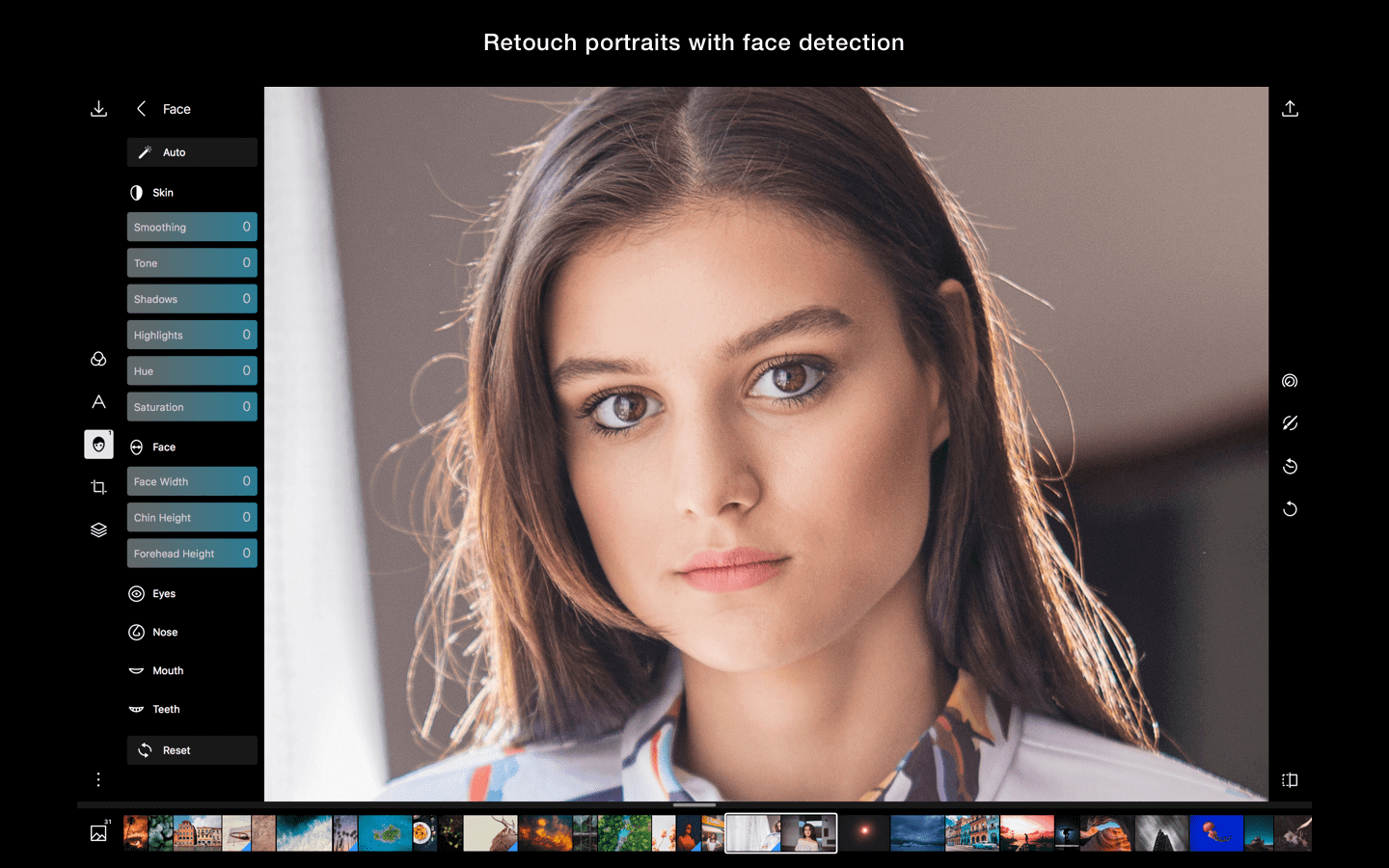 There are also advanced features such as lighting effects, colors, curves, sharpening, etc. that you can choose according to your needs.
When saving the picture, there are various parameters to choose from in Polarr photo editor, and you can also add your own unique watermark. It also supports all platforms, including App, PC and web version.
Pros:
Retouching features are free, including smart enhancement and facial detection.
Support spot removal: Heal, clone, feather, opacity.
Support text & shape layers, and 3D touch.
Cons: Some advanced features require in-app purchases.
Support platform: macOS | Microsoft Windows | Web | Chromebook | iOS | Android
PhotoScape X – All-in-one free photo editor for Mac
PhotoScape X is an all-in-one photo editing software. The main feature is that it can repair and enhance photos and provide photo-related features. You can use it as a photo viewer or editor. It provides all tools related to photo editing, such as Cut, collage, merge, color picker, screen capture, and more photo editing.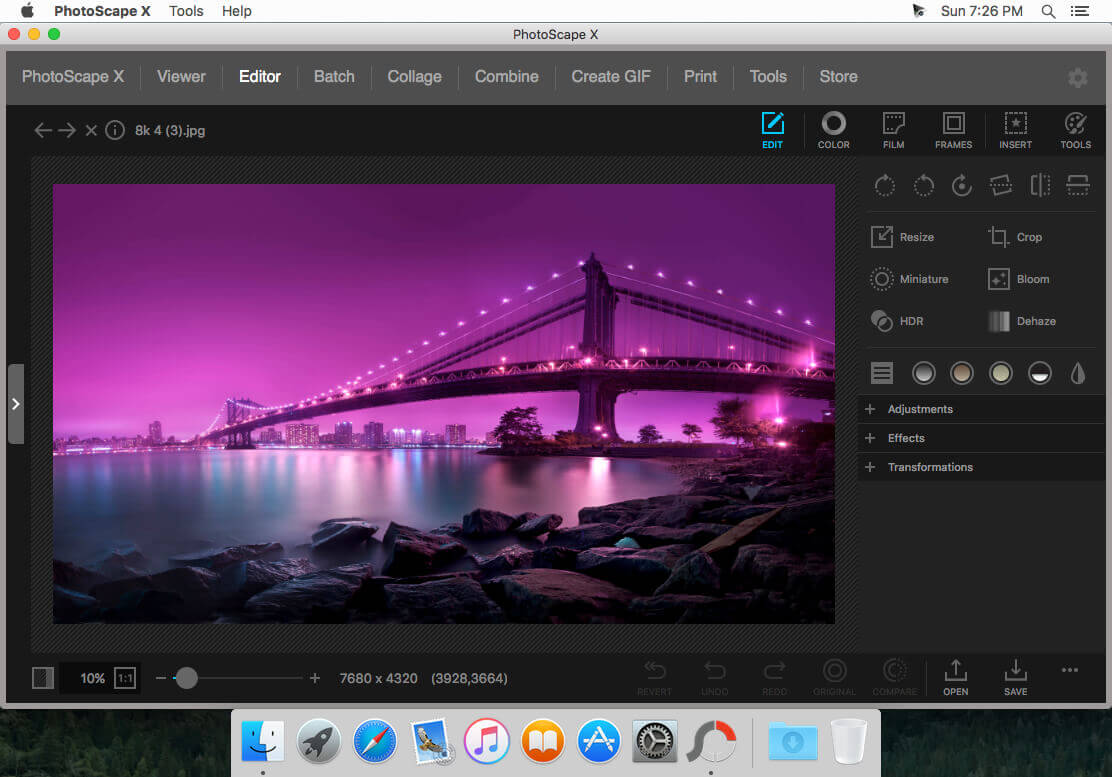 With PhotoScape X, you can merge photos, create HDR effects, rename multiple photos at once, and add up to 26 different textures.
One feature of PhotoScape X is the ability to create GIF animations, which makes it stand out among the free photo editors.
Pros:
Provides many basic photo editing functions.
Support creating GIF file.
Support create HDR effects.
Cons: In many ways, PhotoScape X can feel outdated in terms of its user interface and website. The menus can be a bit confusing.
Support platform: macOS (Sierra 10.12, High Sierra 10.13, Mojave 10.14, Catalina 10.15, Big Sur 11) | Windows (Windows 10, Windows XP, 7, Vista, or 8)
Photopea – An online free photo editor for Mac
Photopea is an online photo editing tool, comes with basic and advanced photo editing tools. For users of traditional Photoshop, it is a very close online alternative.
It can edit a variety of vector files such as .PSD, .Sketch, .XCF, etc. and of course other image files and even PDF file. It has most of the same functions as photoshop and also can work as a multifunctional editor.
Photopea offers many psd templates that can help you easily complete your photo editing.
The best part is that you can use it with a browser. It is not affected by any device. Support dozens of national languages at the same time.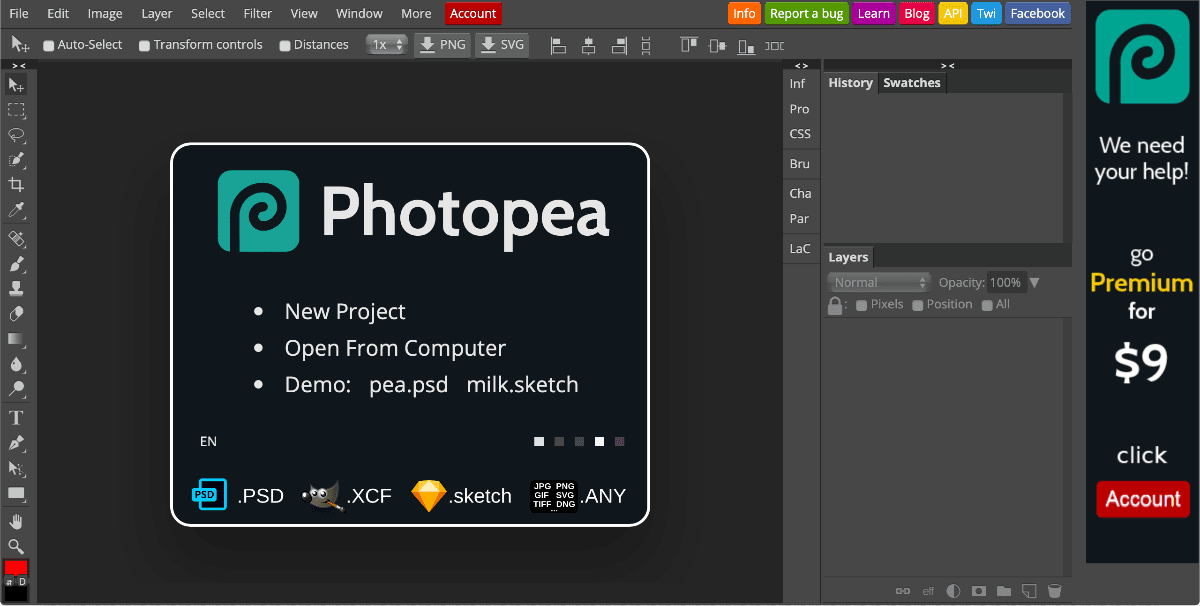 Pros:
Support various vector files, including .PSD, .Sketch, .XCF, .AI, .CDR, etc.
Support RAW files and work online.
Cons:
A bit hard to find the wanted function. Not friendly to beginners.
Doesn't work well for all psd files.
Support platform: online, macOS, Windows
Fotor – easy-to-use free photo editor for Mac
Fotor is also an online photo editing tool, it can perform many edits, such as cropping and resizing, photo enhancement, basic adjustment of brightness and color, etc. Fotor lacks many of the more advanced tools you can find with GIMP, but it does provide some convenience-features that less skilled users will love. Fotor can use its batch processing tools to automatically retouch images and process dozens of images at a time. You can also create collages and set your own borders.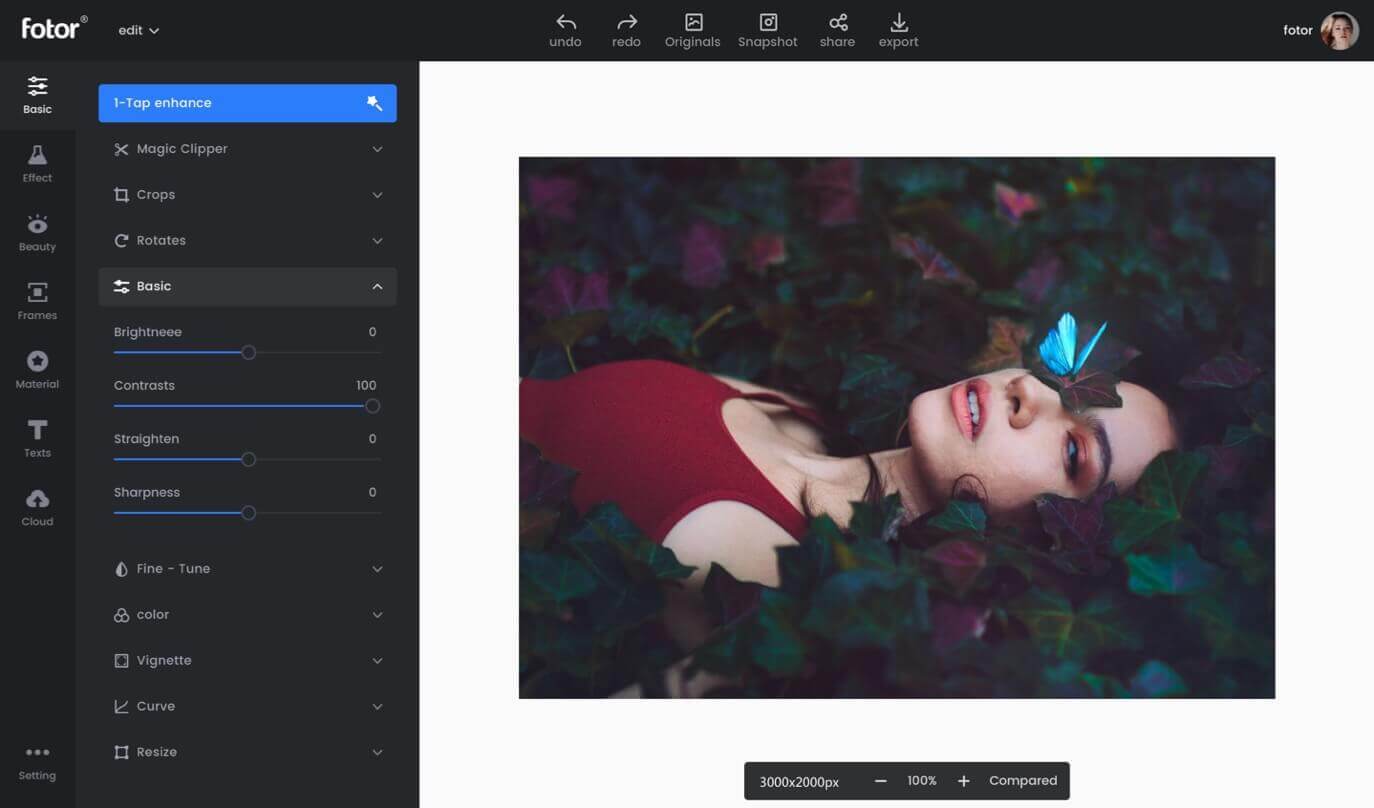 Pros: Easy to use, with many basic photo retouching tools.
Cons: Lots of ads, and advanced tools are paid.
Support platform: macOS | Windows | Web
Well, we have compiled these 5 best free photo editors that can run on Mac computers and even Windows. Some provide many professional and advanced photo editing tools, but it is a bit hard to find functions or use, and some can help you do basic photo editing and easy to use, so just choose the right photo editing software you need.
If you don't want to be bothered by ads or spend a lot of time figuring out how to use a complicated freeware, then you can choose a paid software from this list of the best mac photo editors for Mac to achieve better photo editing. If you are a beginner and want to find a photo editor that can help you make professional editing easily, I would suggest you get Skylum Luminar and have a try.
Thanks for your reading, and please let me know your thoughts in comments.